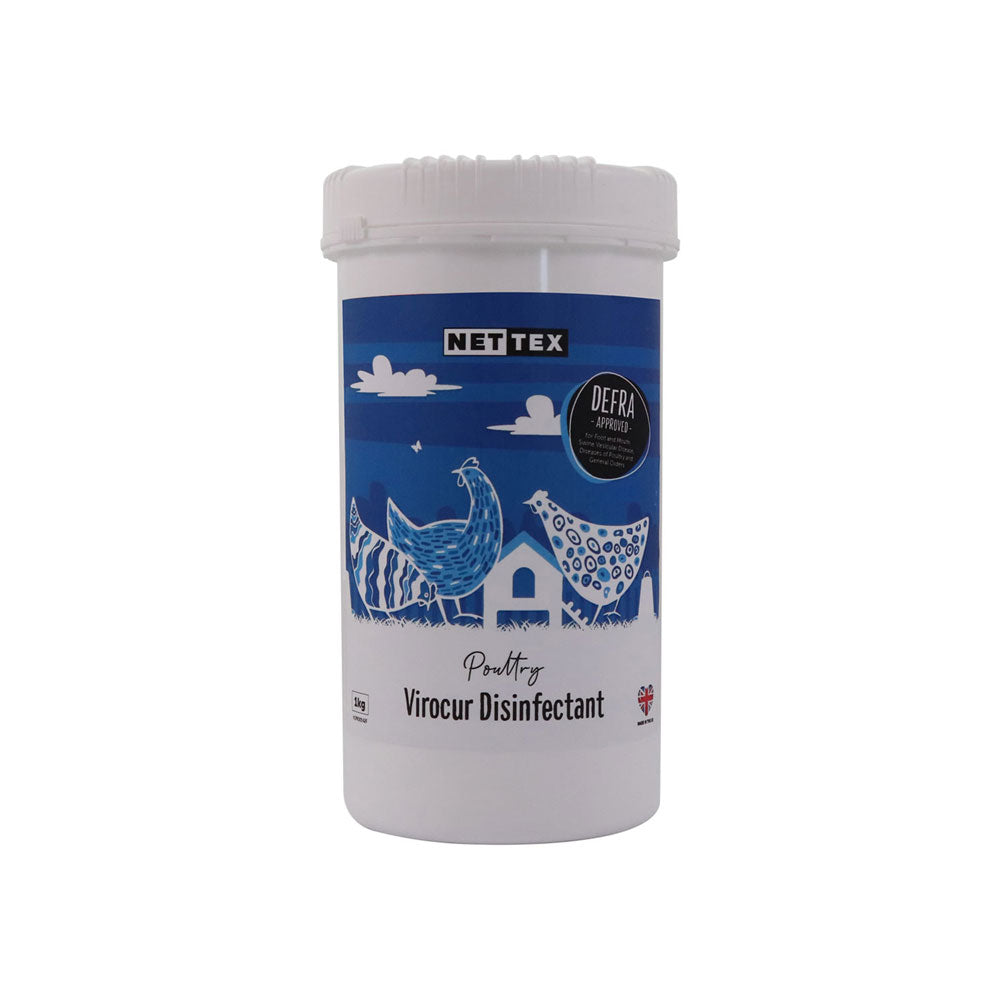 Net-Tex Virocur Poultry Disinfectant, 1kg
Net-Tex Virocur Poultry Disinfectant Powder (for dilution), 1kg tub.
* DEFRA approved for Avian Influenza (Bird flu), Foot and Mouth, Swine Vesicular Disease, Diseases of Poultry and General Orders
* Effective against bacteria, moulds, fungi and viruses
* Highly concentrated for cost-efficient application
* Non-corrosive when diluted
Net-tex Poultry Virocur is a highly concentrated peroxygen based, broad-spectrum disinfectant powder. Powerful and fast-acting, Virocur will kill bacteria with contact times as low as 5 minutes.
Use diluted to disinfect poultry housing and equipment, especially during a Bird Flu outbreak. Can be used on livestock buildings, surfaces, transport and as a boot footbath dip.
Ideal for use on housing, arks, equipment and effective on porous surfaces, hard water and in the presence of organic matter.
PLEASE READ ALL INSTRUCTIONS AND PRECAUTIONS CAREFULLY. CAN BURN THE SKIN (CORROSIVE WHEN UNMIXED). HARMFUL TO WILDLIFE AND AQUATIC LIFE. DO NOT MIX WITH OTHER CHEMICALS AND STORE IN A DRY PLACE IN THE ORIGINAL CONTAINER.
Mixing rate:
For General Disinfection:- Dilution Rate 1:200 (5g per litre) - 1 Litre per 3 Square Metres.
For Terminal Disinfection:- Dilution Rate 1:100 (10g per litre) - 1 Litre per 3 Square Metres
Standard delivery via courier is next working day to most mainland UK destinations for orders placed before 2pm (excl. weekends and bank holidays).