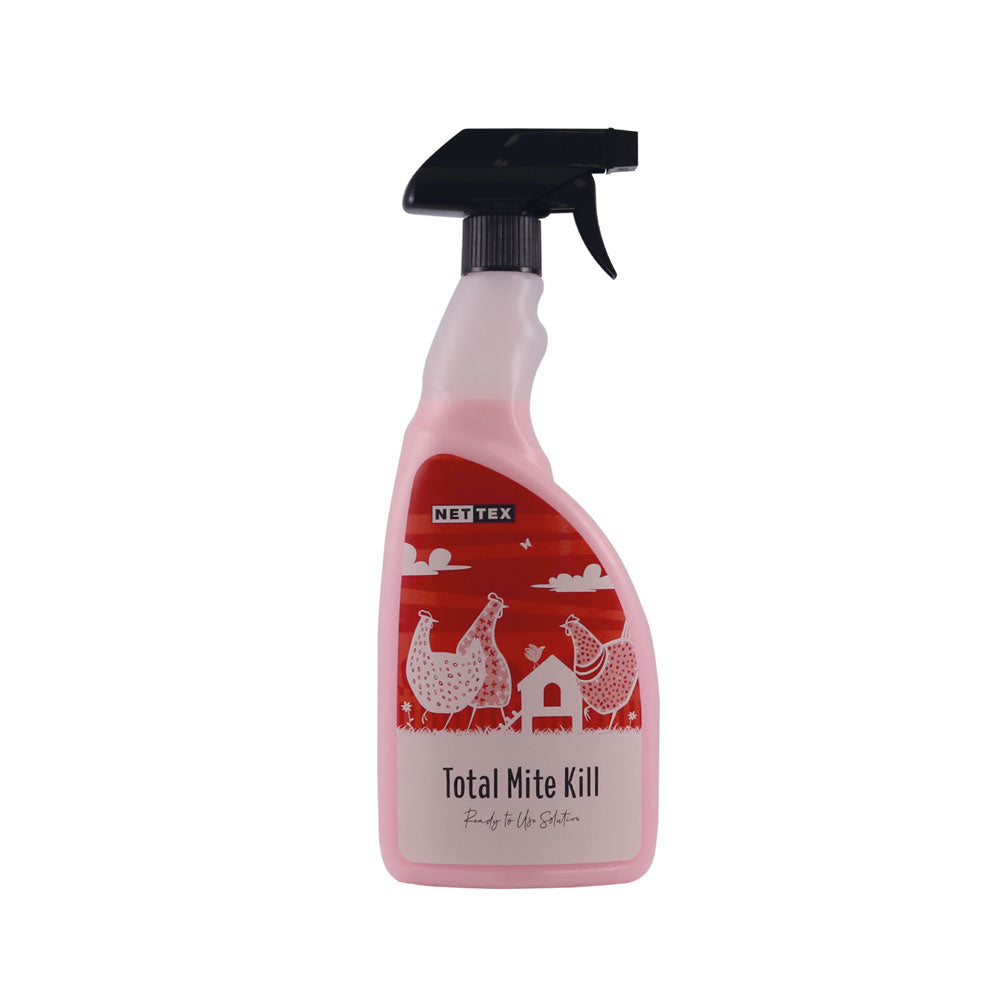 Net-Tex Total Mite Kill 750ml RTU Spray
Net-Tex Total Mite Liquid - 750ml Ready to Use Non-aerosol Spray. Contains Permethrin.
Ideal for the hobby breeder with small chicken houses. Rapid knockdown of all crawling insects.
Total Mite Kill contains permethrin insecticides for rapid knockdown, and is also a multi-purpose cleaner.
Kills mites, red mite, fleas, lice and other flying and crawling insects
Cleans & Disinfects your chicken coop and animal housing
Kills bacteria, virus, yeast, algae and fungi (i.e. E.Coli, Salmonella, Listeria and Ps Aeruginosa)
Oily base penetrates deep into cracks, crevices and corners which parasites commonly use as harbourages
Contains excellent residual properties on all common surfaces
Contains: Permethrin 2.3%, Tetramethrin 0.23%, Benzalkonium chloride.
Do not spray on birds or animals, avoid contact with skin.
SHAKE WELL BEFORE USE.

Remove birds, eggs, feed and eating and drinking utensils.
Remove all bedding and clean housing thoroughly.
Spray directly onto all surfaces including the underside of the roof taking particular care to spray in hard to reach areas cracks and crevices.
Leave to dry fully (at least two hours) before returning birds to housing.
Apply no more than 1L of product up to 100sqm of surface.
In times of infestation, apply initially, repeat 3 days later and then use weekly as part of your regular cleaning routine.
Standard delivery via courier is next working day to most mainland UK destinations for orders placed before 2pm (excl. weekends and bank holidays).
Great Product Highly Recommended
We have used this product over a number of years and always look to reorder as and when we need it as we have every confidence in it`s effectiveness. Easy to use and certainly does the job for us.
Net Tex total mite kill
Excellent delivery and communication from company. Have only just started to use the product so not seen full effect but seems to be reducing the infestation of mites so far but not completely eliminated as too soon to break the cycle but happy to know it's safe to use around the chickens.
Net-Tex Total Mite Kill 750ml Ready to Use Spray
Products great and well packed. Terrible delivery company just couldn't be bothered to deliver on the planned day and parcel was late. Great product very happy 😃
I am so sorry to hear that the courier did not deliver next day as they should, our apologies. Although I can see we despatched the same day as you ordered, on 31st, it did not reach the depot until late on the 1st and then they failed to deliver until after the jubilee bank holidays on 6th. It's not what we expect or contract them for, so I have raised a complaint with them but I suspect it will be the usual excuse about lack of drivers (even though they could have delivered on the Sat). Again our apologies.
Net-Tex Total Mite Kill 750ml Ready to Use Spray
The advice I received was excellent and products reached me promptly. I was advised of a delivery slot and the delivery was spot on. Not altogether happy about using insecticides but it did the job.