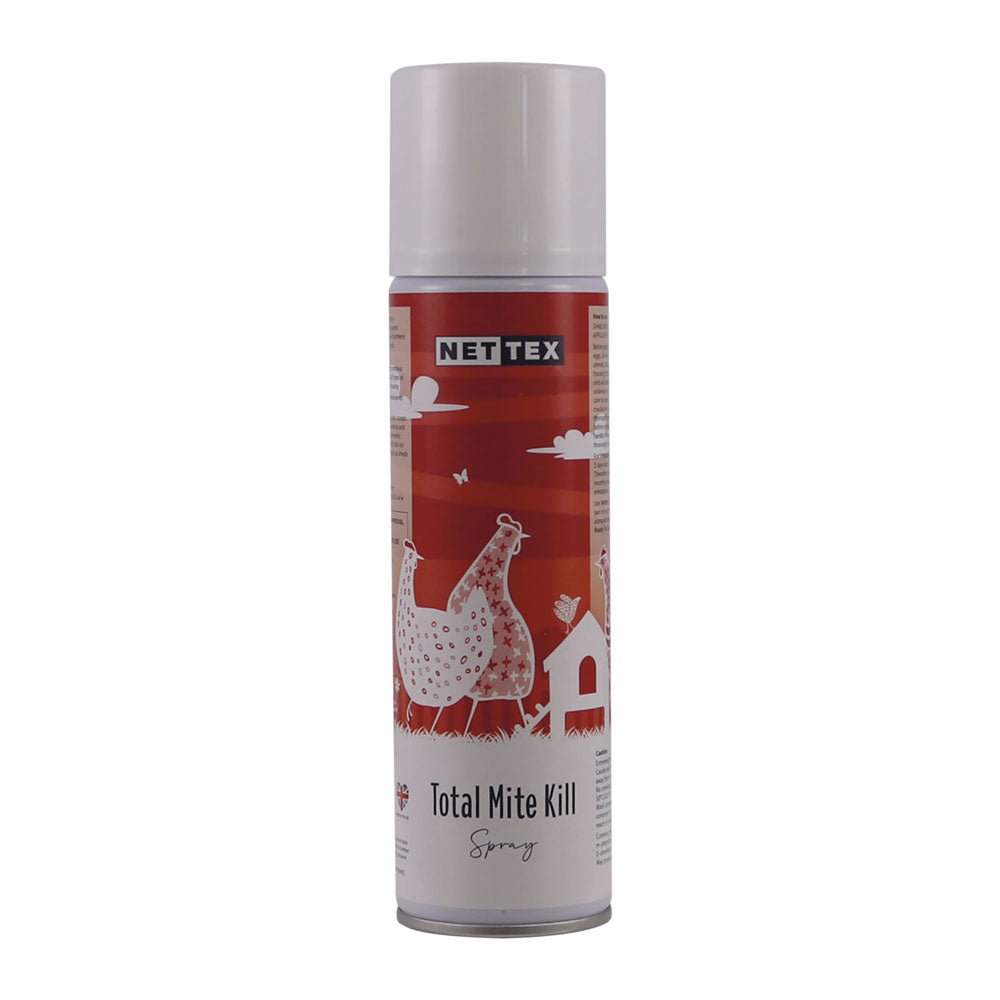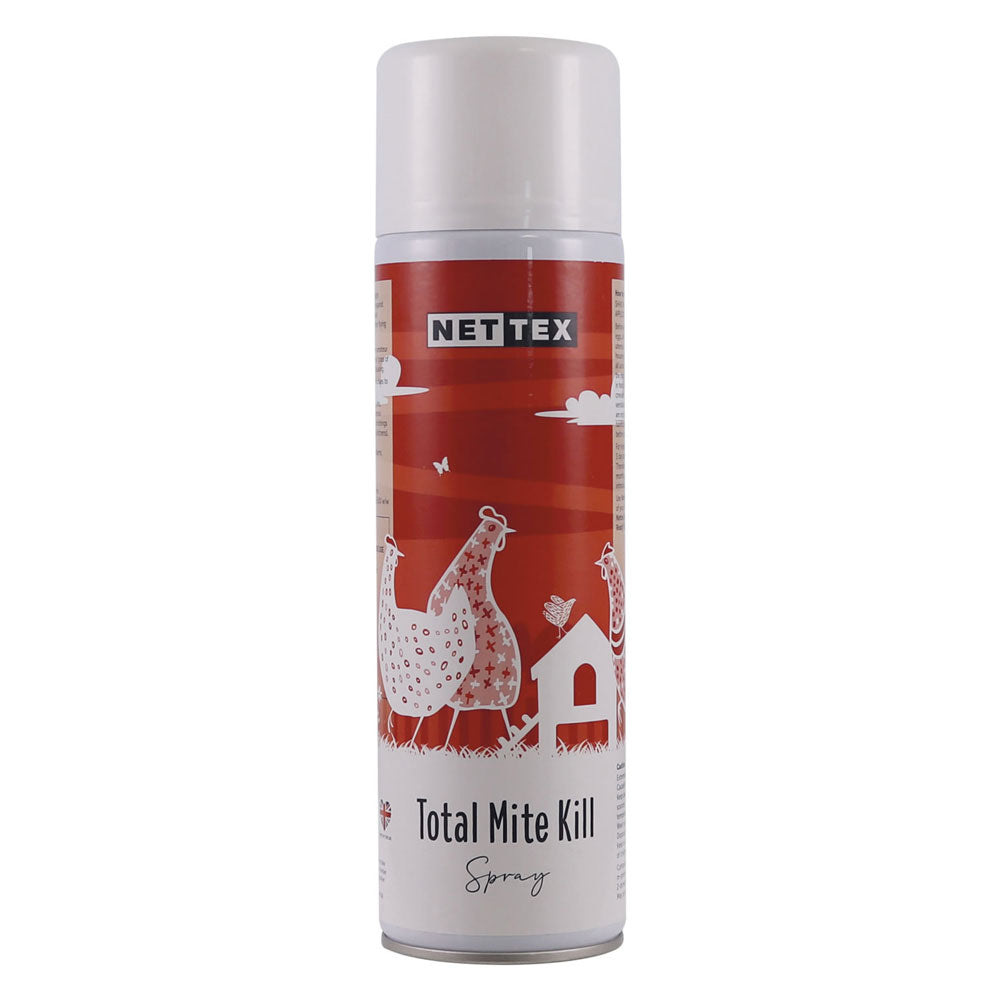 Net-Tex Total Mite Aerosol Spray
Net-Tex Total Mite Aerosol Spray - available in 250ml or 500ml.
Total Mite Spray from Net-Tex is an easy to use aerosol insecticide with rapid knockdown specifically formulated to kill common chicken mites found in the hen house, as well as all kinds of flies.
Its powerful insecticidal action, coupled with a long-lasting residual action, penetrates deep into the crevices where mites like to hide and it remains active for up to three months.
Do NOT apply directly on to the birds. Apply Total Mite to outbuildings, poultry houses, poultry arks or chicken coops only.
Total Mite Spray can be used against fleas and other flying and crawling insects on hard, porous and non-porous surfaces.
May also be used in domestic premises on hard surfaces or soft furnishings (including kitchens) against fleas and other crawling insects.
Specifically formulated to kill common mites in poultry houses, arks, coops and outbuildings. Total Mite Kill is also effective against house flies, little house flies, blow flies, small dung flies, lice, fleas, wasps, mosquitoes and moths.
HSE approved for amateur use. Contains Permethrin 0.29% and piperonyl Butoxide. WE ADVISE YOU WEAR A MASK WHEN USING AND FOLLOW INSTRUCTIONS ON THE CONTAINER.
SHAKE WELL BEFORE EACH APPLICATION

Before application, remove birds, eggs, all feed and eating and drinking utensils, all bedding and clean the housing thoroughly.

Spray directly onto all surfaces, including the underside of the roof, taking particular care to spray in hard to reach areas – cracks and crevices.

After application, thoroughly ventilate treated areas before animals are returned. Do not handle treated fabrics until dry, and air thoroughly before use.

In times of infestation, apply initially, repeat 3 - 4 days later and then use weekly as part of your regular cleaning routine.

For effective removal of the constant threat of Mites and Lice, a weekly 3 step programme is advised as below:

1. Thoroughly clean out the coop with soap and water, or use a disinfectant. For a deeper clean, remove all faeces, dry matter and bedding.

2. Spray the entire coop with Nettex Total Mite Kill Spray. Never spray directly on the birds – it is for application to housing only. Always ventilate treated areas and allow them to dry fully (they dry very quickly) before returning any birds to the treated area.

3. Finally, for Red Mites apply Nettex Total Hygiene Powder liberally over the surface of bedding, perches and nest boxes and refill with fresh bedding.
As this is an aerosol can it cannot be sent Royal Mail, it has to be sent via courier, hence carriage charge of £5.99, if ordering on its own.
Next working day delivery when ordered before 2pm (excl weekends and bank holidays).
Red Mite Spray
Not totally gone yet but population much reduced!
It's the biz!
I started using this a year ago and have had no trouble with red mite ever since. Once a month I 'blitz ' the hen house with spray on Net-Tex solution, then every week use the aerosol spray. It's the only product that's ever worked in all my years (40) of chicken keeping.
Net-Tex Total Mite Aerosol Spray - 500ml
Always delivers on time good variety of products and easy website and premises Seems to be doing the trick getting rid if red mite I have been using it with other products as we
Net-Tex Total Mite Aerosol Spray - 250ml
Website easy to use, found everythingmI needed and delivery was excellent. Would definitly recommend to a friend. Does what it says it will
Net-Tex Total Mite Aerosol Spray - 500ml
Fast delivery, quality products. Will buy from them again. Highly recommend No mite problems so must be working!