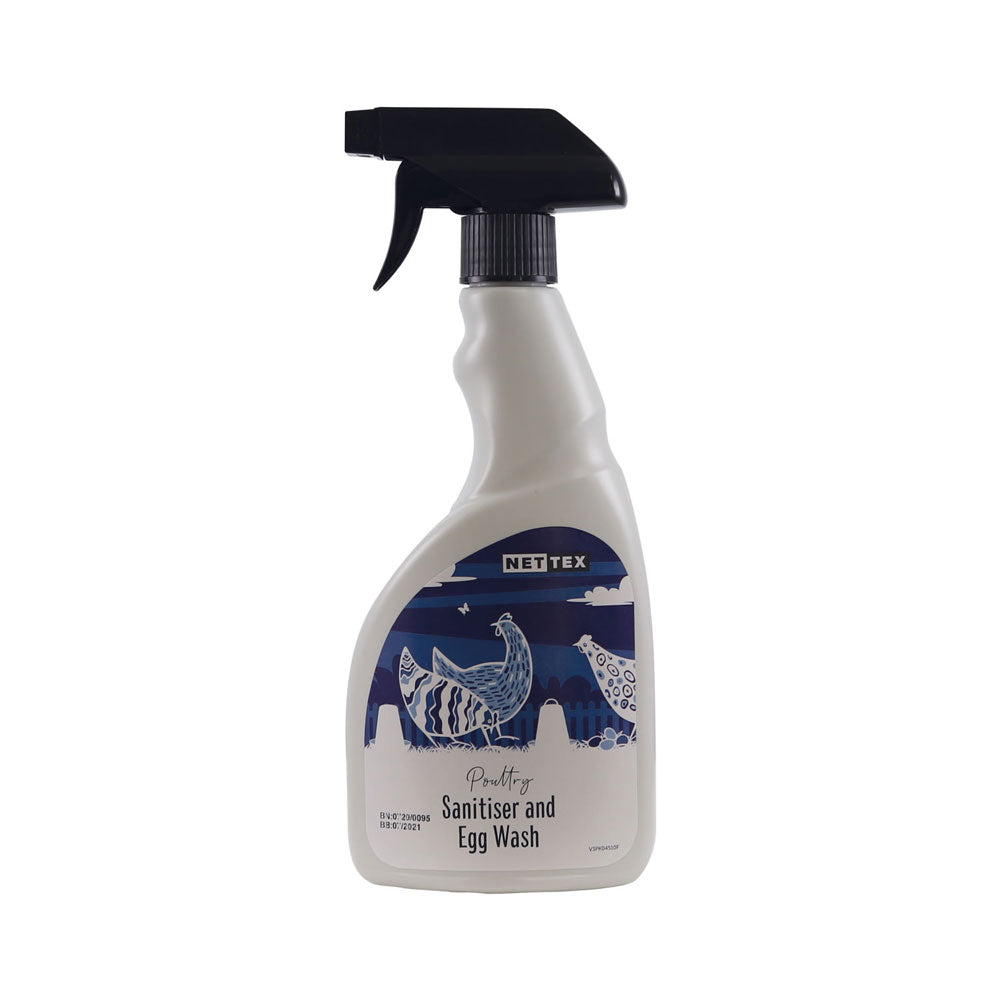 Net-Tex Sanitiser & Egg Wash RTU Spray 500ml
Net-Tex Sanitiser & Egg Wash - 500ml Ready to Use Spray.
Net-Tex Disinfectant Spray is a Steriliser & Egg Wash. Kills viruses and bacteria associated with poultry diseases.
Use Net-tex Sanitiser & Egg Wash Spray to sterilise feeding equipment and utensils such as feeders, drinkers, drinking troughs, tube feeders, coop cups, feed bins etc to minimise the growth of bacteria and fungi which would otherwise grow within a matter of hours.
Can also be used to clean hatching eggs and incubators.
Net-Tex Sanitiser will destroy the hardiest of bacteria, viruses and fungi and is effective against Salmonella, E.Coli 35, Rotavirus 15, Staphlococcus aureus, Clostridium perfringens, Campylobacter and Listeria.
Contains: De-ionised water, sodium chloride, sodium hypochlorinate. Follow instructions on the container. Spray on to utensils once a week and leave to dry.
Sanitising Solution - Remove all physical residue from the item to be sanitised. Spray with ready to use solution and leave for 15 minutes to dry (5 minutes for metal items). Avoid prolonged contact with metal items, do not rinse except when using on metal surfaces/items in which case wipe down with a clean, damp cloth. Ensure item is dry before use.
Egg Wash Solution - Remove any organic matter with a soft cloth and spray with ready to use solution, then leave to dry. Do not rinse eggs.
Standard delivery via courier is next working day to most mainland UK destinations for orders placed before 2pm (excl. weekends and bank holidays).