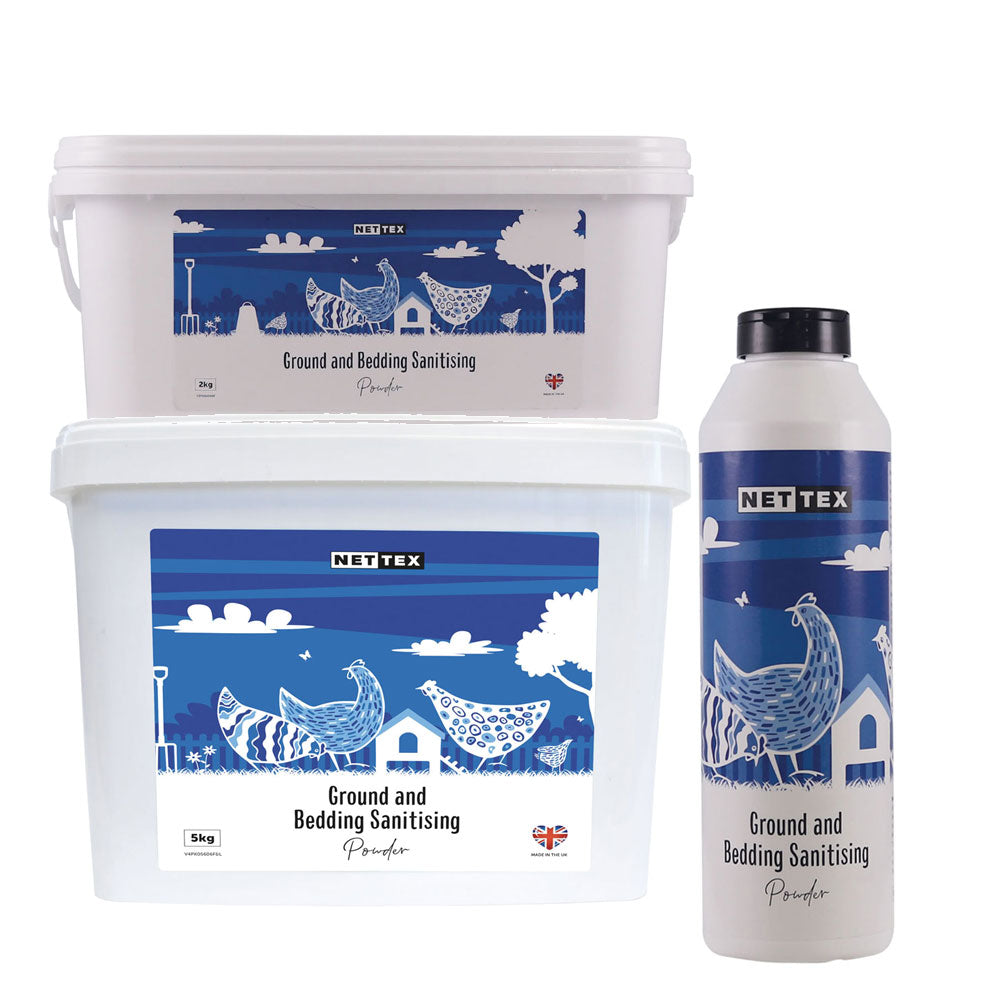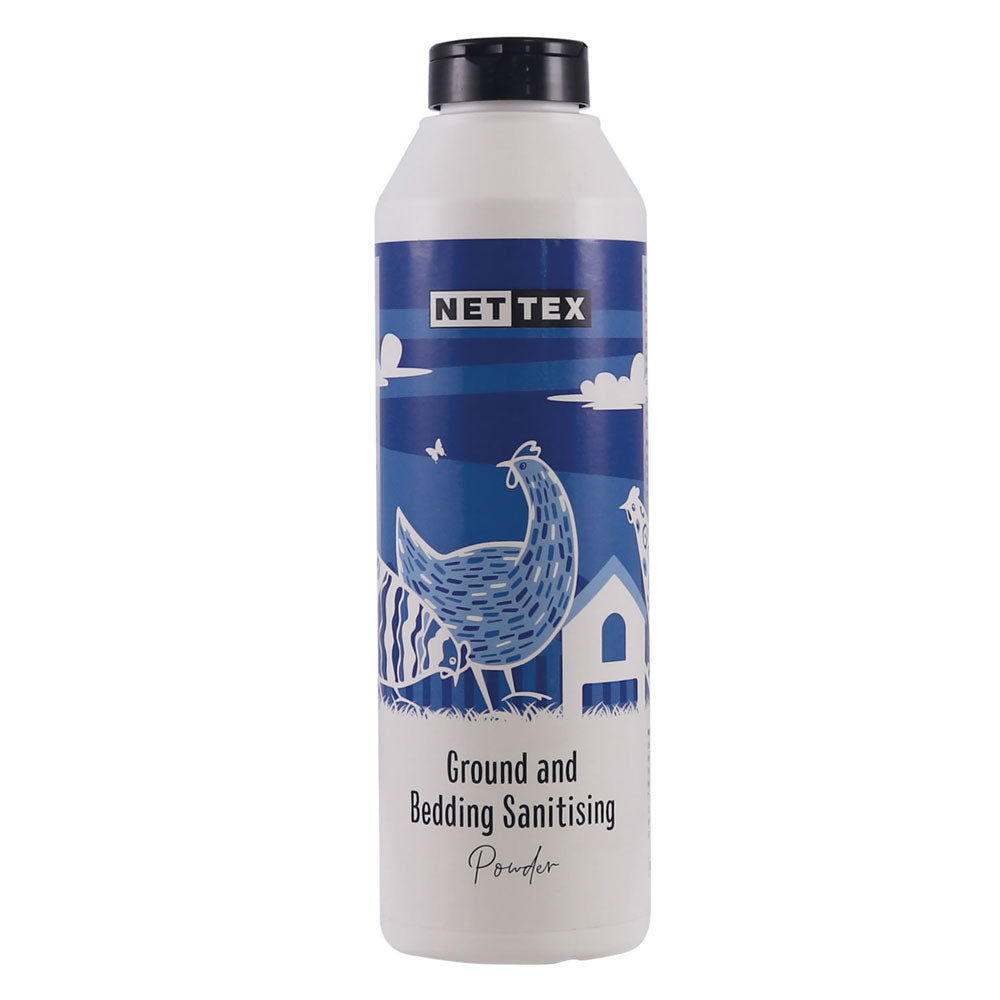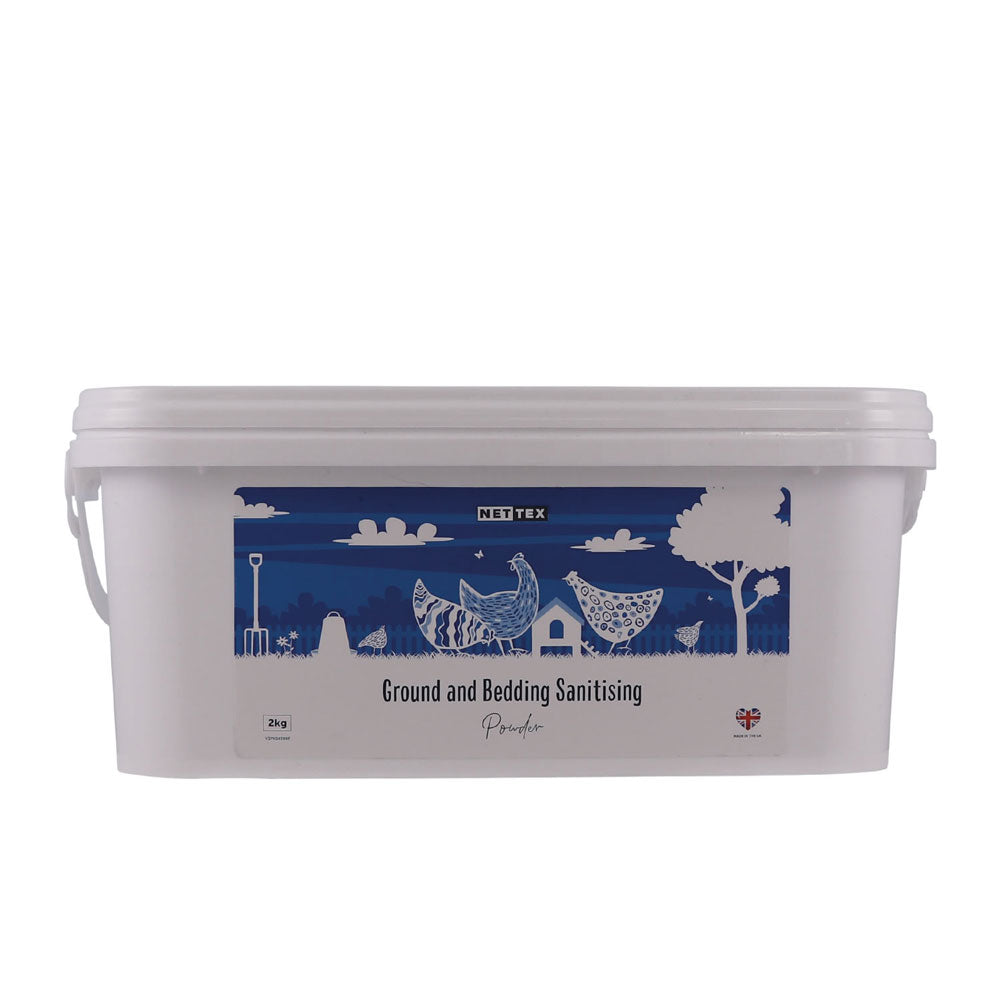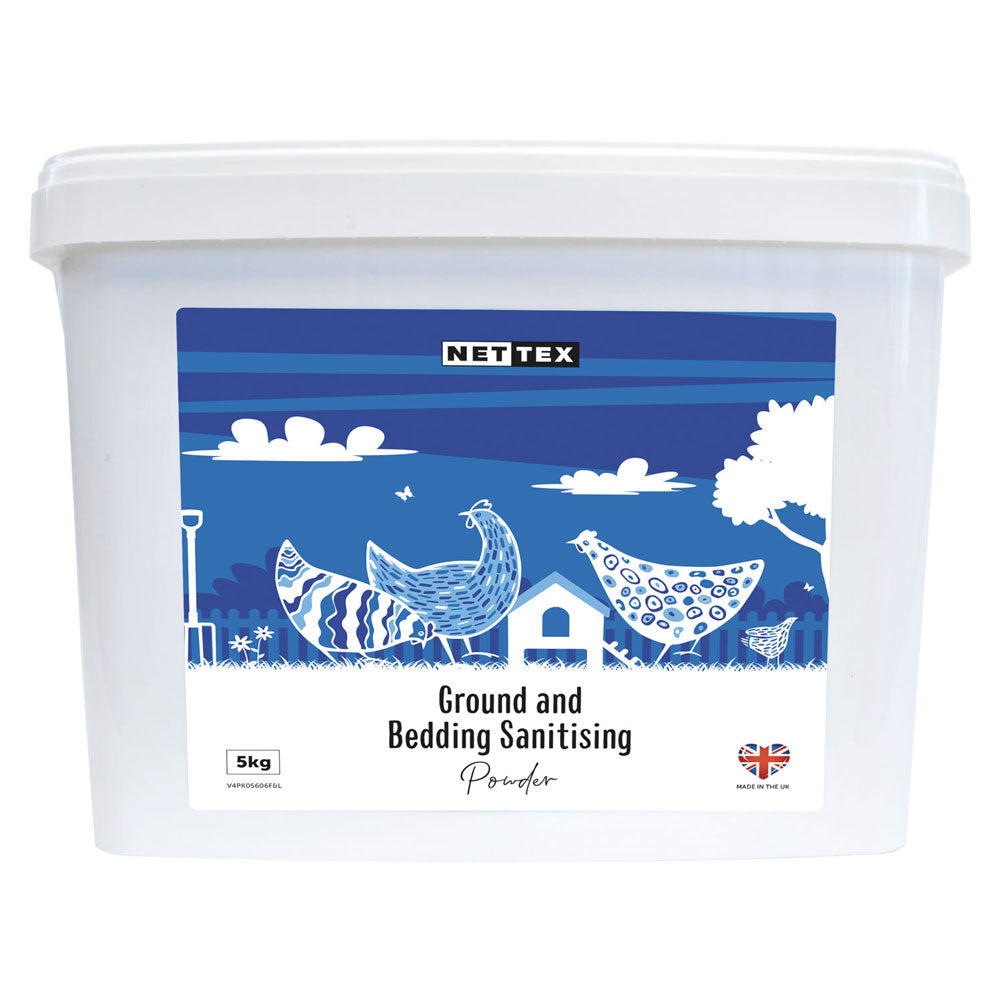 Net-Tex Ground Sanitising Powder
Net-Tex Ground Sanitising Powder, available in a 500g shaker tube, a 2kg or 5kg resealable tubs.
Can be used during worming to clear the ground of worm eggs and bacteria.
Helps maintain a healthy environment for poultry.
Contains natural Zeolite and Yucca to absorb moisture, the odour of faeces and organic matter, reducing the risk they pose to birds.
Helps neutralise ammonia and other noxious odours.
Bedding conditioner for chicken coops – can help extend the life of the bedding.
A fantastic powder product for treating the ground inside your run as well as inside the house. Ground Sanitising Powder will provide a healthier environment for your hens.
Sprinkle on the ground to kill worms at all stages in their development from eggs, to larvae, to fully grown.
Ground Sanitising Powder works by drying out any potential living/breeding spaces for these little parasites and smothering them.
Killing worms on the ground will mean that the likelihood of your birds ingesting more worms is greatly reduced, resulting in a healthier and happier bird.
The powder can also be used inside your bird's house or wherever there may be a buildup of droppings.
The suggested application is 50g per sq m every 2 - 3 weeks.
Birds should be removed during treatment but can be returned after 20-30 minutes.
Use in the chicken run to prevent worm eggs and inside the house to neutralise and reduce odour.
Apply liberally where faeces and droppings are prevalent. No need to remove bedding, shake over the run area and inside the housing and nest boxes.
Standard delivery via courier is next working day to most mainland UK destinations for orders placed before 2pm (excl. weekends and bank holidays).
Net-Tex Ground Sanitising Powder - 5kg
Net-Tex Ground Sanitising Powder - 5kg
Ordering and receiving goods very easy and fuss free Was exactly what I wanted to quickly sanitise the chicken coops
Net-Tex Ground Sanitising Powder - 500g
You are informed immediately that your order has been accepted and then processed and when to expect delivery. I don't often buy on-line as I find the sites difficult to navigate, but Flyte So Fancy's site is so straight forward that I have never had any problems. If I require something chicken related for my pet hens, FSF is my first port of call. I would recommend FSO and every product that I have purchased has been of top quality. Does exactly what it 'says on the tin'. Lovely fresh scent when sprinkled over run area or inside coops. Makes you feel that you are keeping your chicken area as clean as possible.
Net-Tex Ground Sanitising Powder - 2kg
Really good service. Delivery quick Quick response and delivery
Net-Tex Ground Sanitising Powder - 5kg
Excellent as always! Great product, wonderful for my hens welfare.