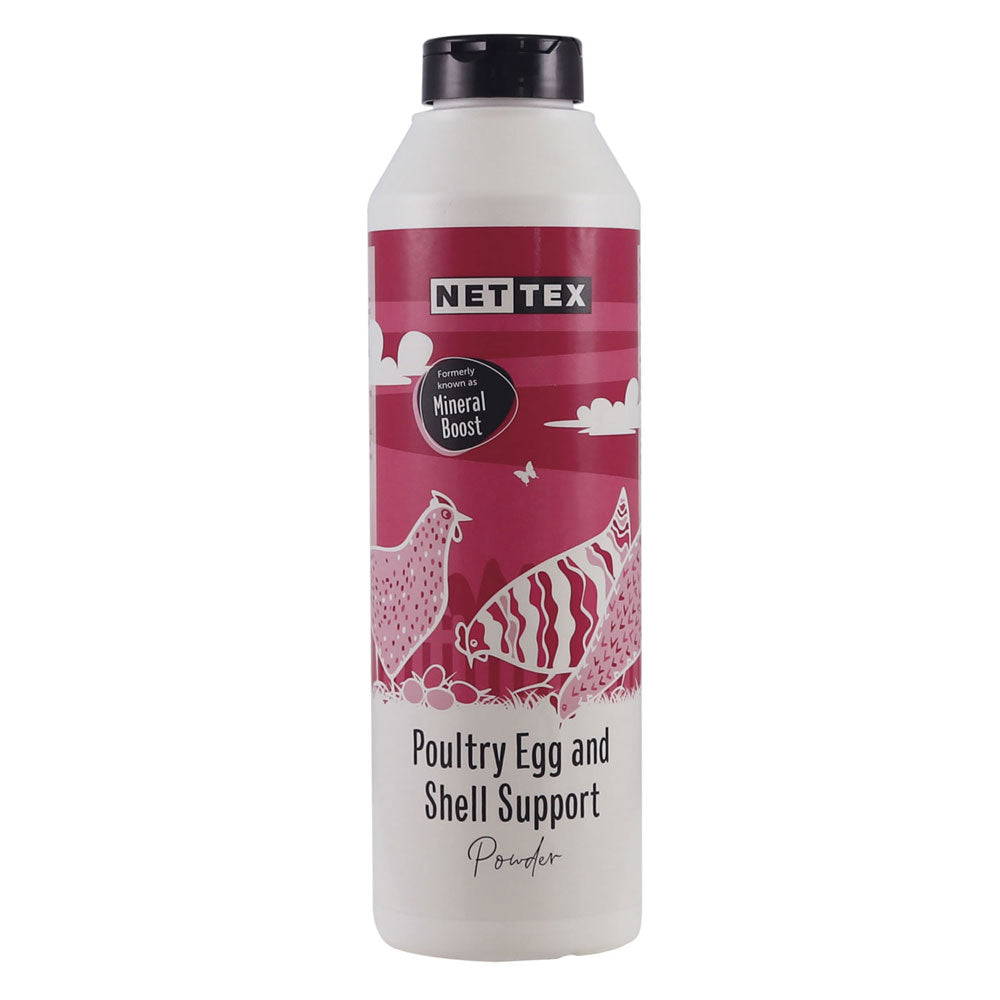 Net-Tex Egg & Shell Mineral Powder 450g
Net-tex Poultry Egg & Shell Powder, 450g shaker tube, with probiotic and seaweed.
Net-tex Probiotic Mineral Powder is ideal for laying hens resulting in faster moults, good egg quality and healthier, stronger birds.
This nutritionally advanced mineral supplement contains high levels of limestone and oyster grit to increase calcium consumption to form strong and sturdy eggshells. Phosphorous is added to help the birds metabolize calcium.
Probiotics (Saccharomyces cerevisiae) are high in quality proteins and contain a wide ratio of amino acids and B vitamins that stimulate extra immune protection to improve all-round condition and performance.
Seaweed improves the quality of eggshell strength, improves yolk colour and increases egg laying numbers as well as improving feed conversion and absorption of nutrients (seaweed is rich in Vitamins A, D & Iodine)
Feeding Guidelines: One rounded teaspoon will feed 15 birds per day. Add Egg & Shell Boost to feed twice a week for optimum health. Add to dry or wet feed.
Standard delivery via courier is next working day to most mainland UK destinations for orders placed before 2pm (excl. weekends and bank holidays).
Net-Tex Egg & Shell Mineral Powder 450g
I would certainly buy from them again, the delivery came next day and I was pleased to be able to use it that soon. A very prompt delivery and my chickens seem to love this addition to their food. We can see improvement in their eggs already, and my poorly chook has started eating her pellets again which she wasn't doing recently.
Net-Tex Egg & Shell Mineral Powder 450g
Perfect service and products, thank you! Very easy to use, I love it!
Net-Tex Egg & Shell Mineral Powder 450g
Easy to use web site and prompt delivery. I've used this for years as a supplement to standard layers pellets
Net-Tex Egg & Shell Mineral Powder 450g
very fast delivery it is working well, the hens are much better now
Net-Tex Egg & Shell Mineral Powder 450g
Swift delivery, competitive pricing and fantastic selection of products. Really glad I found this site when I got my first chickens! I will definitely be a repeat customer