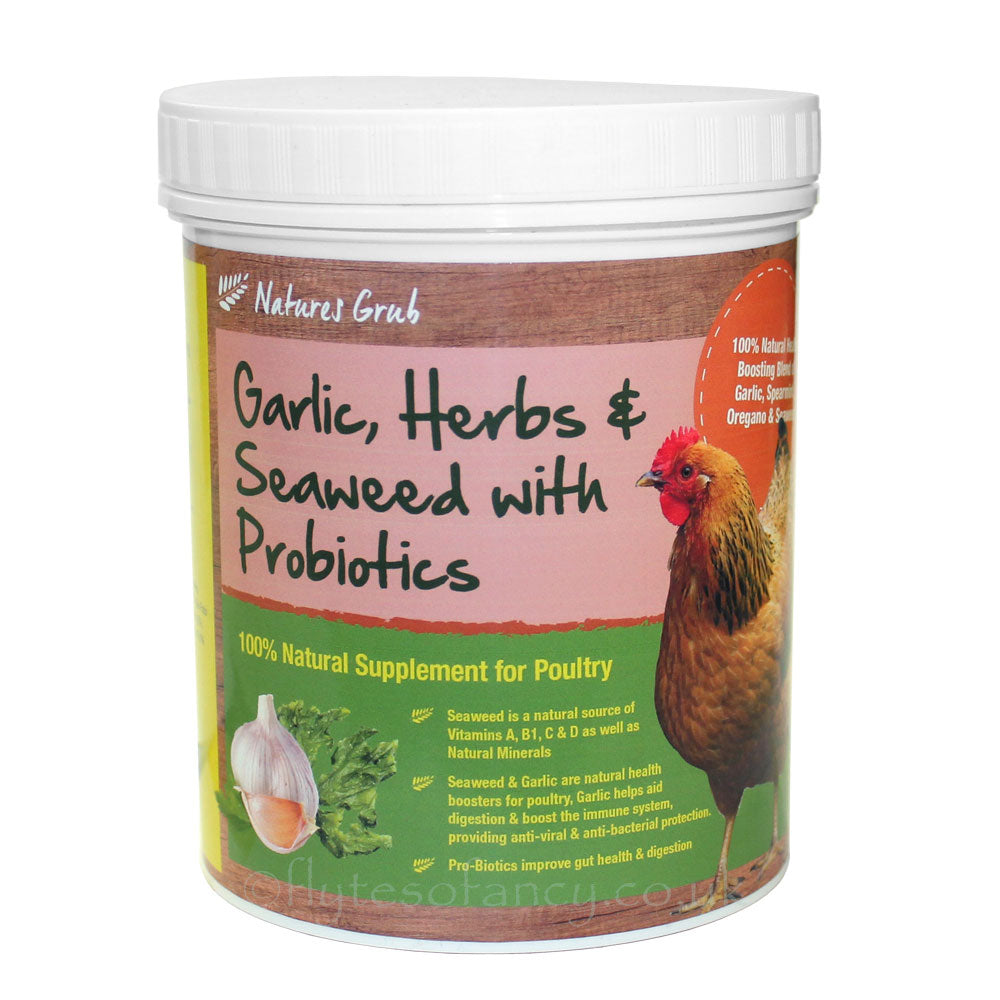 Natures Grub Garlic, Herb & Seaweed Supplement, 300g
Natures Grub Garlic, Herb & Seaweed Supplement for poultry, with Probiotics - 300g tub with scoop.
* Supports general health * Optimises respiratory and immune systems * Highly palatable * Maintains appetite and healthy digestion * Rich source of Vitamins A, B, C, and D, and oils *
A 100% health-boosting nutritional blend of garlic, spearmint, oregano, and seaweed to keep your chickens in tip-top condition, especially during winter months. Garlic, especially, will boost the immune system with its anti-viral and anti-bacterial properties.
Probiotics improve gut health, digestion, and contain a wide ratio of amino acids and B vitamins that stimulate extra immune protection to improve all-round condition and performance.
Seaweed improves the quality of eggshell strength, improves yolk colour, and increases egg laying numbers as well as improving absorption of nutrients (Seaweed is rich in Vitamins A, B1, C, D & Iodine).
Composition: Ascophyllum Nodosum (Brown Seaweed Powder), Garlic, Spearmint, Oregano, Pro-biotic.
Analytical Constituents: Crude Protein 17%, Crude Fats & Oils 5%, Crude Fibres 2%, Crude Ash 15%, Lysine 0.5%, Methionine 0.2%.
Instructions For Use: Add 1 x 15ml scoop per 1kg of feed and mix in well. All supplements should be introduced to the diet gradually.
Standard delivery via courier is next working day to most mainland UK destinations for orders placed before 2pm (excl. weekends and bank holidays).
Good ingredients, but!
I bought this to give my chicks a boost during their moulting period. I know they like garlic and oregano, but sadly, they didn't like this. I normally make this sort of thing from scratch, but thought a ready made up pot would save time. I'm so sad that they don't like it.
First time buyer
Fast delivery happy with purchase, will definitely use again 😀
Very happy customer
Really pleased with the speedy delivery, really pleased with the fact everything was package so nicely, and there was no issues with my order going through know if she was stop or availability. Will definitely be buying from flyte so fancy again! Thank you!