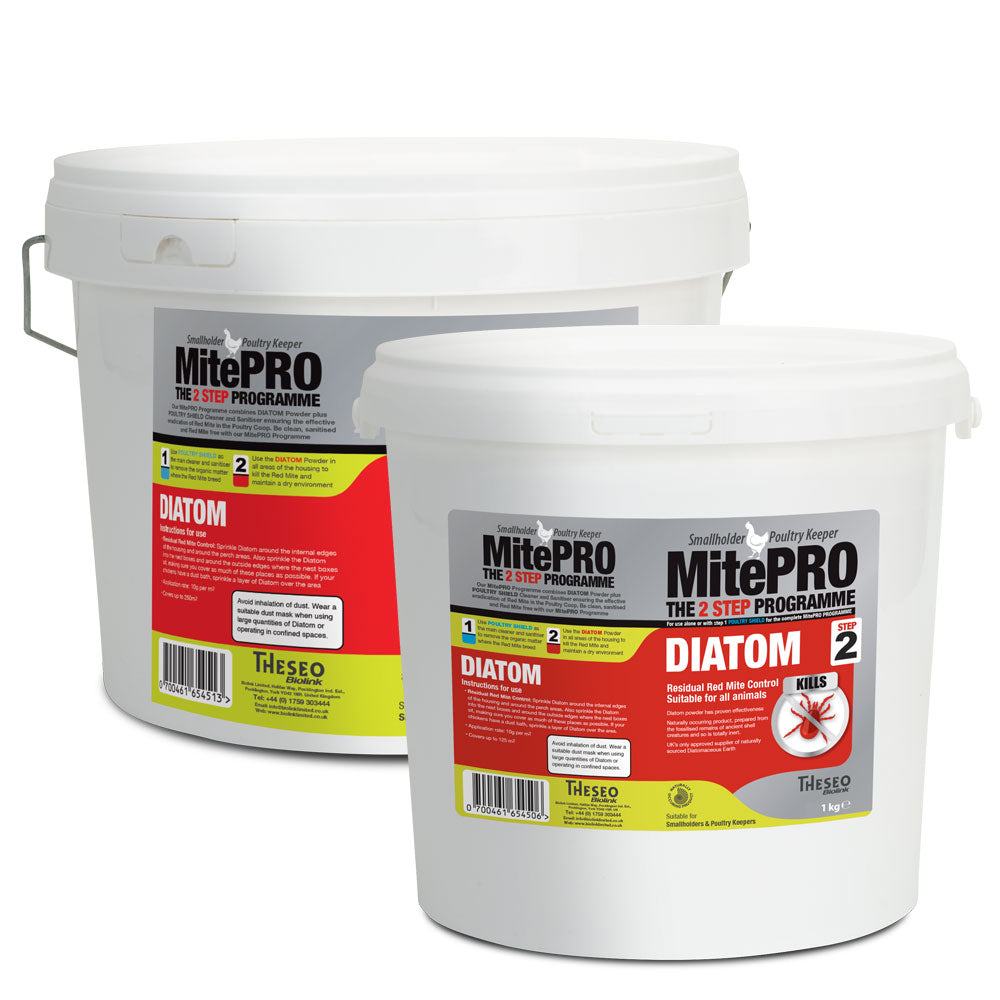 MITEPRO Diatom Red Mite Powder
Biolink MITEPRO Diatom Parasite Powder, 1kg or 2kg resealable tub. It can be used for all birds and animals, in bedding or in their housing.
MITEPRO Diatom Powder is licensed for residual red mite control in chicken houses, as well as eradicating other mites and lice that can irritate poultry.
MitePro Powder is a fine powder made of fossilized remains of diatoms (a type of algae). It works because at a microscopic level the powder is very absorbent and effectively dehydrates parasites it comes into contact with causing them to shrivel up and die.
Biolink MITEPRO Powder is used for residual mite control when sprinkled inside a henhouse at a rate of 10g per sq metre.
Sprinkle around the internal edges of the housing and around the perch area, in the nest boxes, making sure you cover as much of these places as possible.
Sprinkle on the birds to eradicate lice and mites or add to their dustbath areas.
MITEPRO DIATOM PARASITE POWDER COMPLIES WITH THE EU BPR (Biocidal Product Regulation) 1st SEPTEMBER 2015 AND IS A LICENSED PRODUCT FOR THE CONTROL OF RED MITE.
Contains 100% Diatomaceous Earth (Case No 61790-53-2). Avoid inhalation of dust. Wear a suitable dust mask when using large quantities or operating in confined areas.
Standard delivery via courier is next working day to most mainland UK destinations for orders placed before 2pm (excl. weekends and bank holidays).
MITEPRO Red Mite Powder - 2kg
Very rapid shipment. Good quality products and great accurate description of products. Will use again. As advertised, easy to apply
MITEPRO Red Mite Powder - 1kg
Always fantastic service. fast delivery, well packaged and great prices!
MITEPRO Red Mite Powder - 1kg
Excellent fast delivery, good communication too
MITEPRO Red Mite Powder - 2kg
Great delivery speed Great I put it under the hemp-e bedding and some for there dust bath
MITEPRO Red Mite Powder - 1kg
Great service really helpful staff. Great range of products available too on website. When I needed a product in a hurry I was kept up to date with details of when I would expect delivery and every effort was made to get my delivery to me as quick as possible which I really appreciated. Fantastic product I have struggled and fought with red mite over the warm summer and this has been my savior.the large bulk pack they sell is ideal as it enables me to coat the coop thoroughly and the price down at break the bank.