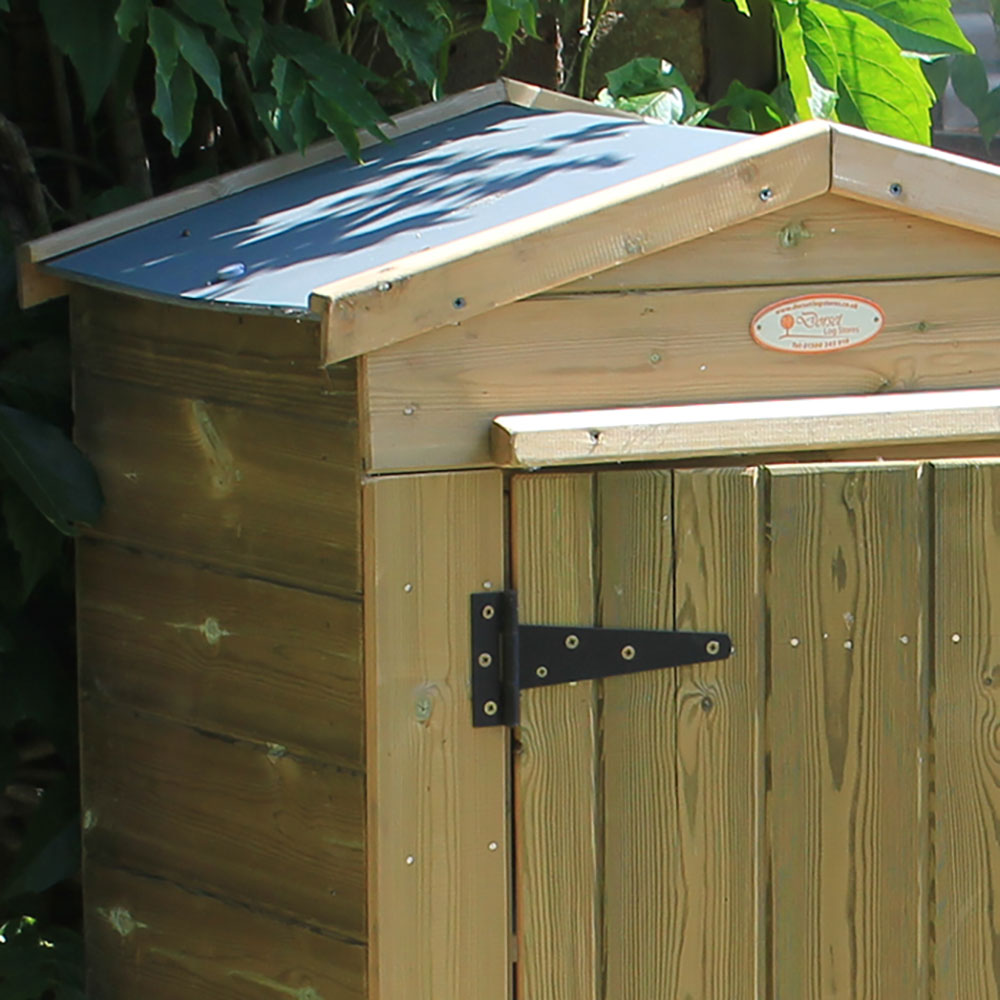 Mini Garden Tool Store (with Never-Leak Roof)
Garden Storage Box or Mini Shed, made with 16mm thick timber and built to last. Delivered via courier van and arrives in panels for simple self-assembly.
This Small Garden Tool Store - our Mini version in the Never-Leak Range - has a unique feature; the Never-Leak, Maintenance-Free, Recycled Plastic Roof.
The Never-Leak Roof means - no need to replace felt; no more leaky corners; no more patching-in to make-do for another year; in fact, no maintenance at all!
The roof is 9mm thick recycled, UV stable, steel grey, polypropylene. This Mini Tool Store is 2ft wide and just under 5ft tall, a nice slimline answer to so many needs in a small garden.
Perfect for tool storage, gardening items, parcel deliveries or just secure storage in a small space. Comes with one full-width shelf (removable).
Fully clad in 16mm thick pressure treated timber, this garden store is built for life outdoors. It has a 1ft 6in x 3ft 9in door which is secured with a padlockable black-mounted galvanised Brenton Bolt (Combination Security Bolt also available to add) and is hung on two black powder-coated hinges.
Dimensions
Externally: Body width: 68cm (2ft 3in); Max. width 74cm (2ft 5in); Height: 150cm (4ft 11in) at apex; Body depth: 50cm (1ft 8in); Max. depth 53cm (1ft 9in) overall
Internally: Width: 65cm (2ft 2in); Height: 138cm (4ft 6in) to apex; Depth: 44cm (17.5in)
Door aperture: 45cm x 114cm (1ft 6ins x 3ft 9in)
Construction*
All timber is from sustainable resources, FSC Certified, Pressure Treated Scandinavian Redwood
Walls & door: 16mm planed Tongue & Groove

Floor: 21mm planed boards
Roof: Grey UV-stable 9mm Recycled Polypropylene Board
Frame: 38mm x 38mm pressure treated framing
Fixtures: Stainless Steel Nails; Plated & Painted Decking Screws
Fittings: Black powder coated
Timber Warranty: 15 years against rot & fungal attack (see Fair Care Warranty)
*For the full nitty-gritty of timber types, thicknesses, dimensions and fixings see About our Garden Stores
Currently approx 1 week delivery via DPD courier.
The Garden Tool Store is delivered flatpacked for self-assembly. Assembly is very easy, it comes with full instructions and all fixings, cordless screwdriver advised.
Delivered via courier company in 3 shrink wrapped packages. Please see our Delivery Information page for more details.
Garden shed
Excellent quality easy follow instructions 10 stars
Lovely Little Shed, GREAT QUALITY
We are so please with the quality of our shed, it was easy to make up and looks even better than we had expected. We will definitely recommend to our friends. Great to buy British too. : ))
Nice little shed
I wasn't expecting much for the price but I was pleasantly surprised.