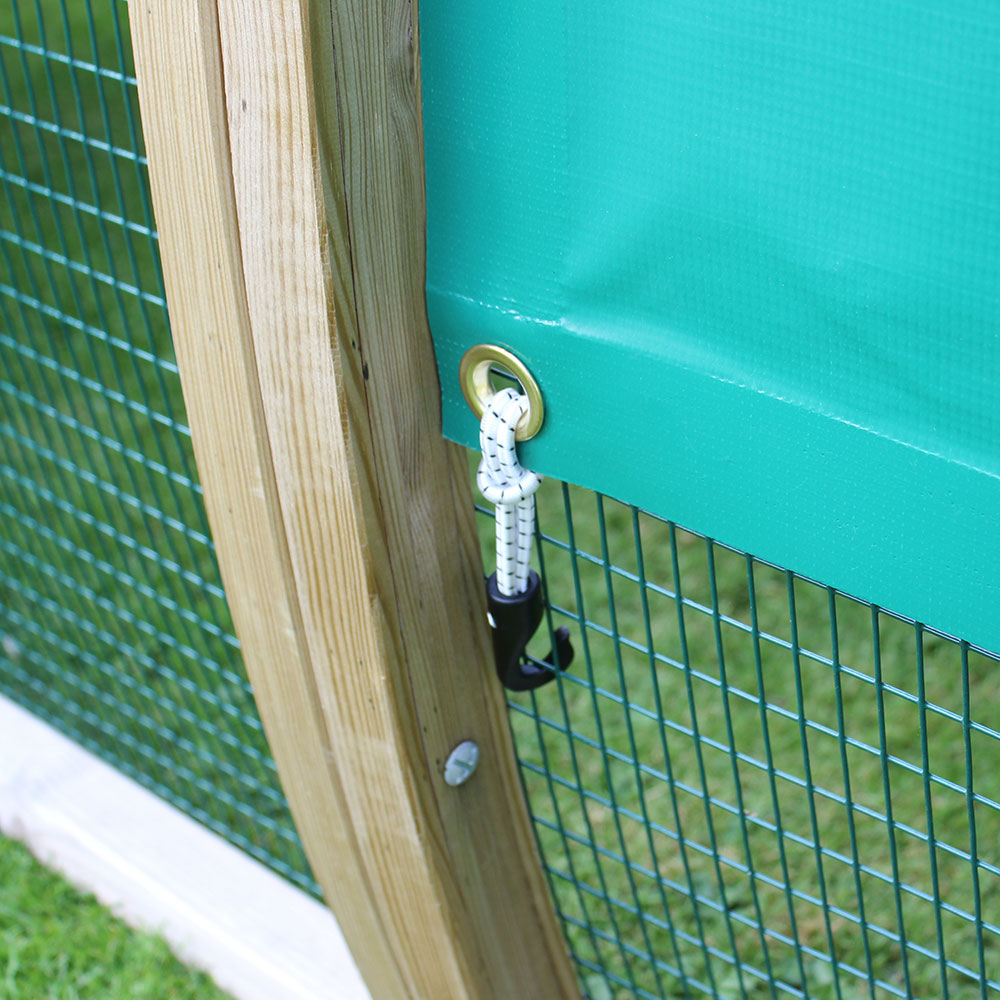 Medium Rainshades for Runs and Pens
Medium Rainshade for Junior Poultry Protection Pens, or large runs, and the larger Framebow Arch Coops, Cat houses, and Rabbit Houses. It measures approx 3ft wide x 11ft long.
This Heavy-duty 350gsm PVC Tarpaulin Rainshade will provide either shade from full sun heat in the summer or from torrential rain during the remaining 11 months of the year! Easy to add, easy to remove. A Raincover for all seasons!
Medium Rainshade measures approx. 86cm wide x 340cm long so will provide a protected area for your poultry or pets. Easy to add more than one if you need more area covered.
Translucent will allow more light in whilst Green will provide a solid more shaded area - both will maintain a dry area underneath.
Rainshades © Flyte so Fancy
Rainshades come with 8 short stretchy Hook Bungees to securely hook it onto the wire mesh (more elasticated bungees available if required).
It is made of 350gsm PVC and is available in either a white translucent or a solid green colour.
Medium Size is: 86cm x 340cm (34 inches x 134 inches) approx.
The Rainshades have 3 eyelets on each short end and a further two pairs of eyelets along the long side (for use as required).
Standard delivery via courier is next working day to most mainland UK destinations for orders placed before 2pm (excl. weekends and bank holidays).
Great rainshade
Easy to fit and does a great job keeping the run dry 👍
Rain shade.
The rain shade covers the run perfectly. Now the hens are lovely and dry and I don't worry about their run being muddy anymore.
I bought the green for the coop end to give them more privacy and the opaque ones for the rest of the top to make it nice and bright for them.
Very sturdy and well made. Very pleased.
Rainshades for Chicken Runs
Very knowledgeable about hen keeping, happy to speak with you, great product and fast delivery. Pleased I bought this! Not got hang of bungee ties but likely to be me!
Rainshades for Chicken Runs
Very prompt service Very good quality product.
Rainshades for Chicken Runs
Excellent, beautifully made chicken house! Ideal product for the house