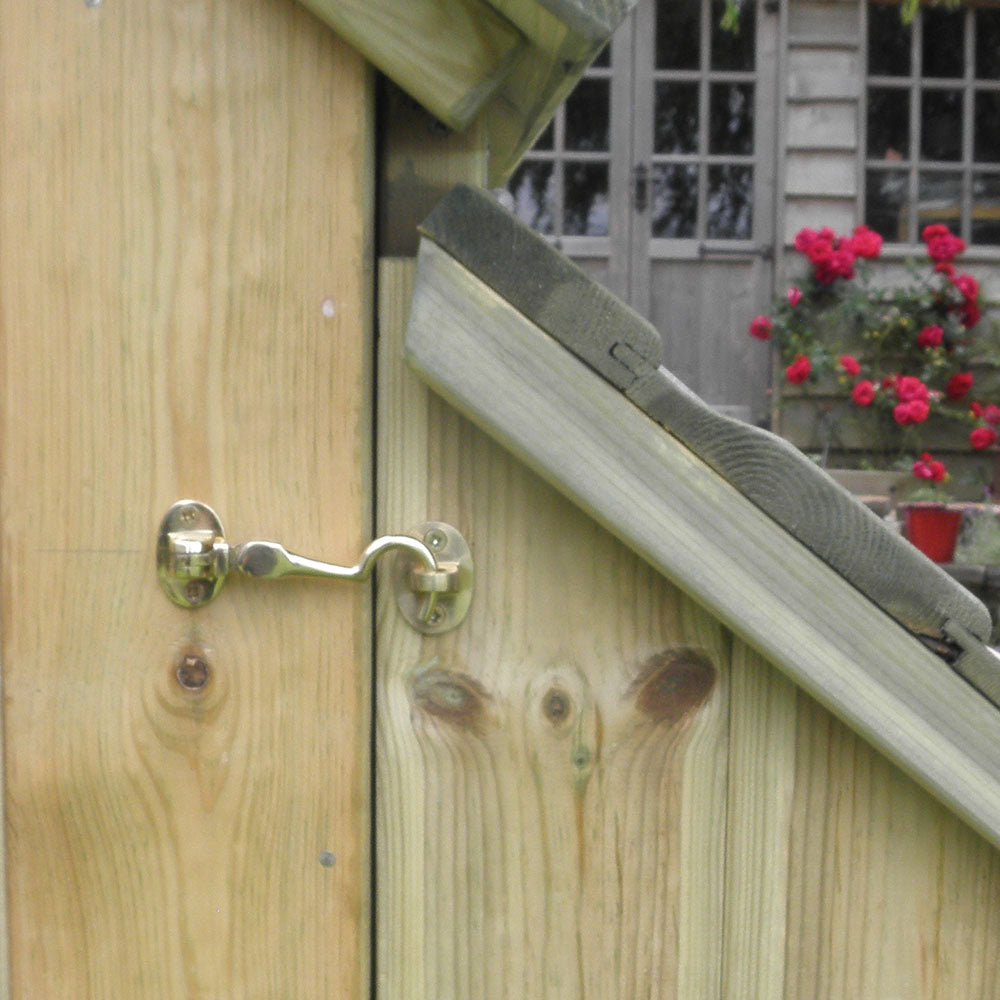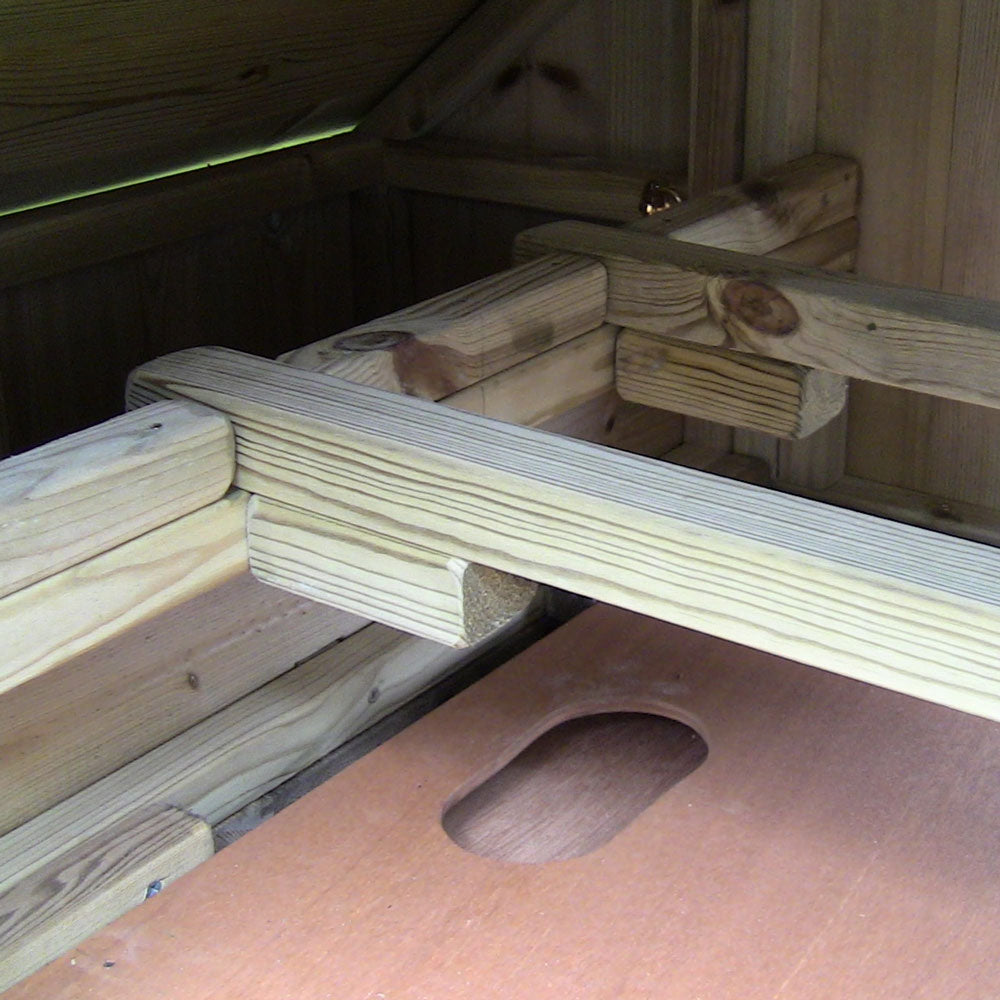 The Maggie's Six Chicken House for 6 laying hens, or eight small birds. Compact wooden hen house with external nest boxes, designed and made in Dorset by Flyte so Fancy.
The Maggie's Six Chicken House is a traditionally-made, high quality, wooden chicken house - a robust fox-proof coop for 6 birds.
It has plenty of space inside for six laying hens, or 4 hens and a cockerel, and it has a large access door at the back and a removable nest box for easy cleaning.
Large Back Door
Removable Droppings Tray
External Lift-off Nest Boxes
2 Removable Perches
Secure Pop-Hole Ramp
Apex Ventilation
Auto-door Opener Compatible
Optional heart window
Optional Wired Runs
Painting Service Option
Delivered Ready-assembled or flat-packed for self-assembly
Add the VSB Auto Door Opener Kit to your order and we will fit this for you free of charge.
See also our paint scheme option for the Maggie's Six.
Dimensions
Overall external: 135cm W (inc. nestbox) x 100cm D (excl. ladder) x 114cm high
Internally: 94cm wide x 76cm deep x 93cm high (max.)
Footprint: centre foot to centre foot: 80cm x 59cm
Perches: 2 x 90cm long
Legs: 20cm high (8 ins)
Pop-hole size: 28cm wide x 26cm high
Construction
All timber is sustainably resourced, FSC Certified, Pressure-treated Scandinavian Redwood
Roof: 21mm planed tongue & groove Shiplap
Body timber: 16mm planed Tongue &Groove
Floor: 9mm Exterior Grade Sealed Hardwood Plywood
Frame: 38 x 38mm Eased-Edge Framing
Legs: 45 x 90mm Eased-Edge Framing
Fixtures: Stainless Steel Nails; Plated & Painted Decking Screws
Fittings: Heavy Duty Galvanised or Zinc Plated
Timber Warranty: 15 years against rot and fungal attack (see Warranty conditions)
Currently approx. 1 weeks delivery time. This house is normally delivered on a pallet via Palletline carrier.
Please select above for the ready assembled or flat-packed in panels option. Delivery starts at £59 for a pallet (to mainland England), see our Delivery Page for more information.
Maggie's Six Hen House with Heart Window - Flat-Packed in Panels
Excellent service..updated while the chicken house was being made.Updated when it was despatched. Updated time of delivery.
Absolutely love the Maggie house. Excellent well made & I love it.!!
Flat pack was easy to assemble.
Thank you for taking the time to leave such lovely feedback! Glad to hear you're happy with the Maggie's henhouse :)
Maggie's Six Hen House with Heart Window - Flat-Packed in Panels
we found communicating very easy and helpfull good quality and easy to assemble
Maggie's Six Hen House with Heart Window - Flat-Packed in Panels
Quick delivery. Quality product as always. Thoroughly recommend them. Instructions to build were easy to follow. Well made and easy to clean out. (Already have one)
Maggie's Six Hen House
I bought the Maggie's Six Hen House and Hen Shelter to replace my existing hen house and run. This is the third and by far the best hen house I've had, and I wished I'd purchased from Flyte So Fancy from the start. Both items are made of really solid timber and are so well thought through, from the pull out tray for droppings to the really wide back door to allow for easy cleaning. I really liked the fact that the hen house was delivered ready assembled, and the hen shelter which needed construction had really clear instructions. Everything necessary was included including screw heads to ensure you could use an electric screw driver. Attention to detail is first rate.
Delivery was very prompt and communication excellent. I am a delighted customer The best hen house I've ever owned
Thank you very much for your lovely feedback, it is a pleasure to read and much appreciated. Kind Regards, Anne
Maggie's Six Hen House
Excellent service Very pretty well made hen house