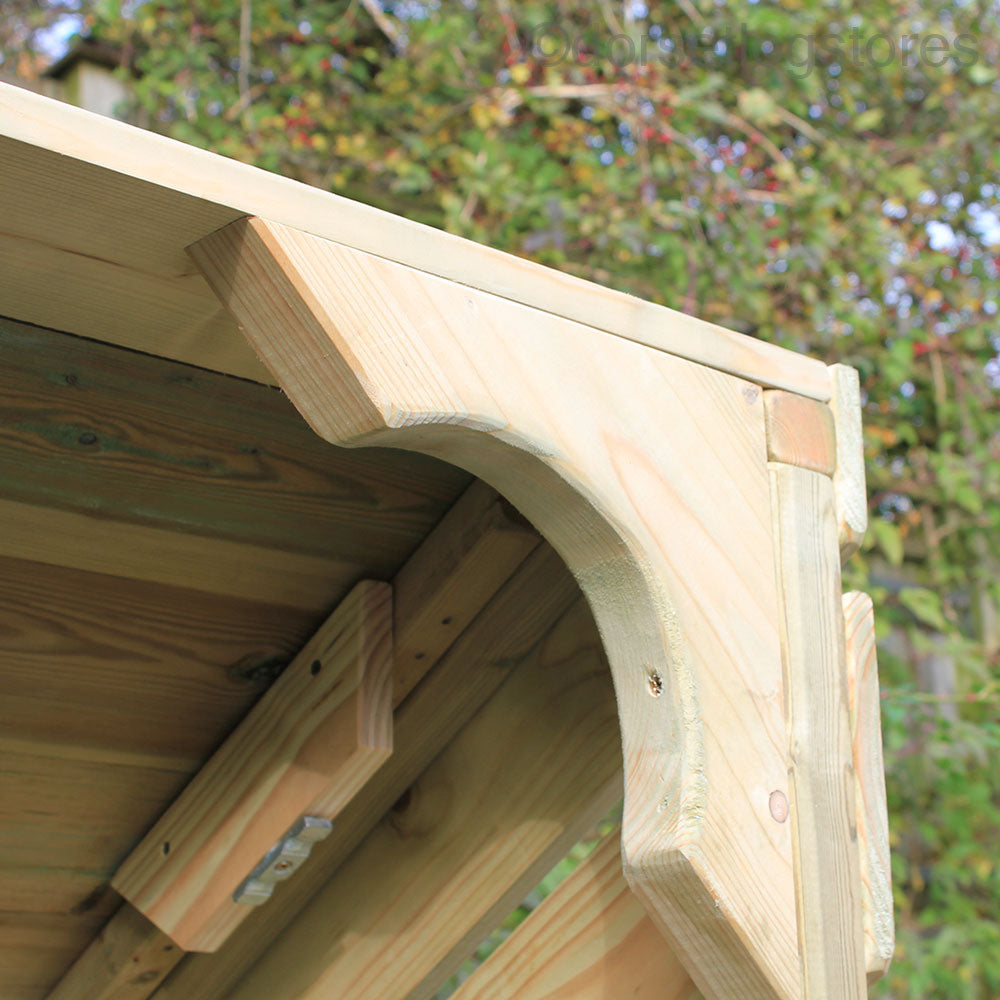 Large 360 Litre Wheelie Bin Store
Large Wheelie Bin Store for 360 Litre Wheelie Bins. A Heavy Duty Timber Wheelie Bin Housing - Delivered Ready Assembled or Flatpacked.
Pressure Treated Timber used throughout for long life outdoors. This is no lightweight, fall-apart unit; it is built to last! This Single Wheelie Bin Store is made to suit an extra-large 360-litre Wheelie Bin.
Smartly designed, and made here in Dorset, this Store will keep your wheelie bin out of sight but readily accessible with an upper open area that is finished with two curved braces.
To access the bin itself just raise the bin lid and fix it in an open position with the turn buttons mounted on each side. The side panels are made with thick 21mm board in a herringbone design and are vertical on the back panel. They have a 2cm gap between the timber to keep the unit well-ventilated but still secure.
The roof is a robust tongue & groove shiplap at just the right angle to shed rainwater easily. The door has a steel D-handle, heavy-duty galvanised hinges, and a padlockable Brenton Bolt. The unit has a simple flat metal bottom brace across the front so the bins can easily be wheeled in and out (i.e. no floor).
Very well made from thick pressure-treated timber throughout, built with stainless steel nails and plated decking screws.
External overall dimensions: 84cm wide; 99cm front to back; 167cm high at the front, 118cm at the back.
Internally: 70cm wide; 92cm front to back; 164cm high at the front; 119cm high at the back.
The door is 68cm wide x 110cm high. The top access opening is 70cm wide x 51cm high.
Construction: base (where applicable), sides, and back: 21mm planed Pressure Treated FSC Redwood boards.
Roof: 21mm planed tongue & groove Pressure Treated FSC Redwood Shiplap.
Frame: 38mm x 50mm pressure-treated FSC framing
Fixtures: Plated & Painted Decking Screws; Stainless Steel Nails; Heavy Duty Galvanised Hinges, Hooks and Catches.
Warranty: 15 years against rot & fungal attack (see Warranty conditions)
Made in England
Please check your bin dimensions. As a guide, a 360-litre Plastic Wheelie Bin measures 60cm wide; 87cm front to back x 110cm high.
Note: Our Timber is pressure treated and warrantied against rot, fungal, or insect attack for 15 years. This does NOT mean pressure-treated timber is 'waterproof' nor will it prevent the natural swelling and shrinkage throughout the seasons but, it is suitable for life outdoors in all weathers.
Swelling and shrinkage are perfectly natural with all timber. Although we build in some tolerances to take account of this, you may have to slightly adjust the doors over time e.g. if the timber swells preventing the doors from closing properly. This is easily done by adjusting the hinges slightly to move the door position. Install on a level surface or plinth so that the doors will sit correctly together.
We advise that maintenance is required for any timber products over the years and the application of a wood protector (not varnish) annually will keep it in good condition to help the timber last 15+ years.
Currently approx. 1-2 week delivery time, we will email a delivery date shortly after receiving your order.
Delivery is via Palletline and can be either ready-assembled or flat-packed for self-assembly. See Delivery Information for how the delivery is made (e.g. the driver will not unpack the pallet for you).
If opting for Ready Assembled please consider how you will be able to take the unit off the pallet and put it in its required place. For Flat-packed, it is very easy to assemble with full instructions and all fixings included - cordless screwdriver advised.