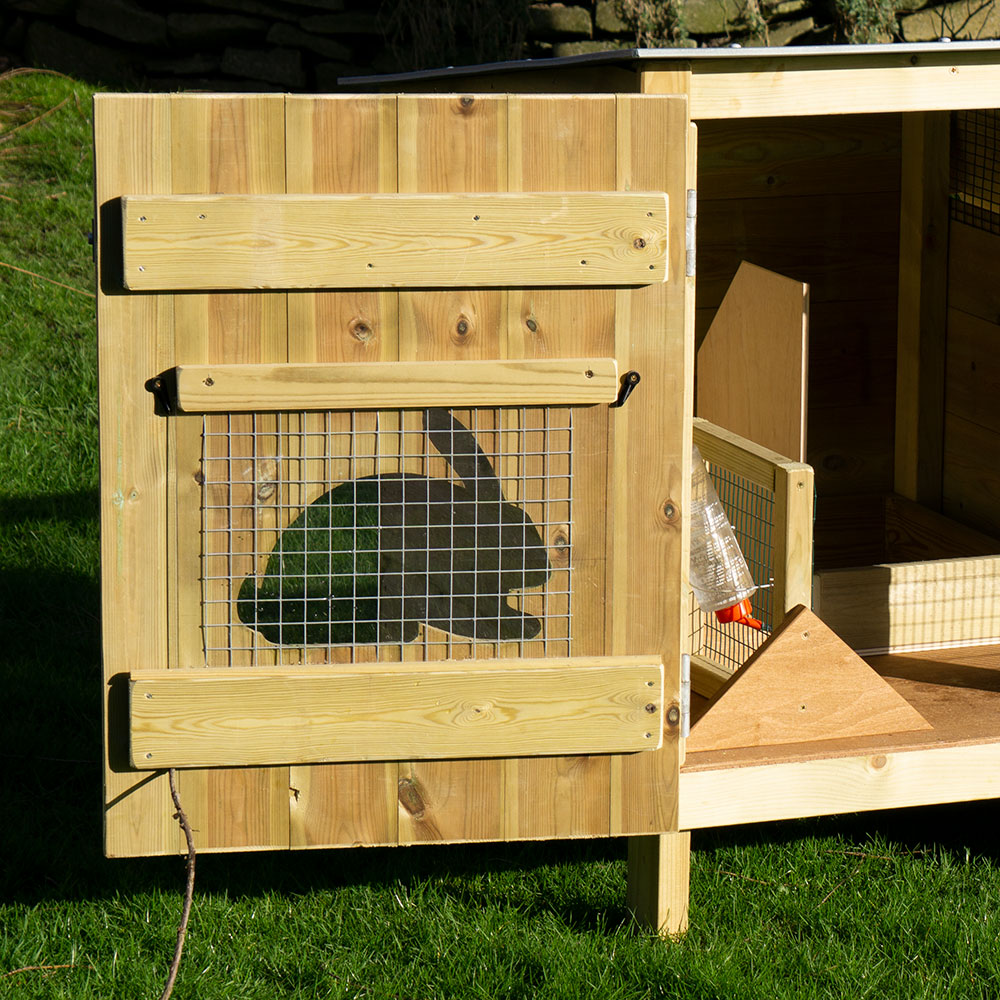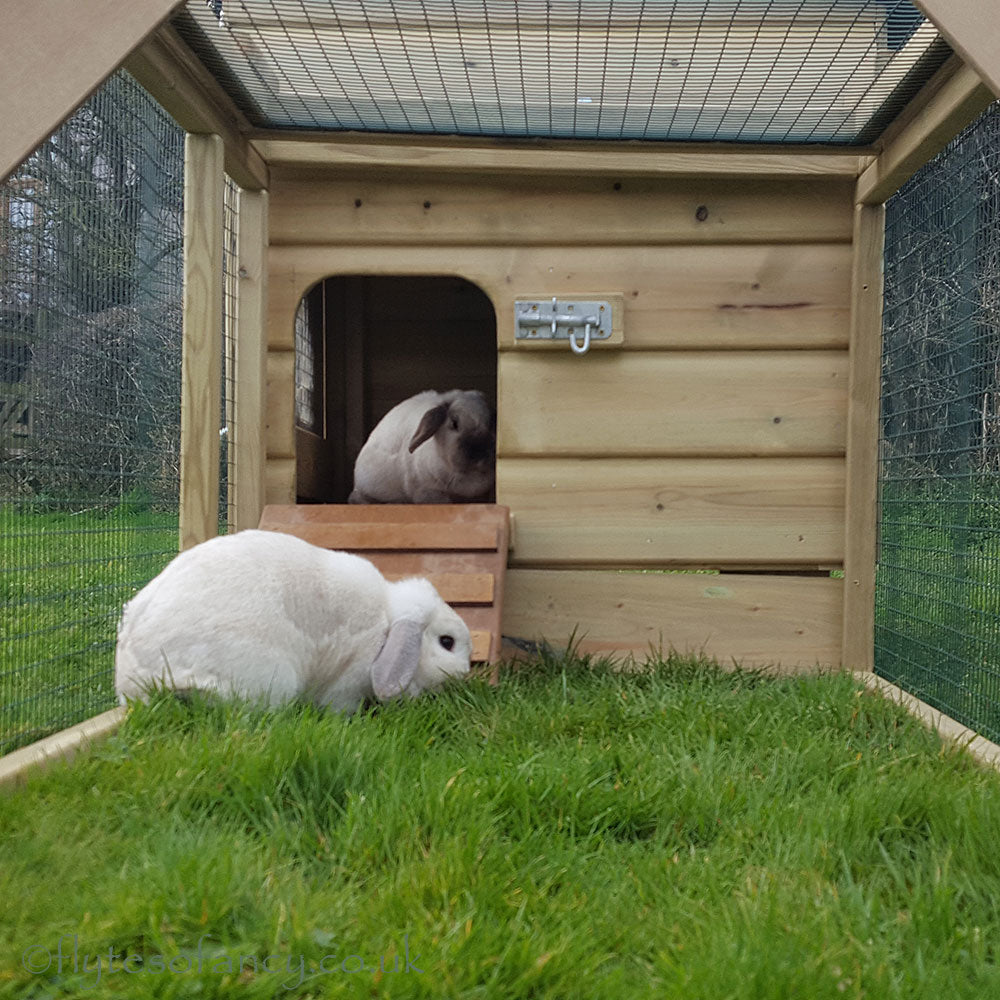 Hoppity Rabbit Hutch & 9ft Run
The Hoppity Rabbit Hutch & 9ft Run, designed and made in Dorset by Flyte so Fancy. A cute and compact Timber Rabbit Hutch with a detachable 9ft long Run, suitable for two large bunnies.
We have adorned the Hoppity Hutch with a delightful rabbit shaped window, which is backed with a removable clear perspex panel, and wire meshed inside. This is to allow more ventilation when needed as well as providing a lovely window for your bunnies to watch the outside world.
The Hoppity is raised off the ground on 6 inch legs (to prevent vermin) with a solid 9mm exterior-grade plywood floor and thick shiplap timber walls - see our About our Houses for details of how we build our hutches.
The front door opens wide for access to their sleeping tray and water bottle stand (stand included but Water Bottle available separately), making cleaning the hutch very easy for all ages.
The rabbits access the run via a fold-down ramp on the side of the hutch so you can keep them secure at night and also warmer in winter.
The 'Never-Leak' Roof is made of a light grey, UV stable, recycled polypropylene - no maintenance; no leaky corners; lightweight to reduce weight and help portability.
There is good ventilation from the louvres on each side (which are wire meshed inside for security) and these double up as handles when you want to move the hutch.
The 9ft long Run is separate but secures against the ramp side of the hutch with a hook and chain and has a bracing bar to ensure the rabbits cannot escape under the house itself.
Access is from a top access panel of the run, next to the hutch, as well as a little access door at the end of the run so that you can reach into the run if you need to, or let the bunnies out for more freedom in the garden.
Dimensions:
Overall external (inc roof): 84cm wide x 95cm deep x 100cm high.
Internal floor: 70cm wide w x 80cm deep x 76cm high
Pop-hole: 25cm wide x 30cm high
Legs are 6 inches high
Construction:
All timber is sustainably resourced, FSC Certified, Scandinavian Redwood
Roof: Recycled 9mm Polypropylene Roof
Body timber: 16mm pressure treated Shiplap & Tongue & Groove
Floor: 9mm Exterior Grade Sealed Hardwood Plywood
Run: Green-coated, galvanised half inch by one inch weldmesh
Frame: 38mm x 38mm Pressure Treated Eased-Edge Framing
Fixtures: Stainless Steel Nails; Plated & Painted Decking Screws
Fittings: Heavy Duty Galvanised or Zinc Plated
Timber Warranty: 15 years against rot and fungal attack (see Warranty conditions)
Handmade in Dorset
Currently 1-2 week delivery. This house is delivered ready assembled on a pallet via Palletline Transport Company with the run in panels for simple self assembly. Full instructions and all fixings included.
Delivery charge for mainland England delivery is £59, for other areas it will be more. Expected delivery date will be detailed in separate confirmation email. Please see our Delivery Information page for details of pallet size and method of delivery.
Grand Rabbit Hutch and Run
Hoppity Rabbit Hutch & 9ft Run
We love our Hoppity Rabbit Hutch and Run. It looks great and is well built and is perfect for our little furry friend.
The order and delivery process was great and we were kept well informed through the process.
The self assembly (mainly the Run) was simple and the instructions were great.
We are really pleased with our purchase, and would look to buy again.