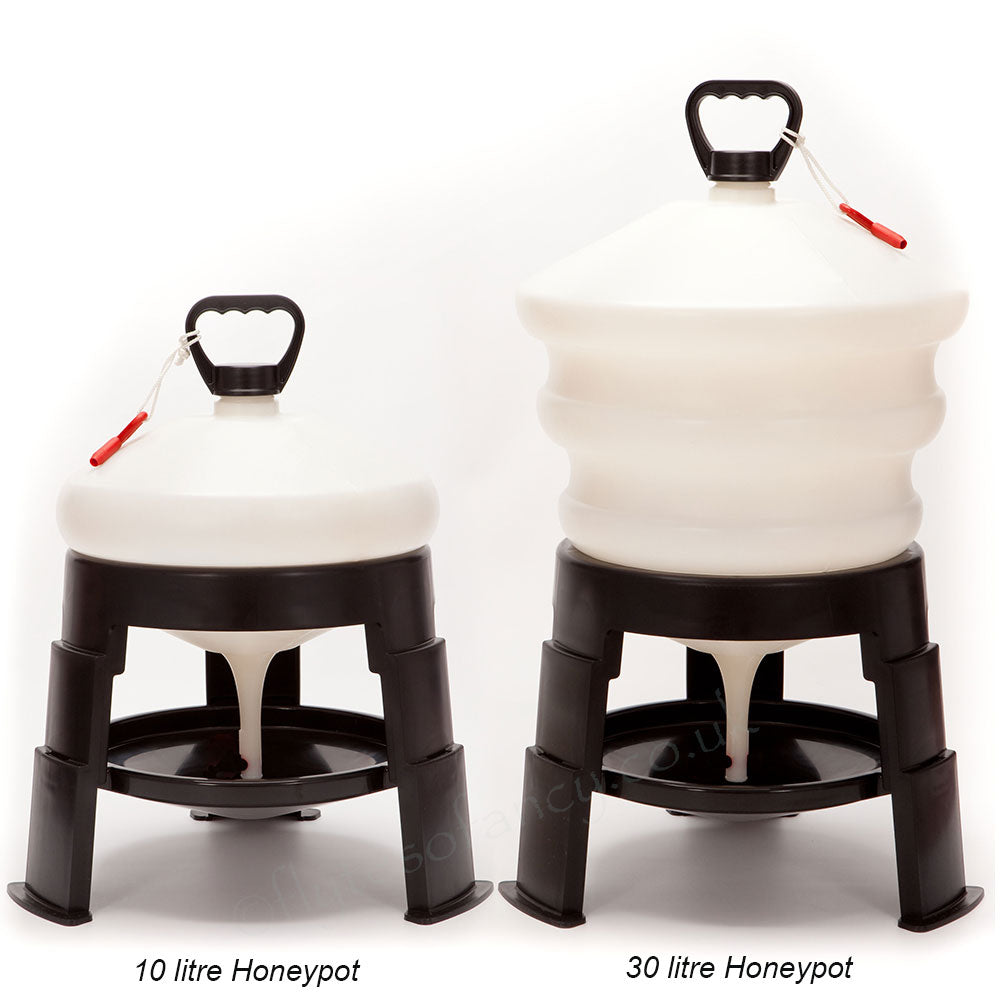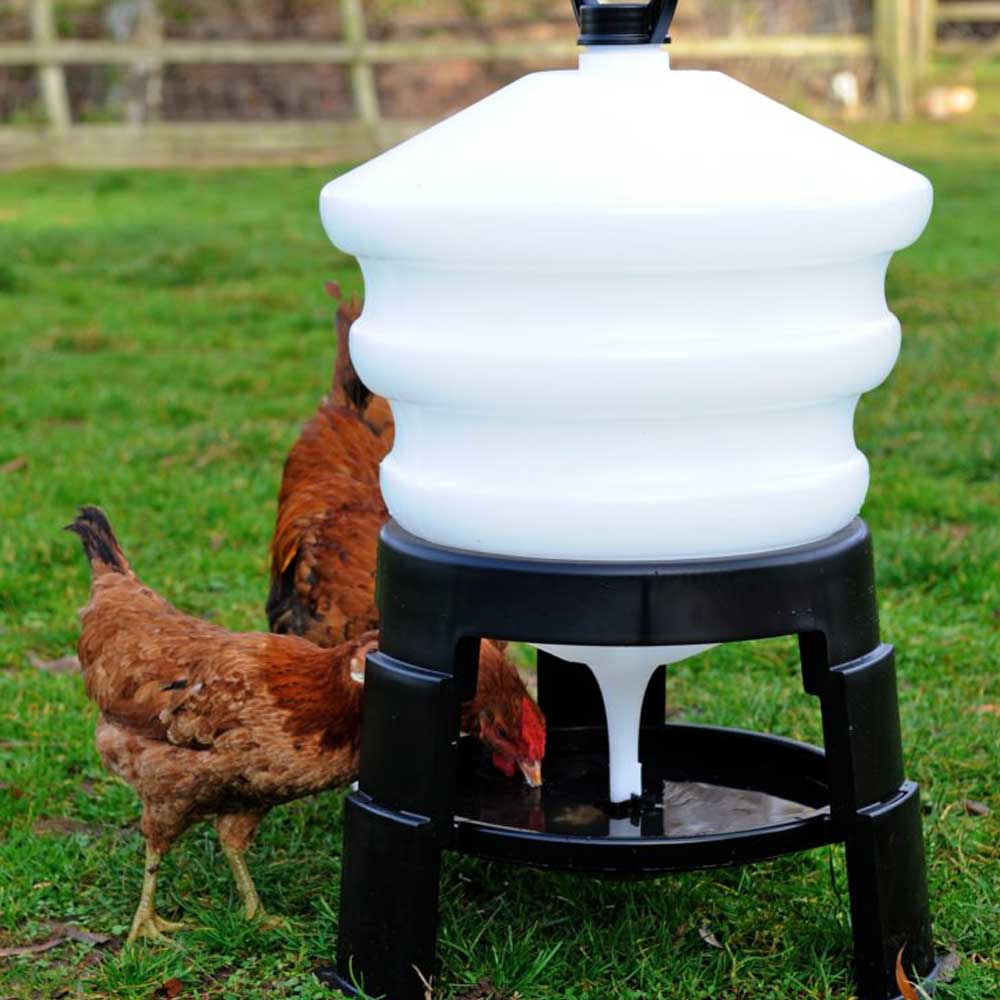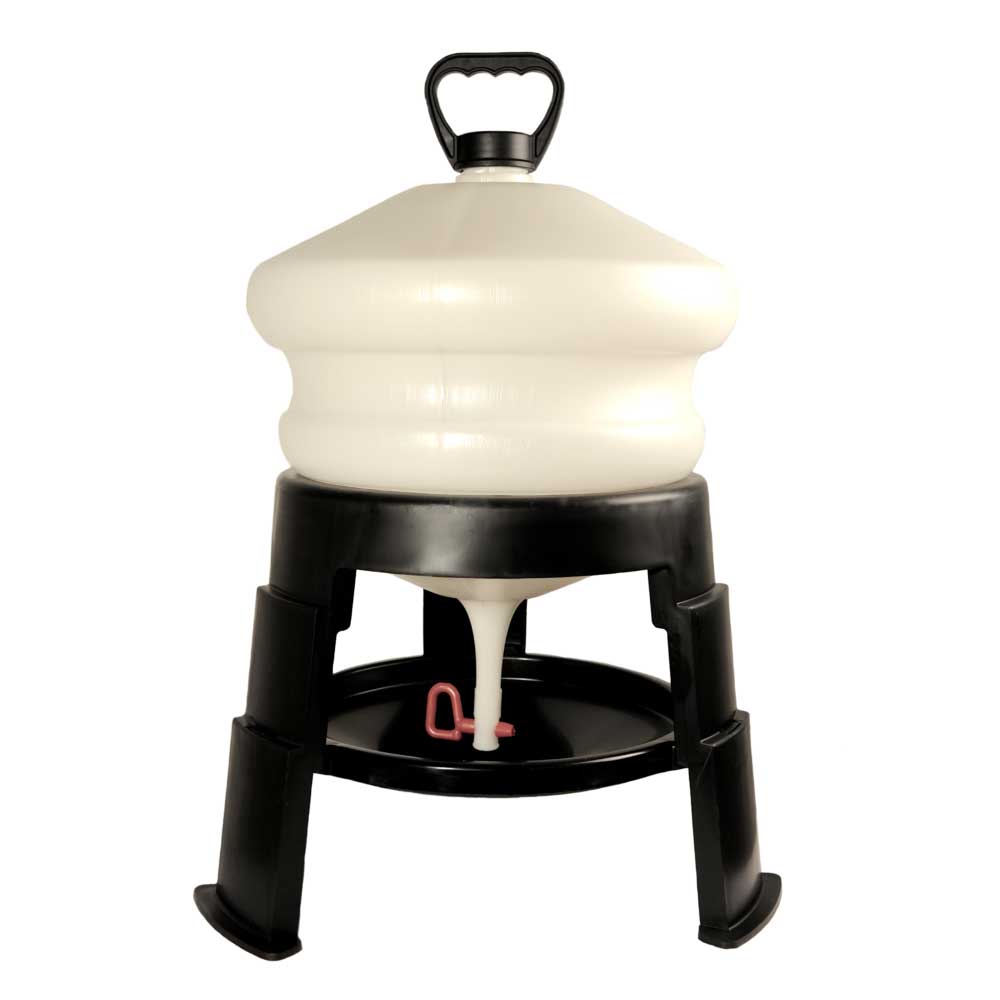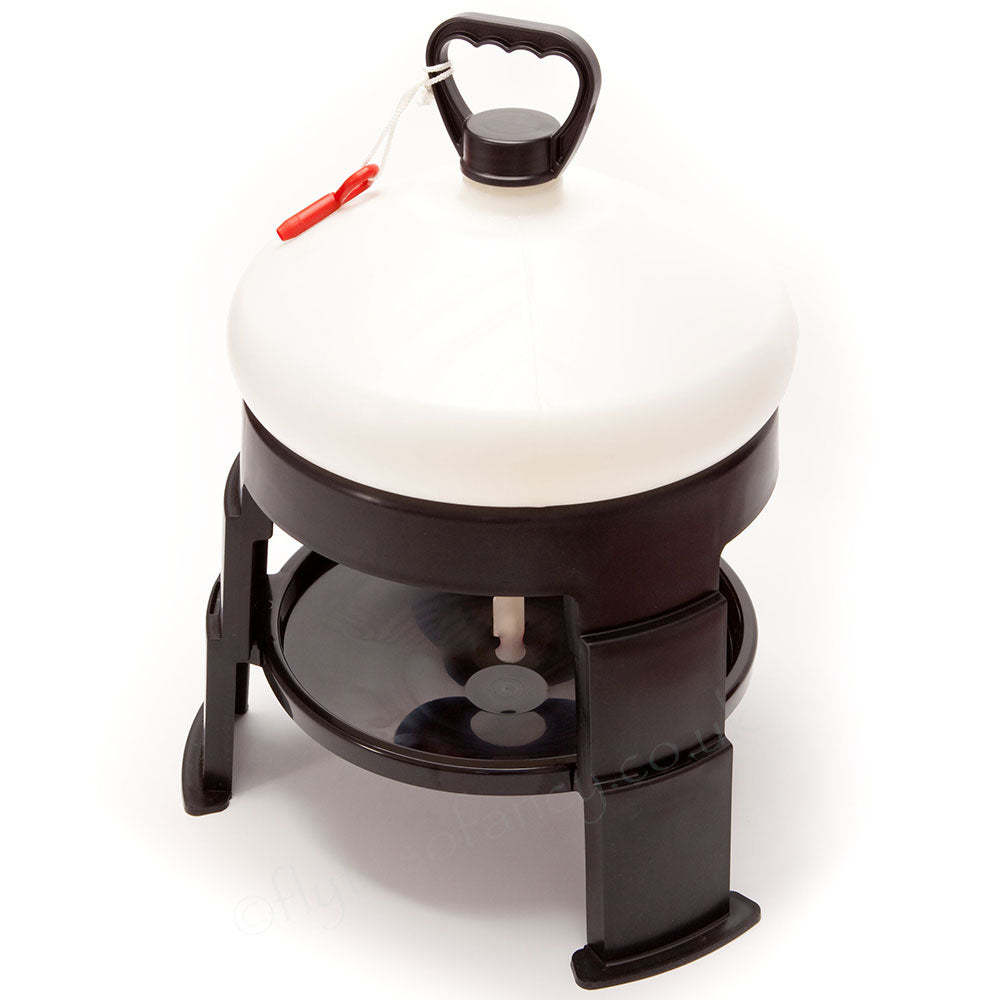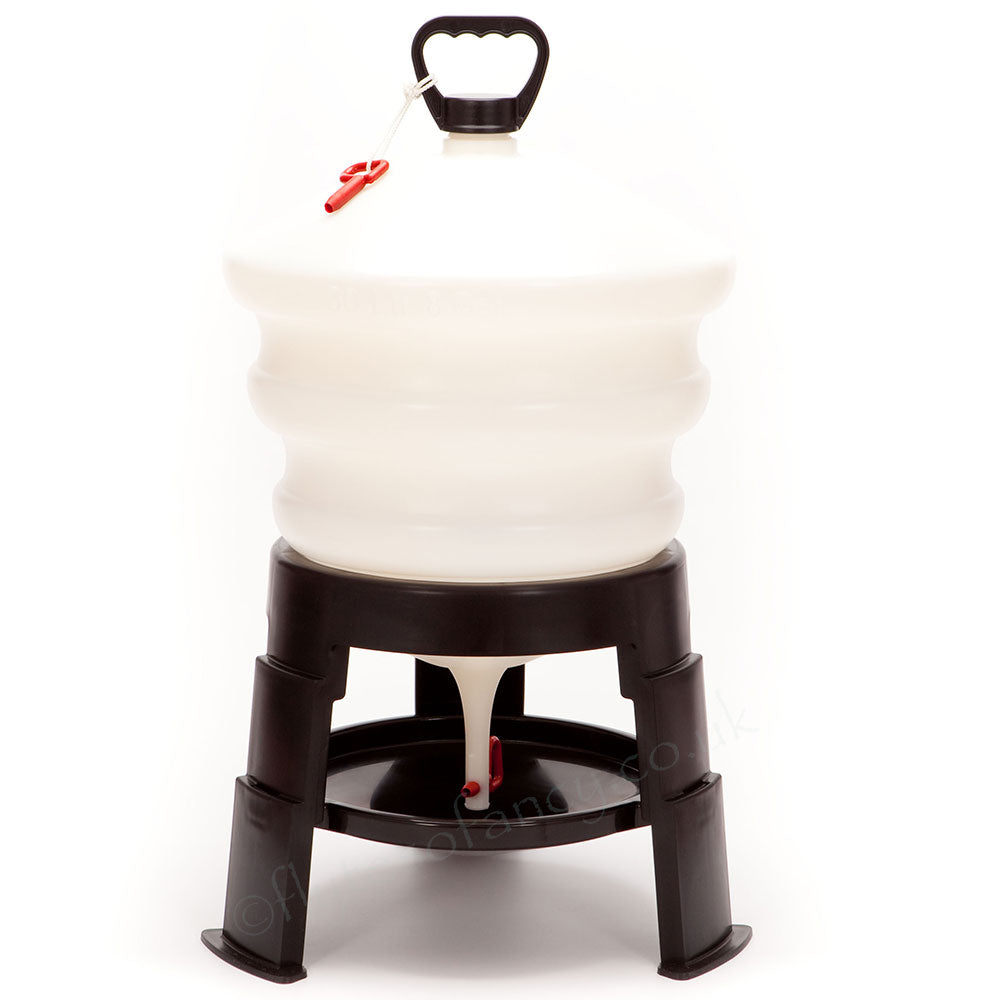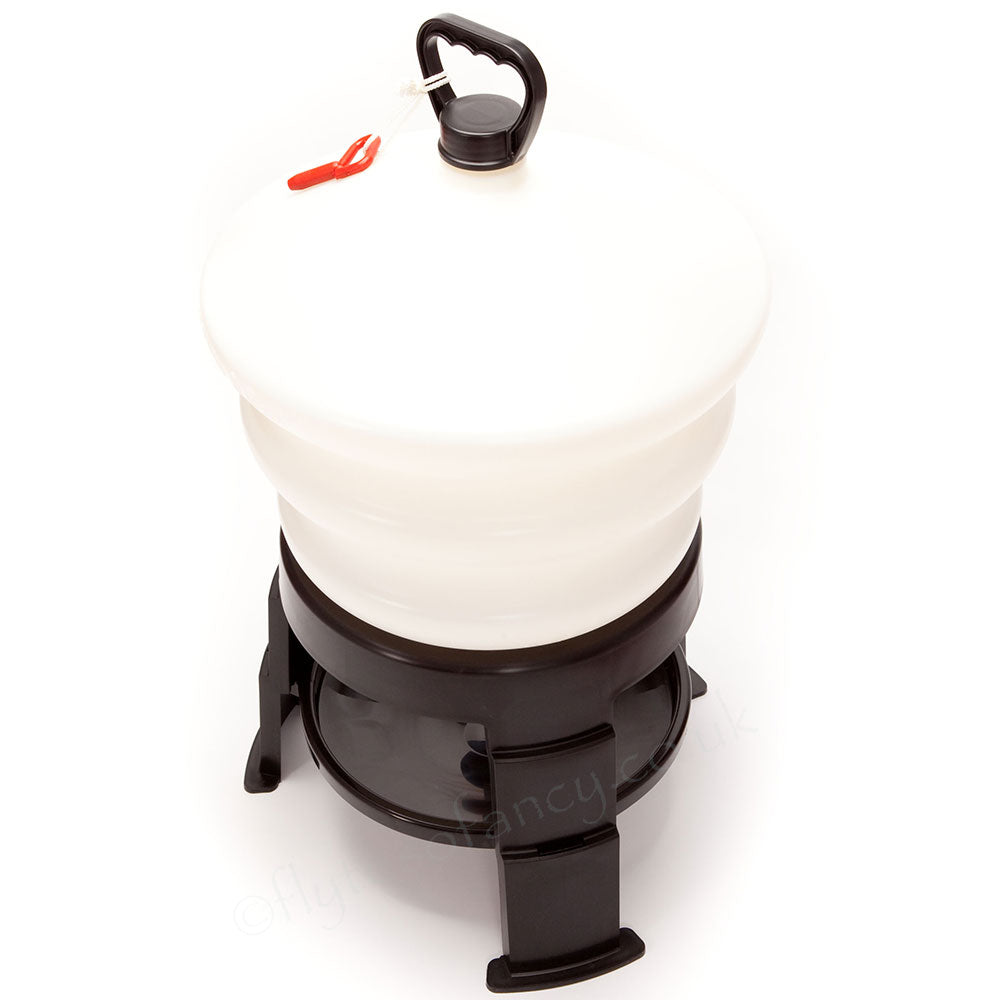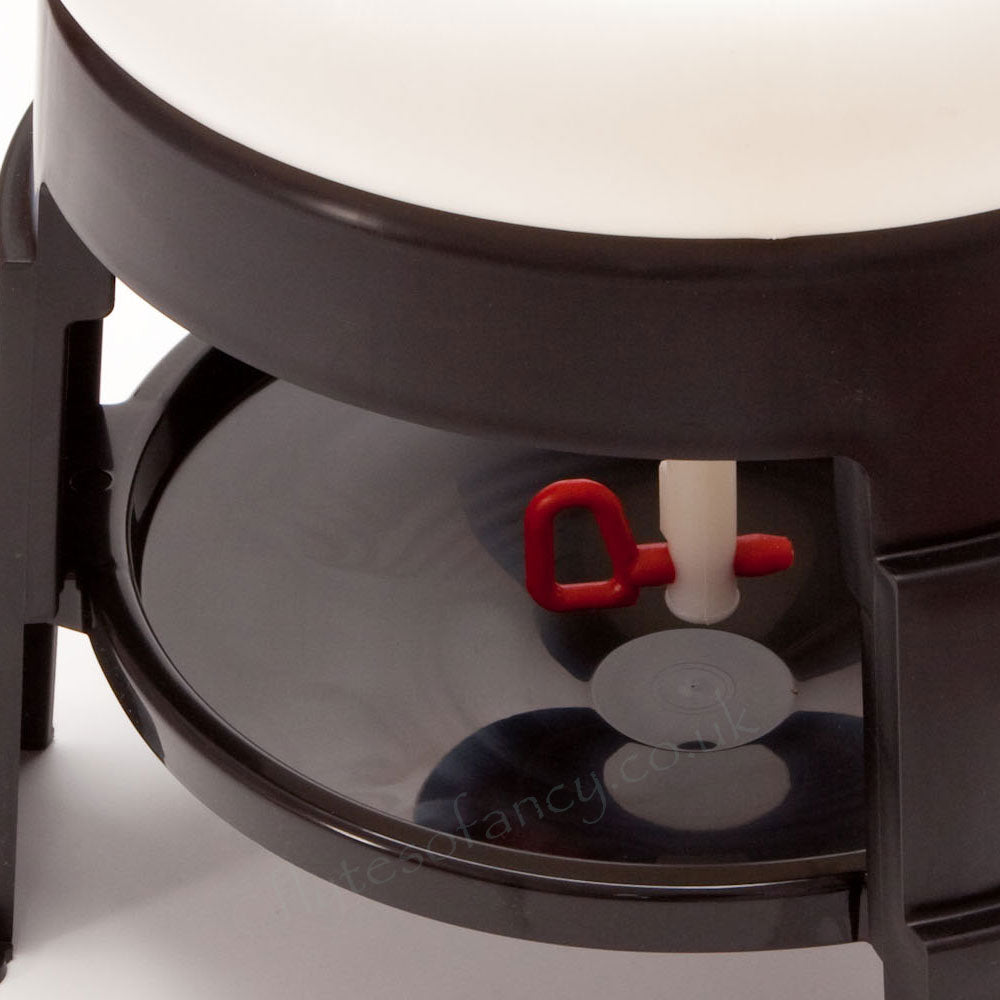 Honeypot Poultry Drinkers
Honeypot Poultry Drinkers - Three sizes available, 10 litre, 20 litre and 30 litre.
British-made Plastic Tripod Poultry Drinker, with a white translucent tank and strong black plastic tripod stand, from BEC.
Being raised off the ground will help keep the water in the saucer free from debris and contamination while it is freshly supplied from the tank above.
Always reliably gives fresh water because the level in the drinking saucer remains filled from the tank above. 
The outlet tube has a tough plastic push-pin that closes and opens the outlet tube, this makes it a simple task when filling the tank. Some self-assembly required.
PLEASE NOTE THE DIMENSIONS OF THESE DRINKERS BEFORE PURCHASING. Please also note that only one red key bung comes with each drinker.
Replacement Red Bungs and Black Tank Caps are available.
As a guide, 6 chickens can drink approx 2 litres of water per day (in summer).
Dimensions:
10 litre Drinker: Overall max inc handle - 63cm high, 34cm diameter. 10 litres is just over 2 gallons. 63cm in old money is 25 inches tall. Suitable for small flocks of chickens from 8 to 15.
20 litre Drinker: (approx 4.5 gallons). Overall max inc handle - 69cm (27in) high, 35cm (14in) diameter. Suitable for flocks of 15-30 birds.
30 litre Drinker: Overall max inc handle - 77cm high (30in), 38cm (15in) diameter. 30 litres is approx 6.5 gallons and this drinker stands just over 30in high.

PLEASE NOTE THE DIMENSIONS OF THESE DRINKERS BEFORE PURCHASE.
Standard delivery via courier is next working day to most mainland UK destinations for orders placed before 2pm (excl. weekends and bank holidays).
20litre
Not had this long but so far so good. Easy to set up and although I only have 6 chickens it negates the need to keep topping the water up.
Great Design
Just what we needed for our increasing flock of chickens. Was concerned at first as we could not get the bung out it was jammed in. We had it on a bench and was very difficult to remove. Did not relish bending down to struggle with it every time we needed to fill. However as soon as we put water in the drinker that lubricated the bung and was then easy to put in and out.
Great
Girls are a big fan. Little tricky to level but once it's settled works well - keeps water much clearer than other drinkers. Have been a sanitising the inside regularly and no algae build up.
Honeypot Poultry Drinkers - 10 Litre
Great quality product and excellent customer service. Easy to assemble and sturdy. I'm having problems with the valve at the moment - the water keeps gushing out despite being checked with a spirit level. I'll give Flyte so Fancy a call on Monday and I'm sure they'll help me sort it out. It's bound to be something to do with me putting it together incorrectly rather than a fault in the product.
Honeypot Poultry Drinkers - 10 Litre
Easy to talk to and contact, products as described and good quality as always It is good, bit hard to clean out when gets algae.