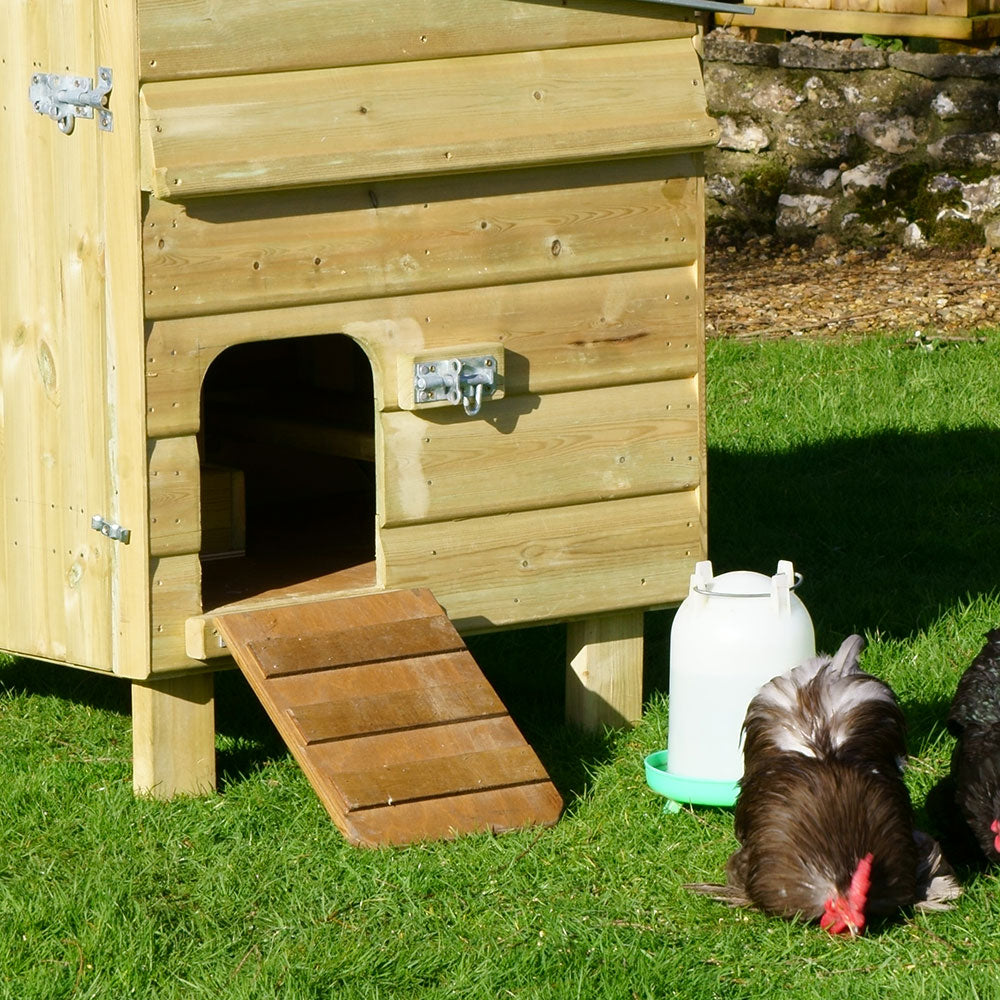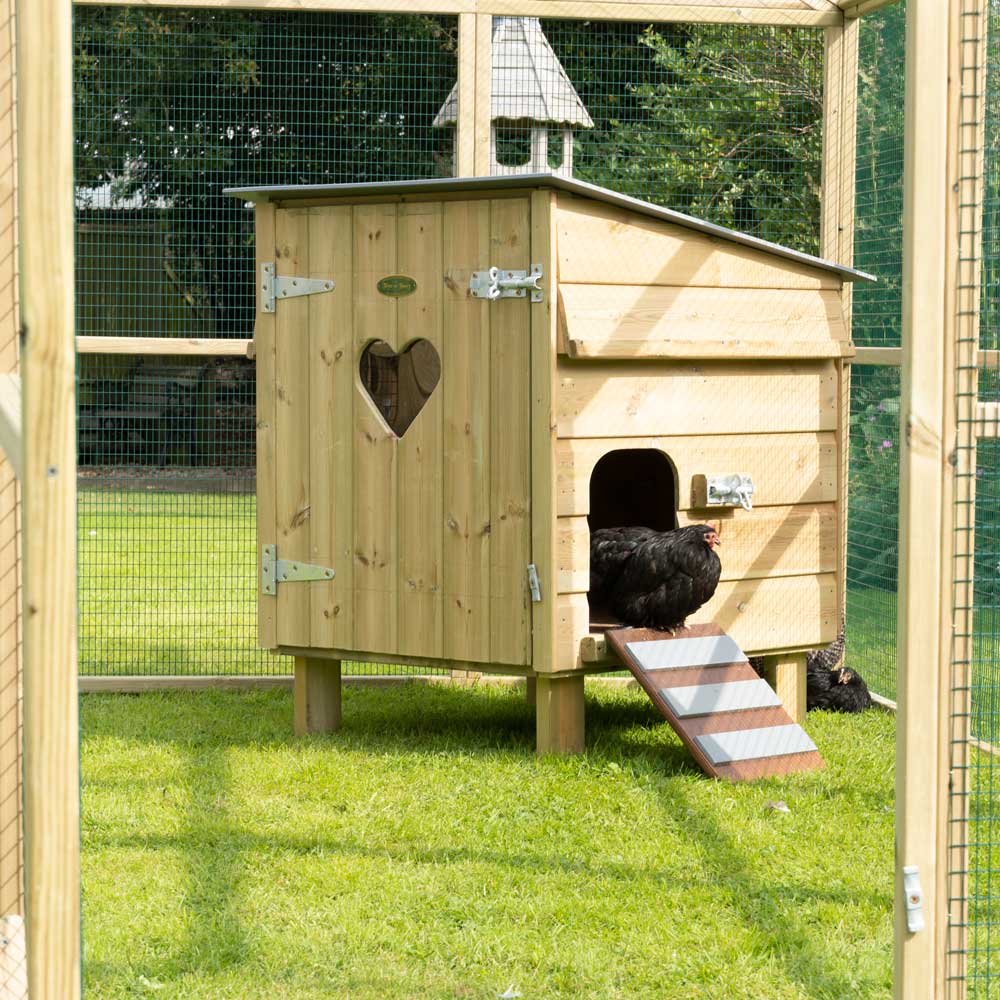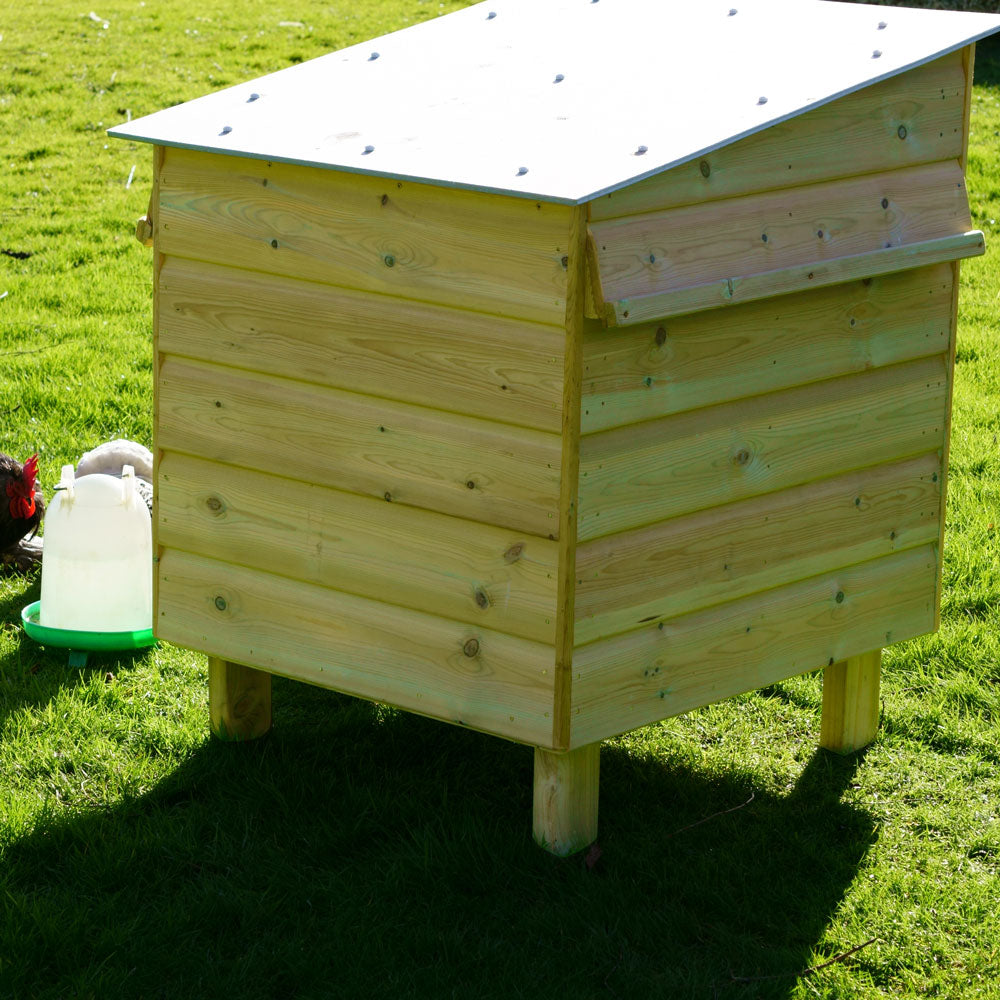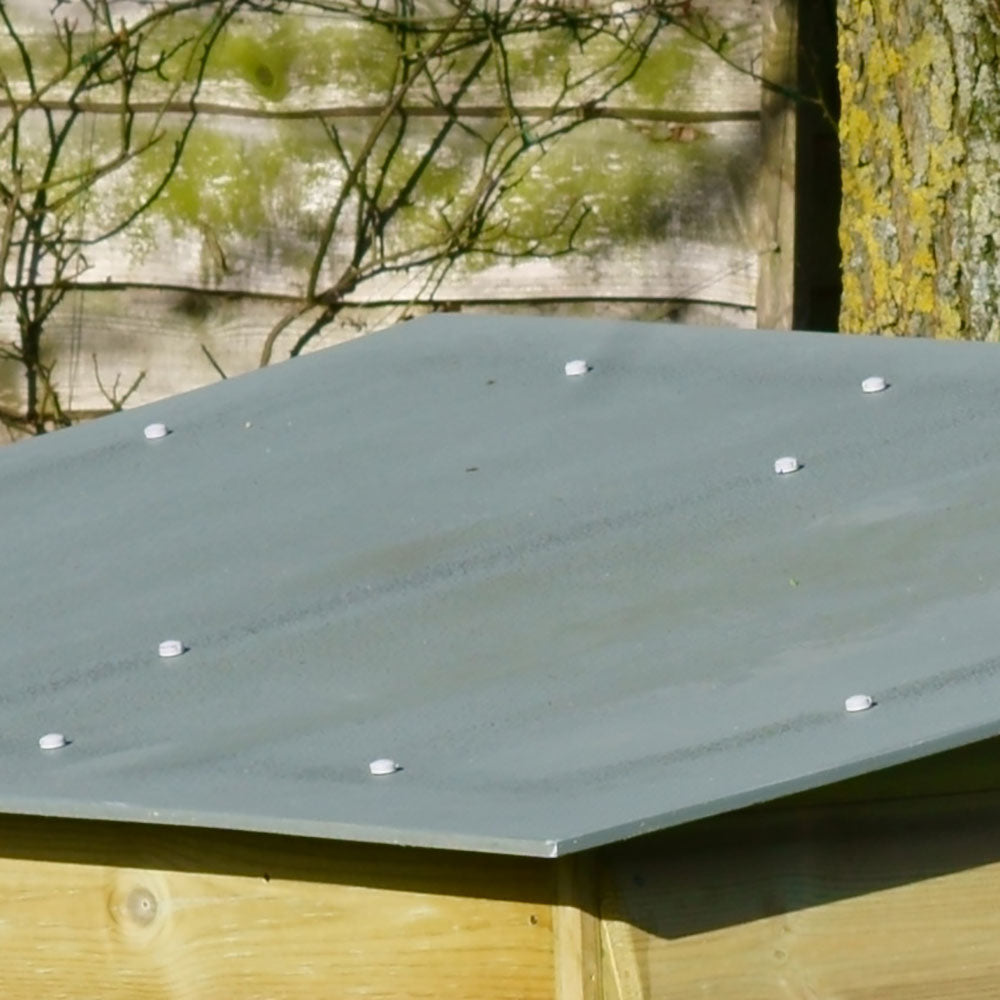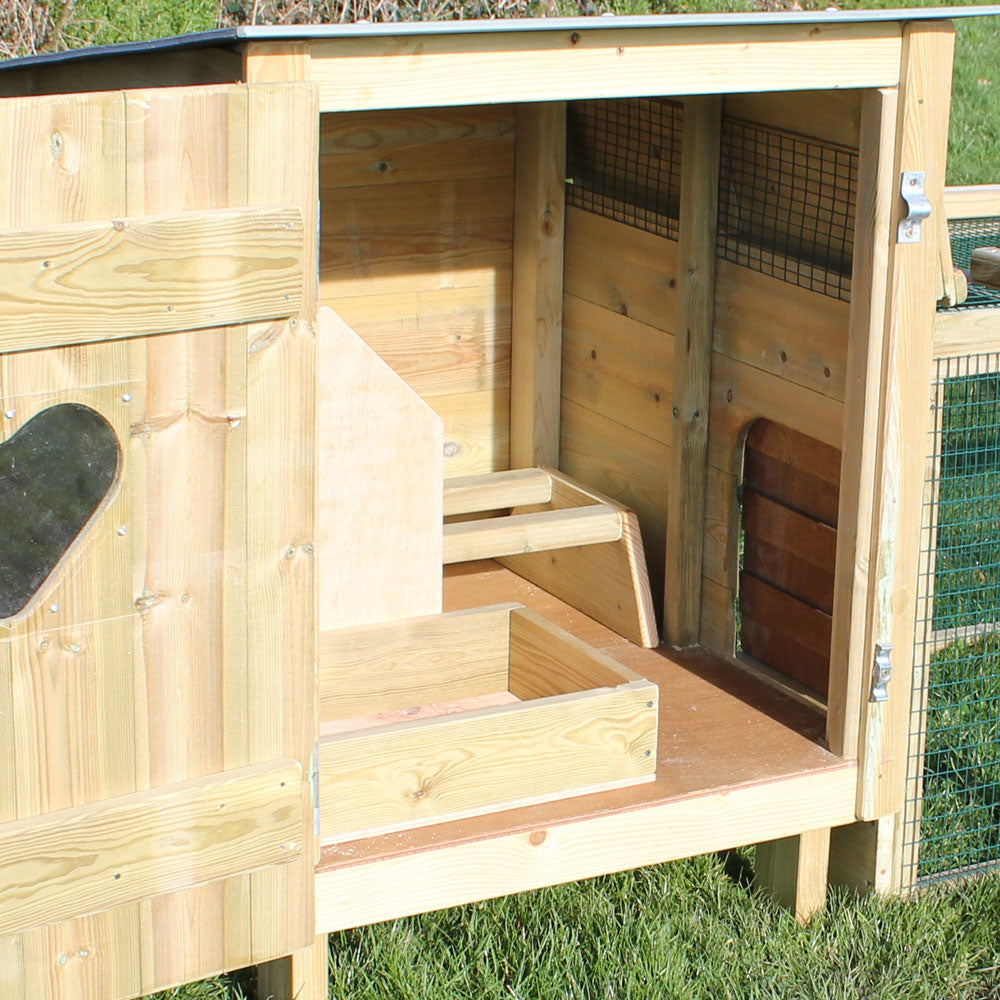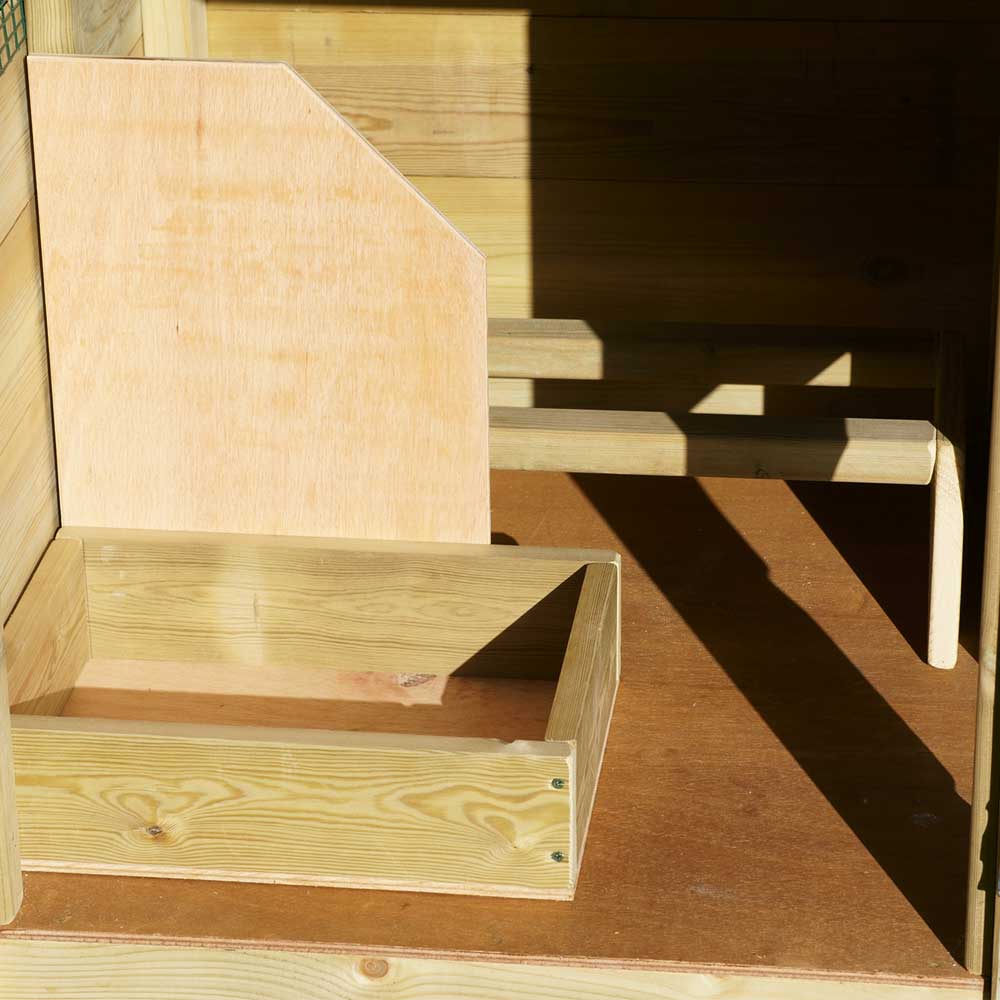 This Small Handy Hen House is a compact hen house for 4 hens - a 'Portable Pocket Henhouse'! Delivered Ready Assembled.
Approx. 3ft x 3ft (externally) this is the smallest of the Handy Henhouse range with internal nestbox and freestanding perches.
The Handy Henhouse has a 'Never-Leak' Roof which is made of a tough low-maintenance, grey, UV stable, recycled polypropylene - no roofing felt for nasty mites to hide in; no leaky corners; completely waterproof; lightweight to reduce weight and help portability.
Comes with a simple Internal Nest Box Tray and a Freestanding Perch Rack to take 4 birds. It is spacious inside, with headroom for a cockerel, so it could comfortably take 4 average sized laying hens, or 2 and a cockerel. Perfect for up to 6 small Bantam Hens too.
The front door opens wide for access, easy for collecting eggs and easy to clean. Ventilation louvres on either side also act as carrying handles and they are meshed inside to prevent vermin intrusion.
It is raised up on 6-inch legs to help keep it dry and to prevent vermin living underneath. The pop-hole on the right-hand side has a ramp which also folds up to close securely with a galvanised bolt.

There is an option to add an Automatic Pop-Hole Door Opener, which we would fit for you if ordered at the same time as the hen house.
The VSD and lightweight door would be fitted inside the henhouse allowing the birds out in the morning - without you having to go outside on a wet and windy Sunday morning - and then it closes in the evening so you don't have to worry about closing the door as soon as it gets dark.
Then, to keep your hens secure and safe from predators, why not add a 6ft or 9ft long Wired Run to the Hen House. The run just hooks up to the house so can easily be removed when not required, or used if you just need them confined for a short time.
For more details about the timber we use, how to keep it waterproof and take care of it over the years please visit the About our Houses page.
Dimensions
Overall external: 84cm wide x 95cm deep x 1m high
Internally: 70cm wide x 80cm deep x 76cm high
Legs are 6 inches high
Pop-hole size: 25cm wide x 30cm high
Construction
All timber is sustainably resourced, FSC Certified, Pressure-treated Scandinavian Redwood
Timber body: 16mm Shiplap & 16mm Tongue & Groove
Roof: 9mm Grey Recycled Polypropylene
Floor: 9mm Exterior Grade Sealed Hardwood Plywood
Frame: 38 x 38mm/36 x 66mm Eased-Edge Framing
Fixtures: Stainless Steel Nails; Plated & Painted Decking Screws
Fittings: Heavy Duty Galvanised or Zinc Plated
Timber Warranty: 15 years against rot and fungal attack (see Warranty conditions)
Currently approx. 1-2 week delivery.
This henhouse is delivered ready assembled on a pallet via Palletline Transport Company (see Delivery Information for full details). Delivery starts at £59 for a pallet (to mainland England) but other areas may be more.
This delivery charge is a single charge, for as many items as we can pack on your pallet, so adding weighty items e.g. bedding, can often be a good idea.
New home for my bantams.
This is the second Handy Henhouse we have purchased. Well made and strong - our silkies love it so another ordered another for our bantams. Also efficient fast delivery.
Great hen house
A well constructed, stylish small hen house. Delivered promptly. Great service.
Perfect little house, the girls love it.
This is a great house for my chickens, really well made with good materials. It's easy to clean and well protected against the weather. A little more money than some others available but comes ready constructed - a huge bonus.
Eggcellent customer service
handy 4 hen house and dust bath.
such good quality and came already put up which for those of us that are a bit 'slow' when it comes to putting things together! However we did have 2 pieces of wood in the sand pit which we are unsure where they go? On the hen house and if so where or on the sand pit again where?