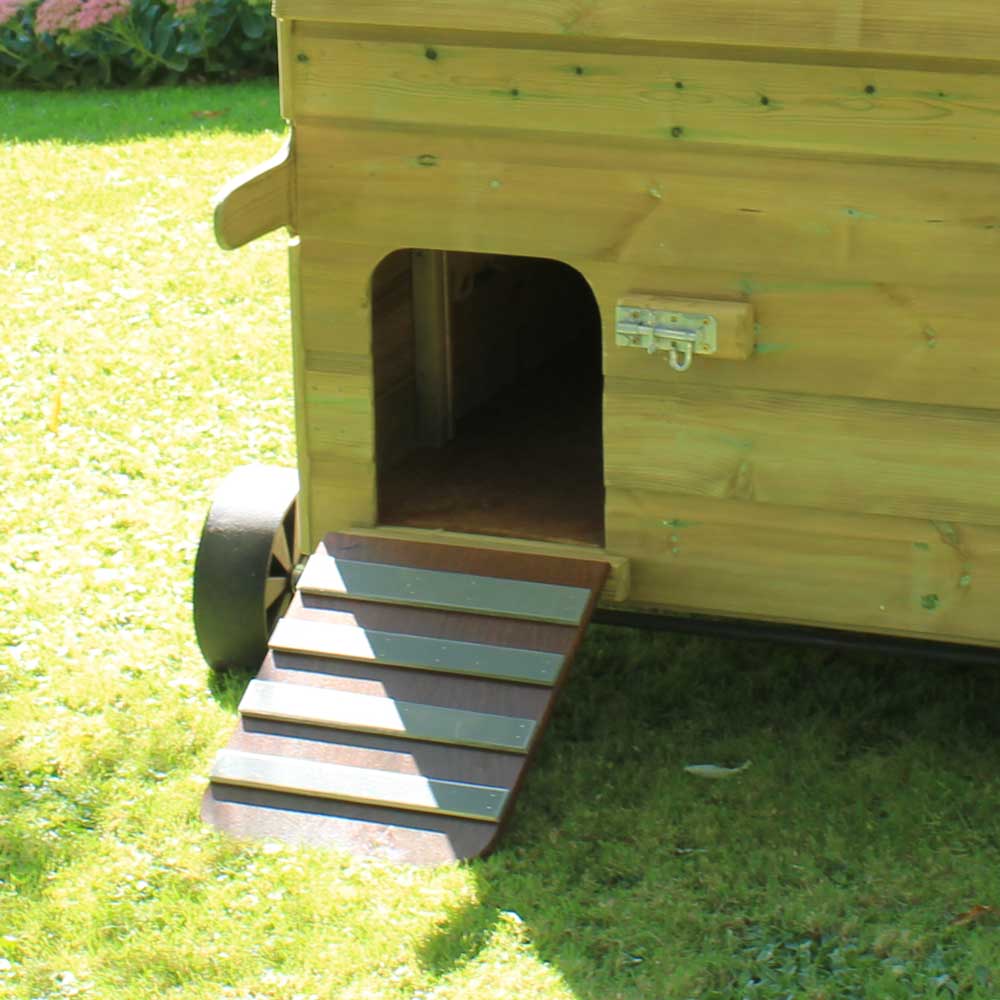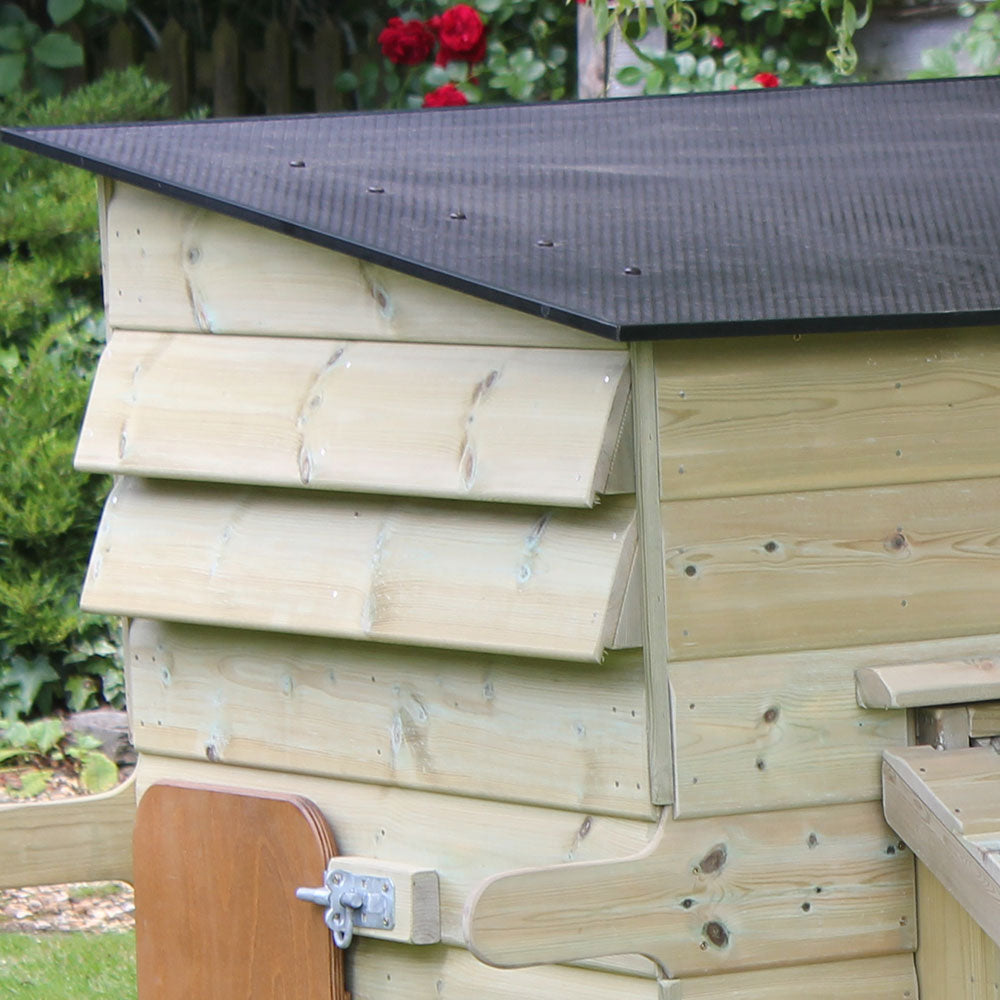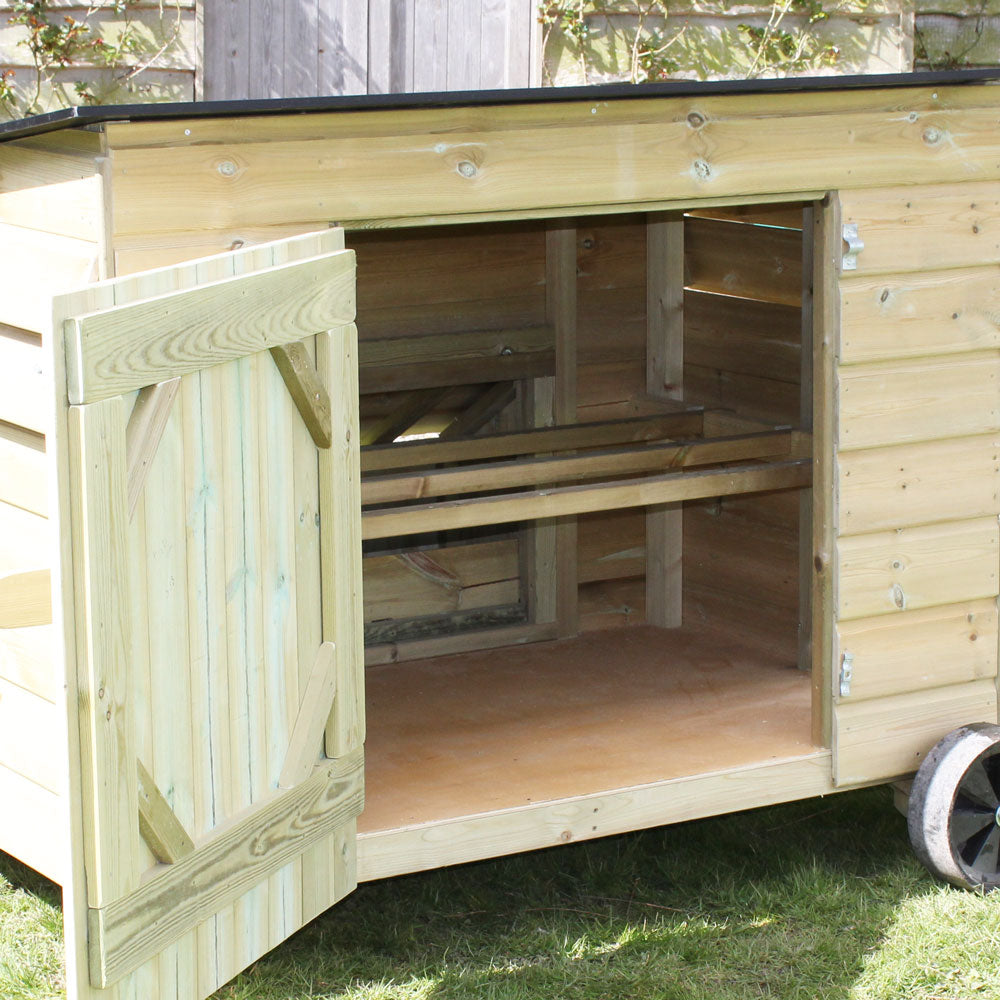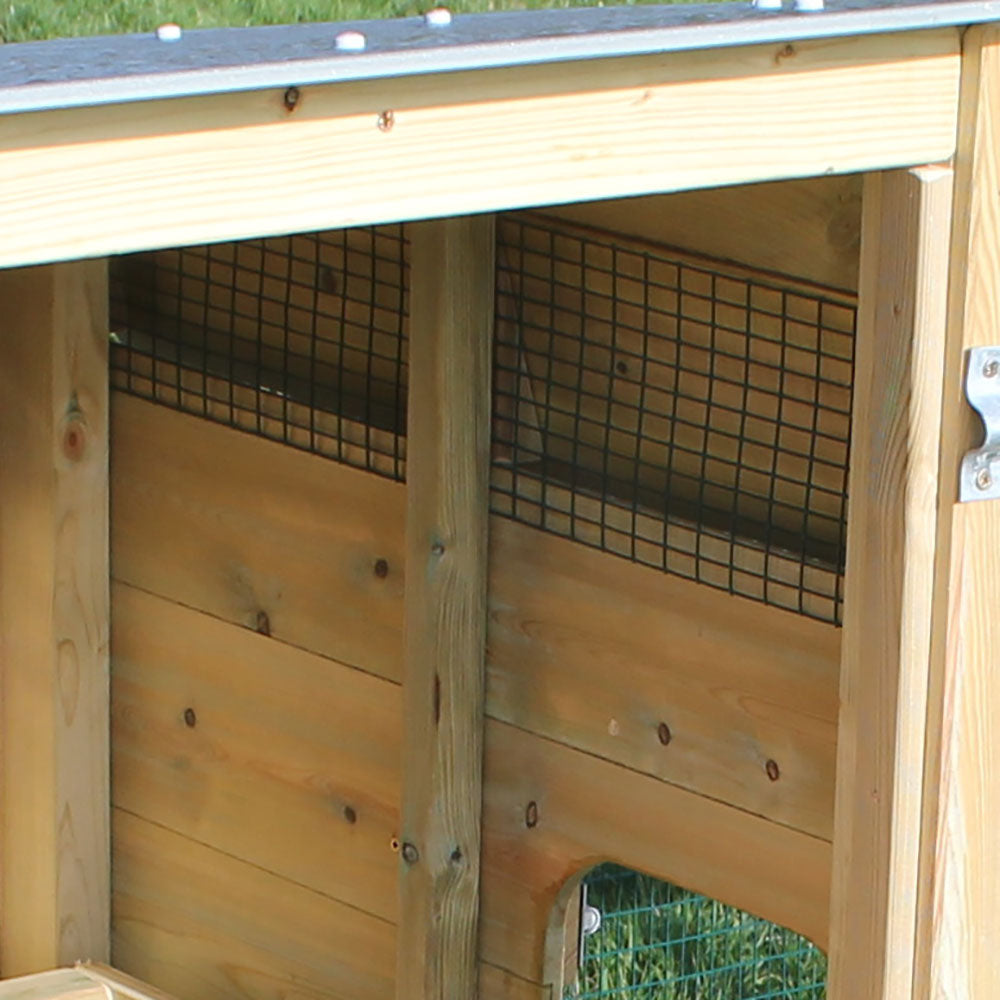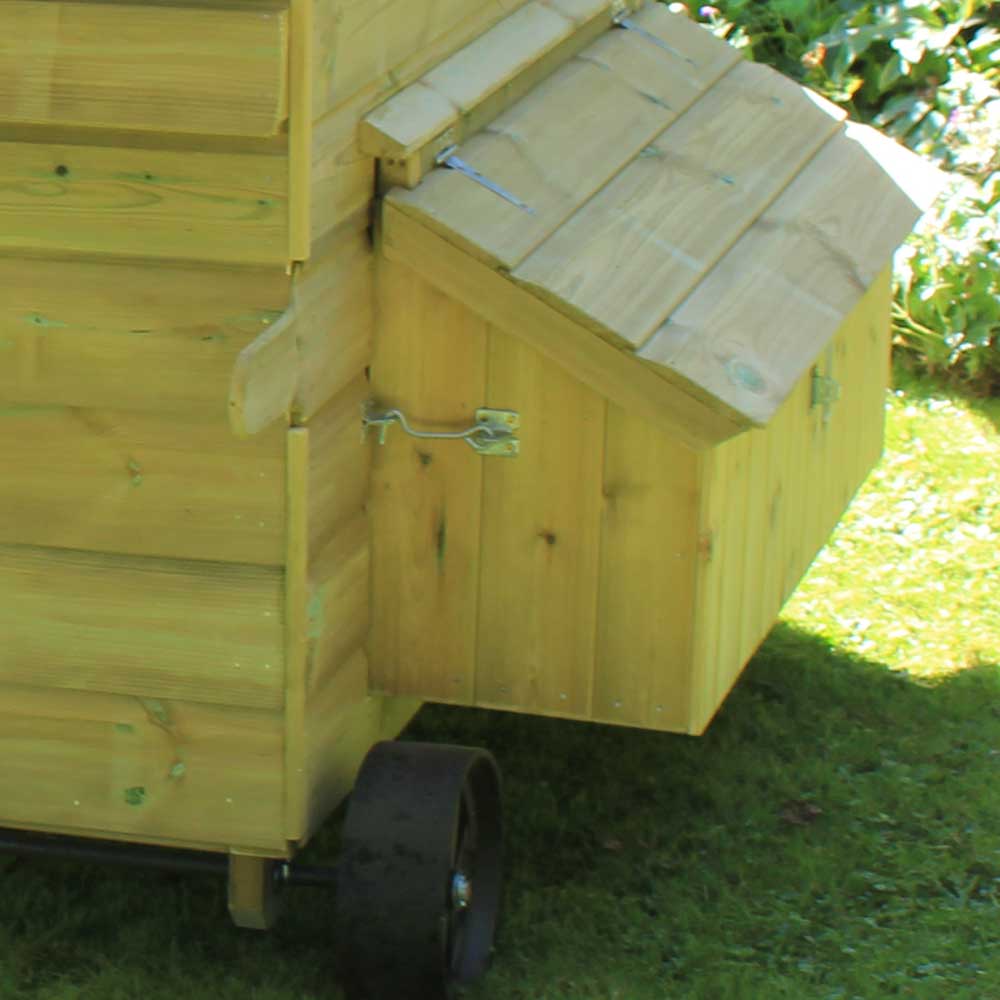 Handy 15 Hen House with wheels
Handy 15 Hen House with wheels. Designed and made here in Dorset by Flyte so Fancy.
This is a large, practical, timber chicken house for up to 15 hens, with wheels to make it mobile and a removable roof for extra access.
Delivered Ready Assembled.
The Handy 15 is a very functional, mobile poultry house which will accommodate up to 15 hybrid-size hens or 12 and a cockerel.
With the fixed axle wheels on one end, you can lift like a wheelbarrow and wheel to new ground (it is a heavy henhouse though). Note: The handles are approx 95cm (37") apart and 63cm (25") high which may not be practical for all reach-wise, however, a second set of wheels can be added to alleviate this.
This hen house arrives ready assembled (cannot be disassembled); it has a spacious inside, and the floor is approx 5ft x 3ft; with three 5ft long perches.
There is an external nest box to the rear, which you can remove for cleaning and more access, a very large front door and double ventilation louvres on either side which are meshed on the inside to prevent predator intrusion.
The removable roof is made of a dark brown resin-coated board making it easy to remove when cleaning, but still ensuring your hens remain dry and safe inside. This solid roof means no chance of warping or leaking over time.
Dimensions
Overall external: (inc handles): 1.93m wide x 1.40m deep (incl. nestbox) x 1.29m high
Internally: 1.53m x 0.92m x 1m high
Ext. Depth: excl wheels 96cm
Ext. Height: excl wheels and legs 107cm
Pop-hole size: 30cm W x 35cm H
Construction
All timber is sustainably resourced, FSC Certified, Scandinavian Redwood
Timber body: 16mm thick pressure-treated Shiplap and Tongue & Groove
Roof: Brown/Black 9mm Resin Coated Board (removable)
Floor: 9mm Exterior Grade Sealed Hardwood Plywood
Frame: 38 x 38mm/36 x 66mm Pressure Treated Eased-Edge Framing
Fixtures: Stainless Steel Nails; Plated & Painted Decking Screws
Fittings: Heavy Duty Galvanised or Zinc Plated
Timber Warranty: 15 years against rot and fungal attack (see Warranty conditions)
Handmade in Dorset
Delivered Ready Assembled (cannot be flatpacked or disassembled). Currently approx 4-5 week delivery time.
This house arrives ready assembled (you just need to screw the handles in place and hook the nestbox on) on a large wooden pallet via Palletline carrier.
The exact delivery date will be detailed in a separate confirmation email. Delivery starts at £59.00 for a pallet (to mainland England), see our See Delivery Information Page for more details.
Handy 15 Hen House with wheels
Efficient response from enquiry through to the delivery service. Plenty of experience and information on products. Our purchase was the 5th over as many years. Built to last, added this house to existing 2 houses which are a few years older and still in A1 condition.
Handy 15 Hen House with wheels
Second to none. Nothing too much trouble. I wanted it fast delivered and that was no problem someone got in touch so that I could pay the extra delivery. They were in touch about delivery keeping me constantly updated. I would recommend them and I would use them again. Good solid structure.
Could do with a little chain and hook to keep the nest box lid up while you are collecting eggs or cleaning.
Handy 15 Hen House with wheels
Friendly and efficient Good product - very happy
Handy 15 Hen House with wheels
We like the quality of the product but had a few problems with missing parts. Although they tried to resolve it over the phone they sent us the wrong parts so we made them up ourselves. Not what we expected. Beautifully made - We have a few issues re design - where do you put the food to not get wet but also not be pooed over from the roost. If you have attached the run how do you easily open and shut the door to the house. If on uneven ground the run does not attach because of the main ridges on the hen house.
Sorry to hear of problems Susanna - I will get Phill to call you.
Anne
Handy 15 Hen House with wheels
Good service but not happy with latest order. The house is well made and looks good, but it is NOT rat or mink proof. The air vents leave enough space for the fattest rat to stroll in, and the vent around the nesting boxes means he doesn't even have to climb much to get in. I will have to make adaptions with wire mesh to keep the hens safe. Totally unnecessary to make them with such wide gaps. This house would need an all round enclosure to be secure, not a run.
This is a puzzle Lynda and we will sort it out - the run should be for the Handy 15 and fit snugly against the house, you shouldn't have to make any changes, I think there must be something wrong if it isn't fitting. We will call shortly.
Anne