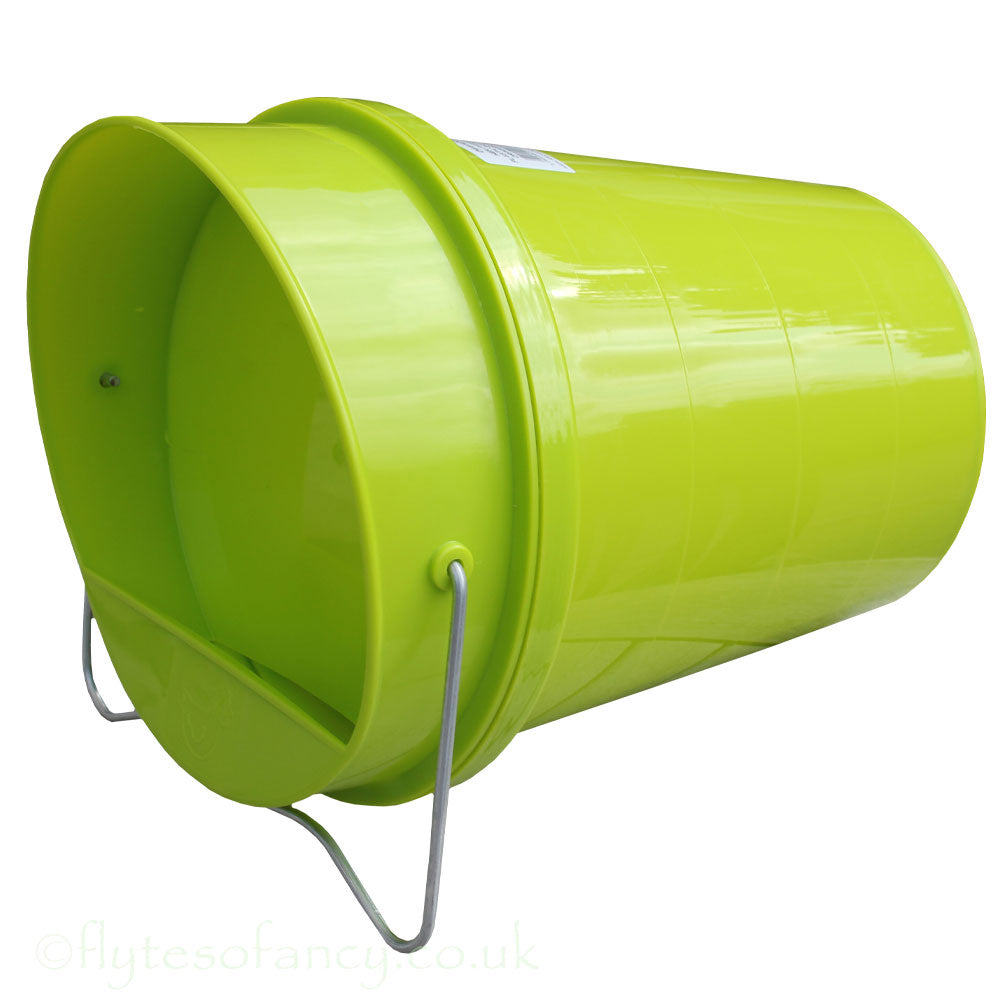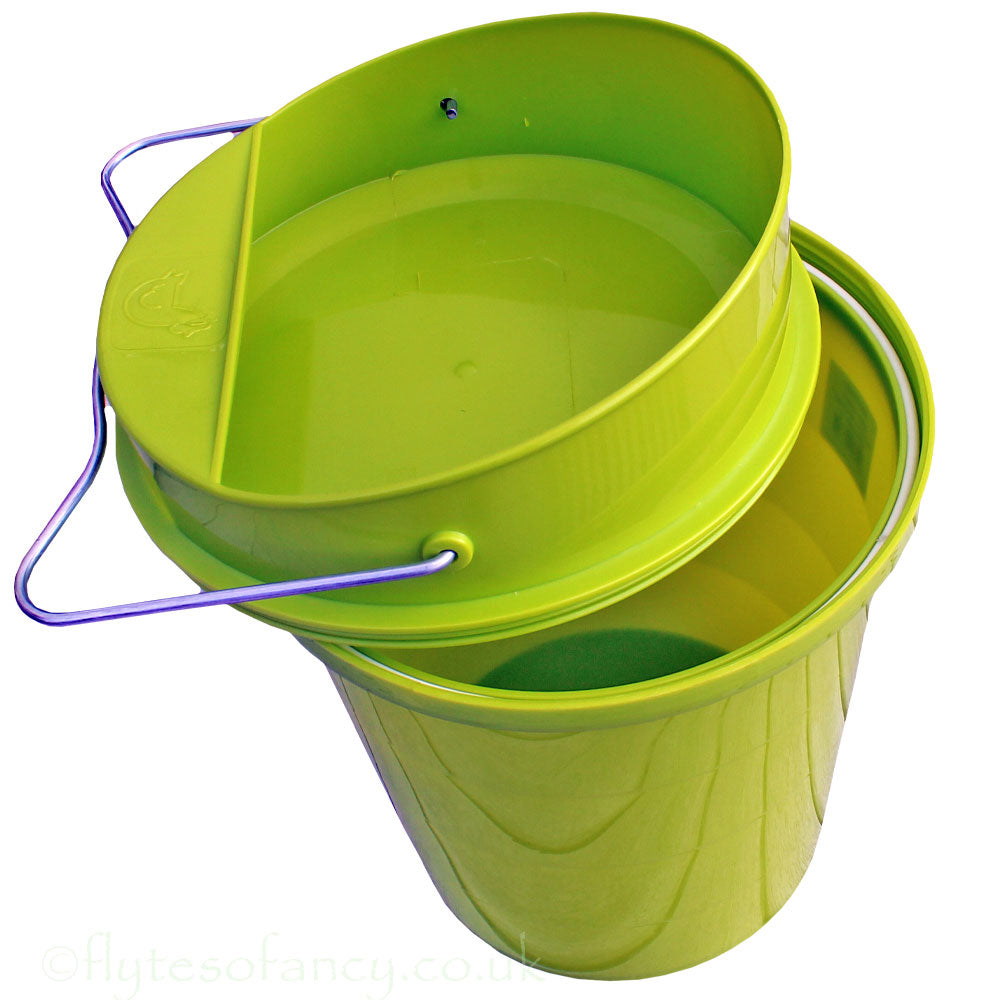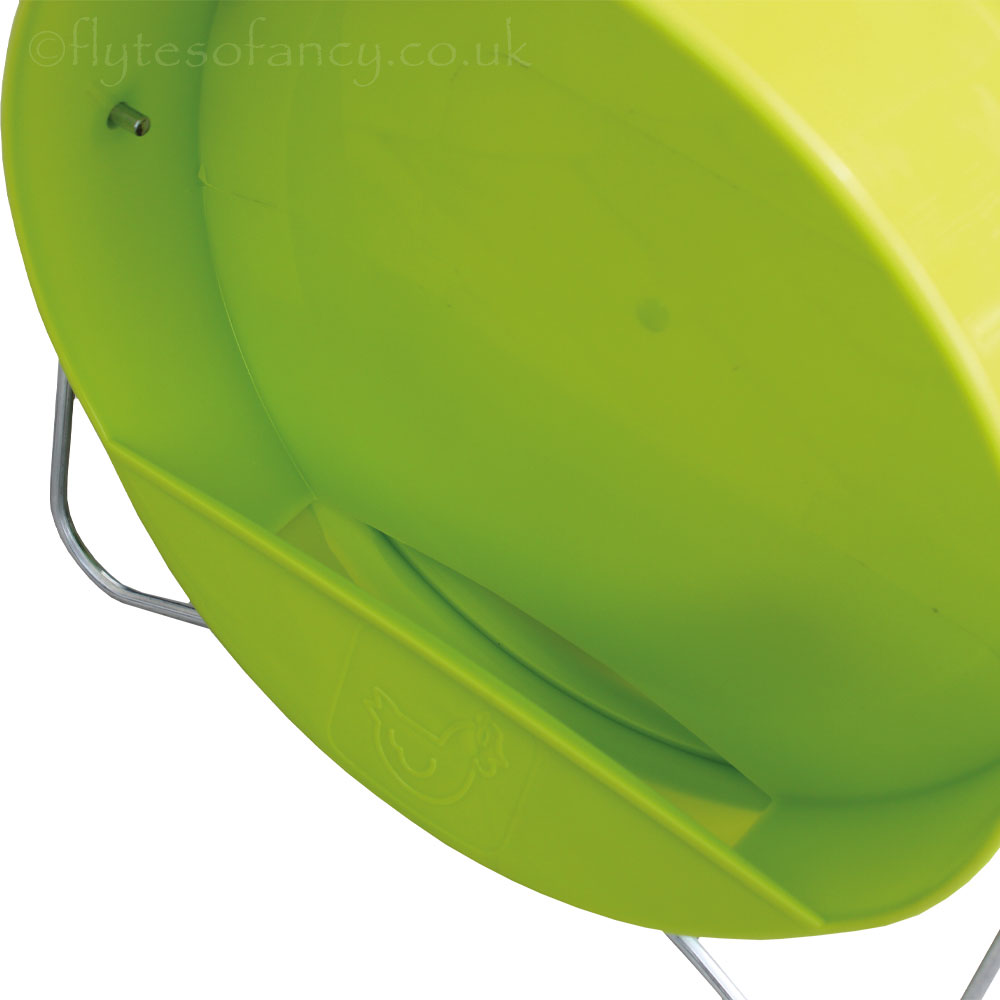 Green Lying Bucket Drinker, 6 litre
Gaun 6 Litre Bright Green Plastic Bucket Drinker. A simple, easy-to-use, easy-to-clean plastic bucket drinker for poultry. Holds 6 litres which is approx. 1¼ gallons.
Suitable for most types of poultry, game and cage birds. As a guide, 6 litres should last 6 hens approx. 3 days.
The bucket drinker is filled as you would a bucket, no need to remove the top just hold it under a tap or fill it with a hose. Simply fill the bucket in its upright position, it has a metal carrying handle that doubles as a stand, and lie it down for the birds to drink.
When it comes to cleaning the drinker, untwist the top, and clean the inside. A rubber seal sits in the rim of the bucket so that an airtight seal can be made, you may have to check this is in place properly before twisting the top back on. 
Once lying down, using the metal handle as a stand, a vacuum is created inside the bucket and the water level will sit just below the lip. The water will only be a few cm deep but will always be fresh and the lip sits approx. 6cm off the ground.
Dimensions approx.: 22cm dia. at the top x 27cm long.
FSF Hint: the rubber seal that is included is best fitted by damping with water first, then gently feed it around the slot in the rim (much easier and far less frustrating than it pinging out each time you reach the end!).
Our Standard delivery is next working day by courier, to most of mainland UK, if ordered before 2pm (excl. weekends and bank holidays).
Such quick delivery!
Great product and super speedy delivery. Very impressed, thank you
Poultry drinking bucket
So pleased to have found a drinker for my chickens that holds a decent amount of water, is easy to clean and doesn't rust (like previous metal buckets). Better price too! Very happy - would recommend.
As always, excellent service from this company
Bought the lime green water bucket mainly because I loved the colour!!
But…..it leaked. Could we find where it was leaking from could we heck. Hubby sealed all round where he thought the problem was, but no joy.
Anyway as always FSF came to the rescue and sorted it all out.
Love this company, they're just so friendly and helpful.
Hi Wendy,
You're very welcome - I hope this one treats you better than the last!