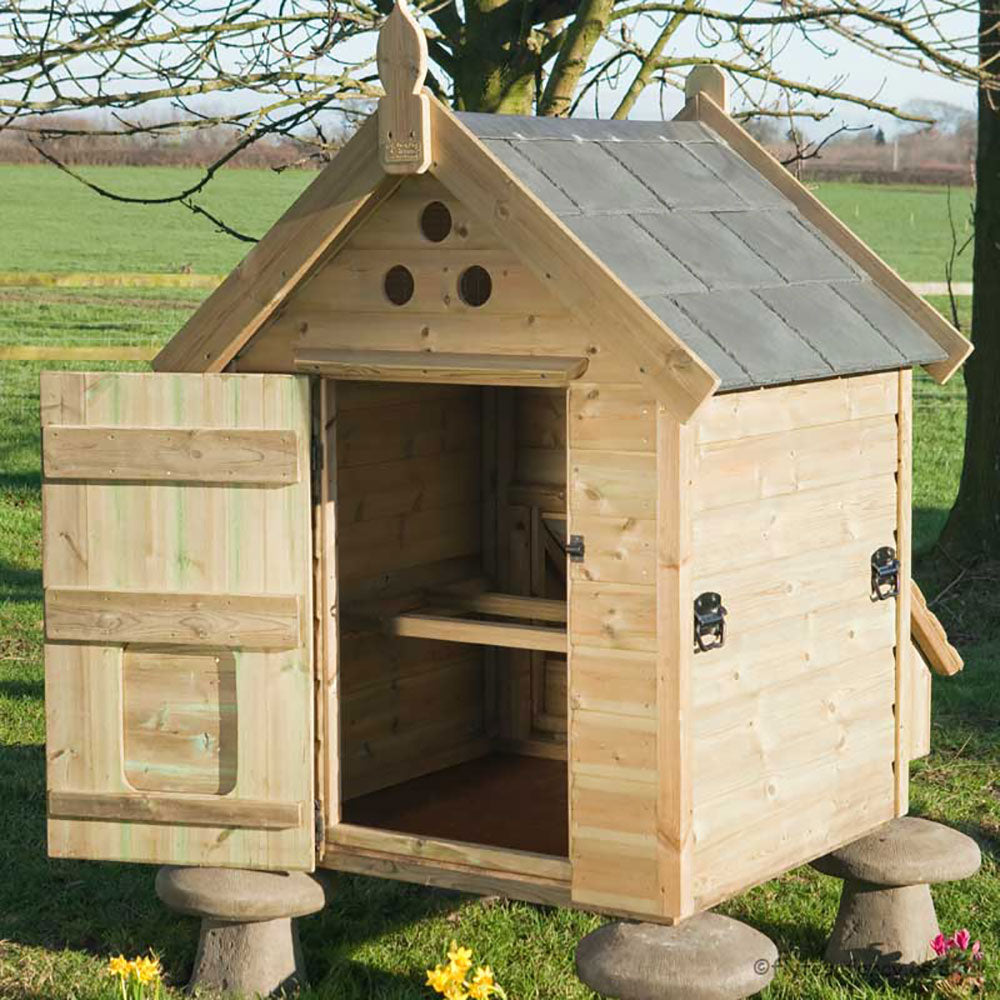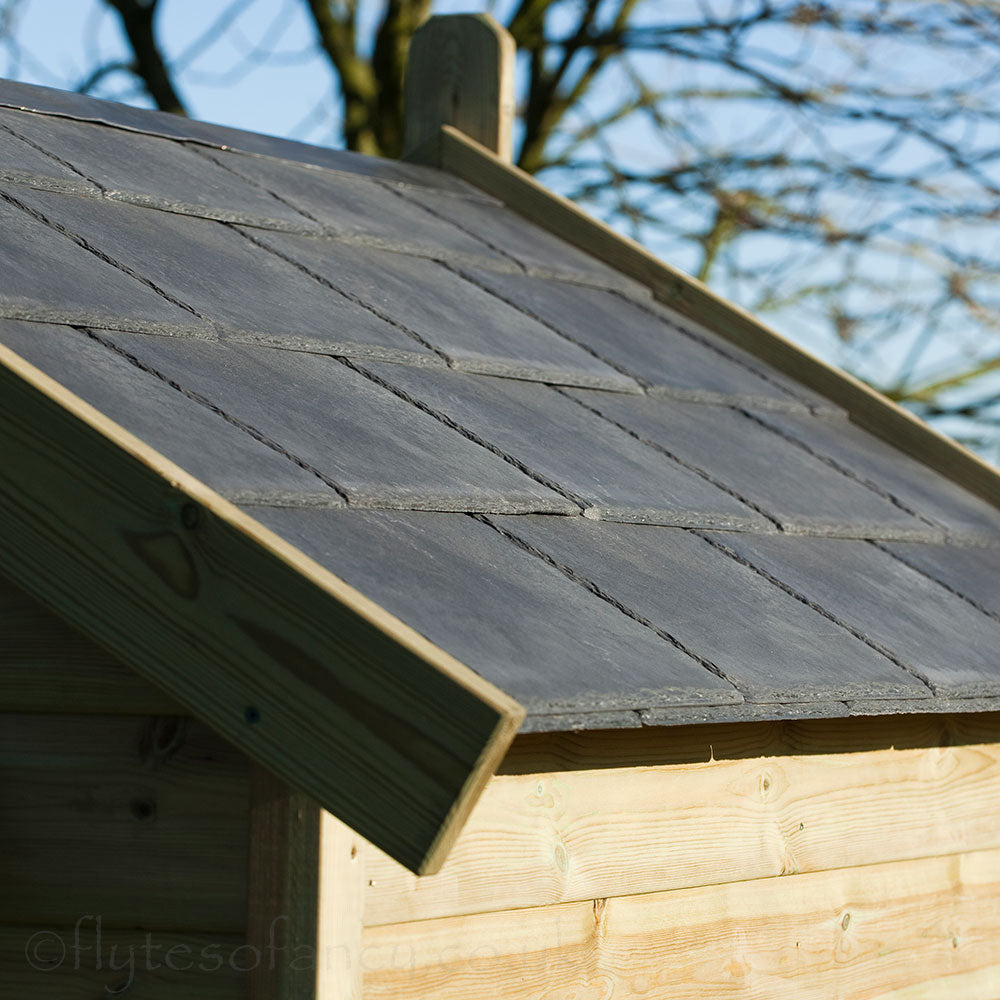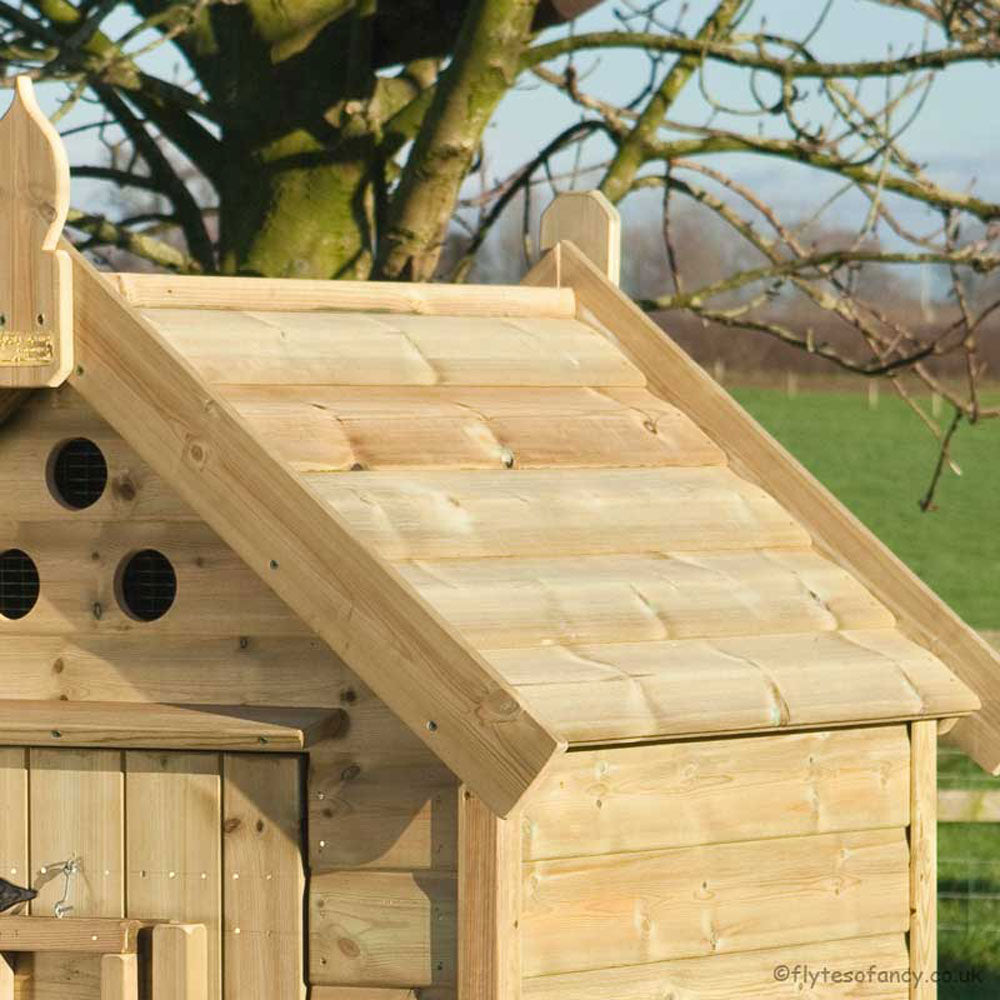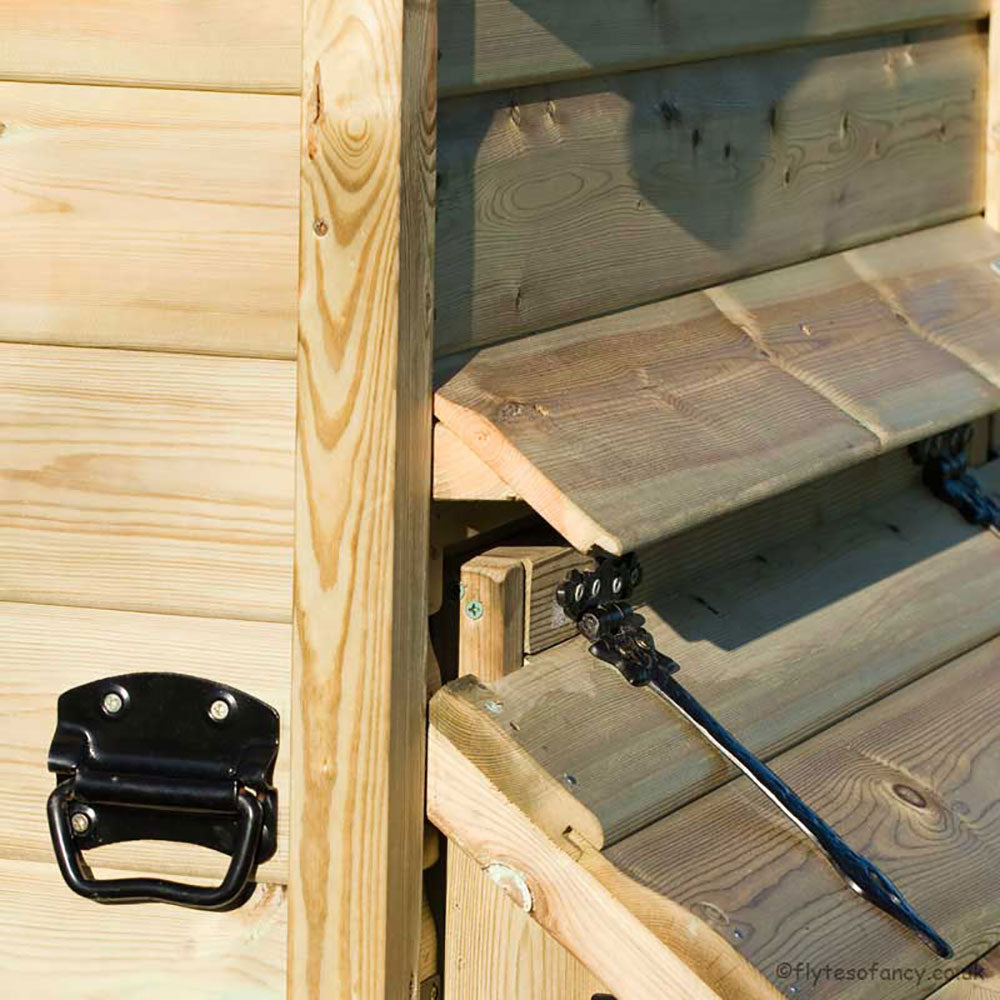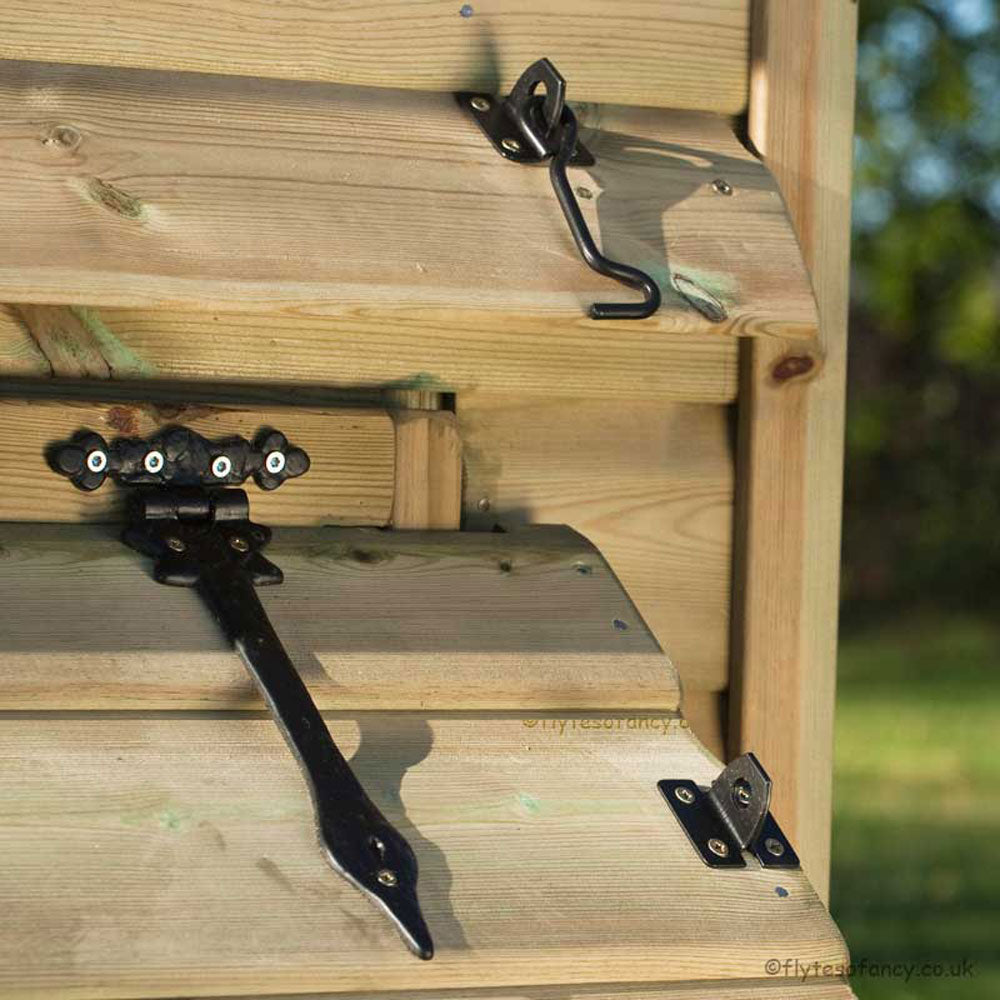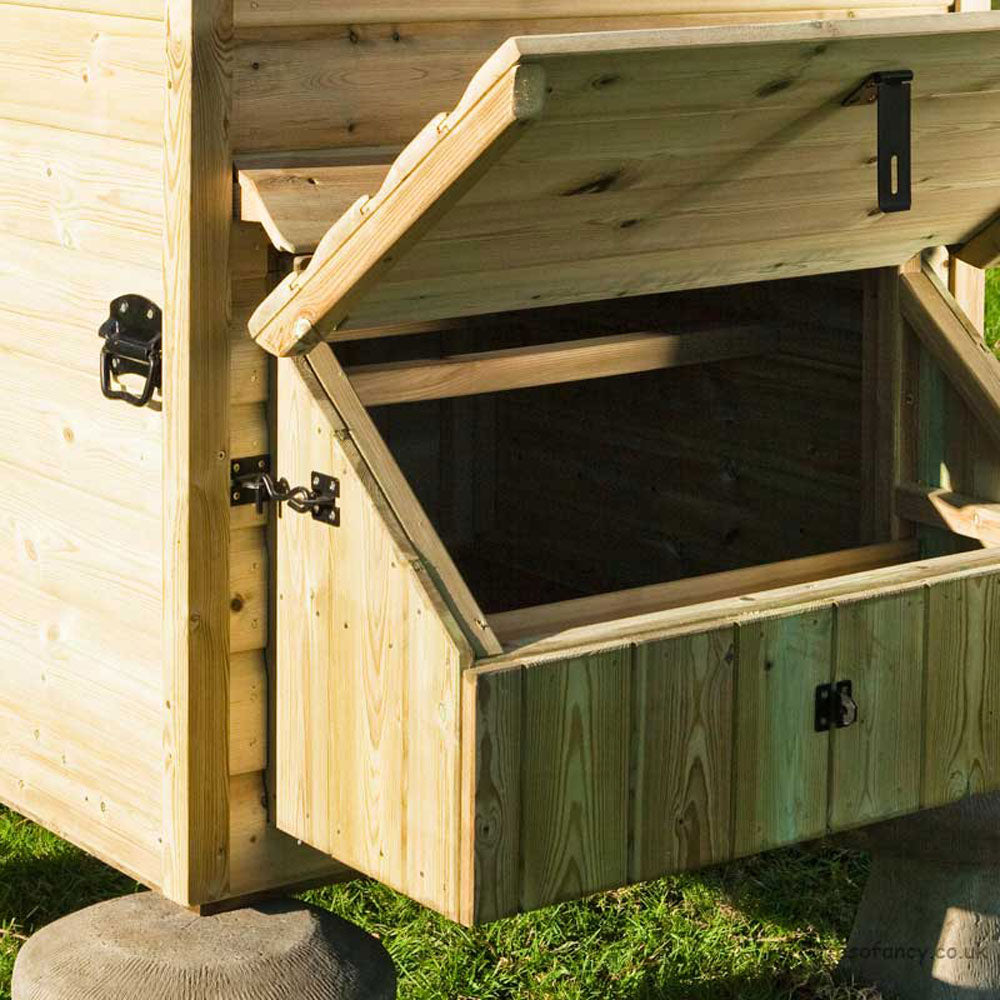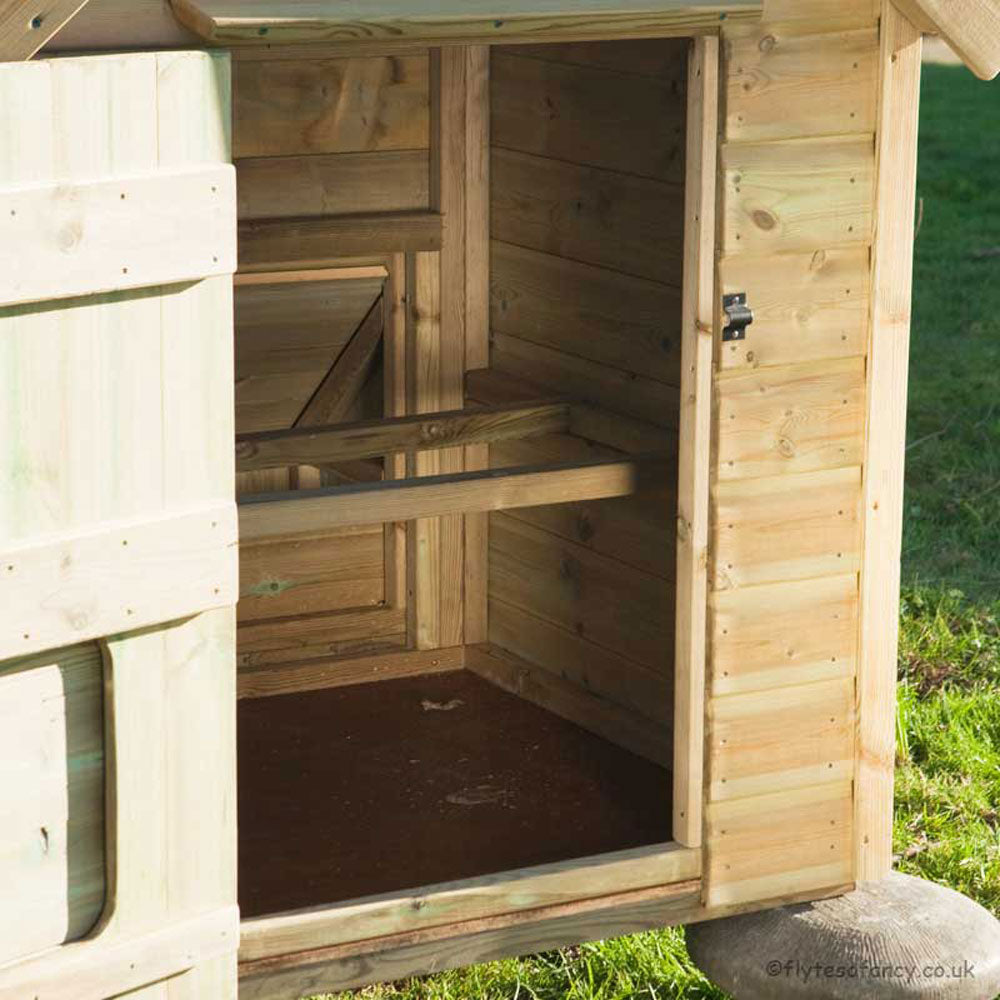 The Granary 8 Hen House, approx 3ft square, provides luxurious living for 6 - 8 lucky chickens.
* Choice of Roof finish * Removable perches * Lift-off Nest Box * Sits on 4 Staddle Stones * Large access door * PVC Droppings Sheet included * 4 Chest Handles * Good ventilation * Stylish design * Painting options * Black Ornate Hinges & Hooks * Finial finish for barge boards * Delivered assembled or flat-packed *
Stunning, stylish and beautifully designed, the Granary Range is the ideal marriage between the aesthetic and the perfectly practical.
Constructed from our finest quality timber and resting majestically on rustic Staddle Stones (included). The range of Granary Hen Houses will accommodate anything from eight to thirty happy hens, depending on the model you choose. Beautifully modelled here by our large Brahma cockerel and his Orpington girls.
The Granary 8 Hen House sits on top of four staddle stones (these are quite heavy), it has black ornate chest handles on each side; the steps are freestanding; two perches at 36cm high; a PVC droppings sheet; external removable nest boxes and easy access through the large front door.
It is also VSD Auto-Door (Internal) compatible to open the pop-hole at dawn and close at dusk. To add some extra style to your Granary why not take a look at the Granary Painting Options.
For more details about the timber we use and how to take care of it over the years please visit the About our Houses page.
Choose from two roof styles:
The Timber Roofs are 21mm thick (ex-25mm) slow-grown Swedish Redwood T&G Shiplap. Apex is finished with a timber ridge bar.
The Slate-effect Tiled Roofs are made from a BBA certified polyester resin composite - widely used on residential houses - very effective, you wouldn't know they were not Welsh Slate until you touch them. Apex has a lead trim finish.
Dimensions
Overall external: 117cm wide x 132cm deep x 185cm high (incl roof, nestbox, staddle stones, finial); House body: 97cm W x 89cm D
Internally: 92cm wide x 77cm deep x 128cm high
Access door: 52cm wide
Steps: 65cm wide and extend by 50cm
Staddle Stones: 30cm high
Perches: 2 x 91cm long
Pop-hole size: 22cm wide x 29cm high
Construction
All timber is sustainably resourced, FSC Certified, Scandinavian Redwood
Body timber: 16mm pressure treated Tongue &Groove
Roof option - Timber: 21mm planed tongue & groove Pressure Treated Shiplap
Roof option - Tiled: Grey Slate Effect poly-resin Roof Tiles on a plywood base with lead capping strip
Floor: 12mm Exterior Grade Sealed Hardwood Plywood
Frame: 38mm x 38mm Pressure Treated Eased-Edge Framing
Fixtures: Stainless Steel Nails; Plated & Painted Decking Screws
Fittings: Heavy Duty Galvanised or Zinc Plated
Timber Warranty: 15 years against rot and fungal attack (see Warranty conditions)
Handmade in Dorset
Currently 4+ week delivery. Delivery charge starts at £59 for mainland England destinations.
This house arrives either ready assembled or flat-packed in panels on a wooden pallet via Palletline transport company. After ordering, a separate confirmation email will detail delivery information and date - or - visit our Delivery Information page.
If selecting Ready Assembled please consider how you will carry it from the delivery point to its destination (i.e. the lorry driver will only deliver it, he is not able to unpack or help with lifting). It can be lifted by two strong people but also take note of the dimensions of any gateways etc. If you remove the nest box it will make it lighter.
Bespoke Granary Hen House
5***** Service from ordering, communication and reliable service. I highly recommend Flyte So Fancy, prices are so realistic, the products are so well made but much thought has gone into designs making my Hen Coop quite unique. This is my 2nd coop as I just love the designs.. thank you from a very happy customer
Amazing
Ordered a new sliding door . . arrived 2 days later!
Thank you.
Granary 8 Hen House - Tiled Roof - Ready Assembled
Website easy to use. Communication via email very good. Product arrived within about 10 days on the day they promised. The hen house arrived on a pallet. The truck driver was not prepared to help shift the house into position. He was polite but unable to assist. A lovely product delivered quickly. The 'tiled' roof is fantastic. The mushrooms will look better when they've weathered. The whole thing is nicely made but a bit over-priced. However I haven't seen any other such visually attractive hen houses. Having the steps leaning against the door is not very satisfactory. I means you have to move the steps to open the door. With a slight redesign that problem could be overcome.
Granary 8 Hen House - Tiled Roof - Ready Assembled
Good service with prompt action on problem with delivery.
Granary 8 Hen House - Tiled Roof - Ready Assembled
The hen house was damaged in transit. Flyte So Fancy made a replacement and dispatched it on an overnight service. If only all companies could provide such good customer service!