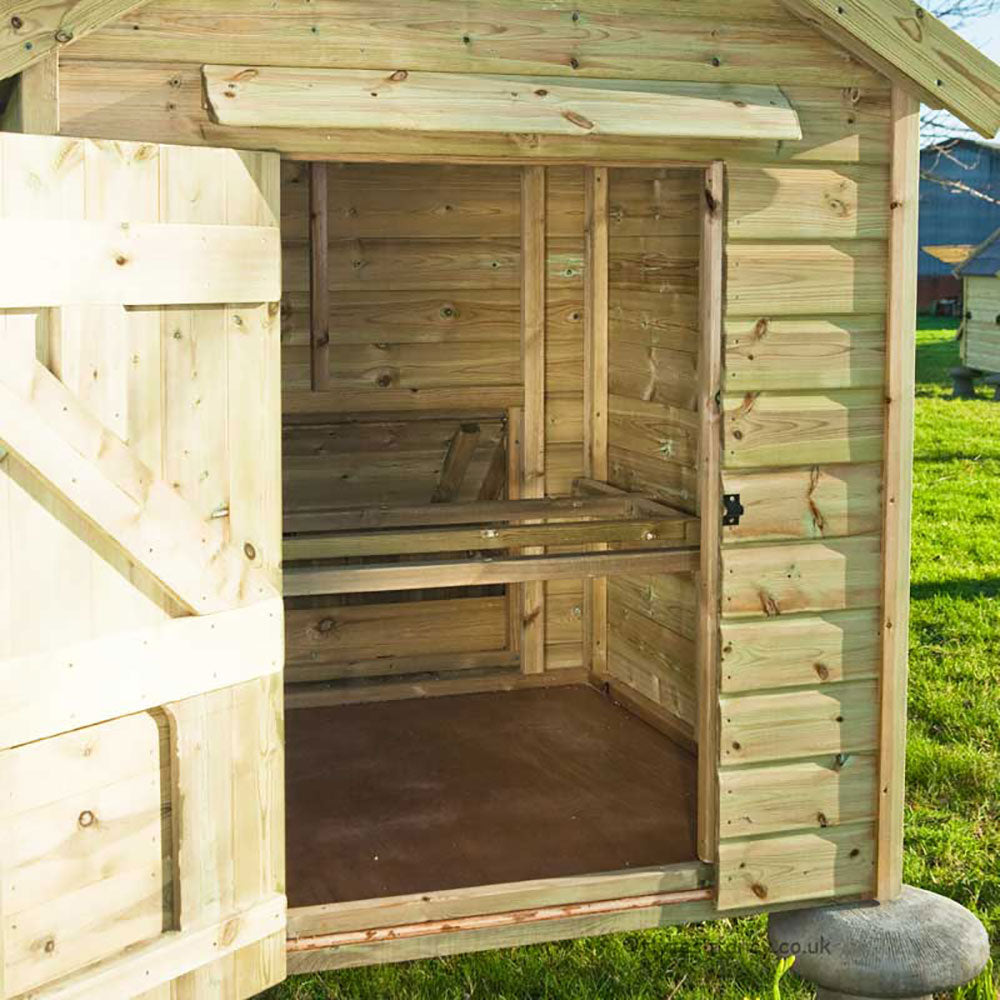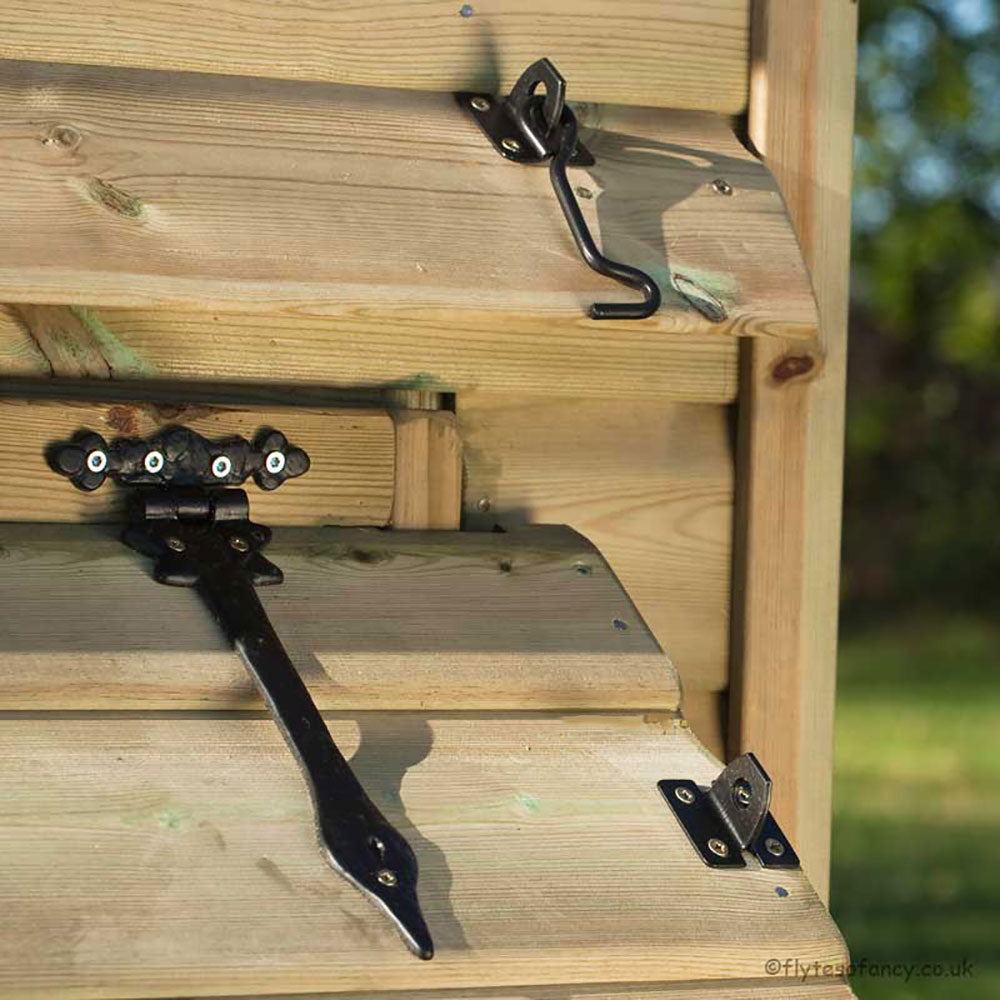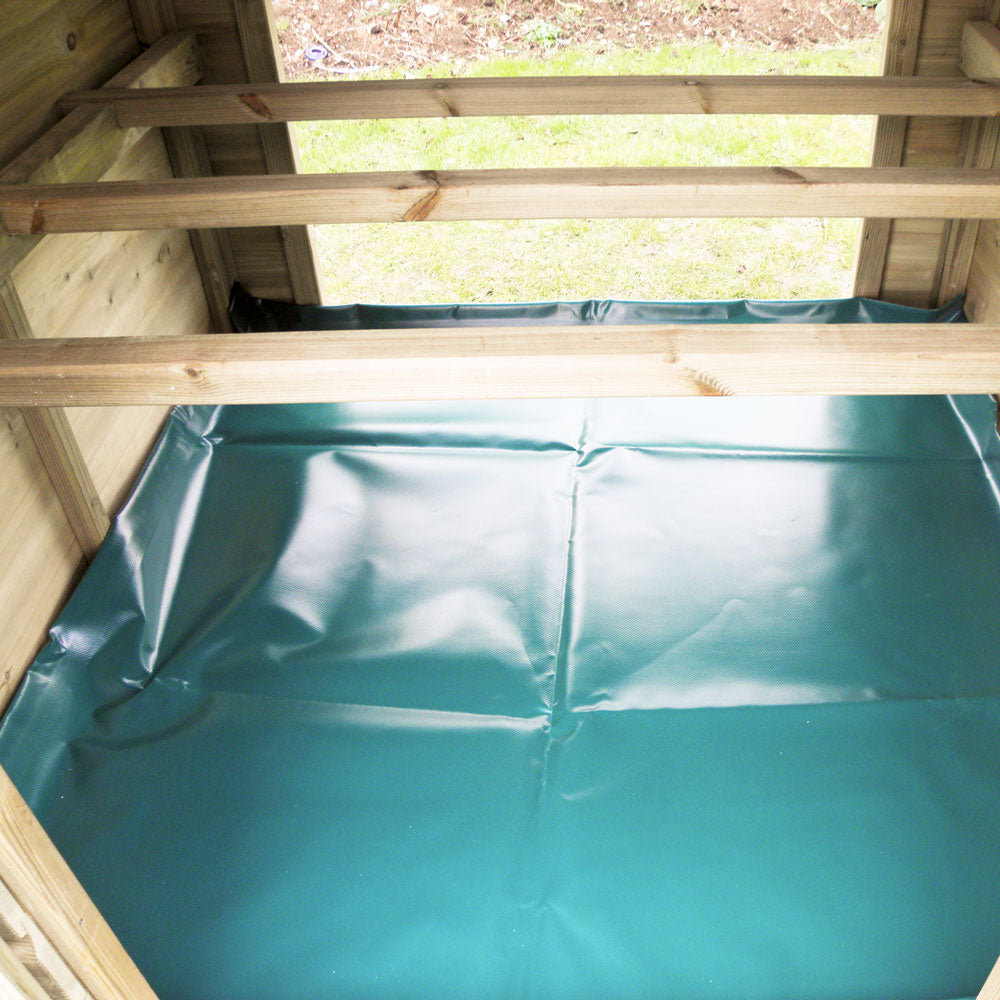 The Granary 15 Hen House, with a choice of timber or slate tile roof finishes, is approx. 4ft x 4ft x 7ft high. It will provide a secure, spacious home for up to 15 birds. 
Stunning, stylish and beautifully designed, the Granary Range is the ideal marriage between the aesthetic and the perfectly practical.
* For 12 - 15 Birds * Removable perches * Lift-off Nest Box * Sits on 4 Staddle Stones * Large access door * PVC Droppings Sheet included * Good ventilation * Paint scheme options * Stylish design * Black Ornate Cast Hinges * Finial finish for barge boards *
Constructed from our finest quality timber, and resting majestically on rustic Staddle Stones, the 15-bird Granary Hen House is modelled by our Blue Orpington and Lemon Pyle Brahma - just in case you were wondering of course.
The Hen House sits atop four Staddle Stones (these are quite heavy); and has three roosting perches at 45cm (18 in) high; a PVC droppings sheet; an external removable nest box and easy access through the large front door. It is also VSD Auto-Door (Internal) compatible.
To add some extra style to your Granary why not take a look at the Granary Painting Options?
For more details about the timber we use, how to keep it waterproof and take care of it over the years please visit the About our Houses page.
Choose from two roof styles:
The T&G Shiplap Timber Roofs are 21mm slow-grown, pressure-treated Swedish Redwood T & G Shiplap which is then fixed in place over an exterior grade plywood liner and topped with a timber ridge bar.
Slate-effect Tiled Roofs are made from a BBA certified resin composite, attached to a plywood base, and widely used on residential houses - so effective you wouldn't know they were not Welsh Slate until you touch them. The apex is finished with a lead strip.
Dimensions
Overall external: 154cm wide x 171cm deep x 221cm high (incl roof, nestbox, staddle stones, finial);
House body external: 127cm wide x 127cm depth
Internal dimensions: 122cm wide x 122cm deep x 155cm high
Access door 65cm wide
Steps extend by 50cm
Staddle Stones 30cm high
3 perches each 122cm long
Pop-hole size: 27cm wide x 30cm high
Construction
All timber is sustainably resourced, FSC Certified, Scandinavian Redwood
Body timber: 16mm pressure treated Tongue &Groove
Roof option - Timber: 21mm planed T&G Pressure Treated Shiplap
Roof option - Tiled: Grey Slate Effect poly-resin (BBA Certified) Roof Tiles on a plywood base with lead capping strip
Floor: 18mm Exterior Grade Sealed Hardwood Plywood
Frame: 38mm x 38mm Pressure Treated Eased-Edge Framing
Fixtures: Stainless Steel Nails; Plated & Painted Decking Screws
Fittings: Heavy Duty Galvanised or Zinc Plated
Timber Warranty: 15 years against rot and fungal attack (see Warranty conditions)
Handmade in Dorset
Delivery charge starts at £59 for mainland England destinations. Currently 1-2 week delivery.
This house arrives flat-packed, in panels for self-assembly, on a wooden pallet via Palletline transport company. If you would like to see how easy assembly is please just email info@flytesofancy.co.uk for a preview of the instructions.
After placing your order a separate confirmation email will detail delivery method and date - or - visit our Delivery Information page.
Granary 15 Hen House with tiled roof.
I deliberated for the whole summer about spending the money on such a smart hen house. Let's face it, you don't get hens to save money on eggs! This Hen House is a league above others, so well built with a wonderful attention to detail not only in the design but in the finish as well. The edges are rounded off and the little gaps where rain might get in and cause rot have been filled. The catches are heavy duty and the whole structure has a feeling of quality about it.
Buy this and be certain that your chickens have the best, and smartest, house in the area!!
Thank you for taking the time to leave such a lovely review! The boss is always especially happy when people notice the little details in the timber choice and the finish, that can easily be over looked
Granary 15 Hen House - Tiled Roof
Great product and lovely people to deal with. The runs really last a very long time with no maintenance. Worth the extra for the build quality alone.
Granary 15 Hen House - Timber Roof
The questions I raised before placing an order were comprehensive answered.
When the goods were delivered they were securely packaged and consequently undamaged.
The quality of the product was excellent.
I would have no hesitation in recommending this company and its products. Please read previous comments they cover all aspects
Granary 15 Hen House - Timber Roof
Great communication, quick delivery. My chickens are in their lovely new home. Its warm, and dry, they are very cosy. I was worried about the automatic open/close door, but they were all in on the first night before it closed and they are now able to get out when it gets light instead of having to wait for me. I had the Granary was very easy to assemble, with the help of my husband (its very heavy) - I would highly recommend it.
Granary 15 Hen House - Timber Roof
Very high quality product, efficient delivery Fantastic quality, very easy to install, happy hens!