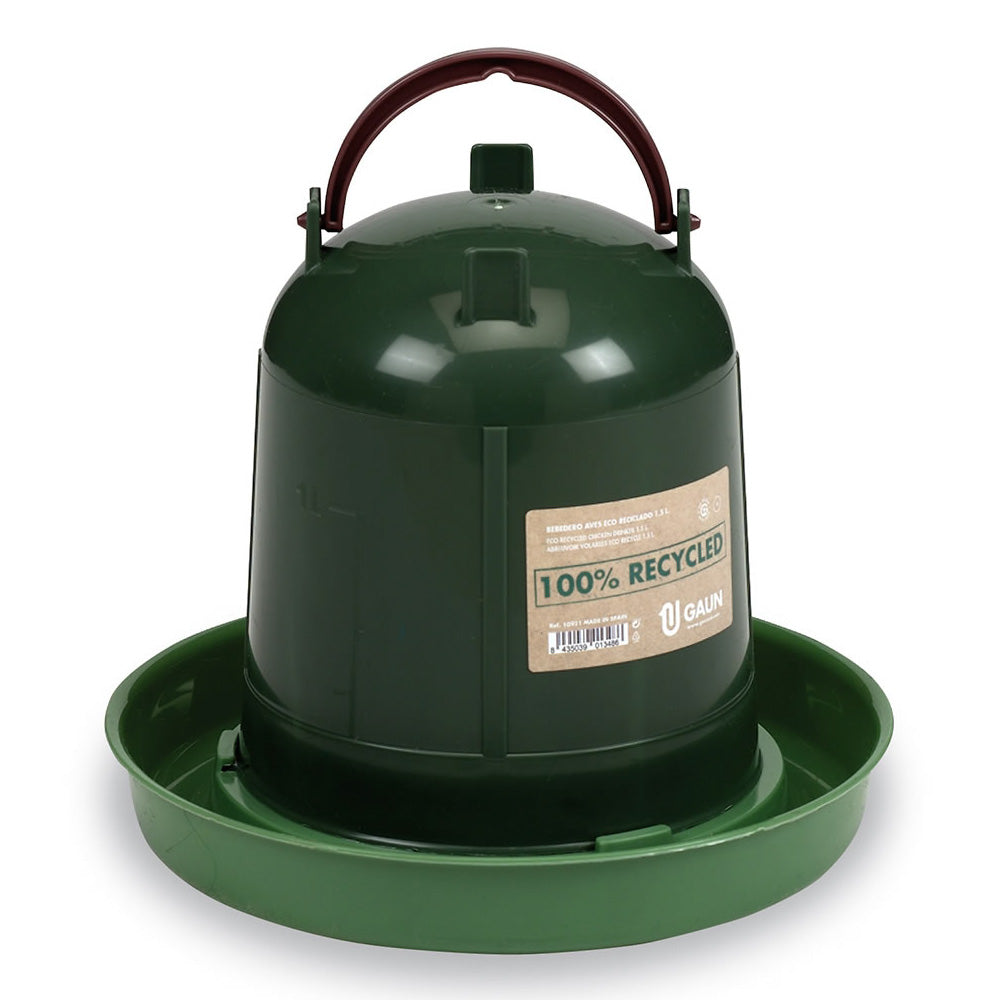 Gaun Recycled Plastic Chicken Drinker, 1.5 litre
Gaun Recycled Plastic Chicken Drinker, 1.5 litre capacity.
Perfect for chicks, small poultry or just a few hens. Great for giving medications. Can be hung up by the handle.
Please note that due to the recycled nature of these products, the colours vary slightly and may be mottled.  LDPE 4 Recyclable. The drinker twist action may be fiddly and stiff when new but becomes easier in time.
Looking for a sustainable and durable solution for your feathered friends? Look no further than Gaun's new range of Poultry Drinkers and Feeders! Made from recycled plastic, this range is both environmentally friendly and practical.
Certified for contact with water and food, the range has the same strength as traditional plastic and is also UV protected. Plus, the feeders and drinkers are fully recyclable, so you can feel good about your purchase.
To fill: Turn the dome upside down like a bucket, fill it with water, twist the base back on (firmly, ensuring each lug is locked in place) and turn the drinker the right way up.
Dimensions: 20cm dia. x 18cm high.
Standard delivery via courier is next working day to most mainland UK destinations for orders placed before 2pm (excl. weekends and bank holidays).
Chicken drinker
I like the green eco drinker and I hope it stops the water from going green like my white one did . I also like that it's made from recycled material .
Nice quality, a bit small
I'm pleased with the quality of the drinker and hope there will be less green film produced in warm weather due to the colour. I didn't consider the volume properly, and it is a bit small for the needs of my 2 girls. Will be good in the "hospital pen" though. I should have looked for a larger capacity one.