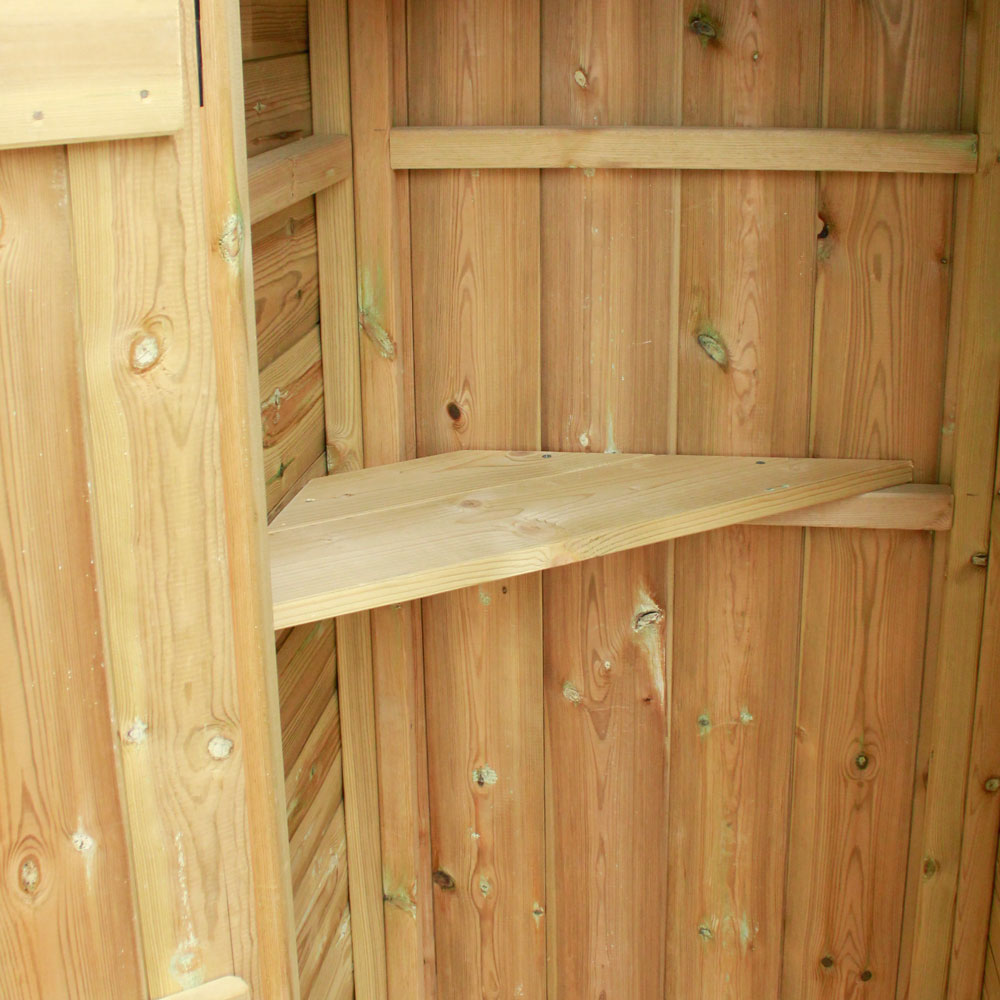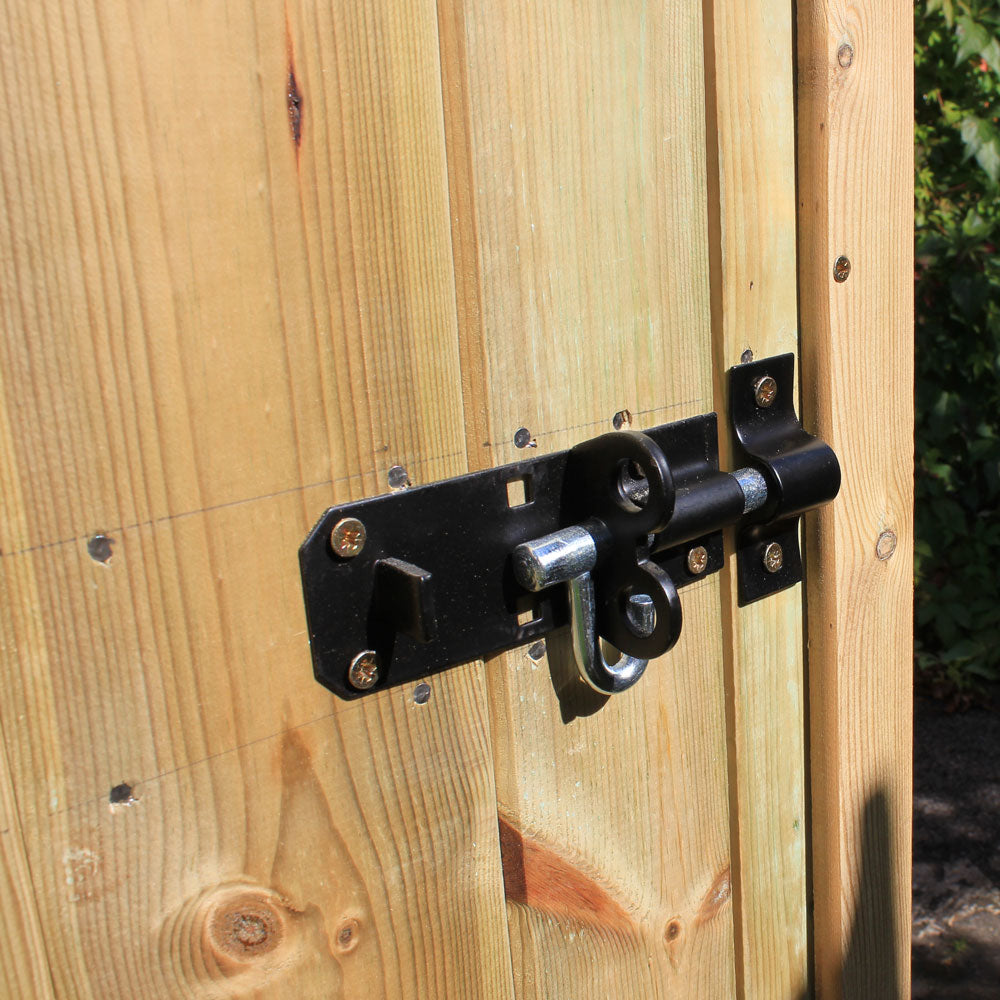 Garden Tool Store with Never-Leak Roof - 2ft wide
This 2ft wide Garden Tool Store has a unique feature - our Never-Leak, Maintenance-Free, Recycled Plastic Roof.
The Never-Leak Roof means - no need to replace felt; no more leaky corners; no more patching-in to make-do for another year; in fact, no maintenance at all! The roof is 9mm thick recycled, UV stable, steel grey, polypropylene.
This Tall Sentry Box Style Tool Store is 2ft wide by just under 6ft tall and is an excellent, slimline answer to so many needs in a small garden for tool storage, gardening items, parcel deliveries or just secure storage in a small space.
Comes with one internal corner shelf and one full-width shelf (removable). Fully clad in 19mm thick pressure treated timber, this garden store is built for a long, tough life outdoors.
It has a 1ft 8in x 5ft 1in door which is secured with a padlockable black-mounted galvanised Brenton Bolt (Combination Security Bolt also available to add) and is hung on two black powder-coated hinges.
Dimensions
Maximum External: Overall Width: 74cm (2ft 5in) max at eaves;
Overall Depth: 53cm (1ft 9in);
Height: 178cm (5ft 10in) at apex.
Footprint: Width: 64cm (2ft 1in), Depth 50cm (1ft 7in);
Internal: Width: 62cm (2ft); Depth: 46cm (18in); Height: 168cm (5ft 6in) to apex.
Door aperture: 48cm x 150cm (1ft 7in x 4ft 11in)
Construction*
All timber is from sustainable resources, FSC Certified, Scandinavian Redwood
Walls: 19mm planed Pressure Treated Tongue & Groove
Floor: 21mm planed Pressure Treated boards
Roof: Grey UV-stable Recycled (& Recyclable) 9mm Polypropylene Board
Frame: 38mm x 38mm pressure treated ease-edge framing
Fixtures: Stainless Steel Nails; Plated & Painted Decking Screws
Fittings: Black powder coated
Warranty: 15 years against rot & fungal attack (see Warranty conditions)
Handmade in Dorset
*For the full nitty-gritty of timber types, thicknesses, dimensions and fixings see About our Garden Stores
The Garden Tool Store can arrive ready assembled (with door adjustment needed once placed in its home) or flatpacked for self-assembly. Assembly is very easy, it comes with full instructions and all fixings
Currently 1-2 week delivery timescale. Delivered via a Palletline Transport delivery company. Please see our Delivery Information page for more details.
Good quality shed which came assembled which was a bonus. It fitted perfectly by my back door x
Great little shed
Perfect sturdy shed for all our Potting bits and pieces. Very happy with this
Perfectly compact for my smaller, terraced garden
Very helpful customer services helped me arrange a flat pack delivery on a specific day through DPD, who delivered on the day and time specified, and with care.
We had to choose flat pack option as we have 6 steps up to property and pallet line don't do steps and we didn't want pallet on pavement in case we couldn't carry it.
Glad we opted for flat pack in the end as it was delivered in three separate, well wrapped parcels and they were easier to carry, instructions were included and well marked bags of screws, etc.
The back panel had a slight bow and one of the side panels a small split that followed the grain along an outside edge. We decided to give assembly a go and if crack widened or worsened we'd call customer services. Everything was fine in the end and assembly took us about 3 hours.
Instructions were good and easy enough for two non-DIYers to follow. Although we struggled to know where the 4 outer pieces of wood went as the instructions didn't show this. We eventually figured out when we went back on the website and scrolled through photos until we came to the drawing which shows the pieces placed on the outer edges of the shed.
Roof needed two of us to assemble and was a bit tricker, just needed checking instructions a couple of times then doing. One holding in place and one on the power tool.
We needed to buy an electric screwdriver for the job and very glad we did as it would have been impossible to assemble using hand tools!
A tip for DIYers of the junior sort: make sure your screw driver is on maximum power as this helps the screws go in with ease. Assembly became much easier after realising this and we managed to get all screws inlevel with wood. The pre-drilled holes already in place helped us know where to put them.
Also noting that when we screwed the roof into place the little plastic 'poppers' came out as we screwed them too tightly, this was easily rectified though by doing again on gentler setting.
Inside the sentry box shed we could decide where to put the shelves x 2.
There wasn't a little Dorset Sheds 'badge' for the outside sadly!
All in all looks great though.
We painted ours using Cuprinol beach hut blue and sea mist, but it did look very nice not painted.
Planning a boot store and bird box next.
Would be nice if there was a shelving attachment which we could add to the side for display of 'auricular theatre' or little pots, maybe a bench, or cold frame? Lots of possibilities to add more character.
The workmanship in the sheds is plain to see and we are really super pleased with ours, we will be back for more, thank you!
Hi Marie,
Wow! Thank you for taking the time to leave such a detail, and lovely review!
I'm very glad to hear how happy you are with your store, and I can confirm that the missing badge is on its way to you as I type. We'll also be sure to take another look at our instructions with your feedback in mind, and we look forward to helping you with any future orders :)
Garden Tool Store with Never-Leak Roof - 2ft wide - Flatpacked
Very good, well packed for delivery all screws present, instruction sheet for assembly clear and easy to follow. Good quality product. Lovely little shed, just what I wanted, fits into my garden perfectly, holds my spades etc and the shelves are great for my gardening products.