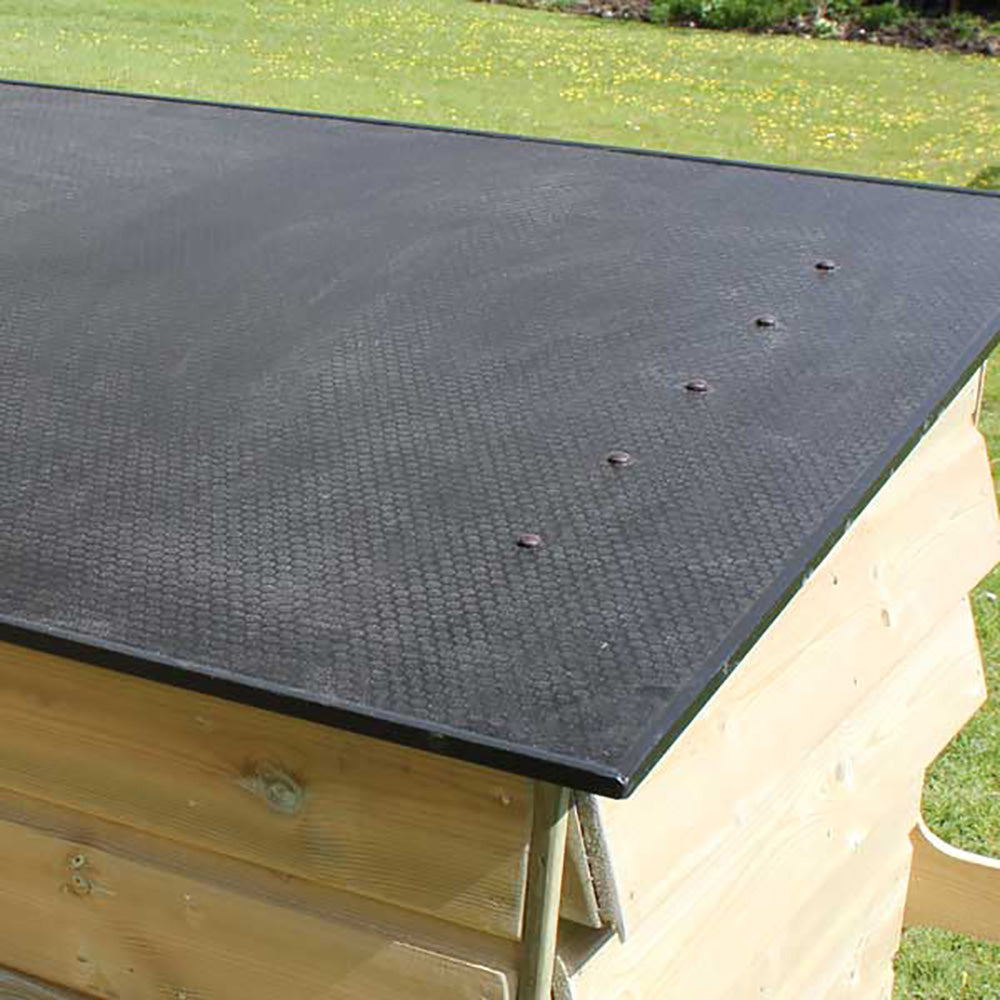 Gaggle Duck & Goose House with wheels
Gaggle Duck & Goose House with wheels, made by Flyte so Fancy. Delivered Ready Assembled.
A Large Duck House with plenty of space for 8-10 Ducks, or about 4 Geese (depending on size/breed). Very mobile Waterfowl House with handles and wheels. It has a large front door for the Geese and a pop-hole on the side for Ducks.
The Gaggle Duck House is a large Duck or Goose House with a floor area of approx 5ft x 3ft and an inside height of 3ft 3in.
The Gaggle is raised off the ground slightly on short legs, to good keep air circulation underneath, and has a set of wheels on the right-hand side to make moving to a new area easy to do (although we should note this is a heavy house).
Two ventilation louvres on either side mean plenty of air circulation inside, which Waterfowl definitely need! These louvres are meshed inside to prevent small predator intrusion (from polecats, stoats etc).
Handles on either end make it movable either by two people or by one using the wheels, and to make cleaning even easier, the roof lifts off too. If required, the wheels can be removed by unscrewing the 2 wooden blocks that hold the axle in place.
Dimensions
External (incl. roof & handles): 193cm W x 121cm D x 129cm H
Internal: 153cm W x 92cm D x 100cm H
Depth excl wheels: 96cm
Height excl wheels and legs 107cm
Pop-hole size: 34cm W x 47cm H
Construction
All timber is from sustainable resources, FSC Certified, Scandinavian Redwood
Sides, back and front: 19mm Pressure Treated Shiplap
Floor: 9mm Exterior Grade Sealed Plywood
Roof: Dark Brown 9mm Phenolic-coated Board
Frame: 38 x 38mm & 36 x 63mm Pressure Treated ease-edged framing
Fixtures: Stainless Steel Nails; Plated & Painted Decking Screws
Fittings: Heavy Duty Galvanised Hinges, Bolts & Catches
Wheels: 250mm dia x 100mm wide Sand Wheels on a 20mm steel rod
Timber Warranty: 15 years against rot & fungal attack
Handmade in Dorset
Currently 1-2 week delivery. This House is delivered ready assembled, on a pallet via Palletline carrier.
Exact delivery date will be detailed in a separate confirmation email. Delivery charge starts at £59 (mainland England). See our Delivery Information Page.
Gaggle Duck & Goose House with wheels - with heart
Excellent service and top quality products! I highly recommend and would buy again. Love the wheels, making this portable
Gaggle Duck & Goose House with wheels
The product was a duck house, its very good quality ,well made and arrived already put together .this is our second purchase and the chicken house is as good as the day it was purchased 3 years ago, does take 10 days to arrive but worth the wait well worth the money, its well worth paying for something that lasts
Gaggle Duck & Goose House with wheels
We visited Flytes so Fancey and spent time deciding what exactly we wanted, they were so helpful and assisted us in our final decisions. They were delivered when they said they would and the delivery man laid out all the different protection pens, chicken coops, Goose house, Rabit house and runs with all the relevant instructions and fittings.
They all went together well, really well made products which is why we decided to use Flytes so Fancey. Recommended to a friend already. Excellent well made easy to move around
Gaggle Duck & Goose House with wheels
Goose House is great!! Great product lived up to expectations. Delivered promptly.
Gaggle Duck & Goose House with wheels
You have thought of everything to make my new animal house perfect. I am using a gaggle goose house for three small rabbits who are delighted with their new home and have been constantly running in and out to check it out! The house arrived beautifully packaged with everything perfectly prepared. The quality is excellent and it is a very attractive addition to our garden. The gaggle goose house is perfect for my three small rabbits! They love their new home.