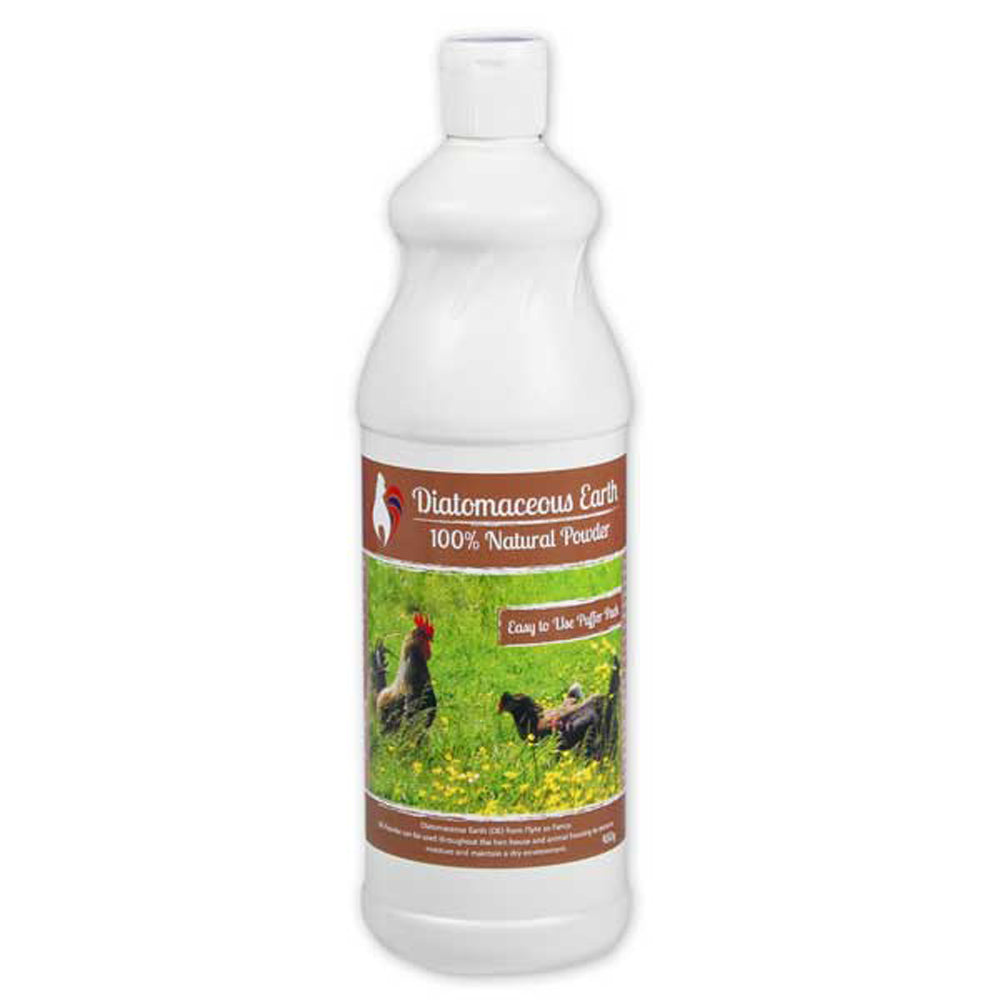 Flyte Diatomaceous Earth Powder, 400g
400g of Diatomaceous Earth (DE) from Flyte so Fancy in an easy-to-use puffer pack.

* Odour free * Stain free * Pesticide free
* 100% Natural Desiccant
* Harmless to animals & birds
* No egg withdrawal
* Increases digestibility of feed, add to feed at 1%
* For bedding use at 50g/sq.m
You can use Diatomaceous Earth throughout the hen house or animal housing as it removes moisture and maintains a dry environment.
By sprinkling the DE powder in the nest boxes, bedding and on perches where the chickens roost it will ensure that the hen house remains dry, clean and sweet-smelling as well as prevent damp areas where mites, moulds and lice can thrive.
DE is a 100% natural silicate product prepared from the fossilised remains of ancient hard-shelled algae from river beds so is totally natural. This DE is classed as food-grade, is not heat-treated, and contains no chemicals or pesticides (beware of other DE that is calcinated - heat-treated - and only meant for use in filtration systems).
For centuries DE has been used in grain stores for example, and on animals against external parasites like lice, fleas and mites; can also be given in animal feed to aid digestion and for general good health.
We advise wearing gloves and a dustmask when using DE as it is a fine dust and can cause irritation.
Standard delivery via courier is next working day to most mainland UK destinations for orders placed before 2pm (excl. weekends and bank holidays).
Flyte Diatomaceous Earth Powder, 400g
Excellent service as always
I highly recommend Flyte So Fancy. Their website is easy to use and they dispatch very quickly. This product is great and really works. My order arrived very quickly, beautifully packed andin perfect condition. Highly recommended company. Sign up to their email newsletters which are informative and funny!
Flyte Diatomaceous Earth Powder, 400g
Very good website with lots of information about the perennial problem of red mite. We were recommended to try these guys and the service was great. Placed our order late one evening and the parcel was with us in no time. We'll packaged too. Would definitely use again Does what it says on the bottle!
Flyte Diatomaceous Earth Powder, 400g
Great choice of quality products promptly delivered. Thank you. It's an excellent product for keeping the red mite population down
Flyte Diatomaceous Earth Powder, 400g
Very efficient and quickly arranged my order. Have used this product before..it does appear to help the chucks with mite control