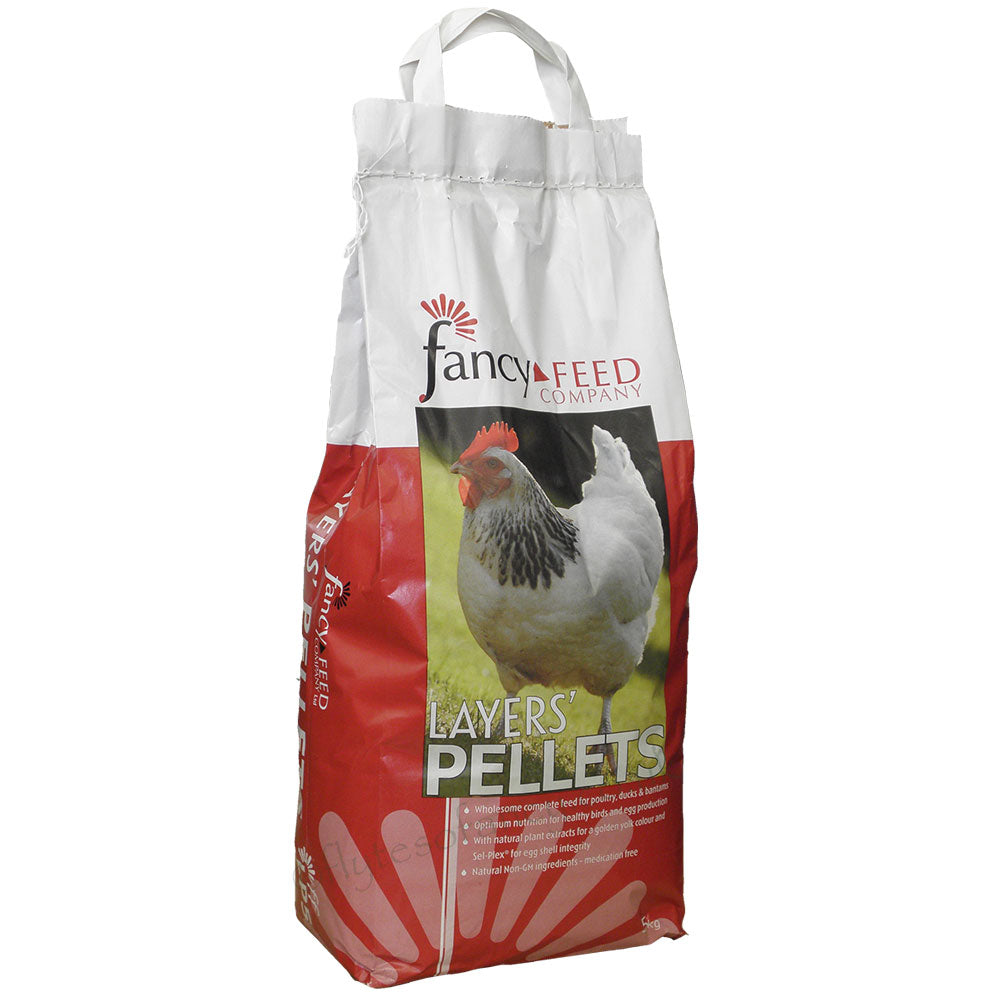 Fancy Feed Layers Pellets 5kg
Fancy Feed Poultry Layers Pellets, 5kg bag.
Quality Poultry food from Fancy Feed Company. Ideal for free-ranging and penned birds alike, Layers Pellets are formulated to provide a complete balanced diet for all types of adult and laying poultry, ducks, geese and bantams.
+ Essential nutrients to promote good health and well-being in the bird as well as supporting egg production.
+ Quality protein with essential amino acids for tissue and feather production and egg development. + Micronised wheat for carbohydrate energy and fibre.
+ With Omega 6 fatty acids for egg production and natural plant extracts from marigold and paprika for a golden yolk colour.
+ Fully balanced with vitamins and minerals.
+ With Sel-Plex® organic selenium to support the body's antioxidant defence system and immunity as well as egg shell integrity.
+ Medication free.
Nutrient Specification: Protein 16% Oil 2.75% Fibre 5.5% Ash 12.5%
Ingredients: Wheat, Wheatfeed, Hipro Soya, Full Fat Soya, Limestone, Grassmeal, Maize, Dicalcium Phos-phate, Soya Oil, Paprika Pigment, Vitamins and Minerals, Lutein and Zeoxanthin from Marigold (Natural Yolk Pigment).
Standard delivery via courier is next working day to most mainland UK destinations for orders placed before 2pm (excl. weekends and bank holidays).
garvo treats
My bantams love this. Lots of yummy tiny shrimps.
Fancy Feed Layers Pellets 5kg
They changed a short sell by date feed with a fresher feed My hens Like this feed a lay good eggs.
Fancy Feed Layers Pellets 5kg
Great products, speedy delivery Hens eat it for my Pekins a good size pellet
Fancy Feed Layers Pellets 5kg
There was an issue with delivery as the courier couldn't find our address. Daniel at Flightsofancy was really helpful and it was resolved quickly. Good products, great service.
Fancy Feed Layers Pellets 5kg
Always reliable, good range of products at affordable prices, deliveries on time. Only one my girls will eat.