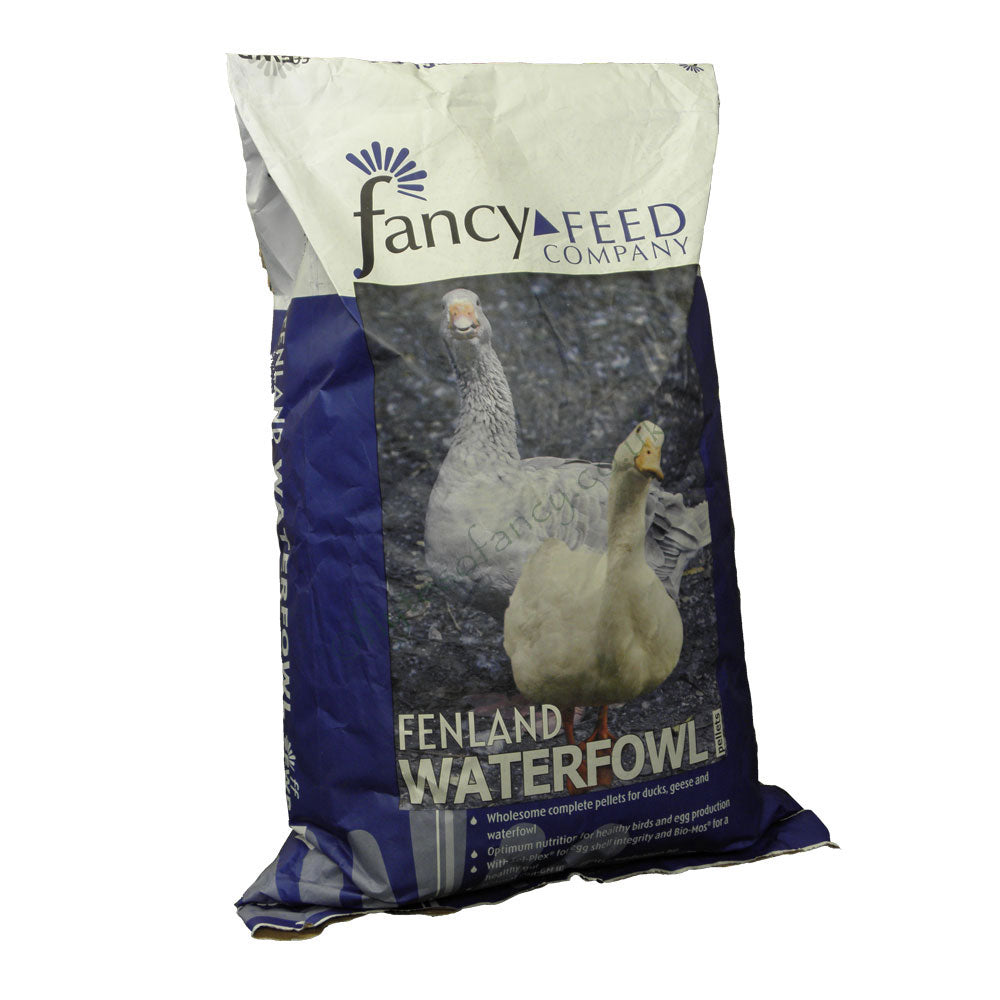 Fancy Feed Fenland Waterfowl Pellets 20kg
Fancy Feed Fenland Waterfowl Pellets, 20kg sack.
Quality Waterfowl food from Fancy Feed Company. Formulated to provide a complete balanced maintenance diet for all types of adult and laying ducks, geese and waterfowl.
+ Essential nutrients to promote good health and well-being in the bird as well as supporting egg production.
+ Quality protein levels to suit the increased demands of waterfowl, supporting tissue integrity, feather production and egg development.
+ Cooked wheat for carbohydrate energy and fibre.
+ Rich in Omega 6 fatty acids to support egg production and feather quality and integrity.
+ Fully balanced with vitamins and minerals plus Sel-Plex® organic selenium for its antioxidant properties and to support egg shell integrity.
+ Bio-Mos® prebiotic is also included to optimise gut health and immune response by suppressing harmful bacteria.
+ Medication free.
Nutrient Specification: Protein 16%, Oil 2.75%, Fibre 5.5%, Ash 12.5%
Ingredients: Wheat, Wheatfeed, Hipro Soya, Limestone, Grassmeal, Soya Oil, Dicalcium Phosphate, Vitamins and Minerals, Bio-Moss, Sel-Plex organic selenium.
Feeding guidelines: Fenland Waterfowl Pellets can be fed from 18 weeks of age. To help ensure birds receive a balanced diet, They are best fed ad lib and not mixed with additional grain or mixed corn.
As a guide, birds should consume a minimum of 200g/8oz per day (larger birds) or 85g - 100g/3½oz - 4oz (smaller breeds).
A treat of Fancy Feed Mixed Corn and/or kitchen scraps may be fed in the afternoon or evening. Ensure clean fresh water is available at all times. Birds should have access to a source of insoluble grit at all times to aid digestion.
Standard delivery via courier is next working day to most mainland UK destinations for orders placed before 2pm (excl. weekends and bank holidays).
Fancy Feed Fenland Waterfowl Pellets 20kg
Always excellent customer service. Very friendly over the phone. Questions answered well. Altogether smooth process. My ducks love eating this food.
Fancy Feed Fenland Waterfowl Pellets 20kg
Flyte So Fancy are so helpful and informative, they have a fantastic selection of feeds and housing for all my poultry, quail and waterfowl, fast delivery too. 5* from me and I will continue ordering from Flytes So Fancy, thank you! Perfect for my ducks, great quality food
Fancy Feed Fenland Waterfowl Pellets 20kg
Brilliant The geese are just getting used to it but should prove to be a big hit with them ,,,
Fancy Feed Fenland Waterfowl Pellets 20kg
Flyte so Fancy are always good. their delivery driver not good
Fancy Feed Fenland Waterfowl Pellets 20kg
Delivered the day after ordering. My ducks seem to like it.