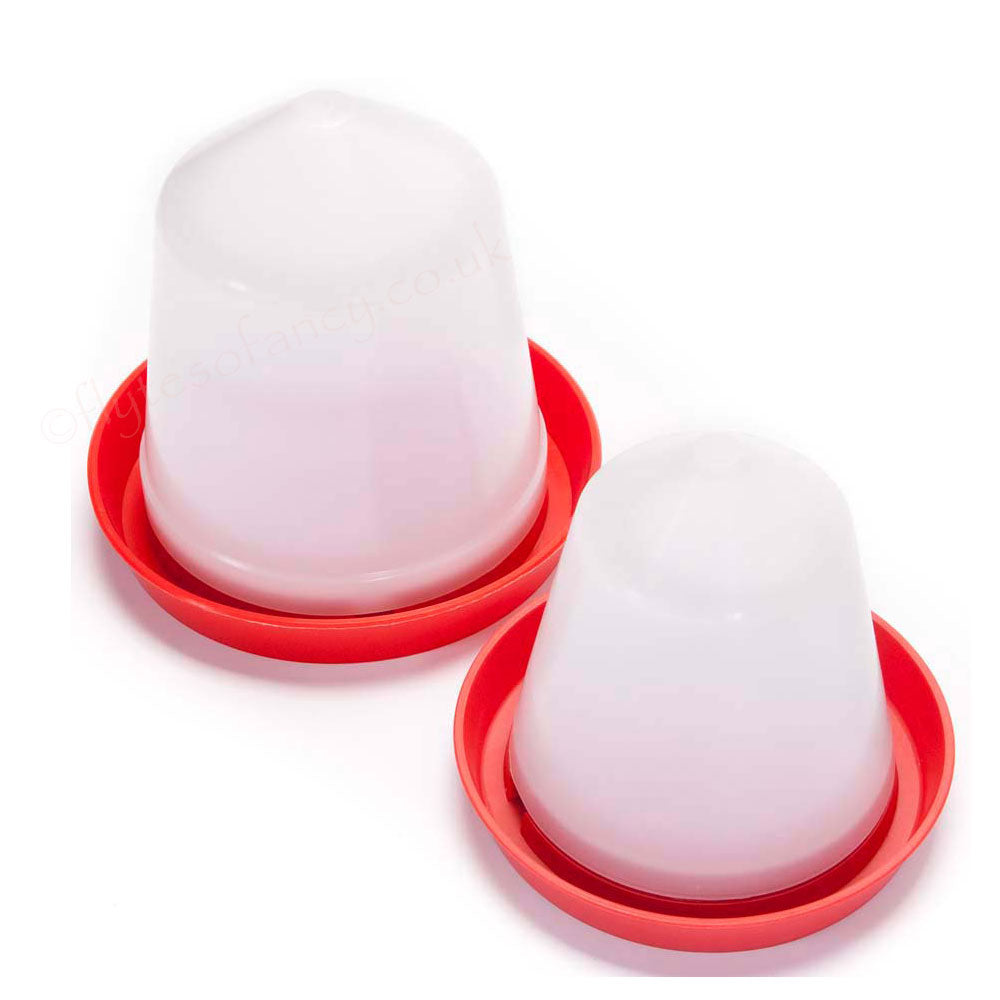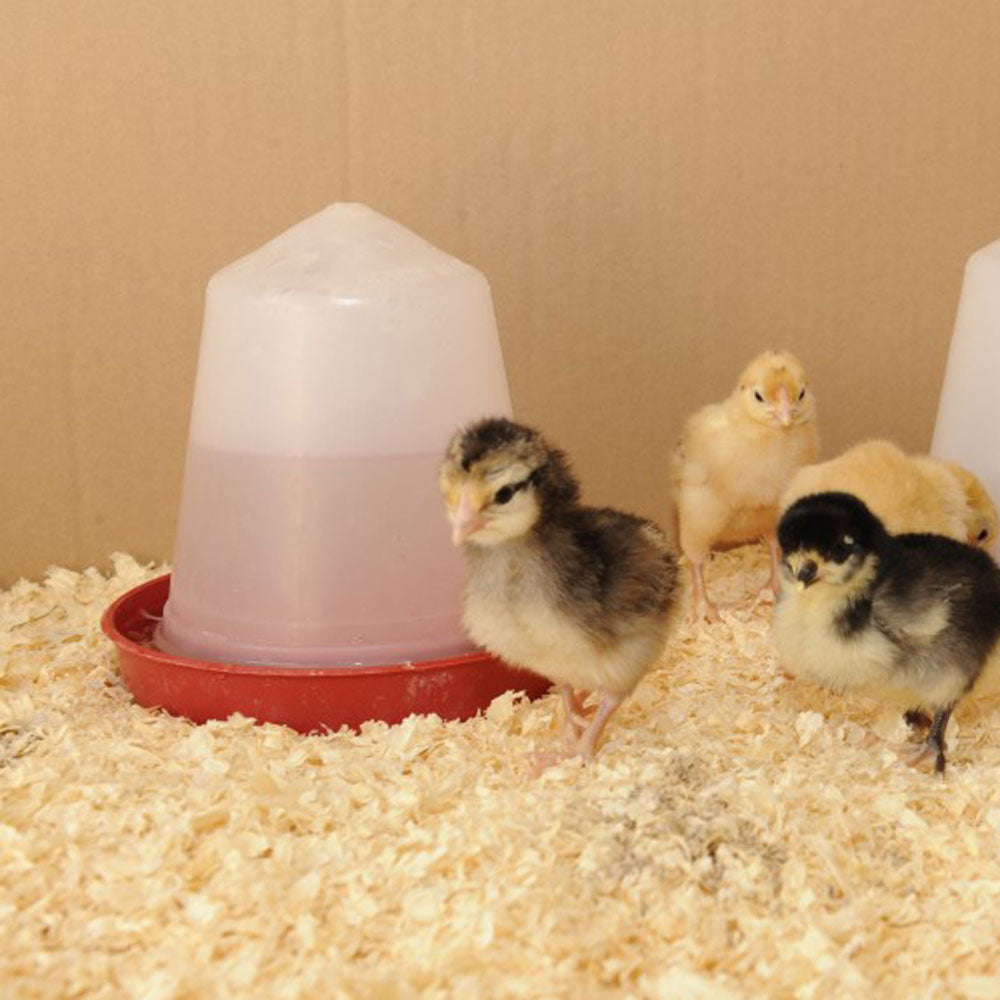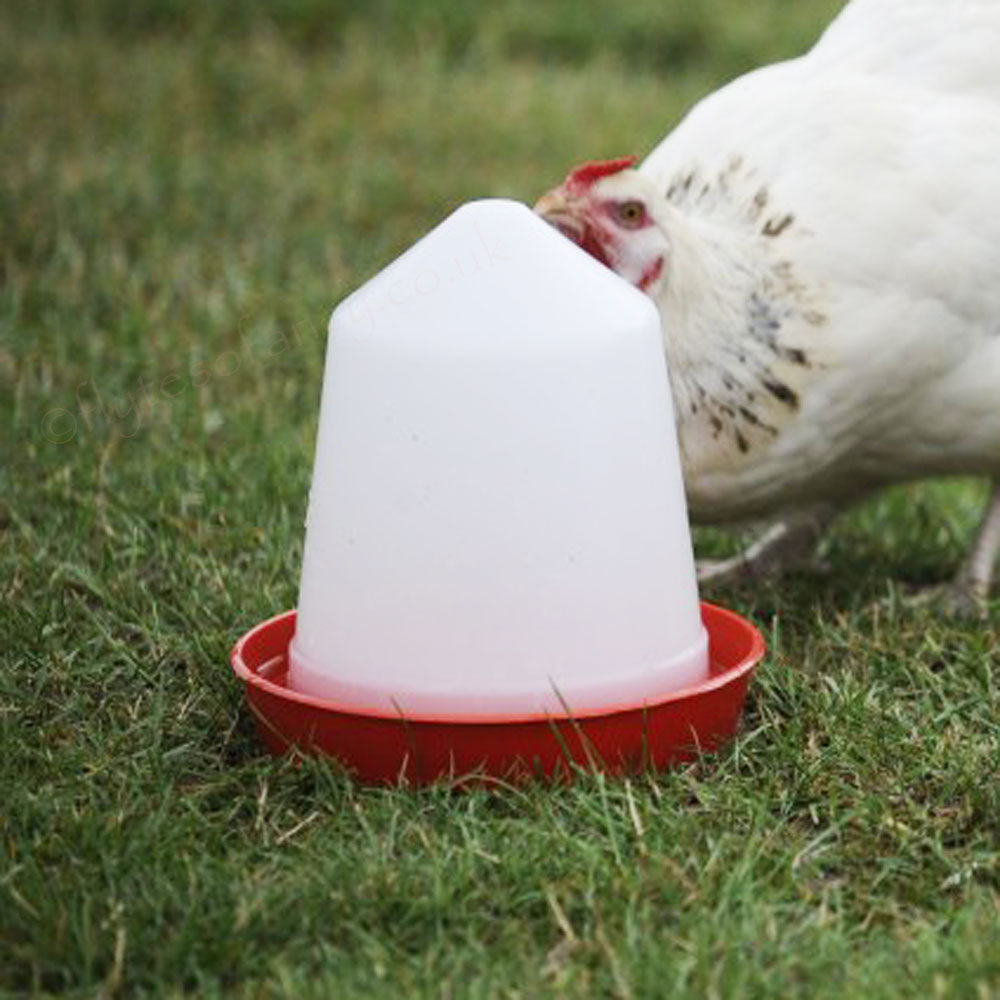 Economy Push-Fit Chick Drinkers
Plastic Push Fit Chick Drinkers - 1.5 litre and 3 litre. British made, excellent value, small drinkers for chicks and chickens.
The 1.5 litre Plastic Push-Fit Chick Drinker is suitable for chicks from a day-old. It has a narrow saucer to give a shallow depth of water.
1.5 litre Drinker Dimensions: 19.5cm (diameter of base) x 17 cm high.
The 3 litre poultry drinker is suitable for adult hens as well as chicks. This red and white drinker is a good value drinker, especially if needed for isolation times or short term use.
3 litre Drinker Dimensions: 22 cm (diameter of base) x 20.5 cm high.
Simply hold the container upside down to fill from a tap, push the base back on tightly, and invert the drinker.  A vacuum is then created inside the tank as the water flows into the saucer and the flow will stop as soon as the water level covers the outlet hole.
FSF Tips: Always advisable to use the correct size drinker for the size of the bird. This red and white plastic drinker will help prevent drowning as day-old chicks can easily lose balance, fall forward and drown in the water. A helpful little tip is to add pebbles or marbles to the drinking saucer to further prevent this from happening.
Standard delivery via courier is next working day to most mainland UK destinations for orders placed before 2pm (excl. weekends and bank holidays).
Economy Push-Fit Chick Drinker - 1.5 litre
Fantastic customer service, had a small issue with my order, however it was resolved straight away and with a very professional approach, I was impressed.
Great production, our chickens are happy with their bedding and hardwood chippings flooring. Good size drinker, we have 4 chickens and this is fine for them.
Economy Push-Fit Chick Drinker - 3 litre
Very good website with lots of information about the perennial problem of red mite. We were recommended to try these guys and the service was great. Placed our order late one evening and the parcel was with us in no time. We'll packaged too. Would definitely use again Our not so old drinker leaked like mad so thought we'd try this one and so far no leaks. Just the right size for us too
Economy Push-Fit Chick Drinker - 1.5 litre
Super quick delivery, great customer service, reliable, pleasant experience. Excellent quality and value for money. What more could anyone wish for? Really the best small drinker for chicks and hens! No leaks , no spillage.
Economy Push-Fit Chick Drinker - 1.5 litre
The products were very cheep (chick waterers) and they are standing up to the rigours of the coop very well. The online ordering was very easy and delivery was super speedy, which was brilliant. We will be using the company again. Thank You Great product and speedy delivery, the chicks are able to drink all day long without the waterer needing a top up - unless their soppy mum covers it in woodchip, which she does on a regular basis!
Economy Push-Fit Chick Drinker - 1.5 litre
Super fast delivery and excellent customer service. Brilliant leakproof drinker.