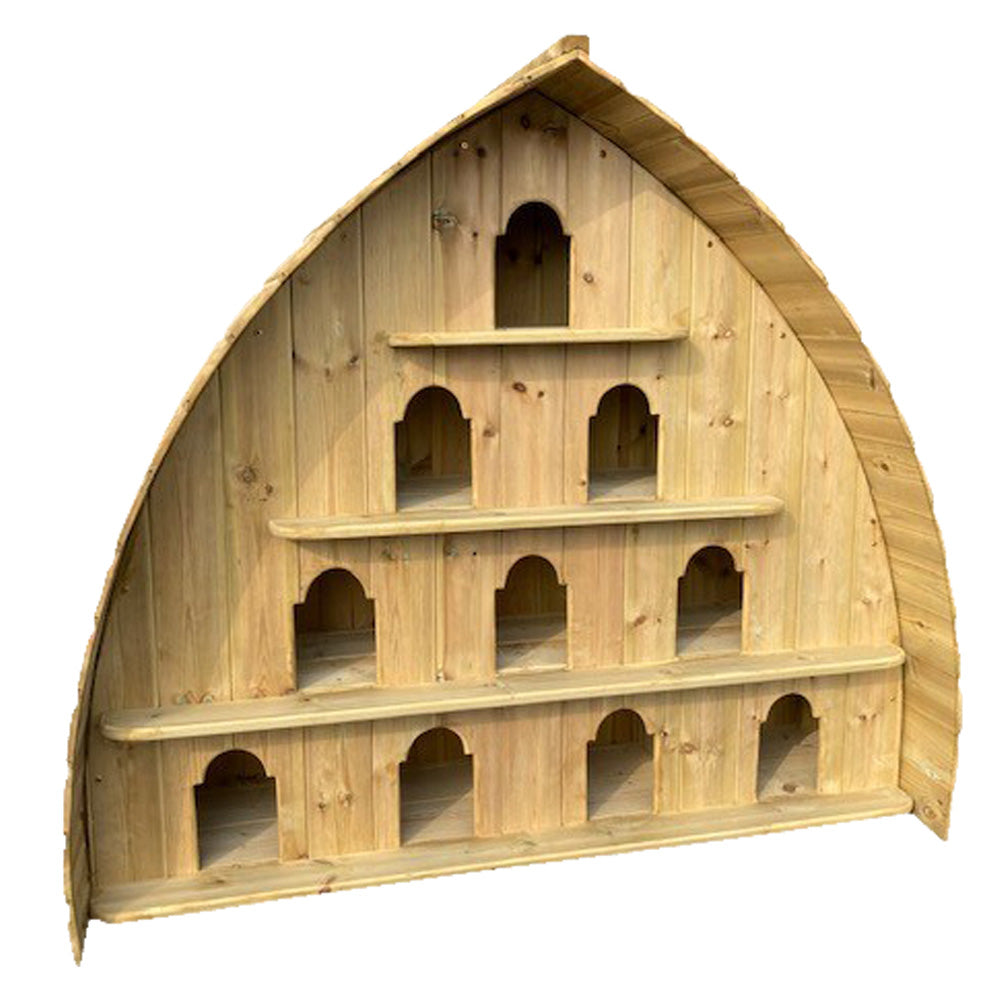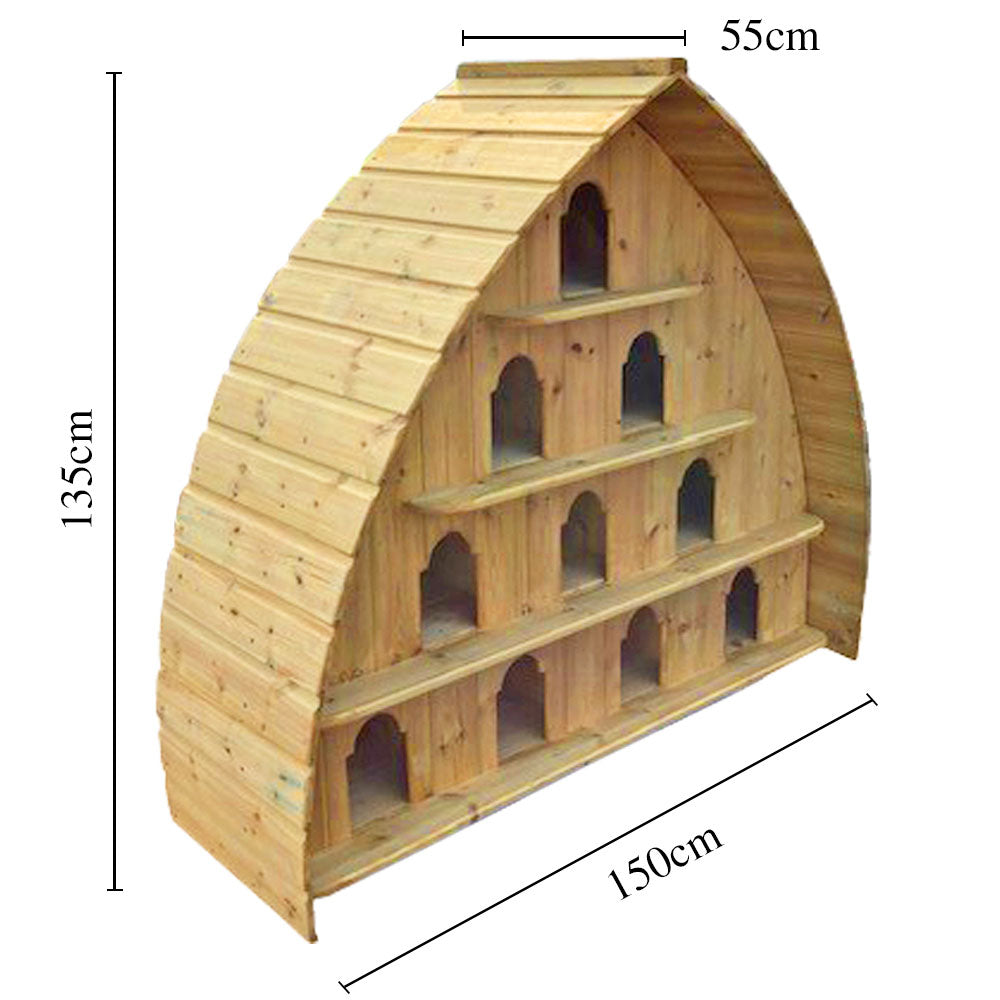 Durdle Door Dovecote - 10-Bay
The Durdle Door Dovecotes are wall-mounted Dovecotes available as 3-Bay, 6-Bay or 10-Bay. The 10-Bay is approx. 59ins wide and 53ins high with each dove access hole being 6 in wide x 8 in tall.
An elegantly curved wooden Dovecote made using joinery-grade pressure-treated timber and built to last. The front panel can easily be removed for access to clean. Inside are separate nesting bays, with a landing platform, for each pair of doves to create a cosy home. A 10-Bay is of course for 10 pairs of Doves ...
We use only FSC-approved, joinery-grade, pressure-treated timber for our Dovecotes with T&G 21mm Shiplap for the roof and 16mm T&G board on the vertical panels and floor (see About our Houses for more details).
We apply a water-seal product to the roof boards before despatch but you can paint the Dovecote if you wish, just lightly sand the roof to remove the sealer and any good quality outdoor microporous paint will work well.
We advise an annual maintenance regime where it is cleaned out thoroughly and an application of Timber Protector applied externally. With this simple maintenance, your Dovecote will be protected against the weather, and the pressure-treated timber keeps out rot and fungal attack for 15 years.
Delivered ready assembled to be mounted in place by screwing from the inside back panel into your wall or fence.
Installation: We advise using a qualified tradesman to install as the Dovecote is large and heavy to handle on your own, especially if mounting high on a wall. 
Remove the front panel and screw through the back panel, use all pre-drilled fixing points (and the supplied rawlplugs if necessary).
10-Bay Dimensions (external): 150cm wide at the base; 55cm deep (front to back); 135cm high.
And for a little potted history of Dovecotes ... A dovecote is a structure intended to house pigeons or doves, also regionally called a dovecot or doocot (Scots), columbaria (Latin), culverhouse (old English) or pigeonnier (French). They generally contain several pigeonholes for the birds to nest and breed.
Dovecotes can be small free-standing timber features or large stone structures or built into the end of a stone house or barn. Historically pigeons and doves were an important food source in the manor houses of Western Europe and were kept for their eggs, flesh, and dung.
In medieval Europe, the possession of a dovecote was a symbol of status and power and was consequently regulated by law. Only nobles had this special privilege known as 'droit de colombier'. Many ancient manors in France and England have a dovecote (still standing or in ruins) in one section of the manorial enclosure or in nearby fields.
It is thought the Romans may have introduced dovecotes to Britain since pigeon holes have been found in Roman ruins in Monmouthshire although this is still uncertain that this was used for pigeons.
The earliest known examples of dove-keeping occur in Norman castles of the 12th century. Nest holes can be seen at Rochester Castle, Kent, and documentary references also began in the 12th century.
The earliest surviving, definitely dated, free-standing dovecote in England was built in 1326 at Garway in Herefordshire. The feral pigeon of today is thought to be a direct descendant of these Norman imports.
For the lords of the manor and aristocracy of medieval times, doves and pigeons were a year-round food source for the table – pigeon pie, or 'squab pie', was considered a delicacy - they also breed quickly so were easily replenished. The feathers were used for the household and the manure for the estate. Pigeon guano was considered one of the finest fertilizers in the world (used extensively in France on vineyards).
Although commercial dovecotes died out in the 19th century, today they come in much, much smaller versions - like our delightful Durdle Door here - usually made of timber and are either mounted on walls of outbuildings or barns or freestanding on wooden posts. They can often be seen in larger gardens housing a few ornamental white garden doves or just as decorative wall-mounted garden features themselves.
Delivery: Currently delivery is approx. 5 weeks.
The Durdle Door Dovecote will be delivered ready assembled via Palletline Transport. The pallet will measure 1.2m x 1.2m - please see Delivery Information.
Delivery charge starts at £59.00 for mainland England postcodes. When we receive your order, we will email to arrange a suitable delivery date for you.