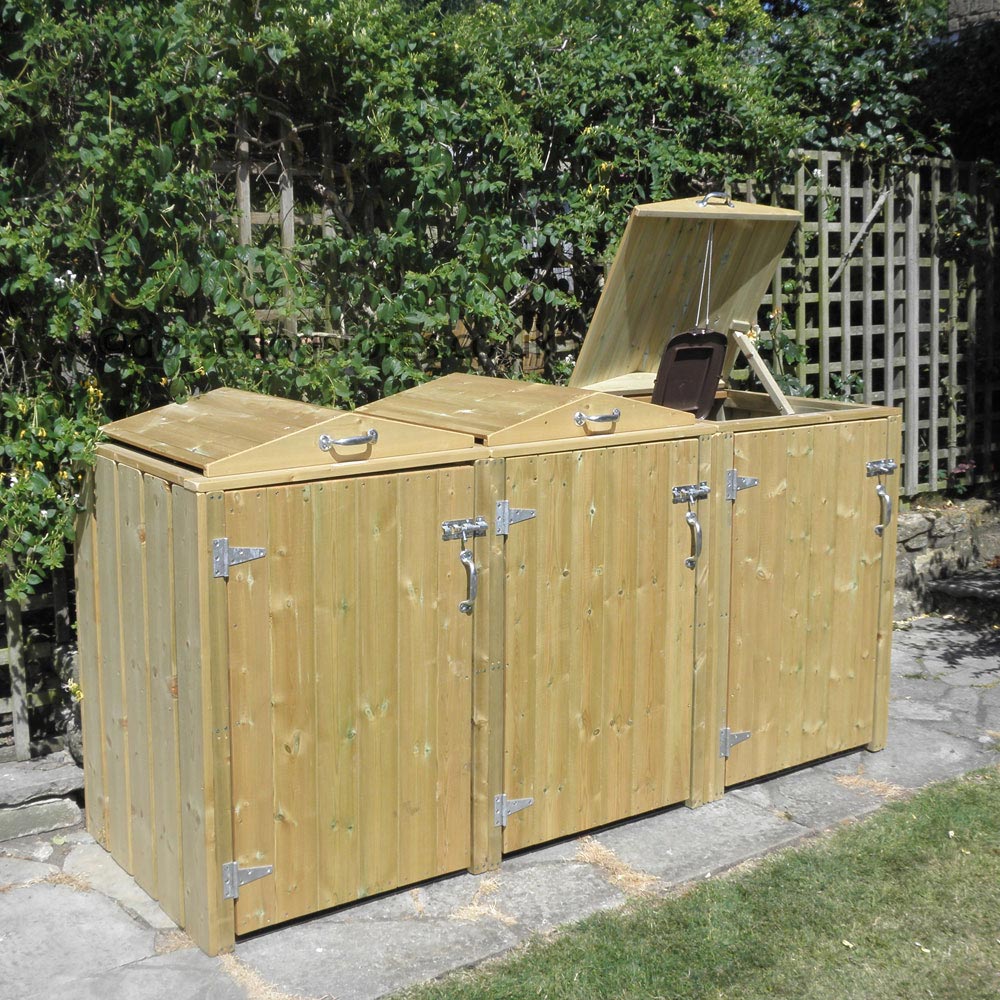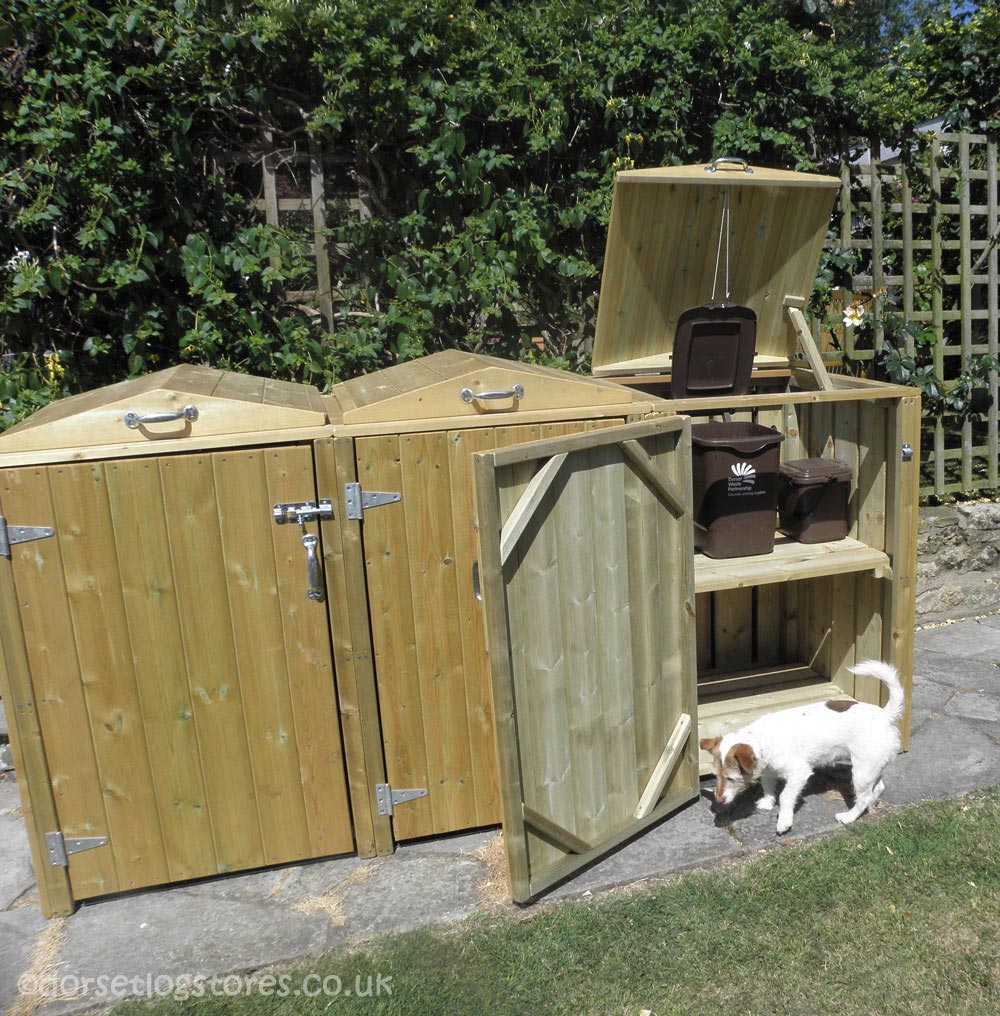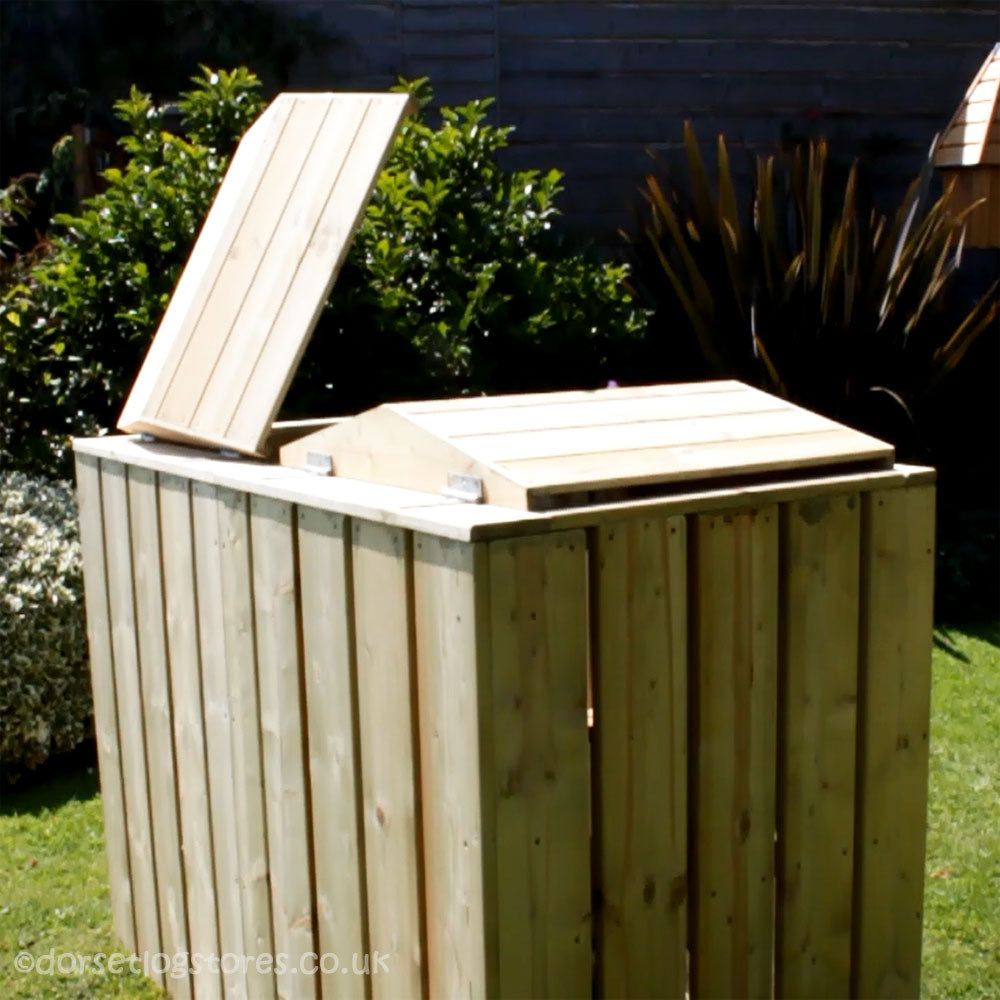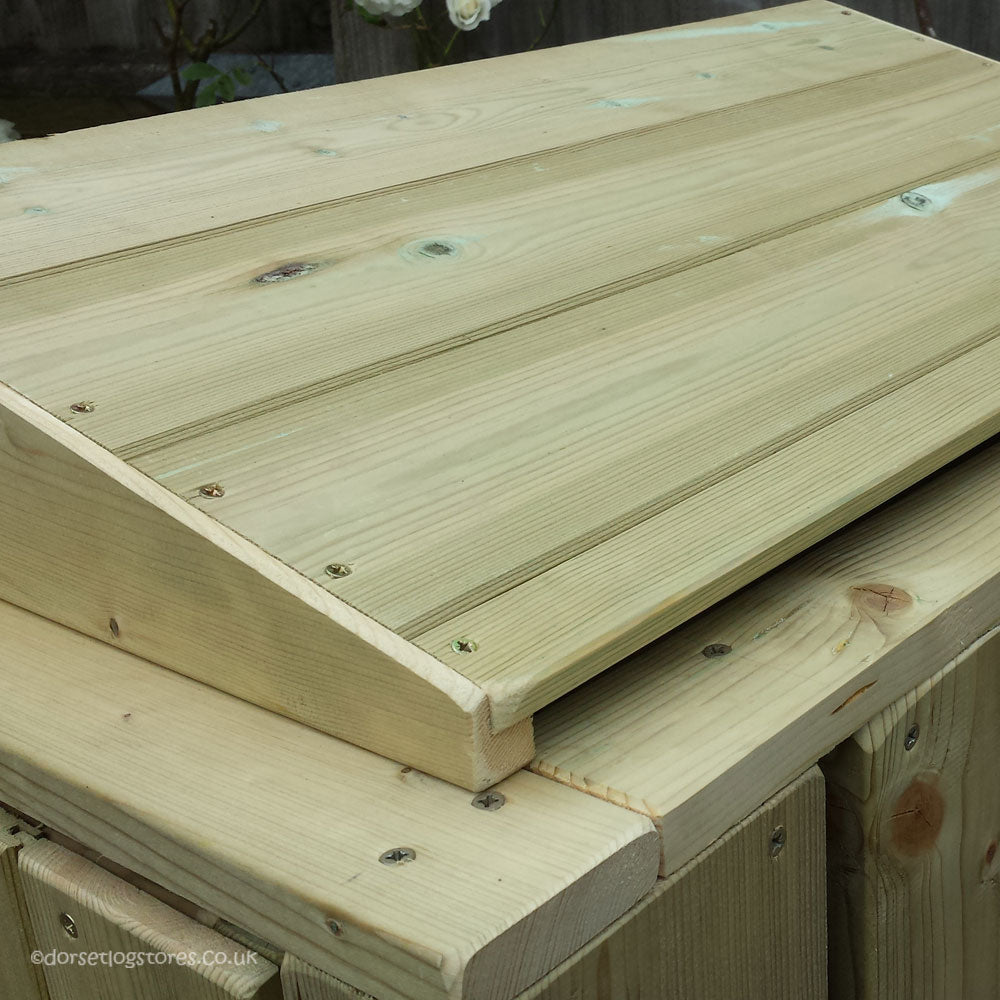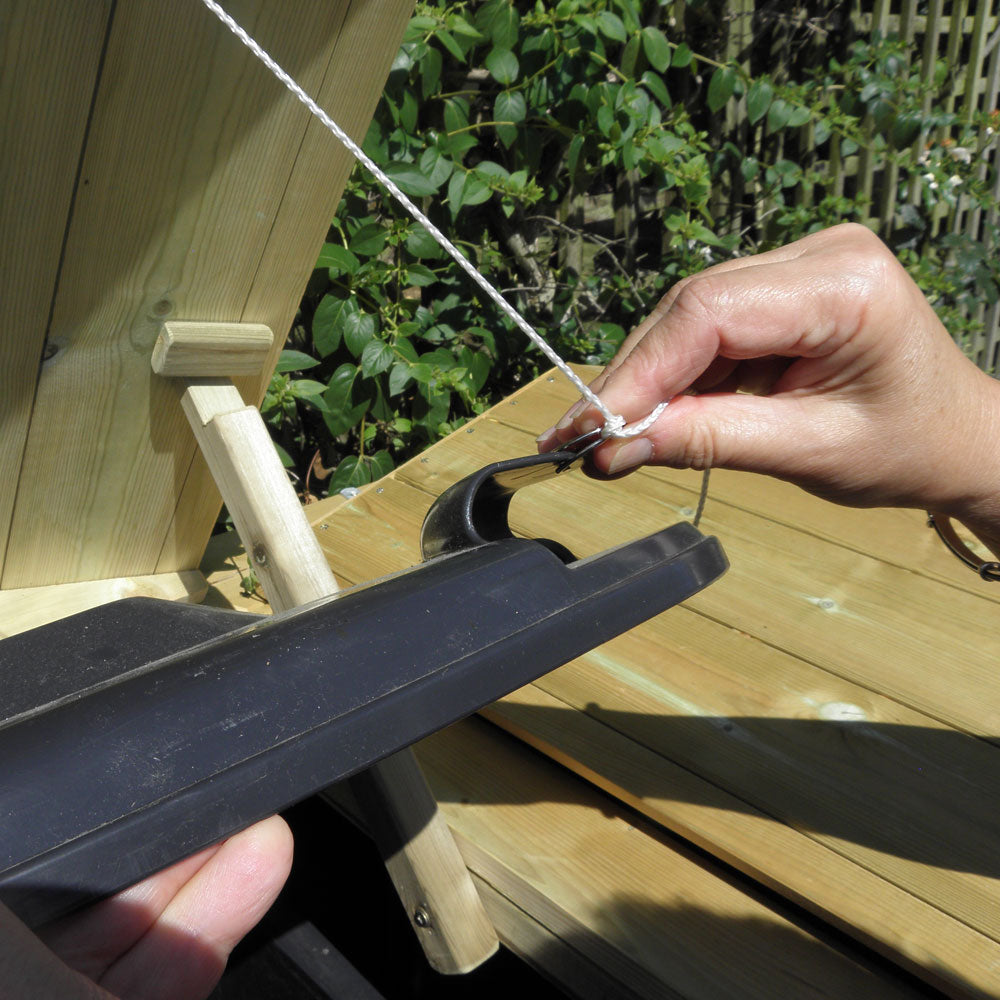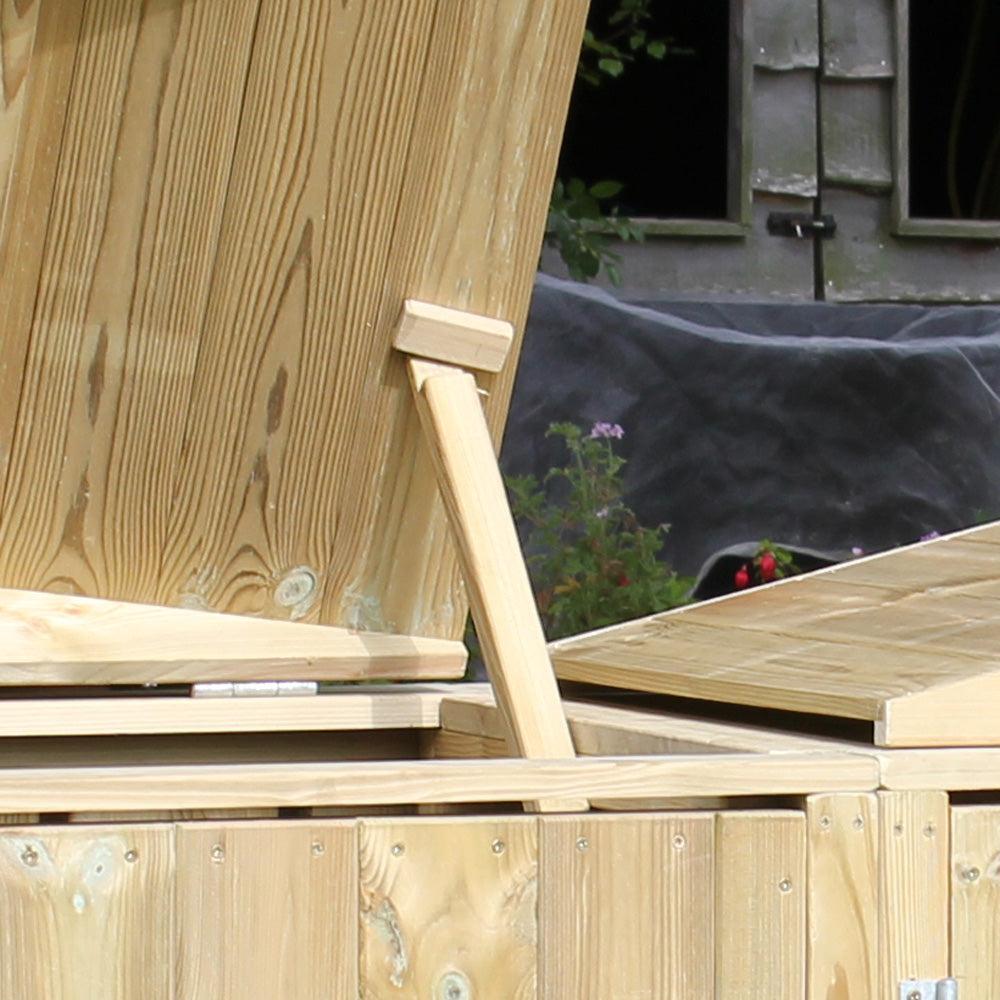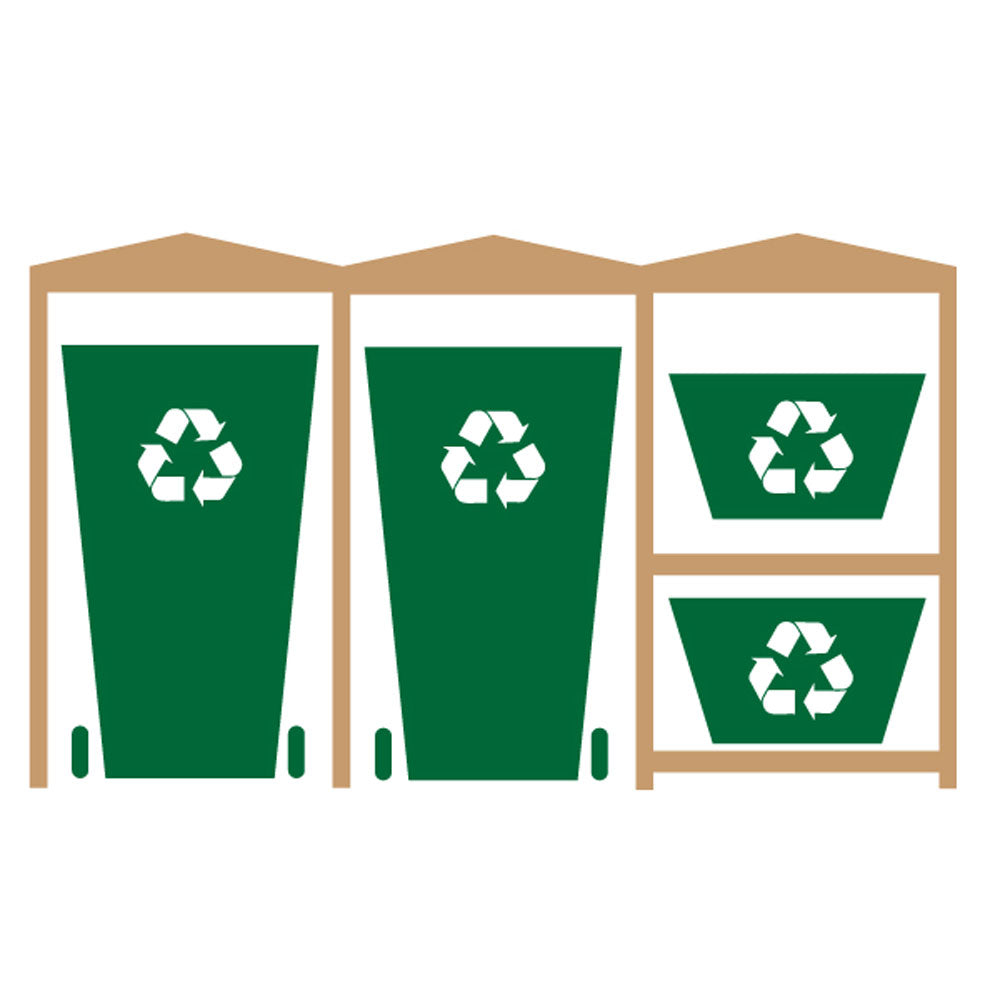 Wheelie Bin Stores & Recycling Box Store - Triple Set
Trio of Recycling Bin Stores comprising 2 Wheelie Bin Stores and 1 Recycling Box Store. Suitable for up to 240-litre bins - please check the sizes.
This Triple Recycling Bin Store is perfect to smarten up your outdoor area and hide those ugly plastic wheelie bins we all have to find a place for now.
It houses 2 wheelie bins in 2 sections and 2 or 3 recycling boxes in the third. The shelved recycling box section has a solid internal wall and removable mid-shelf. The wheelie bin sections have an open internal wall.
The side panels and back panels have a 2cm gap between the timber to keep the unit well ventilated but still secure. Each store section has its own roof which you raise to access the plastic bins.
The lid of the plastic wheelie bin, or lidded recycling caddy, can be attached to a lifting cord fixed to the roof so that only one-handed action is needed to raise both the store roof and the bin lid at the same time. If you need to keep the roof open you can use the folding wooden arm housed just inside the frame.
Each roof and door has an offset solid galvanised D-Handle and the doors have heavy-duty galvanised hinges and pad-lockable galvanised Brenton Bolts.
The bin store sections have a simple flat metal bottom brace across the front so the bins can easily be wheeled in and out (i.e. no floor).
These Wheelie Bins Stores, made here in our own workshop in Dorset, are very well made from thick pressure treated timbers using plated decking screws. They are robust enough for a tough outdoor life and will last for many years without any timber treatment required.
Dimensions externally overall: 86cm front to back; 122cm high; 230cm wide
Internal dimensions of each store: 75cm front to back; 108cm high; 69cm wide
All timber is sustainably resourced, FSC Certified, Pressure Treated Scandinavian Redwood
Sides & Back: 21mm thick boards
Roofs: 16mm thick Tongue & Groove
Frame: 38mm x 38mm pressure treated FSC framing
Fixtures: Plated & Painted Decking Screws used throughout; Stainless Steel Nails
Fittings: Heavy Duty Solid Galvanised: D-Handles; Hinges; Brenton Bolts
Timber Warranty: 15 years against rot & fungal attack
Made in England
Please check your bin dimensions. As a guide, a single 240-litre Plastic Wheelie Bin measures 73cm front to back x 105cm high x 58cm wide (if your bin is slightly taller just let us know and we can provide a Lift-kit to raise the unit).
Note: Our Timber is pressure treated and warrantied against rot, fungal or insect attack for 15 years. This does NOT mean pressure treated timber is 'waterproof' nor will it prevent the natural swelling and shrinkage throughout the seasons but, it is suitable for life outdoors in all weathers.
Swelling and shrinkage are perfectly natural with all timber. Although we build in tolerances to take account of this, you may have to slightly adjust the doors over time e.g. if the timber swells preventing the doors from closing properly. This is easily done by adjusting the hinges slightly to move the door position.
We advise that maintenance is required for any timber products over the years and the application of a wood protector (not varnish) annually will keep it in good condition to help the timber last 15+ years.
Currently 1-2 week delivery time.
Delivery is made on a wooden pallet via Pallet Transport lorry. You can select above if you would like the stores to arrive flat-packed in panels (a good idea when access may be an issue) or partly assembled.
Partly assembled means we build the double section to place it on the pallet with the 3rd unit assembled and packed on top. When it arrives, and once unpacked; you would only need to attach the 3rd store to the double, put the roofs in place and make adjustments to the door levels - best done once in situ so that the bolt meets the bolt capture.
If Flatpacked then it arrives as several complete panels with full instructions and all screws needed for self-assembly - only a cordless screwdriver is required.