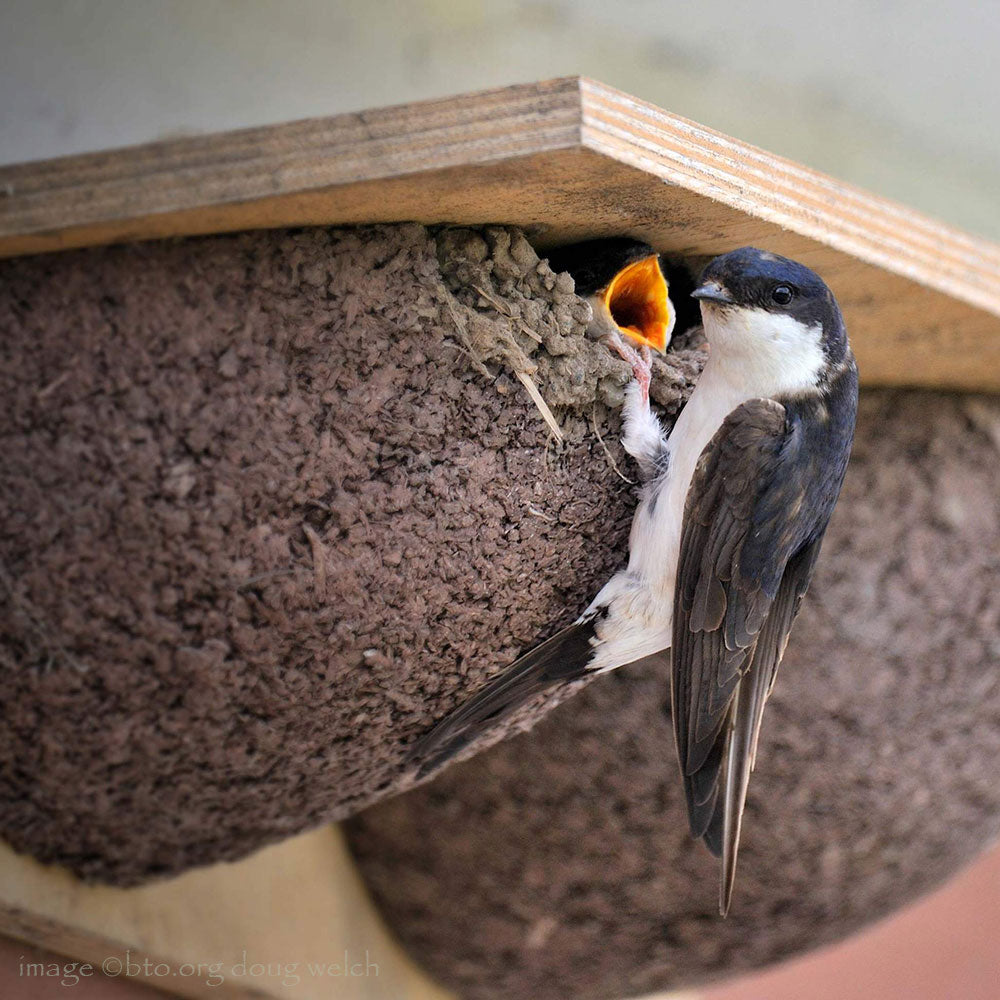 Double House Martin Nesting Bowl
Double House Martin Nesting Bowl from CJ Wildlife.
To encourage these chirpy, delightful, birds to nest they need to be able to either build a nest from a nearby muddy hole, or use a purpose made one; then a plentiful supply of insects to feed on the wing and safety under the eaves of your house.
Providing an artificial nest bowl is a great alternative and House Martins will readily use artificial nests which encourages other birds to nest nearby.
House Martins are summer migrants to the UK, they spend their winters in Africa, south of the Sahara and, due to some moderate decline in their numbers over recent years, they are now on the Amber Watch List.
These Nesting Bowls will encourage House Martins to nest and breed in peace. Their nests are normally built, in colonies, under the eaves of barns and houses and are made from gathered mud, so having a nice muddy hole nearby encourages them to build.
Today, with the changes in house construction they find it hard to find places, and the materials, to build their nests. The bird's mud nest is usually sited below the eaves of buildings so that they have free air to swoop in quickly to their nests.
The House Martin Nest is constructed from exterior grade plywood and clay. They should be installed underneath the eaves on exterior walls of your house or outbuildings, at least 2m or more above the ground (we recommend asking a tradesman to install at heights over 3m).
When choosing a site remember that the birds' droppings tend to build up beneath house martin nests, so don't fix nest bowls above a doorway or a window. If this is not possible then place a shelf about 25cm wide below the nest to catch the droppings if they cause a problem. Once you have fixed the nest bowls, it is important to let the birds' nest in peace.
Standard delivery via courier is next working day to most mainland UK destinations for orders placed before 2pm (excl. weekends and bank holidays).