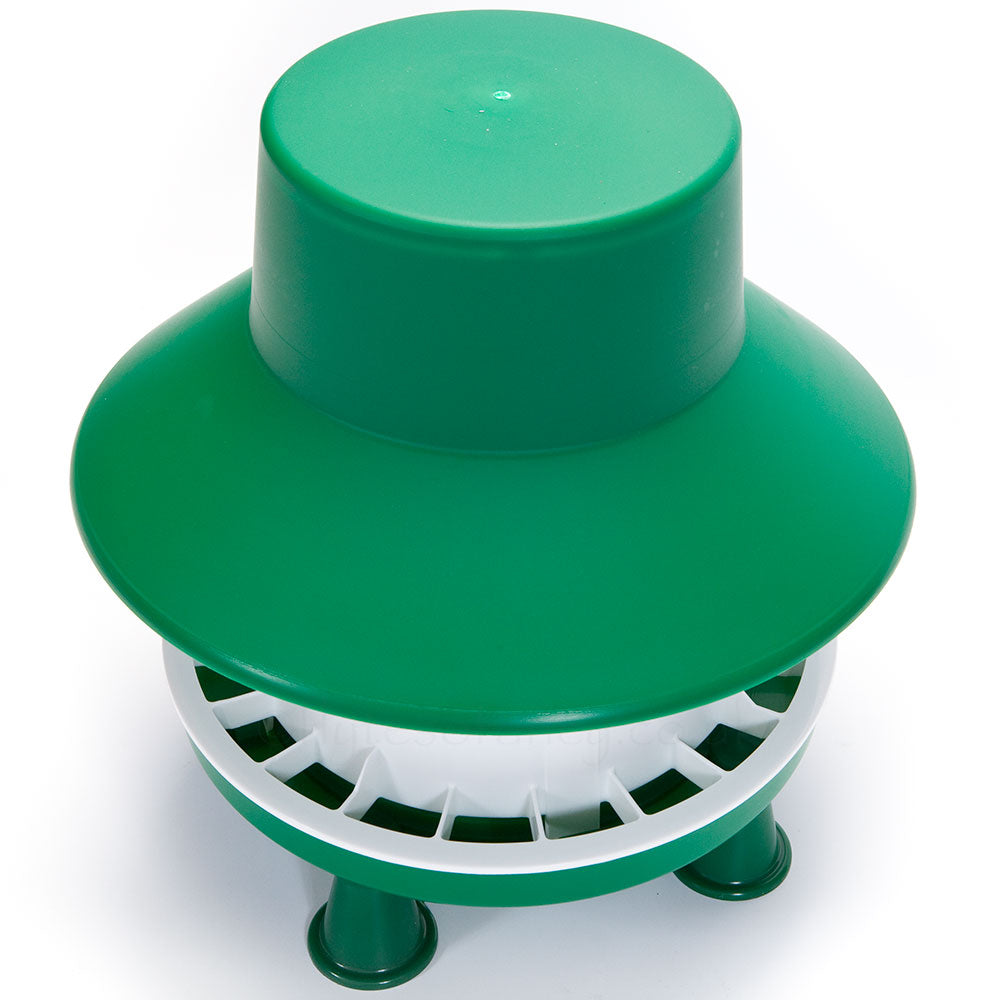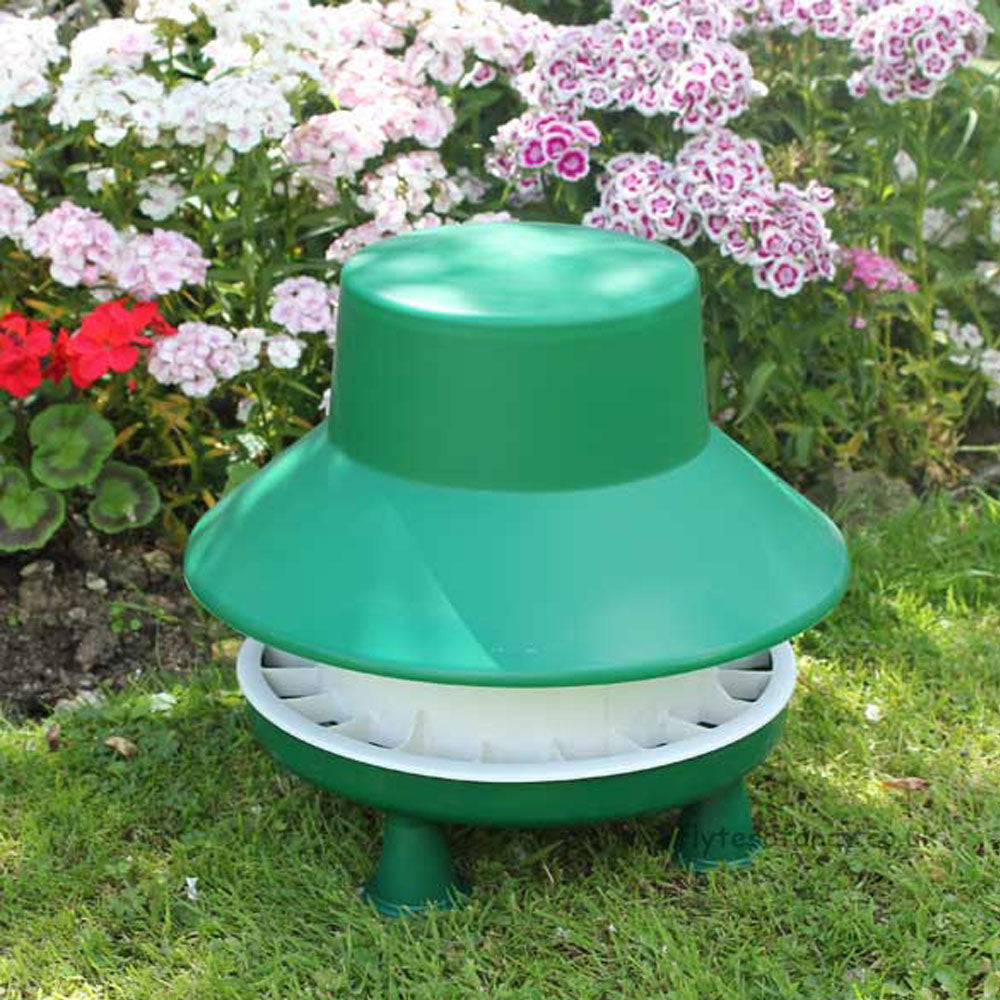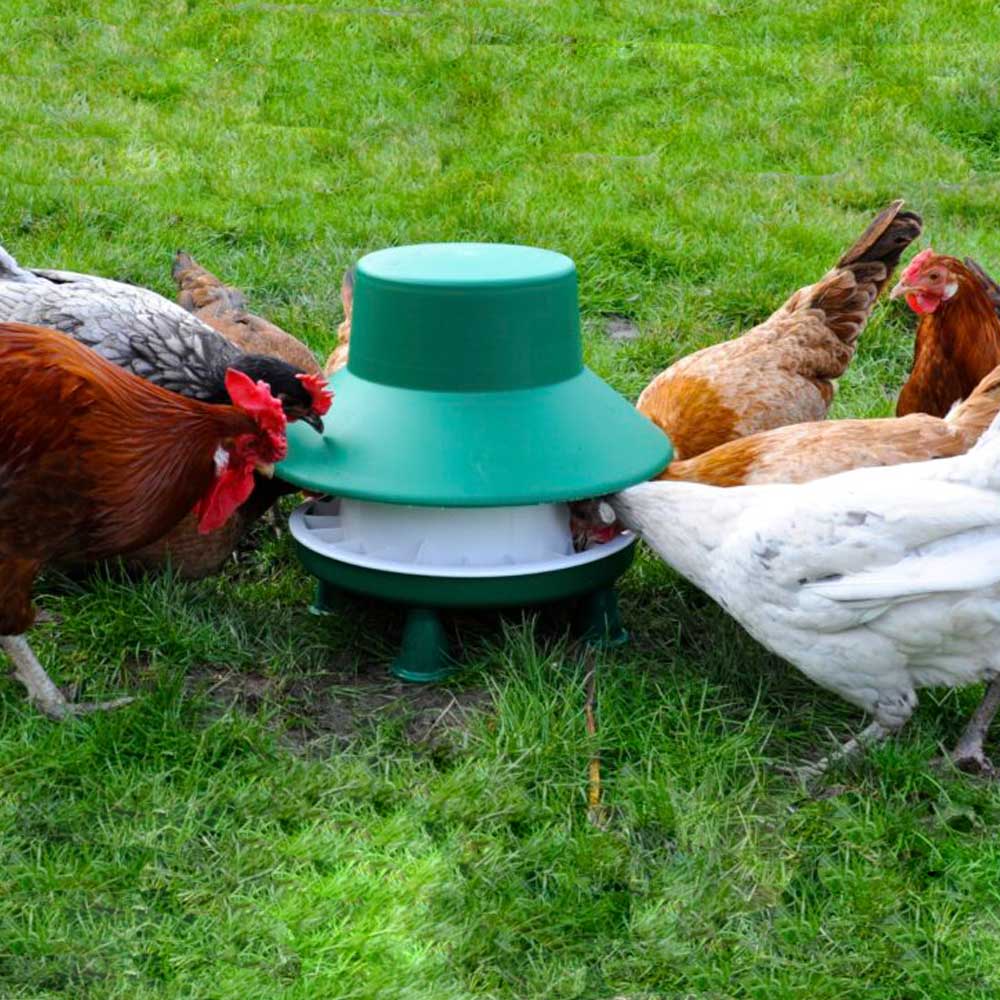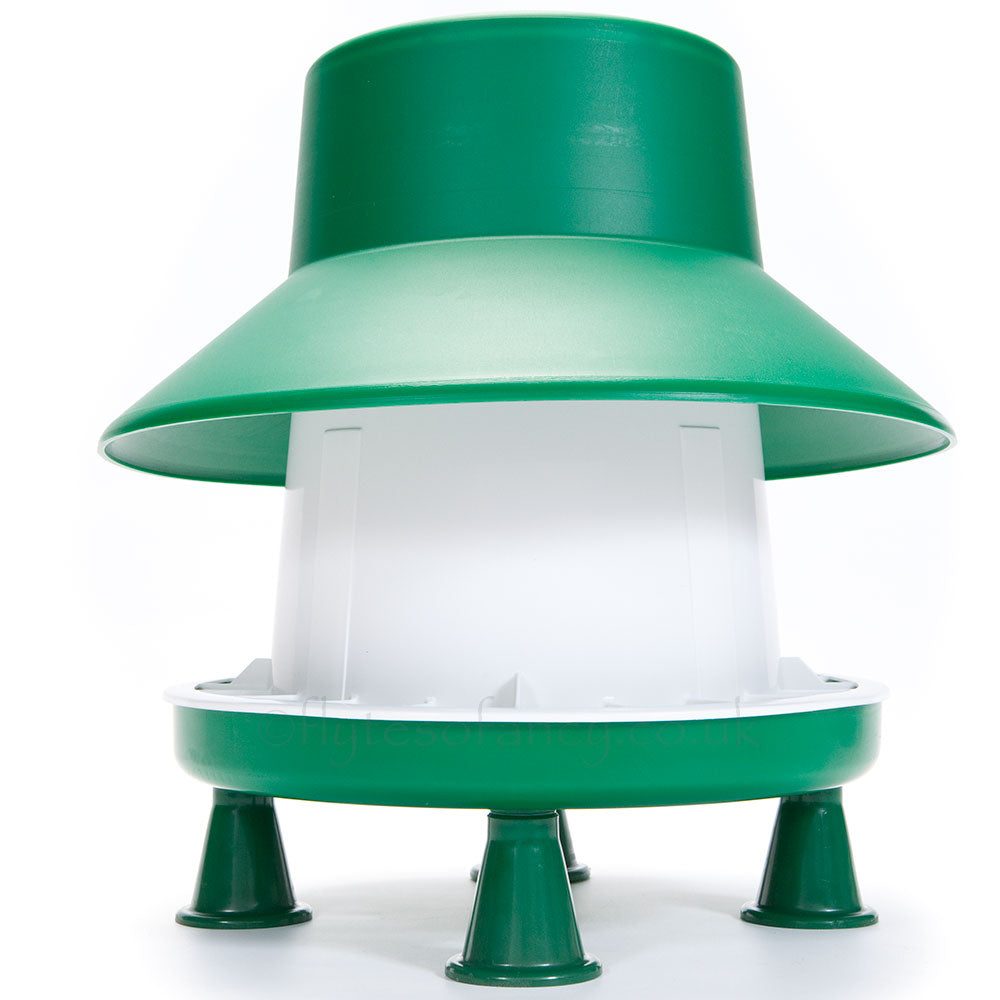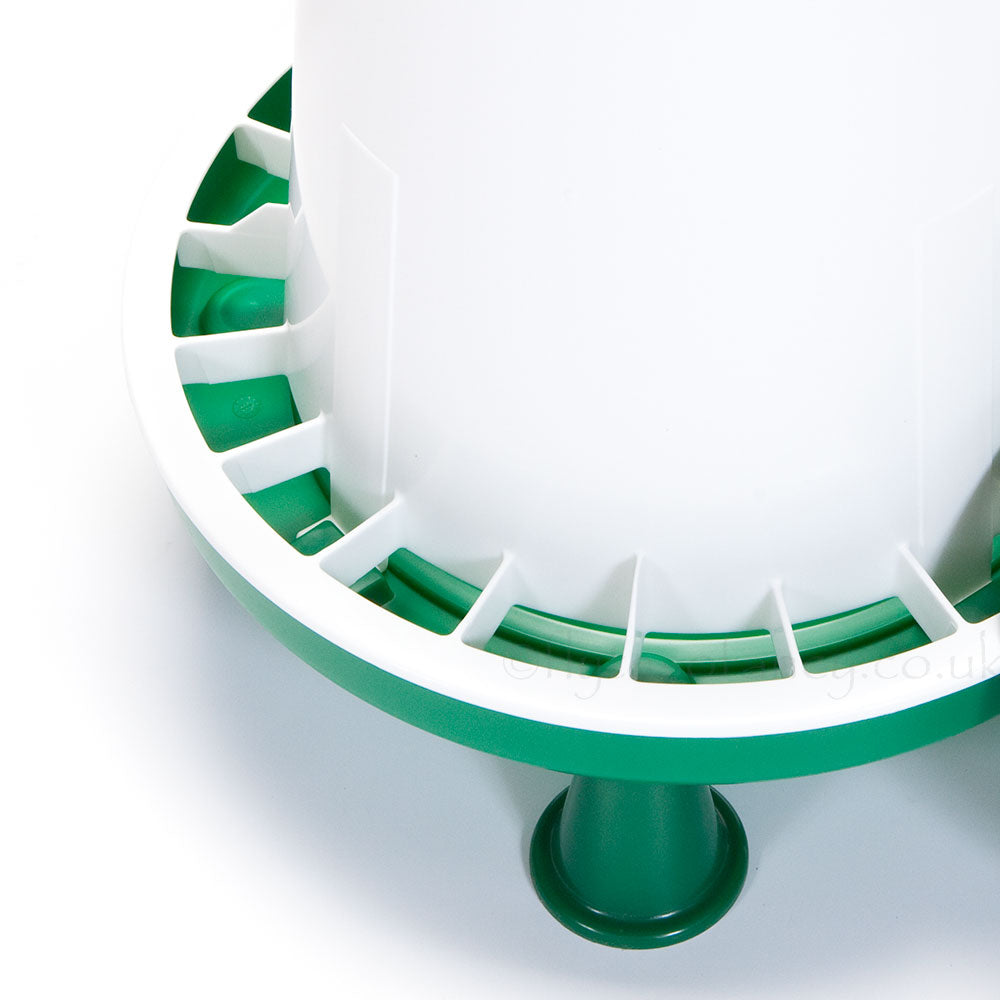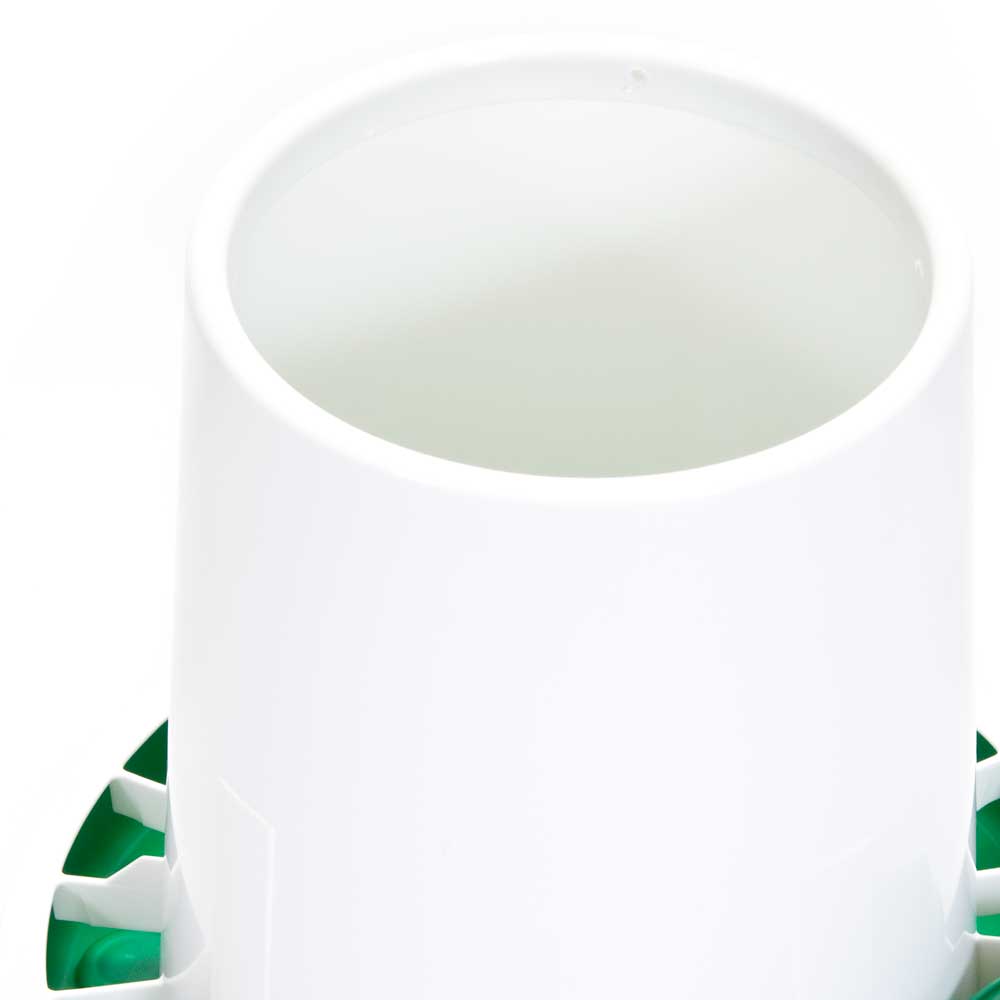 Blenheim 6kg Chicken Feeder with Rainhat
BEC Blenheim Chicken Feeder - Outdoor version with Rain Hat. This Outdoor version of the Blenheim comes with a large green 'Audrey Hepburn' style Rain Hat (replaces the inner tube cap which is not included in this version).
The Blenheim Feeder is a brilliant, heavy duty, 6 kg feeder, made in the UK by BEC Osprey.
A really tough, well designed, all-plastic feeder with 4 green 7cm (3ins) push-fit cone legs to make it stable, and to raise it off the ground, to prevent some of the contamination that the birds can flick into the feed saucer.
The hat fits down over the top of the tube so it will not blow off at the merest hint of a breeze and sits just a few inches above the feed saucer to keep the feed dry (this gap may look narrow but the birds will still use it perfectly).
The white feed tube has an integral Anti-flick finned base which adds to the rigidity and prevents birds from flicking out feed thereby reducing waste and mess. This tube twist-locks into the lugs on the green feed saucer.
Dimensions overall incl hat: 35cm high and 37cm dia. Base dia. 30cm. The Rain Hat is 37cm dia.
Please check measurements before ordering. Replacements for the green or white cone legs are available.
Standard delivery via courier is next working day to most mainland UK destinations for orders placed before 2pm (excl. weekends and bank holidays). Please note this may not always be possible at busy times e.g. after weekends and bank holidays.
Blenheim chicken feeder
We ordered these to replace old ones that have served very well
Blenheim 6kg Chicken Feeder with Rainhat
Very efficient Hens are happy wit new feeder
Blenheim 6kg Chicken Feeder with Rainhat
Very prompt delivery service. Products are good quality. Would definitely buy here again Good quality and love the roof on the top to protect the feed from rain
Blenheim 6kg Chicken Feeder with Rainhat
I really like Flytes so fancy products. They are finished well and good value for money. Prompt delivery and well packaged. Really good and does the job