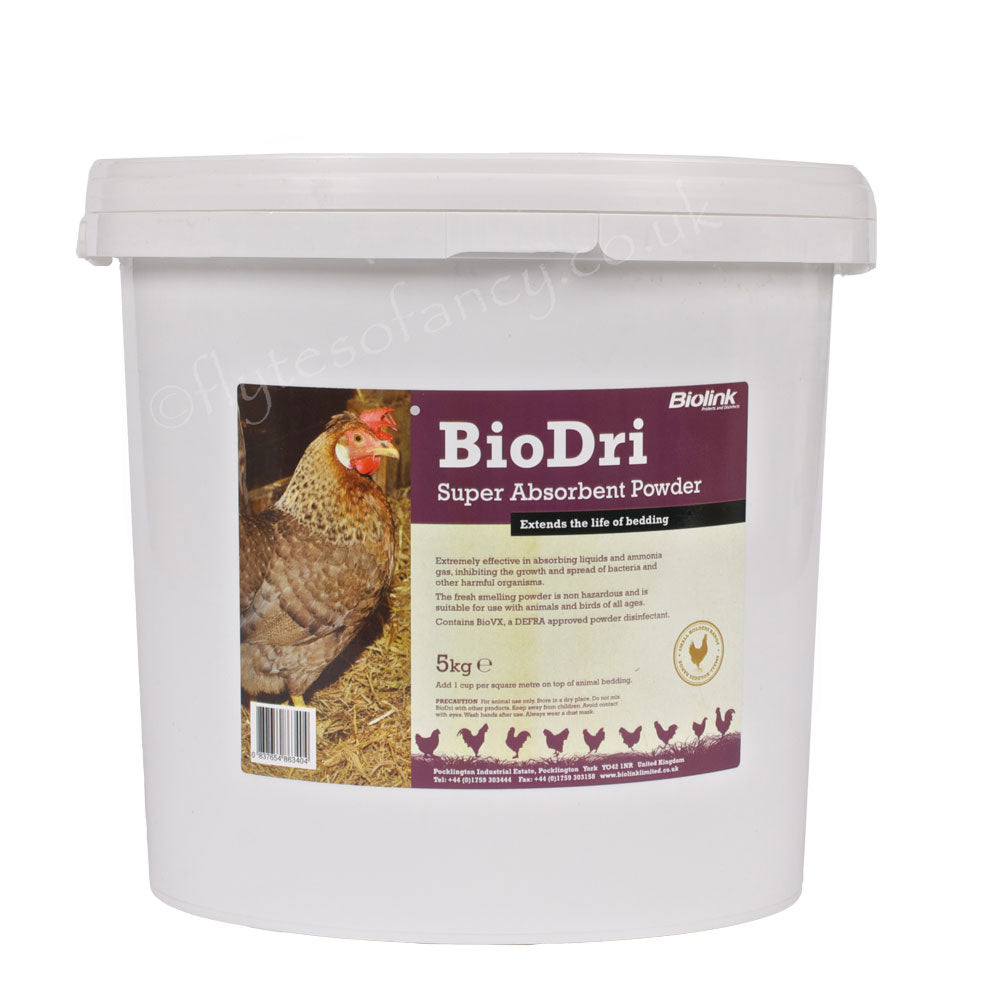 BioDri Sanitising Hygiene Powder
BioDri Sanitising Hygiene Powder 5kg. Contains Bio-VX, a DEFRA approved Disinfectant.
BioDri Powder is extremely effective in absorbing liquids & ammonia gas whilst providing sanitation and disinfection of poultry houses.
The fresh smelling powder is non-hazardous to both stockmen and livestock and is suitable for use with animals and birds of all ages. Sprinkle throughout the housing at a rate of 50g per sq m.
Super-Absorbent
Reduces Ammonia and Other Noxious Gases
Absorbs virtually its own weight
Inhibits the Growth of Bacteria
Contains BioVX, a powerful disinfectant
Extends Bedding life
Environmentally Friendly
Non-Hazardous
Standard delivery via courier is next working day to most mainland UK destinations for orders placed before 2pm (excl. weekends and bank holidays). Please note this may not always be possible at busy times e.g. after weekends and bank holidays.
BioDri powder
Ordering was easy and the product was delivered quickly. I've used the powder previously and it certainly does the job
BioDri Sanitising Hygiene Powder - 5kg
Easy to order - only issue was very late delivery compared to normal and even to original tracking but that was purely down to the snow so it couldn't be helped. One thing I did think wasn't so good was that my delivery arrived in two drops, nothing to do with the snow, two different couriers and yet the box for the second drop, several hours later in the same day, was almost big enough for the whole order - or definitely in a slightly larger box it would have been! Overall I love this sight and will continue to order from it when I need further supplies. This was a repeat order, its fab and really extends the life of the bedding used and keeps the hens happy and germ free. I keep my hens very clean but when I don't use this, it doesn't take long for the odd one to pic up some sort of infection and believe me the vet bill is way dearer and the hassle worse than just keeping a continual supply!
BioDri Sanitising Hygiene Powder - 5kg
Easy ordering and excellent next day delivery.Only complaint there was a small slit in tub and some powder in packaging but able to recover most.
BioDri Sanitising Hygiene Powder - 5kg
The goods were well packaged and arrived in good time. Unfortunately the tub was split and contents were all over the box. Not the fault of the packaging as that was perfect and intact. Bit of a mystery? What I could salvage of the product is okay?
BioDri Sanitising Hygiene Powder - 5kg
Excellent service and products as usual ! Excellent product, keeps bedding fresh and dry