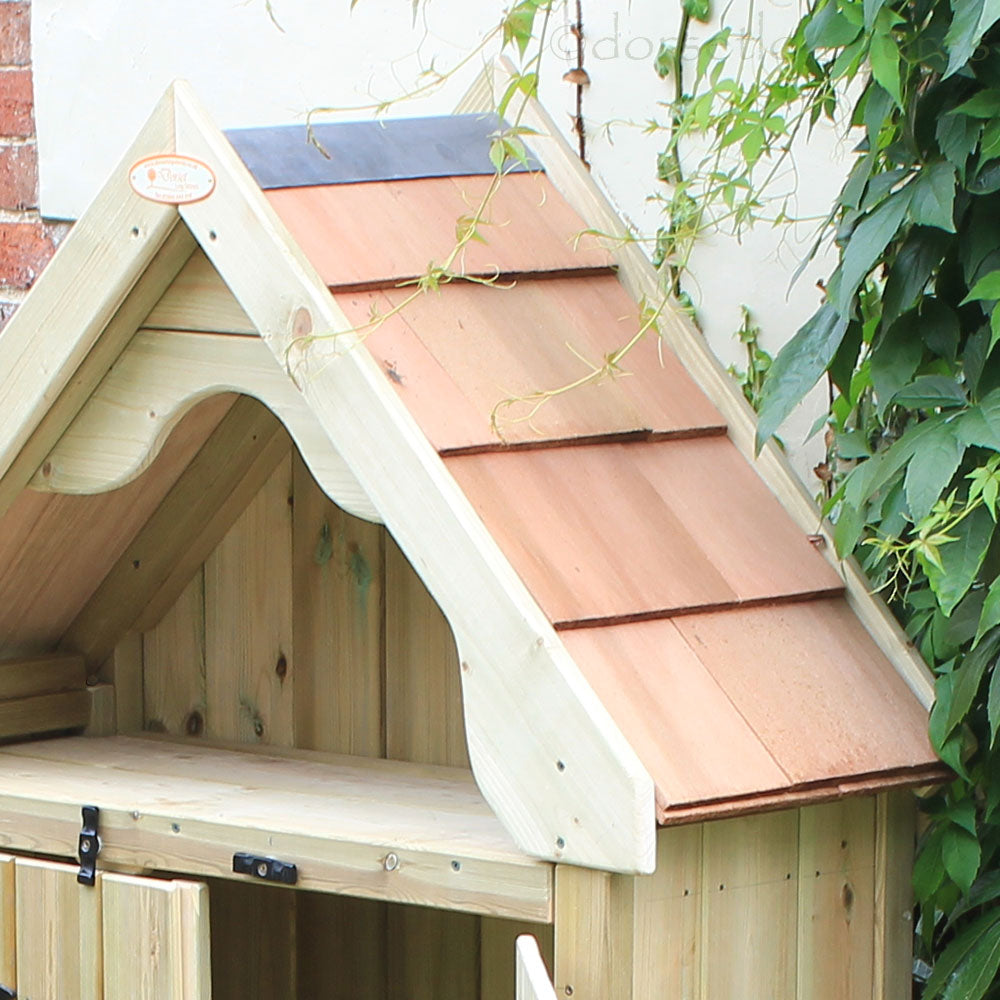 Biggles Boot Store with Doors
The Biggles Boot Store with Doors - like the open-shelved Biggles Store, and just as splendid as a back-door Boot Store. Smart enough to be a front-door Boot Store!
Stylish Garden Storage cupboard with so many uses. Outdoor storage for boots, brollies, gardening tools, outdoor cushions, receiving deliveries or just as a log store with doors.
The Biggles Boot Store is a neat and sleek outdoor storage solution for all the family's boots, shoes, wellies, umbrellas, dog-walking paraphernalia or even small garden tools - so useful for so many things - with its shapely design, enclosed shelves and black ornate hinges, it is lovely to look at too.
Made from thick pressure treated timber and finished with a maintenance-free, rustic cedar shingle tiled roof. Black door furniture also gives it a distinguished character.
It has a base shelf and two further shelves, one placed midway and then one at the eaves point where the doors meet so that above is an open ready-access shelf.
The doors have round finger-holes and are held closed with 4 black turn buttons. With fascia finishes on all edges and a lead trim to the cedar shingle roof, it really is a very robust garden store.
Dimensions
Externally: Width at eaves 106cm; Body width 96cm. Height to apex 171cm; Height to eaves 116cm. Depth (front to back body) 40cm;
Internally: Width 90cm; Depth 30cm;
Height internally between shelves: bottom shelf to middle shelf 50cm; middle shelf to upper shelf 42 cm; Height inside the apex section is 50cm
Construction*
Walls & doors: 19mm planed Pressure Treated FSC Redwood tongue & groove
Floor: 21mm planed Pressure Treated FSC Redwood boards
Frame: 38mm x 38mm pressure treated FSC framing
Shingle Roof: Layered Red Cedar Shingles to give tiled effect over 12mm Marine Plywood
Fittings: Black Ornate Victorian-style Hinges
Fixtures: Stainless Steel Nails; Plated & Painted Decking Screws
Guarantee: 15 years against rot & fungal attack
Made in England by Flyte so Fancy
*For the full nitty-gritty of timber types, thicknesses, dimensions and fixings see About our Garden Stores
Can be delivered ready assembled or flat-packed in 6 panels plus doors, shelves and trims - very easy to self-assemble and comes with all fixings and full-colour instructions. No carpentry is required and only minimum DIY skills, you just need a cordless screwdriver.
Currently approx 3 - 4 week delivery time.
Delivery will be on a wooden pallet via Palletline Transport delivery company on a weekday to suit you. For pallet delivery details please see our Delivery Information page.