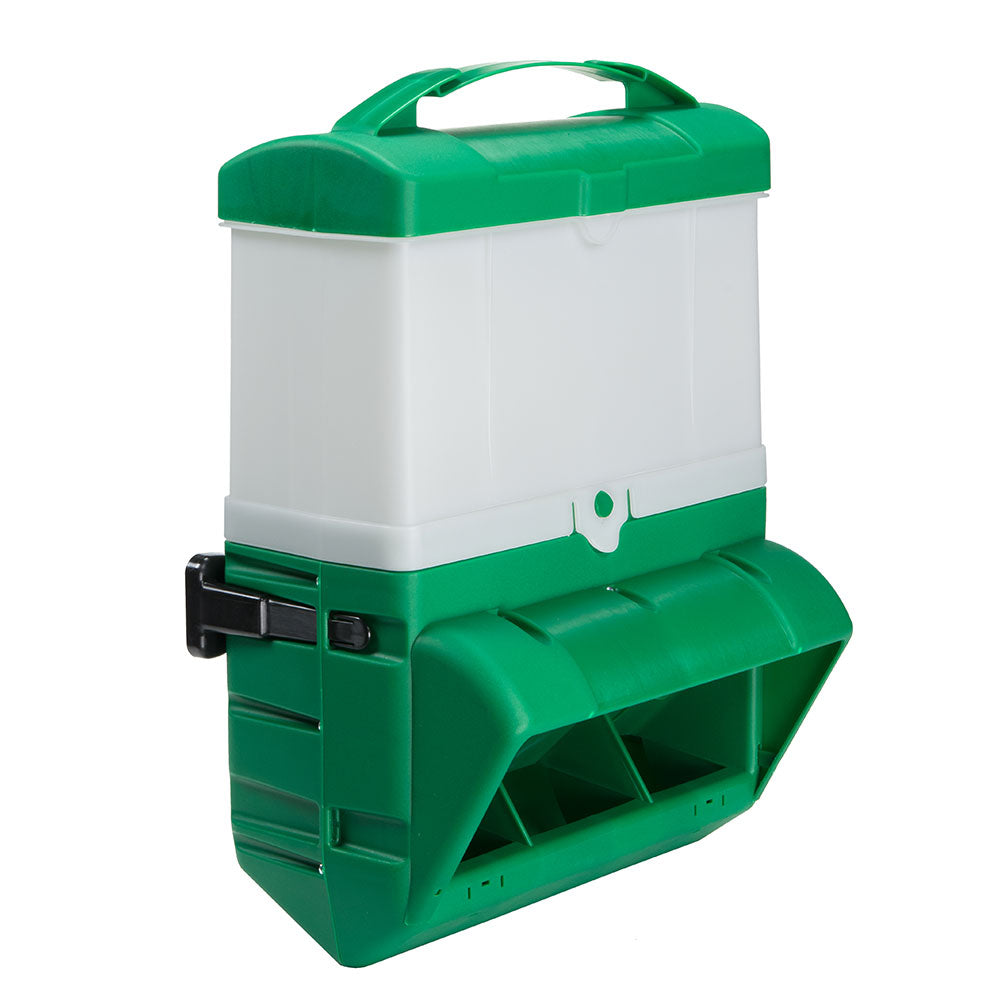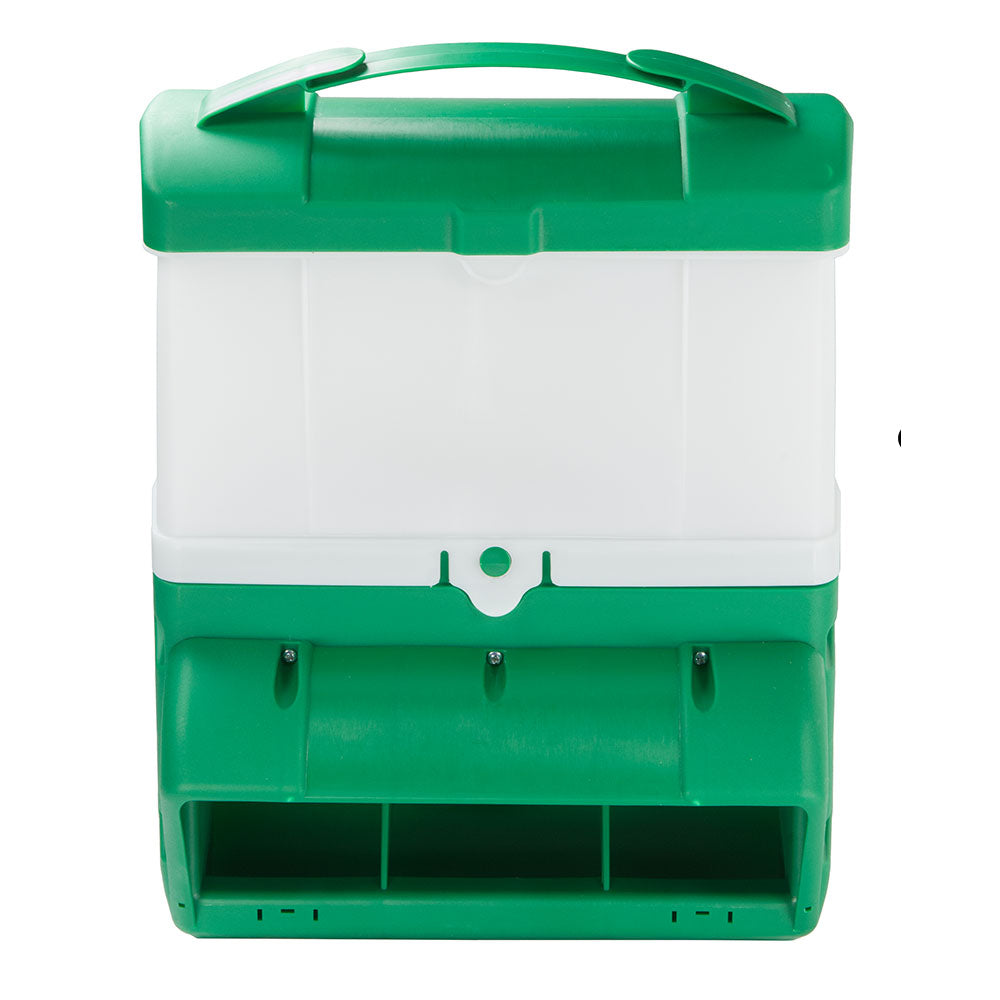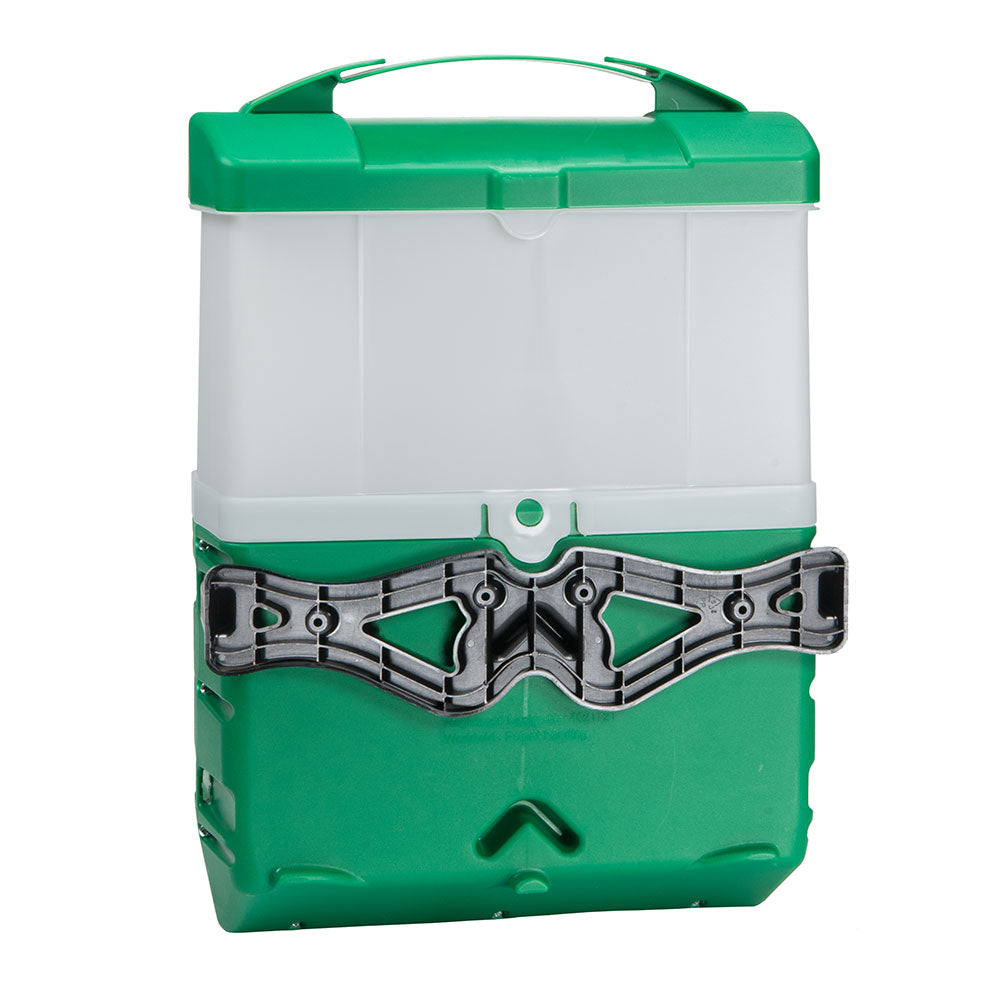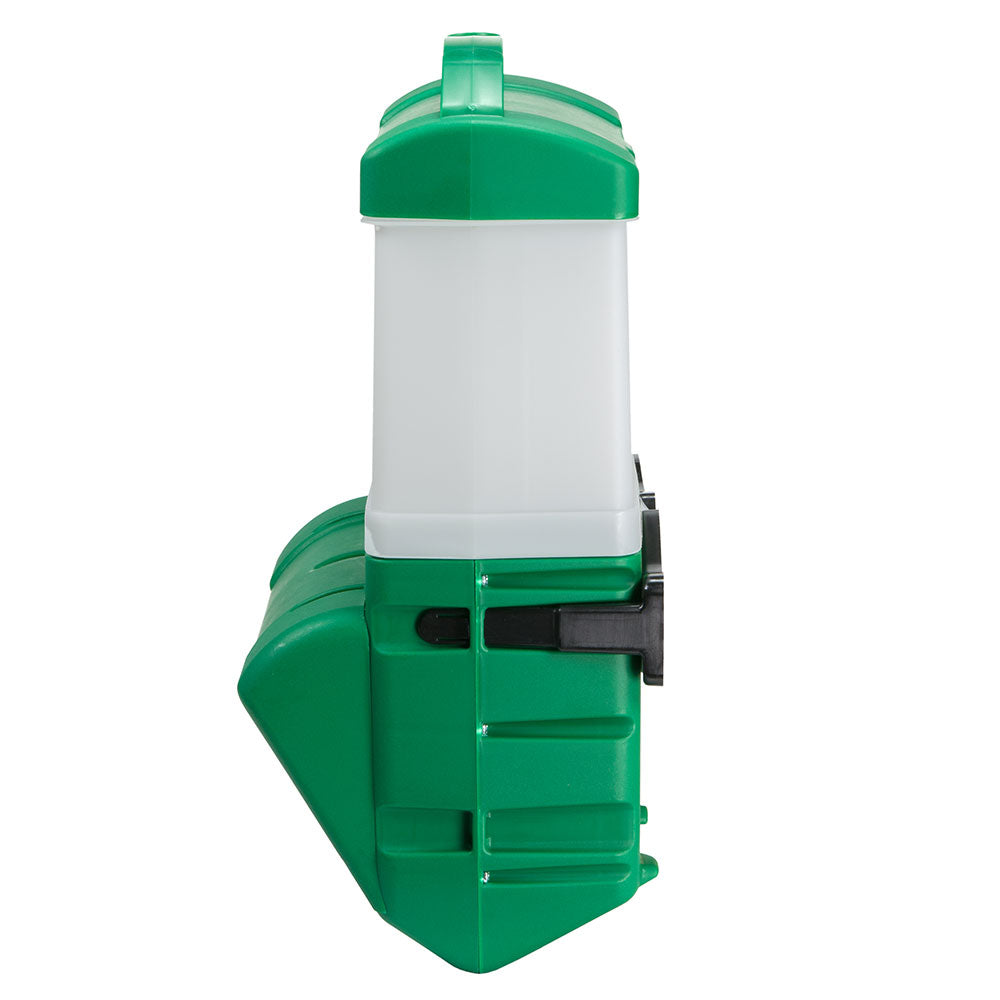 BEC Wall Mounted Wise Chicken Feeder, 10kg
BEC Wall Mounted Wise Chicken Feeder, 10kg, comes with one white extension cartridge and a wall bracket.
The Wise Feeder features all the same properties as the 5kg Wise Feeder for Cages version but comes with an additional 5kg silo extension taking the total capacity up to 10kg.
The Wise Feeder also helps to prevent vermin from accessing your expensive feed by positioning the feed trough high enough that they can't reach it (please note, within this advice, squirrels are not counted as vermin).
Quick to install and easy-to-use, the BEC Wall Mounted Wise Feeder is a must for those looking for a high-capacity, slimline feeder to mount to a hen house or vertical surface. It has a rain shield to protect the feed and is easy to maintain and clean.
The hopper will take all types of free-flowing feed (except mash) and prevents 'scratching out' by birds. Adjustable feed flow.
Dimensions of the 10kg feeder are 30cm wide x 14cm deep x 45cm high. Note: some images show the feeder with a second extension cartridge to create a 15kg feeder. They are available separately if you wished to increase the capacity.
FSF Tip: As with any gravity feeder, it does not work with Layers Mash, best with a free-flowing feed like Pellets or Corn.
Standard delivery via courier is next working day to most mainland UK destinations for orders placed before 2pm (excl. weekends and bank holidays). Please note this may not always be possible at busy times e.g. after weekends and bank holidays.
Good idea and we hope to use it for longer periods out of the house but not the perfect design
This is a really robust chicken feeder and I think the idea you can expand its capacity is brilliant. Which I (user error) didn't realise from the website is that the options are to cut a hole in your mesh to fix it to the outside of a run, or to screw it into a solid wall/similar. We didn't want to do the former and have used zip ties to attach it inside the walk in run. The other key issue is it can really only be used in a properly watertight area - it has not slope/roof to prevent rain running down into the food it is dispensing which then goes mouldy. We are using growers pellets and it seemed good that you could adapt the speed at which it dispenses but again in reality, the food just gets a bit stuck on the way down instead. Brilliant service from Flyte So Fancy though and quick delivery.
Great!!
Really good value product. I'm going on holiday soon and this product gives me confidence that the chickens will be fed while I'm away.
Really easy to put together and everyting needed is included, fixings, screws etc.
Well designed and happy with the price.
HIghly recommended fom me.
BEC wall mounted feeder
I like the feeder, however the bracket pulls away from from the wall when the feeder is full. I had to put a further support around the feeder and secure it to the wall. Feeder is easy to fill, you can see when food level goes down and it very accessible for the hens, with no spillage.
BEC Wall Mounted Wise Chicken Feeder, 10kg
excellent .shortage in order replaced without delay. good quality feeder. delivered in good time. shortage in order replaced without delay.
BEC Wall Mounted Wise Chicken Feeder, 10kg
Immediate response to my order that was dispatched very quickly. Good process and items ordered were well packaged and as described