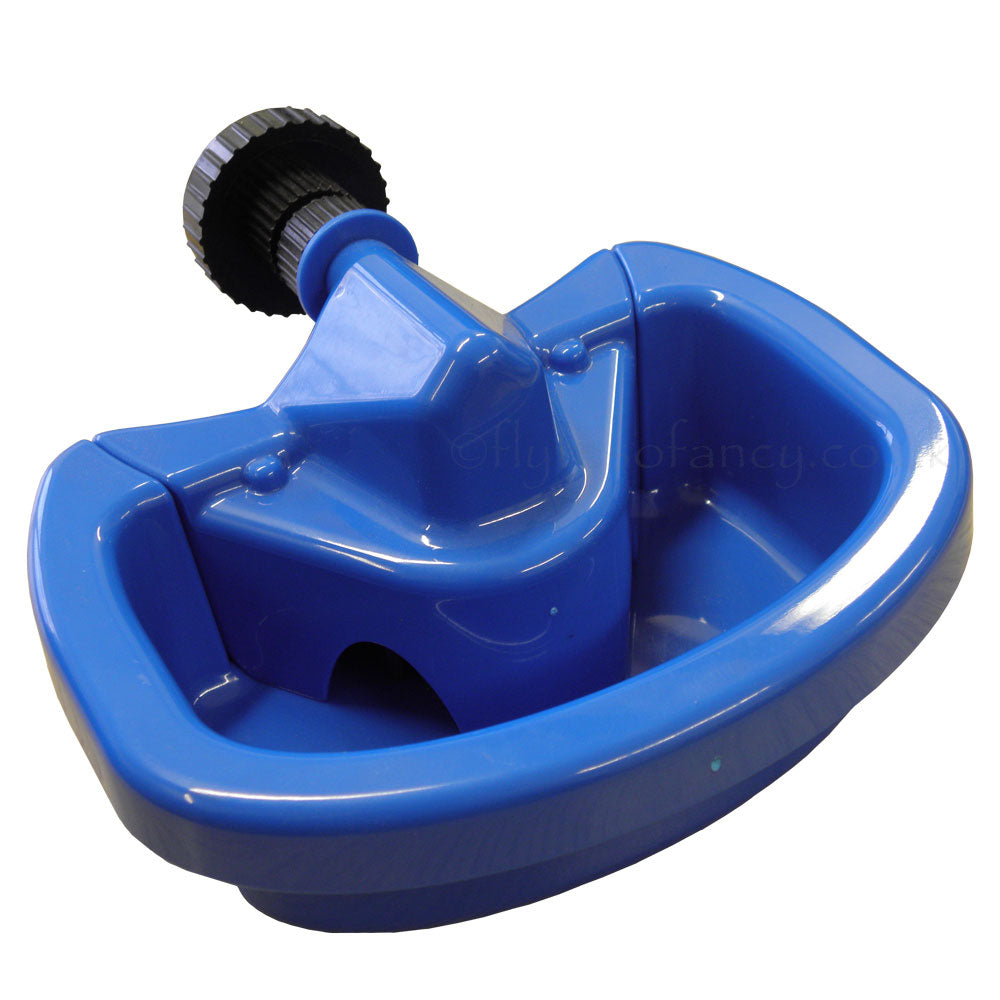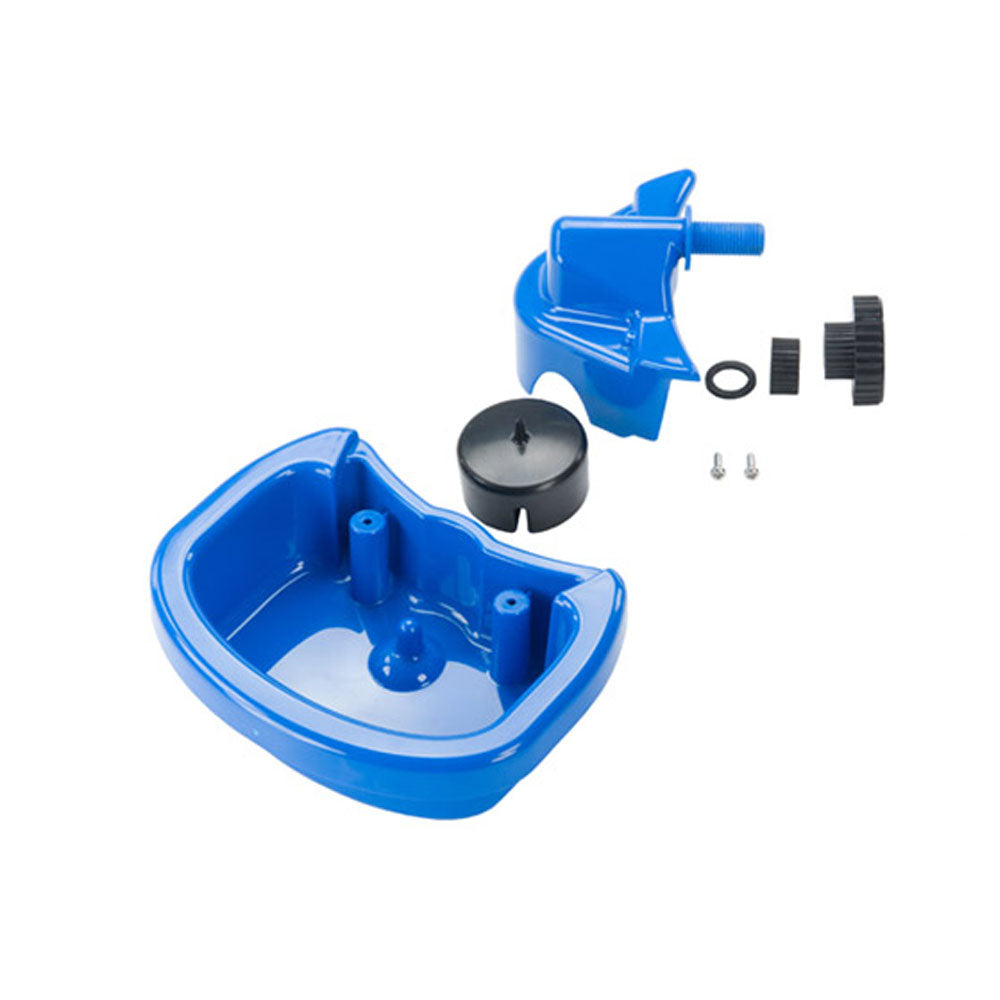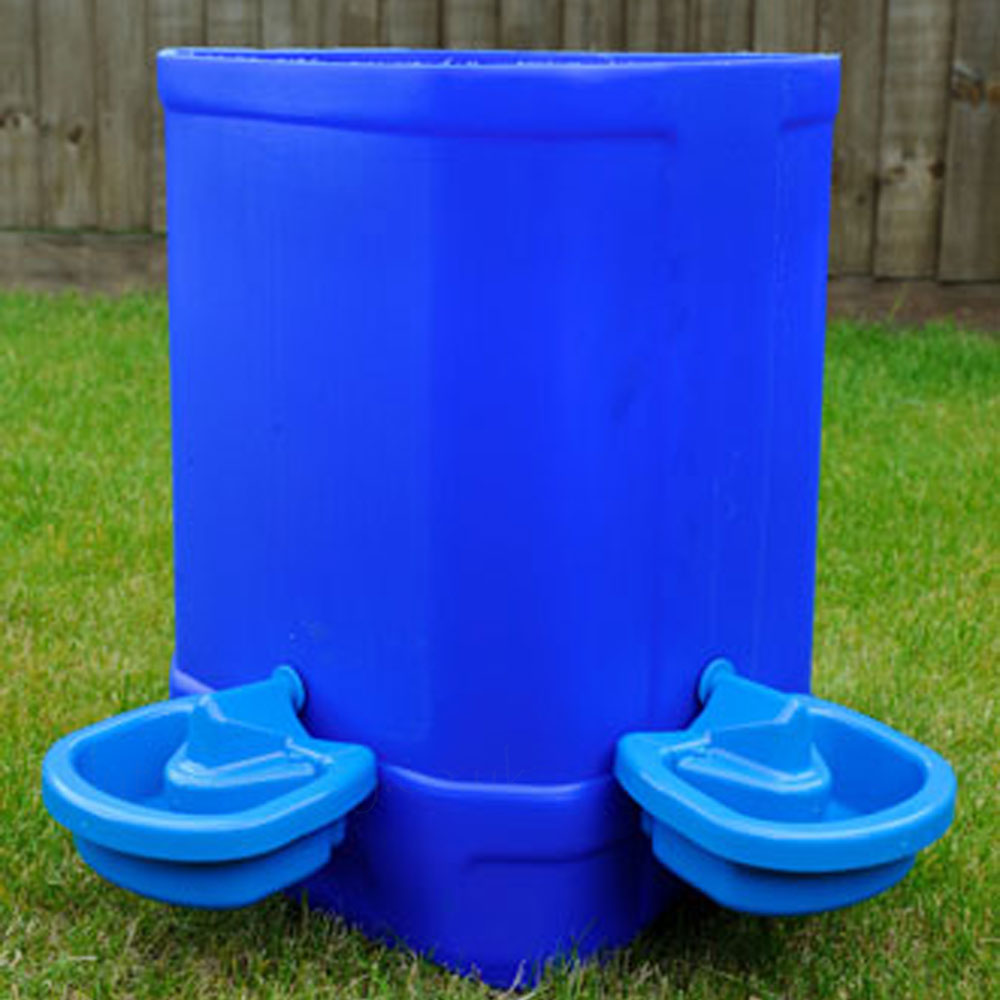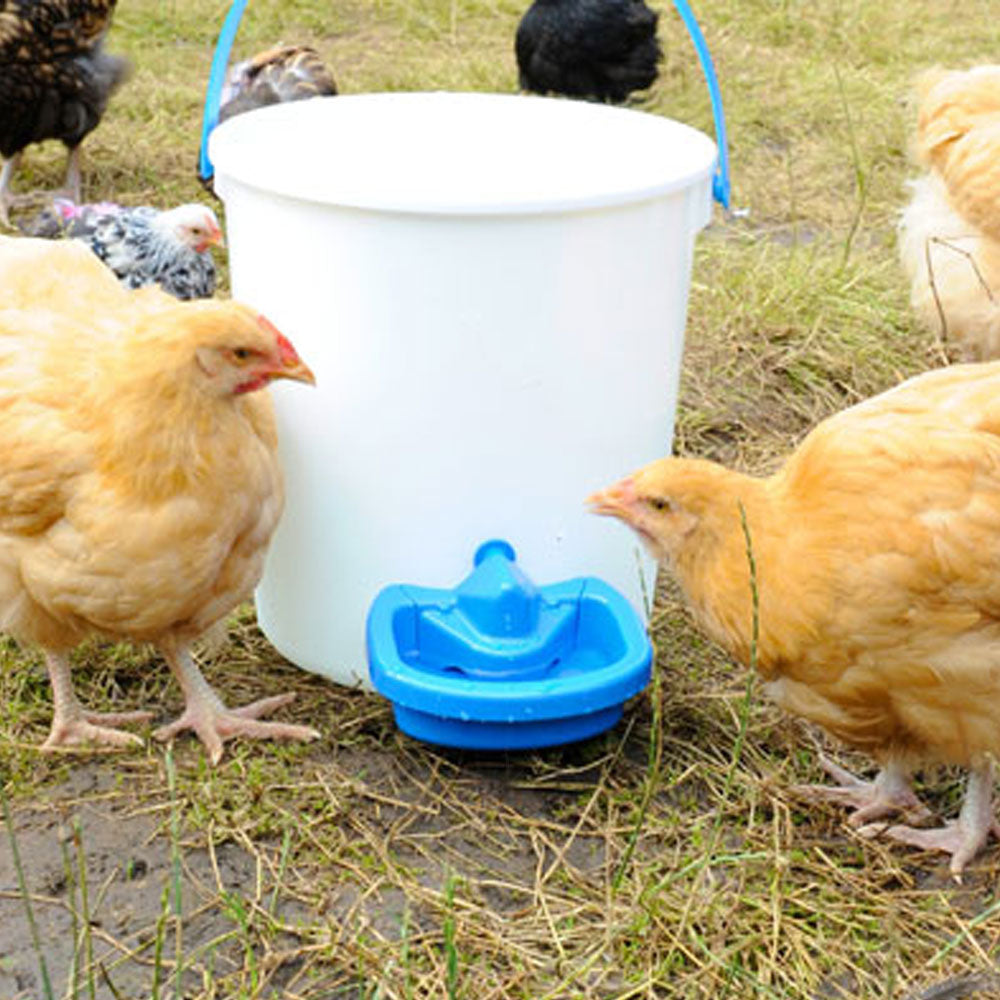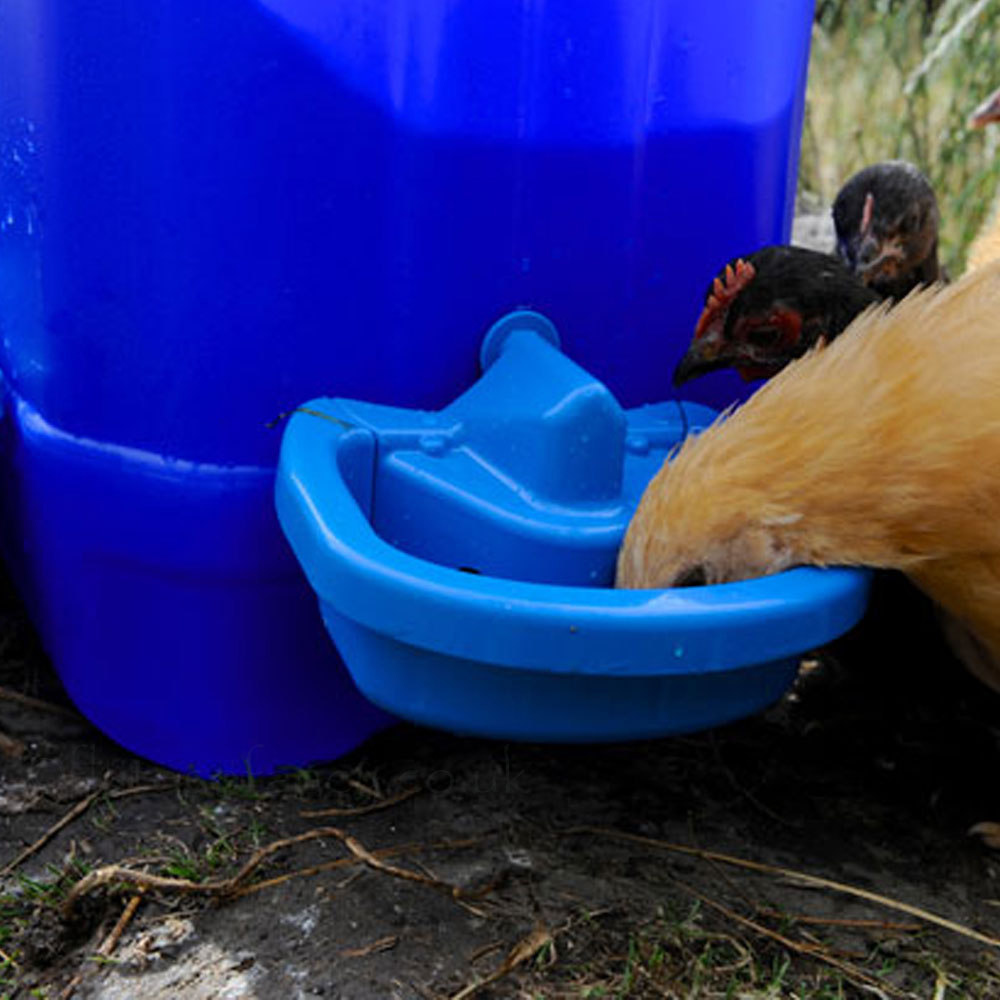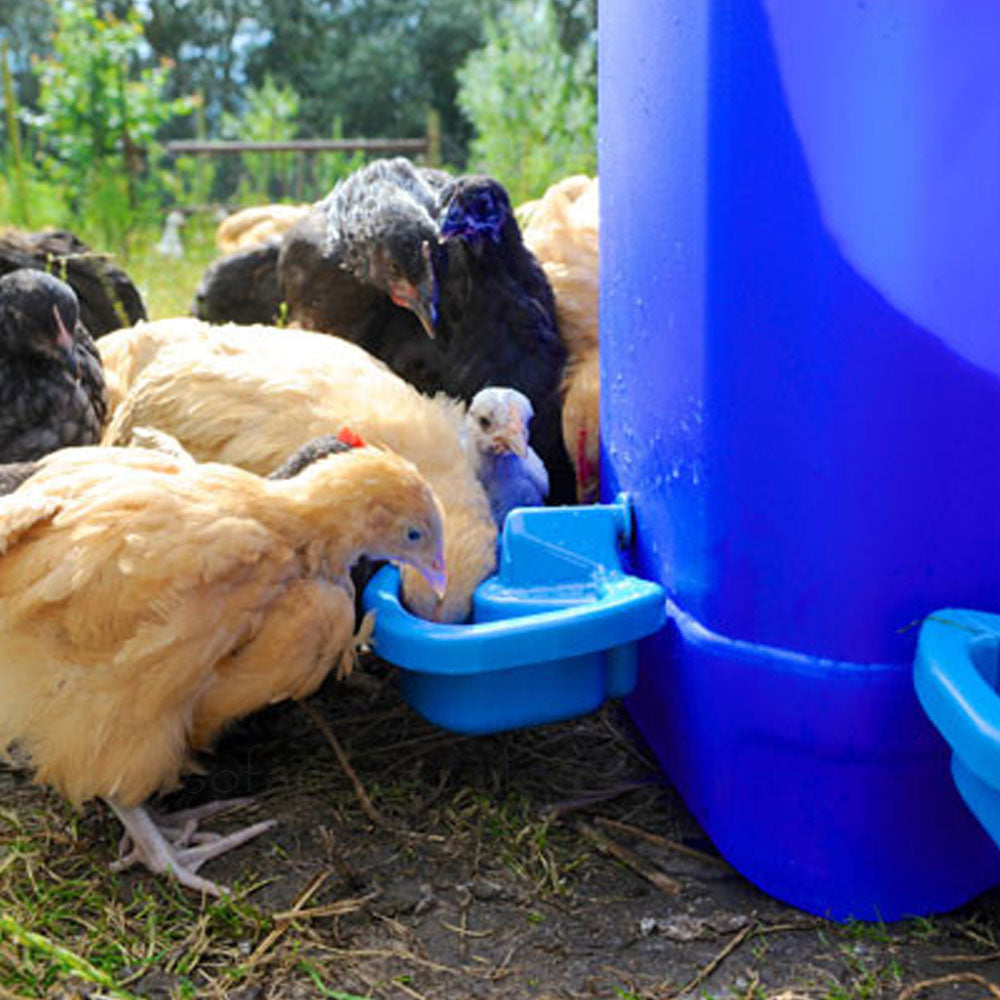 BEC Maxi Cup Chicken Auto Drinker
BEC Maxi Cup Chicken Auto Drinker. Small Blue Auto-Fill Drinker for poultry, game birds and wild birds.
The Maxi Cup Auto drinker is a semi-automatic drinker, British made and designed by BEC to use on water tanks, buckets, and any other type of container, turning them into reservoirs for your birds' drinking water.
The Maxi Cup is a self-filling, multi-use drinker with a cup capacity of 190ml. It can be fitted to water containers or tanks with a water depth of up to 180cm (72ins). It is easy to fit, maintain and use.
External overall dimensions: 15cm wide x 11cm front to back x 7cm high. Cup capacity: 190ml.
Fitting: Simply drill the water container with a 12mm (1/2in) drill at a suitable height for your birds or pets. Fit the MaxiCup by removing the nut & filter, place the MaxiCup spigot through the hole leaving the washer on the outside and tighten down the nut until it forms a seal with the wall of the tank - then fit the filter behind the nut. Fill your tank with water, check angle and re-tighten if necessary.
Maintenance: The MaxiCup is simple to maintain, simple undo the two screws securing the cup to the filter cover, separate the two halves and then clean the float and interior of the housing then reassemble
Standard delivery via courier is next working day to most mainland UK destinations for orders placed before 2pm (excl. weekends and bank holidays). Please note this may not always be possible at busy times e.g. after weekends and bank holidays.
Works well
I put this drinker on a lidded bucket, it works really well, it's well made and sturdy
BEC Maxi Cup Chicken Auto Drinker
I enjoy buying from them. I enjoy my news letters and offers keeps me update on new products and tips I wanted this drinker cup for a long time
BEC Maxi Cup Chicken Auto Drinker
Service was quick and efficient. I only wish that the postage was less. It stops me from buying more stuff! Excellent . Easy to fit though it took a couple of goes to stop it leaking. Great idea. I've put it on a 5 litre bottle which had washing conditioner in it and it works well.cleaner water and the cat can't knock it over.
BEC Maxi Cup Chicken Auto Drinker
The Maxi cup arrived so fast and was so easy to order and install. My Clucks love it and as stated it is excellent for keeping the water clean. Filter cleaning takes seconds! Thanks
BEC Maxi Cup Chicken Auto Drinker
Honest efficient professional Spent money on fancy drinkers but the Bec is simple and best