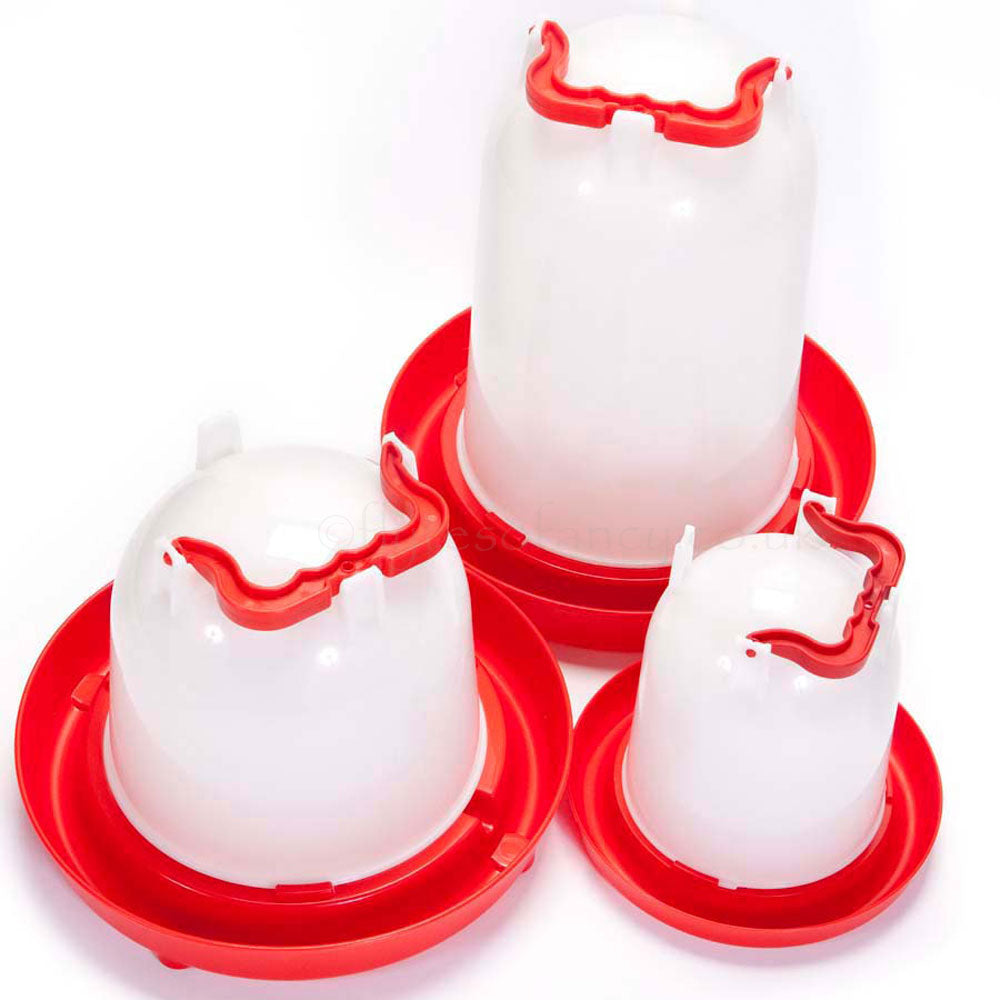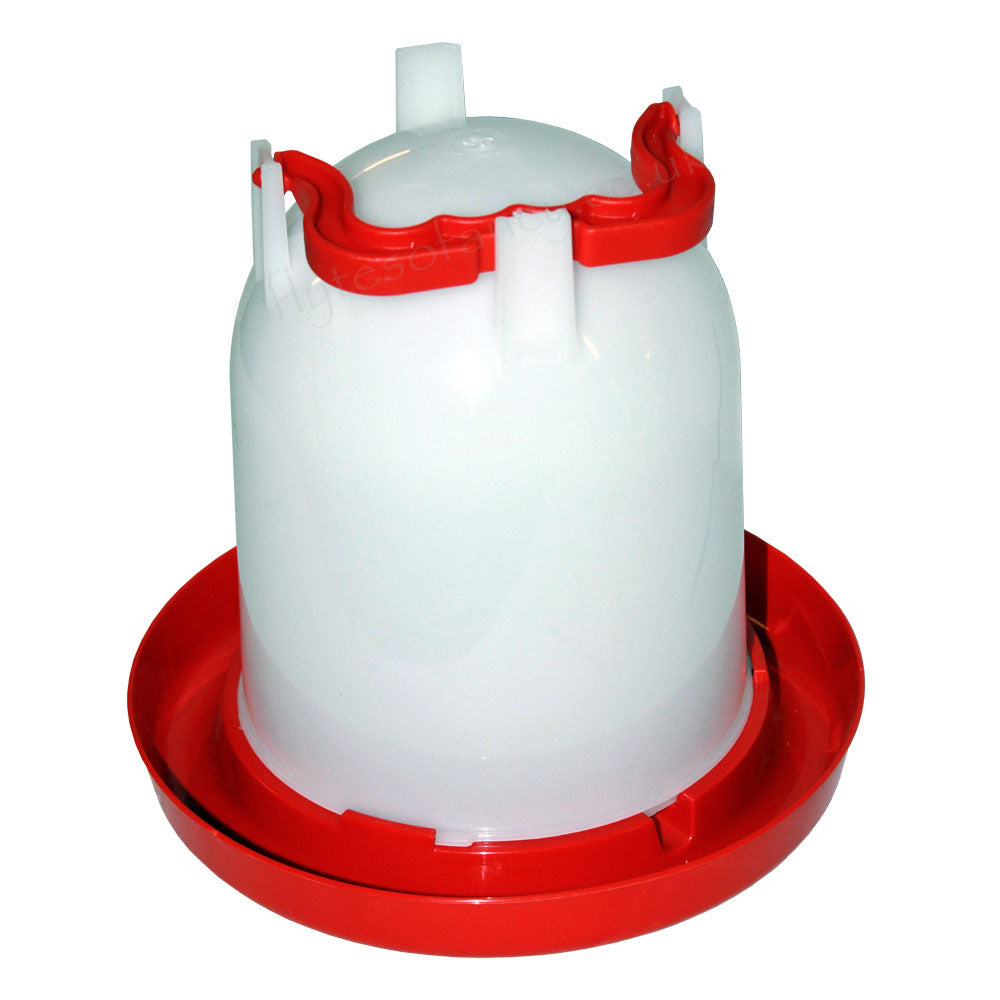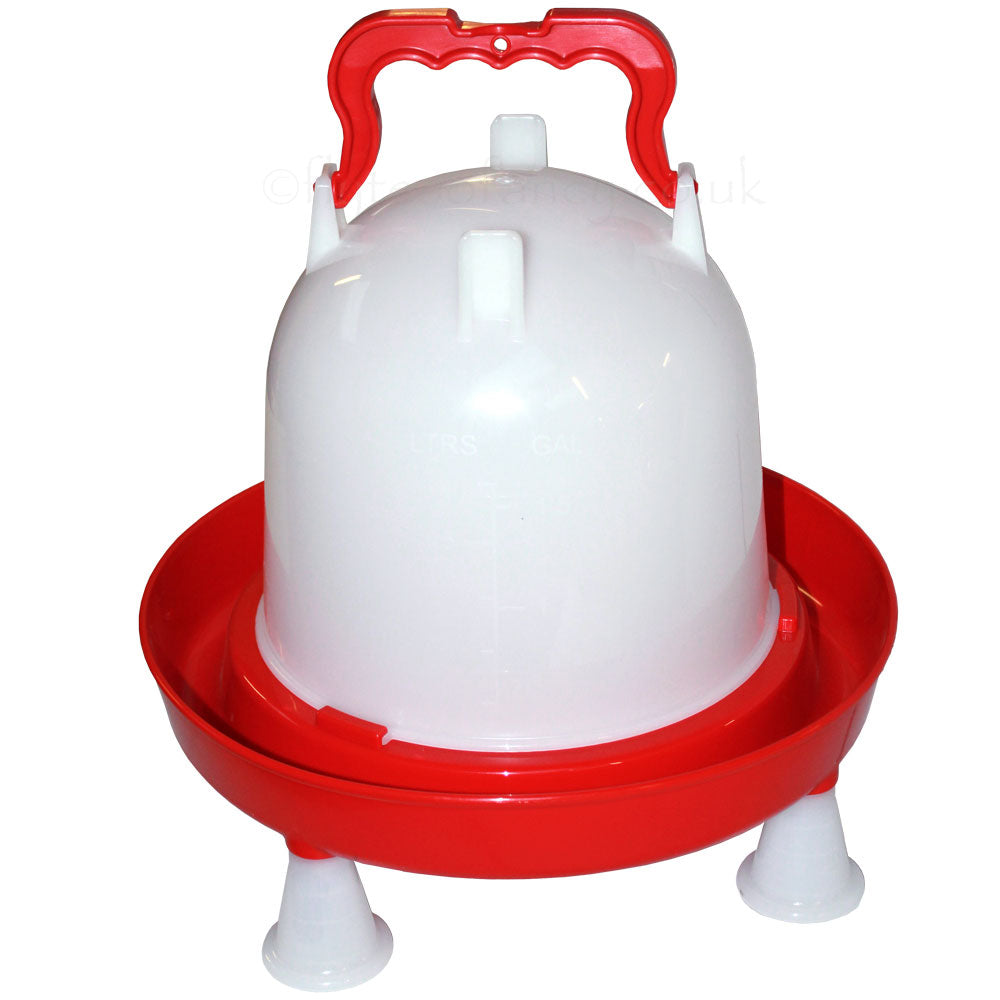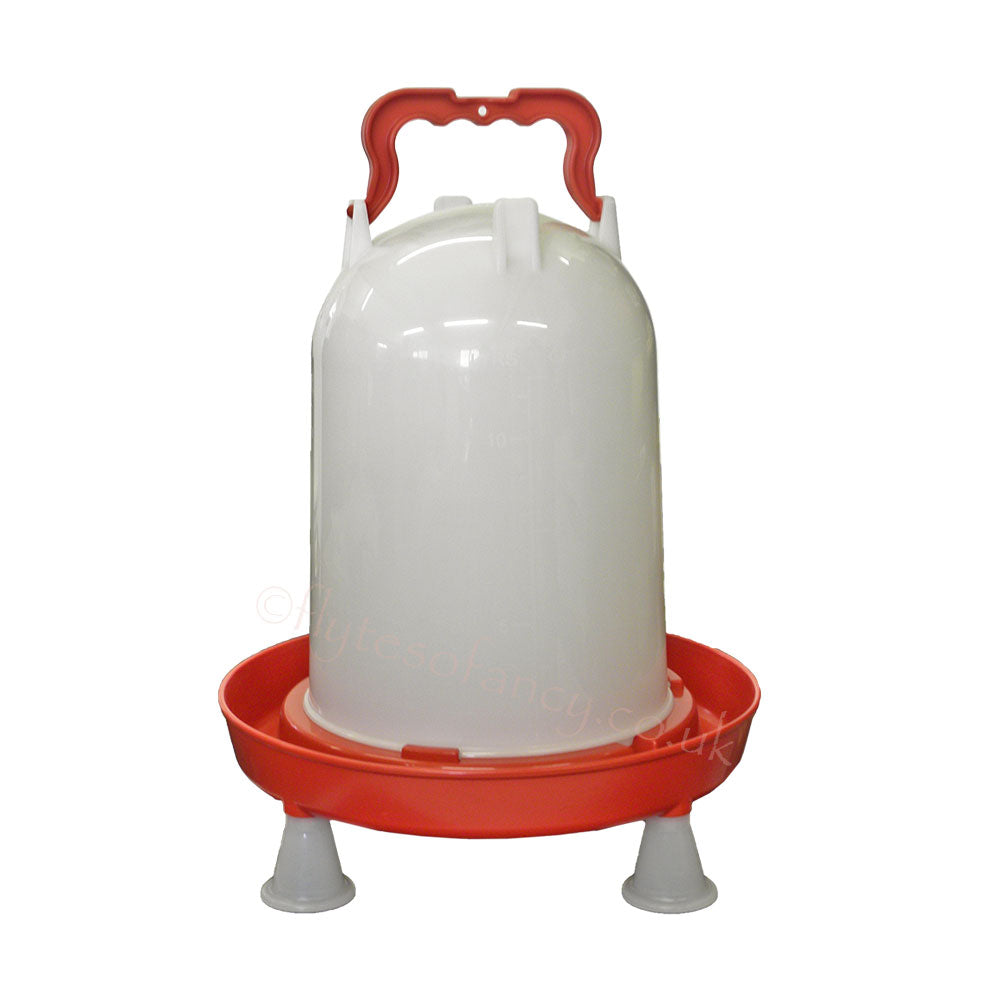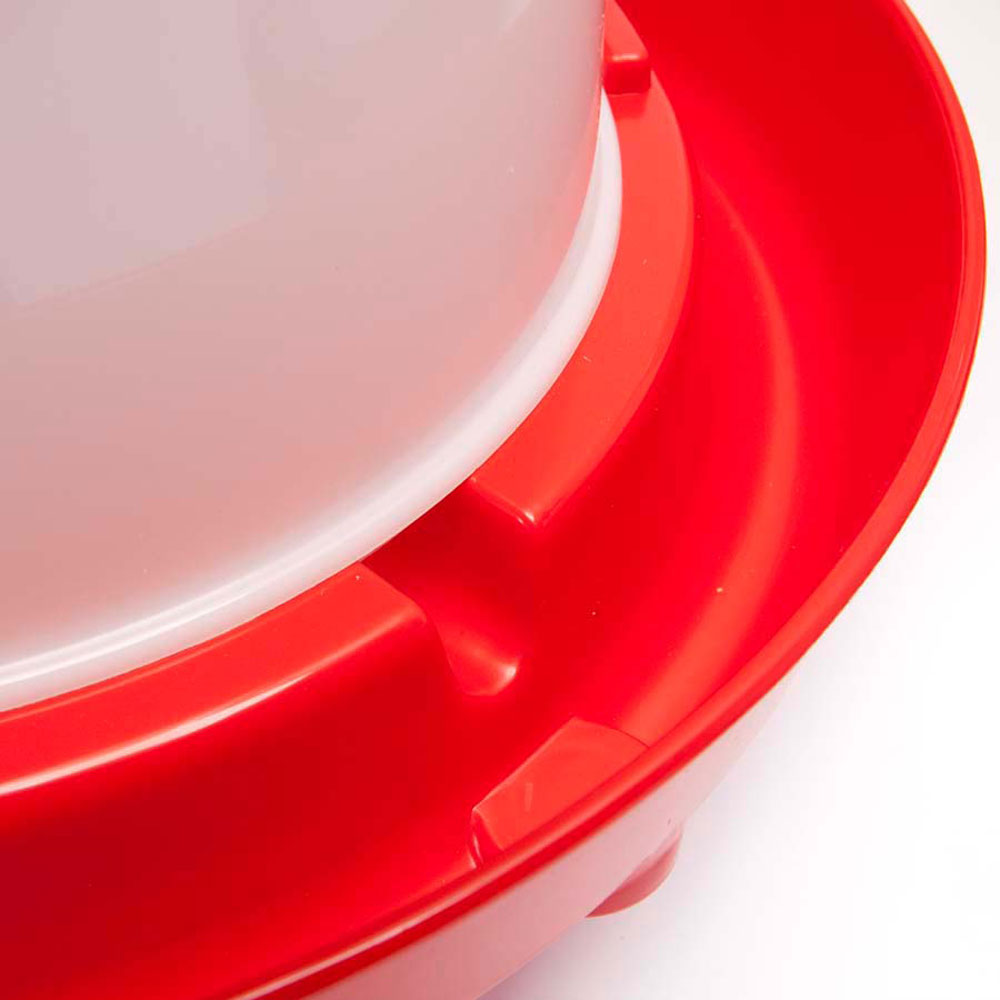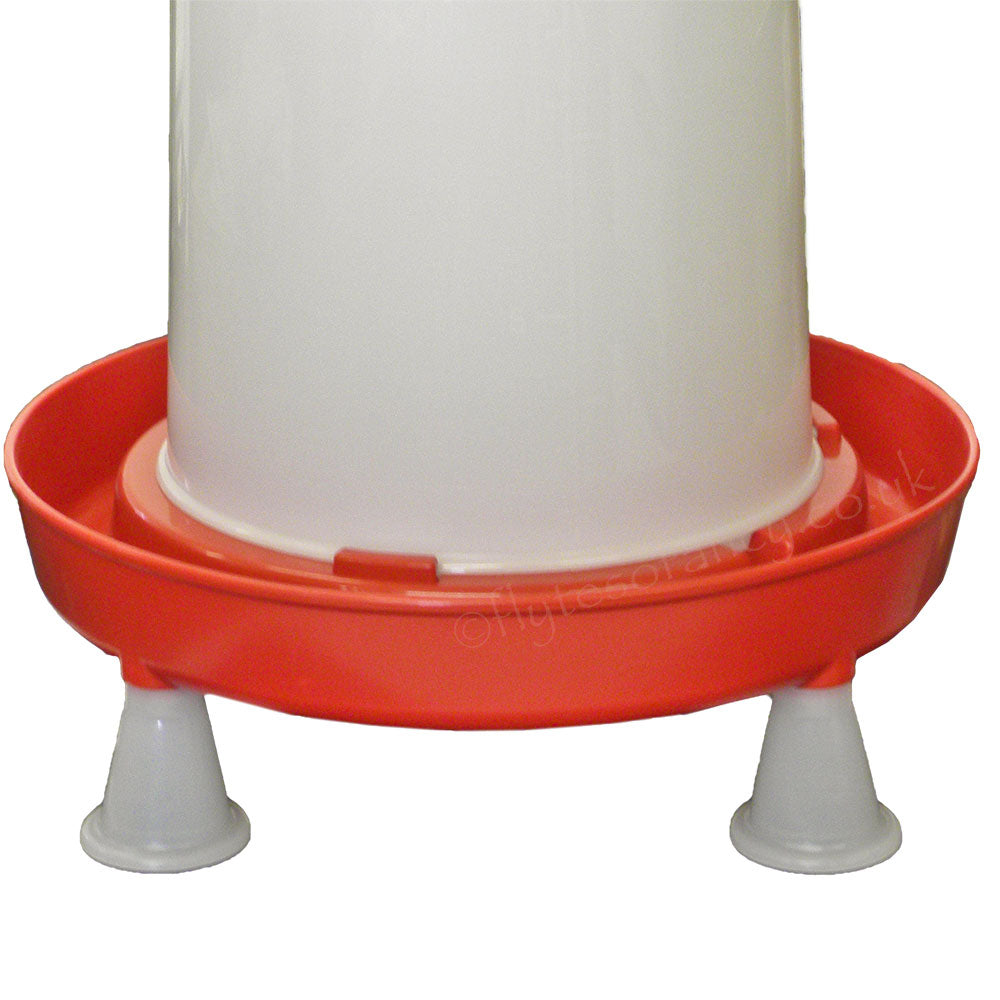 BEC Combo Chicken Drinkers
BEC Combo Chicken Drinkers. Available in 3 litre, 6 litre and 12 litre sizes.
The Combo Chicken Drinkers are a heavy-duty, British Made, Plastic Poultry Drinker by BEC Osprey. Suitable for all kinds of poultry of all ages - Chicks (add pebbles to the saucer to prevent drowning), Chickens, Turkeys, Ducks and largest drinker for Geese.
The Combo Drinker, with a red saucer and white opaque container, is a dome-type drinker that can hang through the handle or is suitable for ground standing (depending on size).
Although the 3 litre and 6 litre size can be hung up in the run we would advise that the larger 12 litre drinkers are a little too heavy when full to capacity of water e.g. a 12 litre drinker when full will weigh approx. 12 kg, it is quite heavy.
The 3 litre Combo version does not have legs, but the 6 litre and 12 litre Combo Drinkers come with four white cone legs - replacement legs are available. The 8cm legs, which simply push-fit into the base, will help prevent the hens fouling the water by keeping it off the ground.
It has a plastic handle fitted, meant for carrying the drinker, but which can be used to hang the drinker up if necessary (do note that this may not work for all birds as some are prone to knocking a hanging drinker - trial and error may be needed).
3 litre: 25cm dia. saucer x 24cm high
6 litre: 36cm dia. x 33cm high (incl. feet)
12 litre: 36cm dia. x 47cm high (incl. feet)
Guide: 3 hens drink approx. 1 litre water per day
Conversions: 3 litres is just over 5 pints; 6 litres is 10½ pints and 12 litres is 21 pints (or 2½ gallons)
Simply fill the upside-down water container like a bucket, lock the base back on by twisting it into the container and turn upright.
Once the container is filled and turned upright, the water will find its level in the saucer - the vacuum principle - once the water covers the outlet hole the flow will stop because a vacuum is created in the container.
The water will remain at a constant level until the hens drink some water, it is then replaced from the container.
Please note - these have a very tight-fitting base when new so do require a little force to lock into the base.
Standard delivery via courier is next working day to most mainland UK destinations for orders placed before 2pm (excl. weekends and bank holidays). Please note this may not always be possible at busy times e.g. after weekends and bank holidays.
BEC Combo Chicken Drinker, 6 Litre
This is the time l have bought from Flyte so Fancy would buy again from them in the future.Goods arrived quickly and well packed. Wish l lad bought two as it is good quality and well made and a good size but was not sure at first so that's why l only ordered one.
BEC Combo Chicken Drinker, 3 Litre
The things I ordered arrived very quickly. More importantly, however, was the way my problem with a drinker was dealt with; namely politely and efficiently. A replacement also arrived promptly. Many thanks. These drinkers are always a bit fiddly to open and close, but at least there is something to grip.
BEC Combo Chicken Drinker, 6 Litre
Well made chicken coops and good design, delivered on time with helpful courier. One item missing but received the next day, no quibble Used before and easy-to-use and clean
BEC Combo Chicken Drinker, 3 Litre
You won't beat craftsmanship of this type and an absolutely superb customer service. We really wouldn't shop anywhere else, this team is the best. Lovely quality at an affordable price.