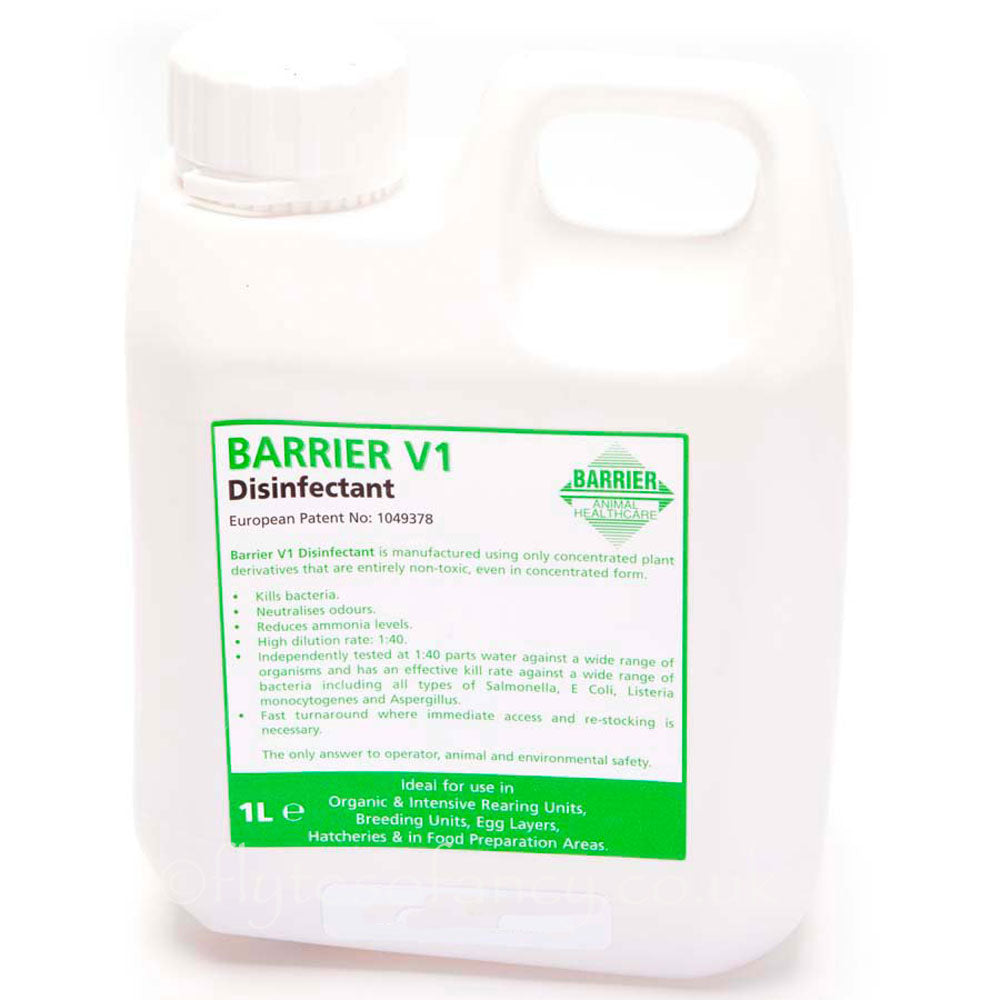 Barrier V1 Disinfectant, 1 litre concentrate
Barrier V1 Disinfectant, 1 litre concentrate. Suitable for use in organic systems. 1 litre Barrier V1 Virucidal Disinfectant for dilution in the order 1:50.
Ideal for use in footbaths for bio-secure areas as it is not affected by organic matter. Use to disinfect poultry and animal houses.
Cleanliness keeps parasites away, including Red Mite and Poultry House Beetle. A disinfectant doesn't kill red mite but it does make the place inhospitable to them so helps in that way. Also ideal for use in professional kitchens or in food handling areas.
Preparation for the purposes of the Animal Health Act 1981 in respect of Diseases of Poultry Order, including Newcastle's Disease, in the proportion of 1:50 parts water & General Orders in the proportion 1:40 parts water.
Manufactured using only concentrated plant derivatives that are entirely non-toxic, even in concentrated form.
Standard delivery via courier is next working day to most mainland UK destinations for orders placed before 2pm (excl. weekends and bank holidays). Please note this may not always be possible at busy times e.g. after weekends and bank holidays.
Great product
This is my luxury item -I love the small and the fact that it is used in organic settings.
Barrier V1 Disinfectant, 1 litre concentrate
I have bought from them before with no trouble at all. Delivery is quick. This time was no different. Excellent product, but again expensive.
Barrier V1 Disinfectant, 1 litre concentrate
Came very quickly well wrapped Smells nice hopefully works
Barrier V1 Disinfectant, 1 litre concentrate
Came very quickly Smells nice and hopefully does its job
Barrier V1 Disinfectant, 1 litre concentrate