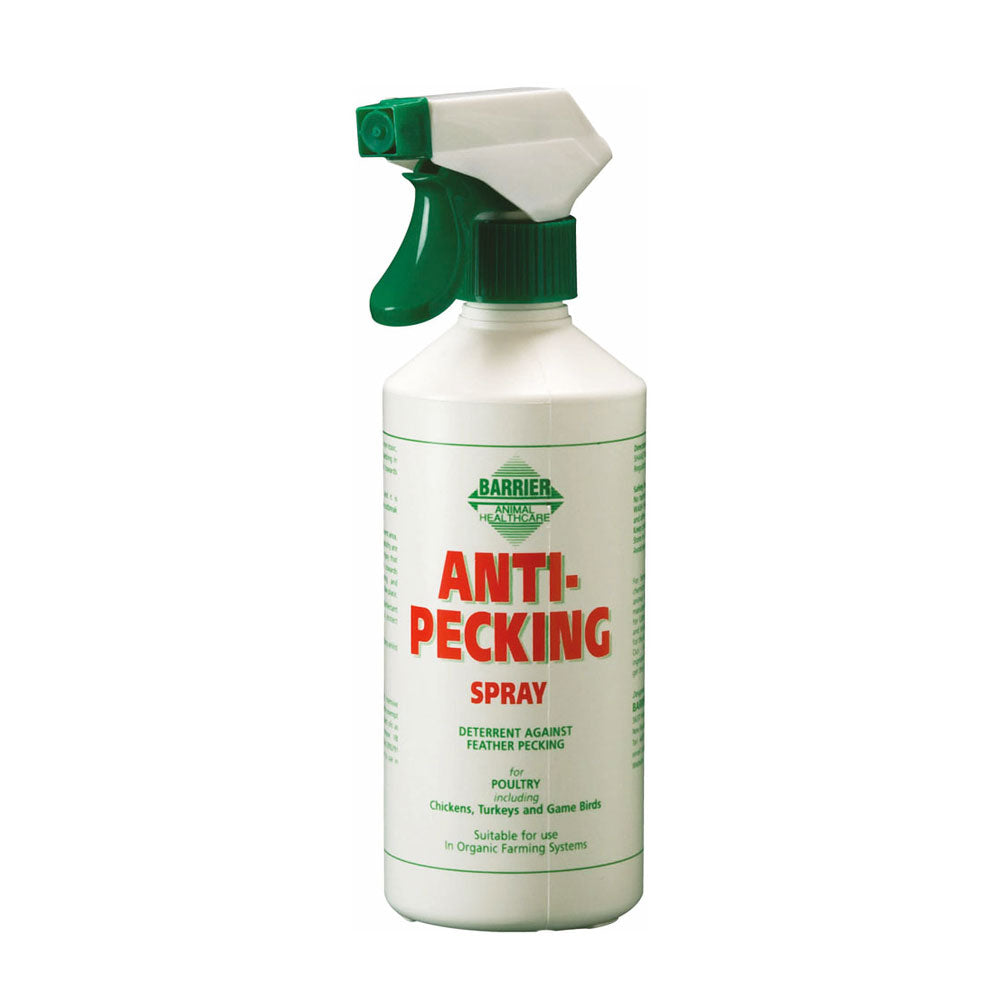 Barrier Anti-Pecking Spray 400ml
Barrier Anti-Pecking Non-aerosol Spray, 400ml. Suitable for use in organic farming systems.
Totally natural, non-toxic, foul-tasting spray to help deter feather pecking in poultry and game birds.
Anti-Feather Pecking Spray from Barrier Animal Healthcare. Includes a natural disinfectant with antibacterial properties to help soothe, calm and protect vulnerable areas.
Anti-pecking spray contains concentrated herbal and essential oils and includes a natural disinfectant and anti-bacterial properties to help protect vulnerable, sore areas against infection.
For more in-depth information about Feather Pecking in Poultry visit our Chicken Feather Pecking page.
Standard delivery via courier is next working day to most mainland UK destinations for orders placed before 2pm (excl. weekends and bank holidays). Please note this may not always be possible at busy times e.g. after weekends and bank holidays.
Barrier Anti-Pecking Spray 400ml
Extremely prompt despatch which was very helpful. Excellent items too, particularly the portable next box Much, much nicer to use than the tar-based product. Clear liquid, quite smelly. Clearly doesn't taste good to hens!
Barrier Anti-Pecking Spray 400ml
Excellent service on-line. Delivery very quick. Products met all expectations Only just started to use but does not seem to cause any discomfort to the girls affected
Barrier Anti-Pecking Spray 400ml
Another smooth deal completed, well pleased with the goods and service. Well pleased with the product and first class service.
Barrier Anti-Pecking Spray 400ml
Great product and quick delivery.
Barrier Anti-Pecking Spray 400ml
Easy to order and delivery was timely. I have used this before and bought it as a precaution as we have new hens arriving soon. It worked the last time although I'm hoping we don't actually need it this time.