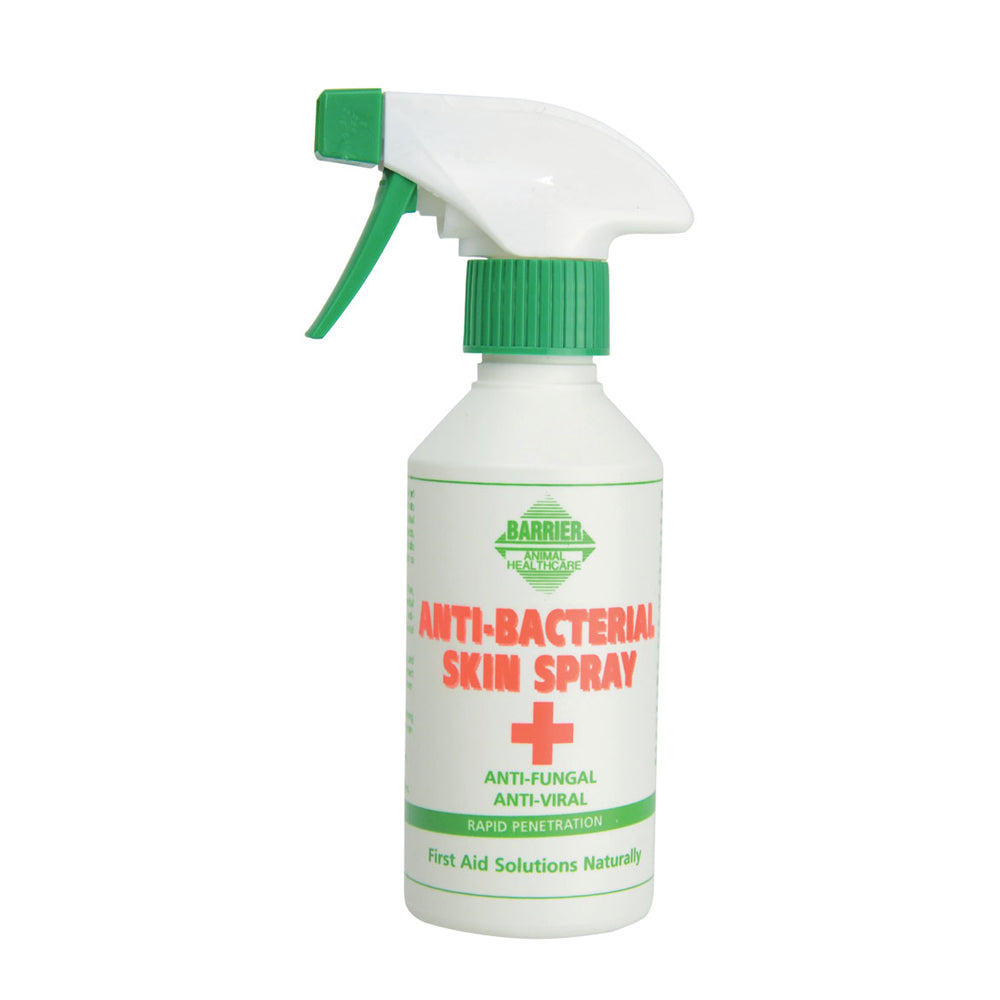 Barrier Anti-bacterial Skin Spray 200ml
Barrier Anti-bacterial Skin Spray, 200ml non-aerosol trigger-spray plastic bottle.
Barrier Anti-bacterial Skin Spray is quickly absorbed into the wound to ensure ideal conditions for natural healing without sealing the skin. 
This is a must for the chicken first aid box. When you have a chicken with broken skin the other birds will inevitably be drawn to the wound and peck at it making things worse, or if feather-pecking is causing wounds then this will will protect the wound and help the healing process.
Also use for certain infections like Bumblefoot. This is when damage to the bottom of the feet causes an abscess and will make the bird lame, just spray the feet to help get rid of the infection.
Standard delivery via courier is next working day to most mainland UK destinations for orders placed before 2pm (excl. weekends and bank holidays). Please note this may not always be possible at busy times e.g. after weekends and bank holidays.
Anti Bacterial Skin Spray
My chicken has scaley leg mite and a large scale fell off leaving a bloody wound. The spray cleared up the wound in 2 days. Easy to use and very effective.
A must have in your first aid kit
Barrier Anti-bacterial Skin Spray 200ml
Extremely prompt despatch which was very helpful. Excellent items too, particularly the portable next box An impressive product. Again a clear colourless liquid ( So if you need to hide a wound from other birds, use Gentian Violet on top) Does not sting on application. (And I know this because I tried it on myself and it really seemed to help heal a split in the skin due to eczema).
Barrier Anti-bacterial Skin Spray 200ml
Easy to order - only issue was very late delivery compared to normal and even to original tracking but that was purely down to the snow so it couldn't be helped. One thing I did think wasn't so good was that my delivery arrived in two drops, nothing to do with the snow, two different couriers and yet the box for the second drop, several hours later in the same day, was almost big enough for the whole order - or definitely in a slightly larger box it would have been! Overall I love this sight and will continue to order from it when I need further supplies. Easy to use and definitely helps with any minor issues
Barrier Anti-bacterial Skin Spray 200ml
very quick del came next morning pleased with item sprayed on chickens soothed the red spots would definatly recommend sprayed the chickens red spots soothed the area very quick would recommend
Barrier Anti-bacterial Skin Spray 200ml
Super quick delivery. Not required regularly but always as well to have this product close to hand for emergencies.