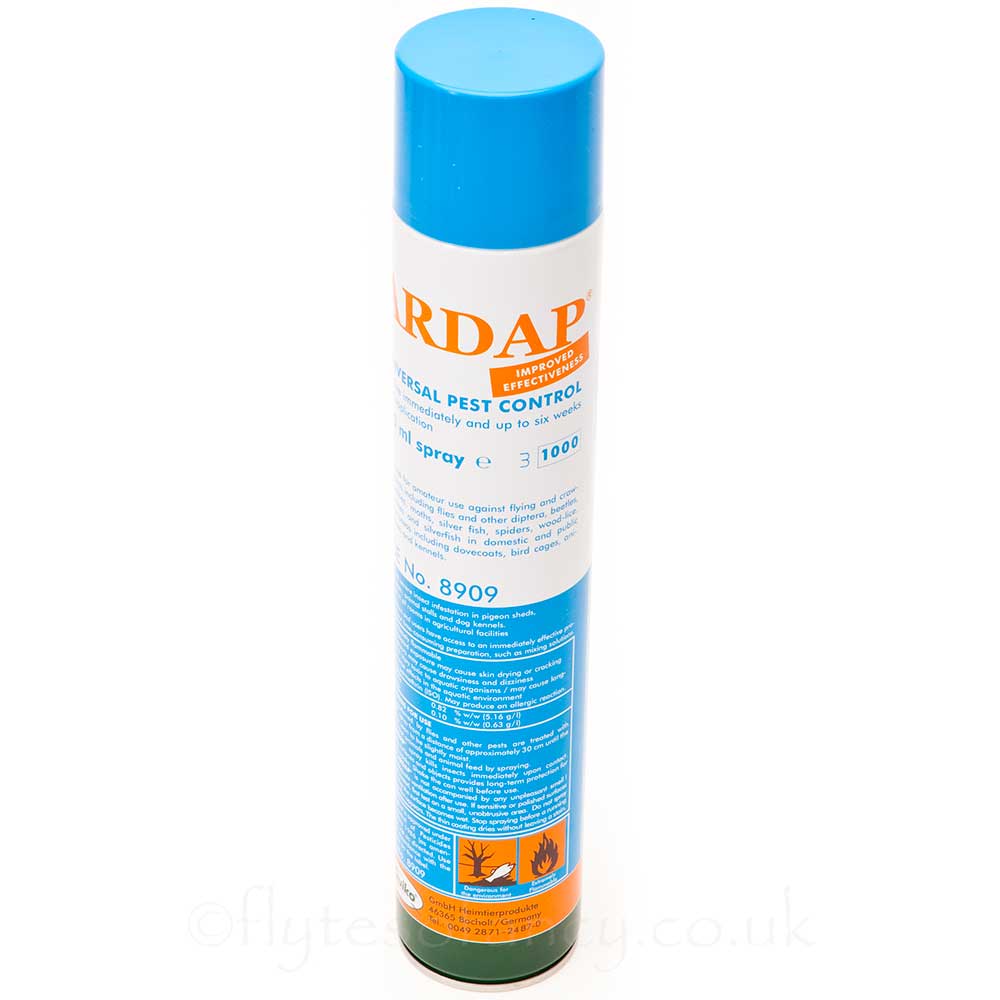 Ardap Pest Control Aerosol Spray
Ardap Pest Control Aerosol Spray - 750ml can.

ARDAP Aerosol Spray is an insecticide for amateur use against flying and crawling insects including red mite, flies, beetles, cockroaches, moths, silverfish, spiders, ants and woodlice. Keep away from good insects like Bees.
Spray on to surfaces only, effective immediately and lasts up to six weeks. Combats severe insect infestation in pigeon lofts, chicken houses, bird cages, animal stalls and dog kennels.
When all else in your battle against the dreaded red mite has appeared not to work, try this insecticide answer to all crawling mites.
Ardap is a surface spray, not for spraying into the air. Spray liberally throughout the inside of your coop (mask and gloves advised) to try and reach all of their hidey-holes, minimum elbow-grease needed. Then step back and wait for the instant knockdown of these bothersome bugs.
Remove animals and birds whilst using but once dry they can be returned. The spray has residual action lasting up to six weeks so as the mites come out at night to crawl around they will die.
DO NOT spray directly on to birds or near food.
DO NOT breathe in any fumes. Keep away from children.
We suggest using a face mask if spraying in a confined space.
Contains: Cypermethrin 0.08%; Permethrin 0.81%. Handle aerosols with care, extremely flammable. 200ml or 750ml aerosol can: HSE No: 7564.
As this is an aerosol can it cannot be sent Royal Mail, it has to be sent via courier, hence carriage charge of £5.99, if ordering on its own.
Next working day delivery when ordered before 2pm (excl weekends and bank holidays). Please note this may not always be possible at busy times e.g. after weekends and bank holidays.
Excellent service
As a first time customer I was unlucky with the delivery of goods...they were damaged in transit...Flyte so Fancy very kindly replaced the damaged goods and were very helpful about it.
Ardap Pest Control Aerosol Spray - 750ml
Very good and efficient service. Would use again Very useful item for bird enthusiasts
Ardap Pest Control Aerosol Spray - 750ml
Very professional, products as described, little bit more expensive from elsewhere but reliable, fast service and guaranteed quality. Had an issue with one item oreganico that leaked and they ve sent immediately a replacement. I will use again as i trust them . thank you purchasing constantly for my cages
Ardap Pest Control Aerosol Spray - 750ml
I received excellent advice regarding a problem with our poultry house. The products recommended were well packed and delivered within 24 hours. We are now using them and seeing results already.
Thank you Good product, seems to be doing the trick