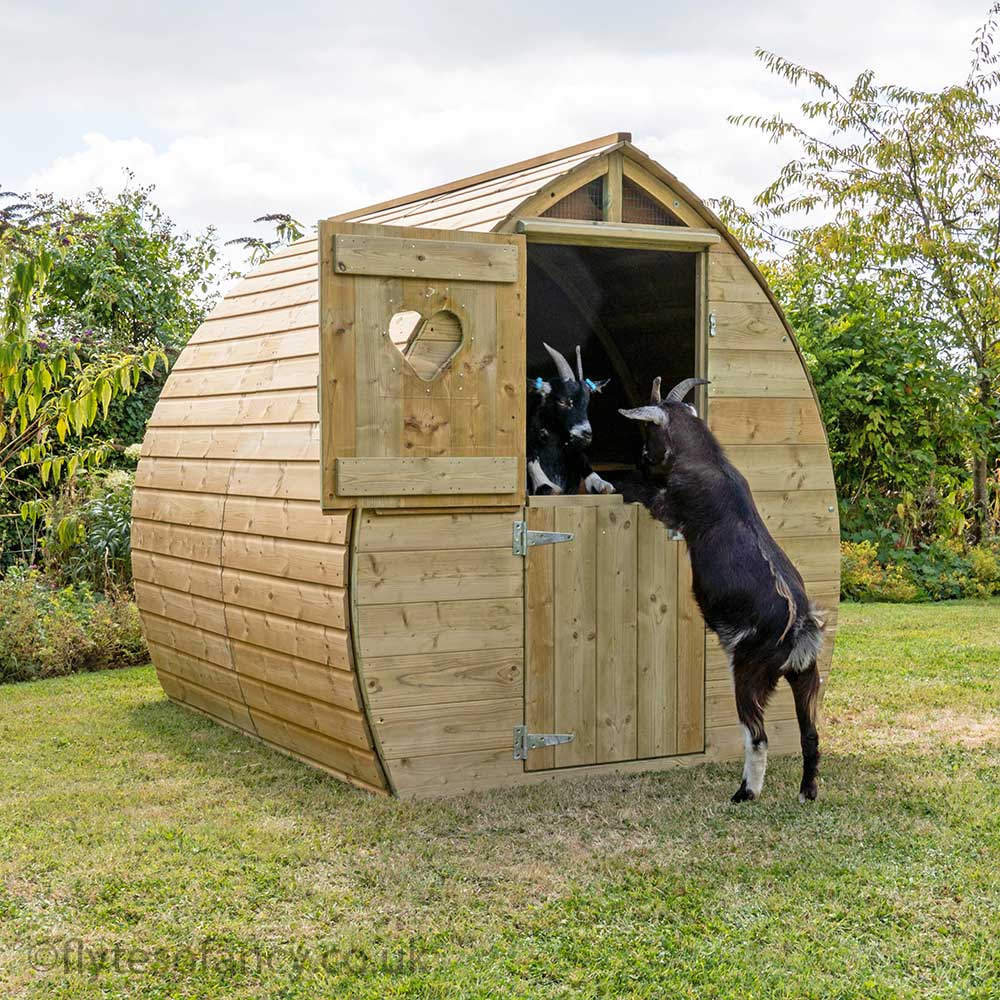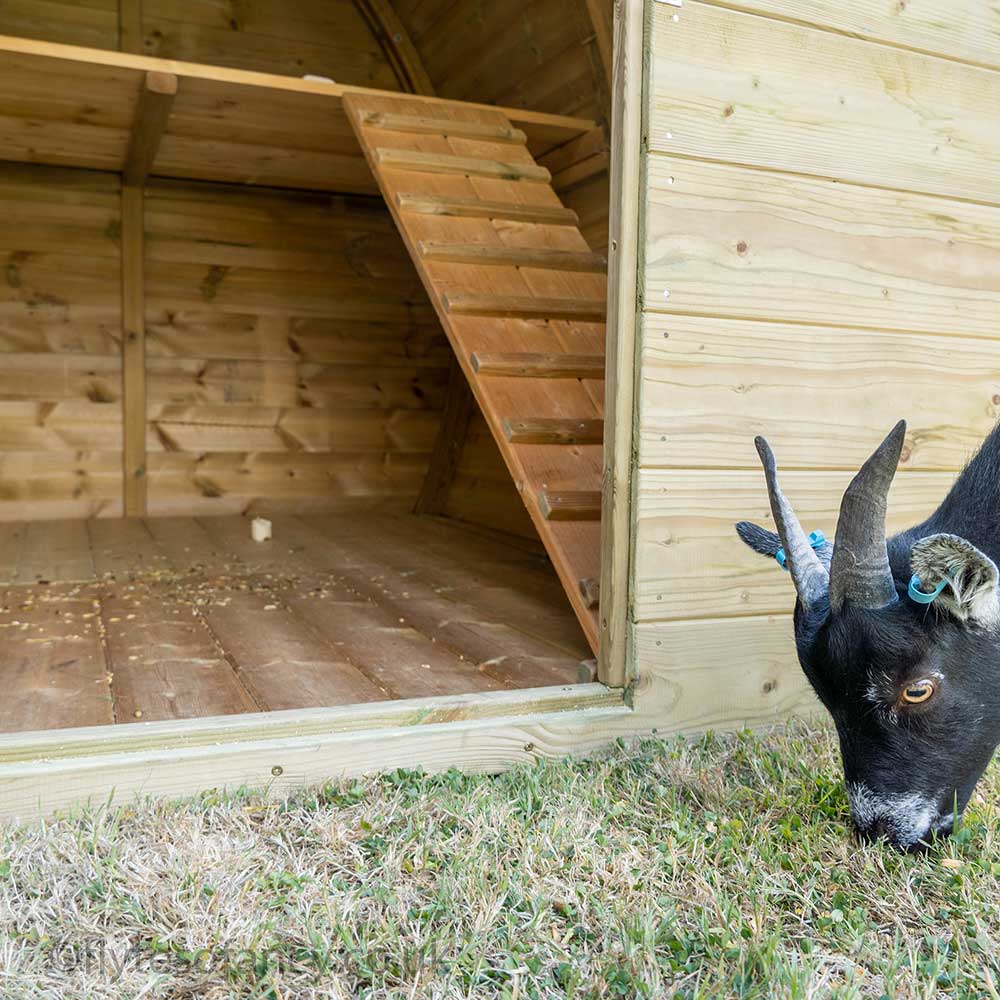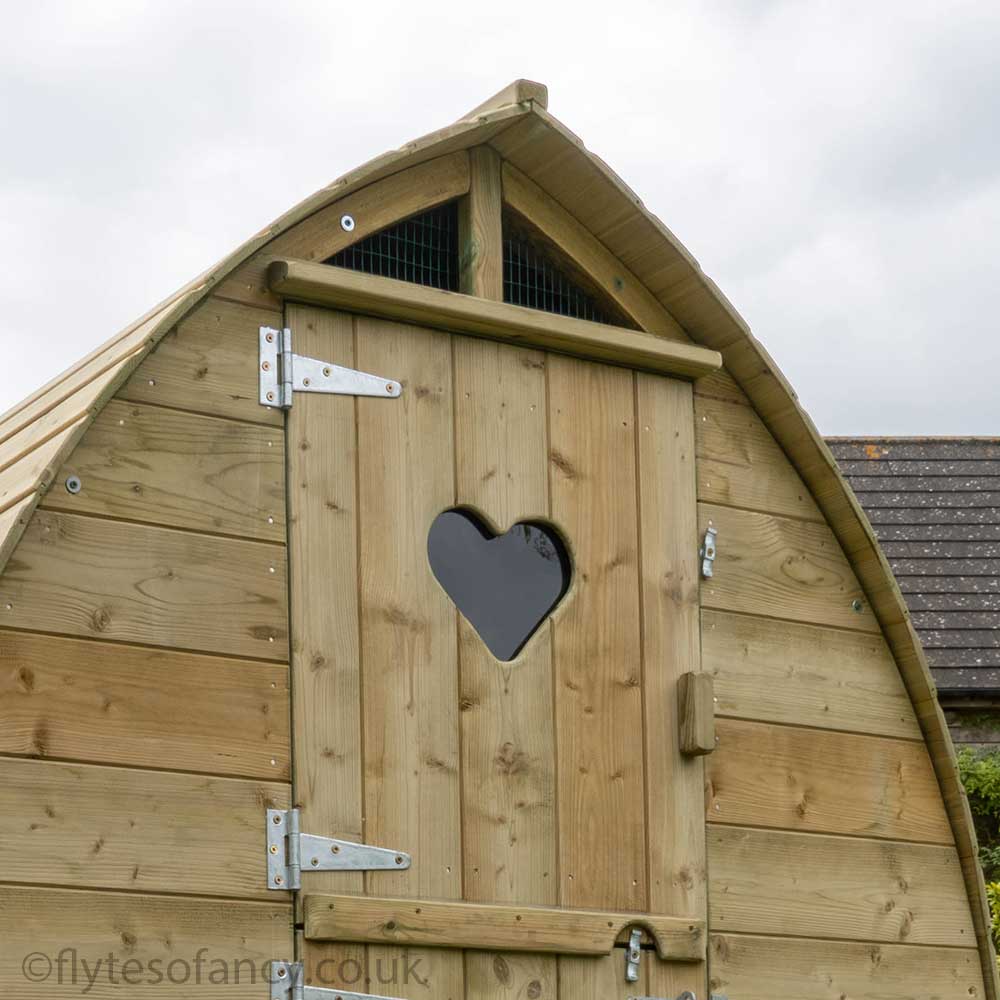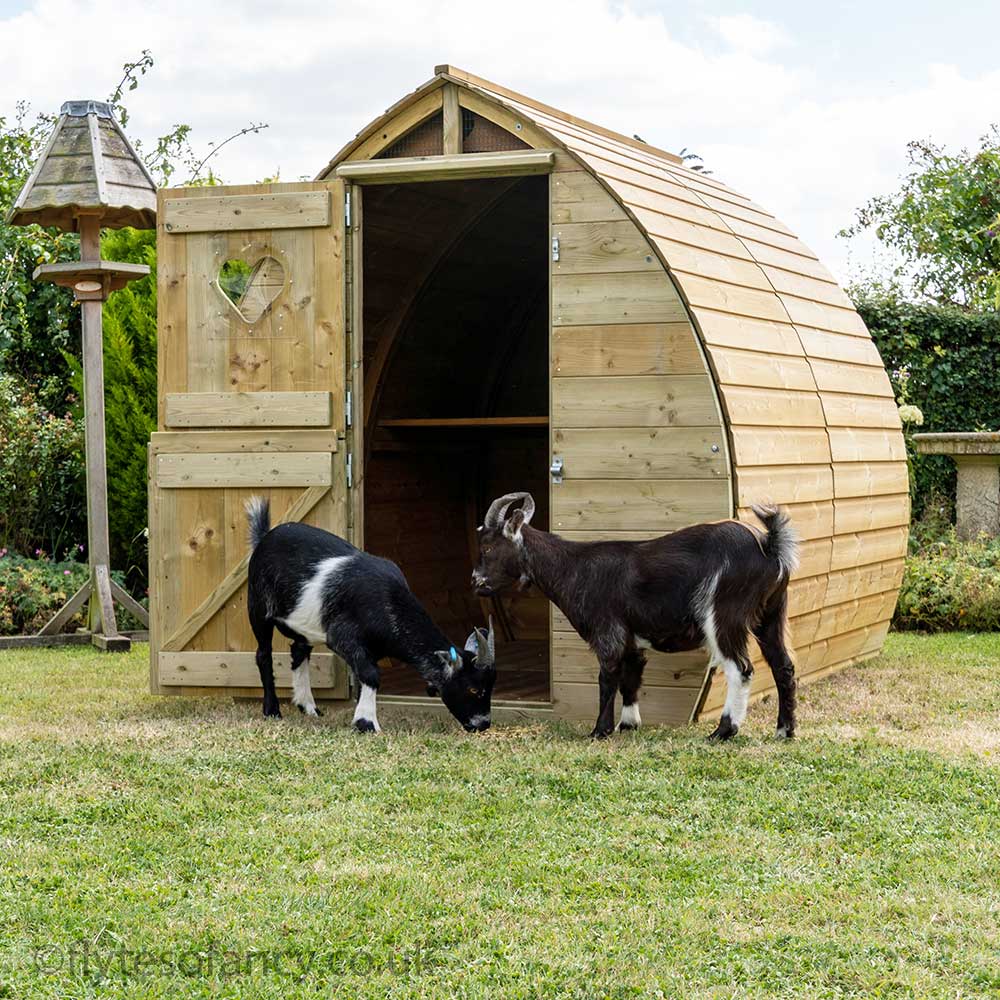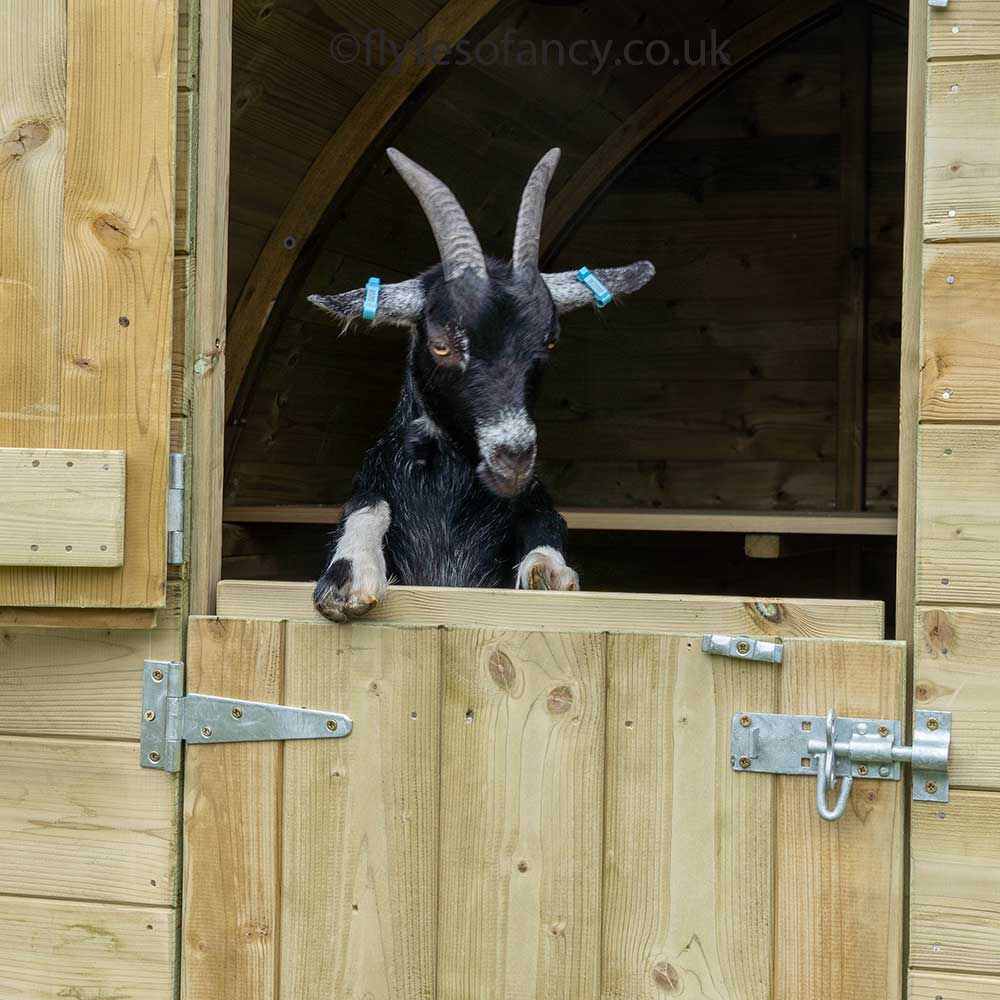 Arched Pygmy Goat House with Stable Door
The Arched Pygmy Goat House with Stable Doors. Solidly built for life outdoors with goats. Modelled here by our own Billy and Gruff !!
Made in Dorset with 19mm, FSC certified, Redwood boards clad onto our curved timber frames. The floor, platform, and ramp are 21mm thick pressure-treated timber.
Pygmy Goats like to sleep on raised platforms as they love to climb onto any raised shelves and are most comfortable off the ground. Inside the Goat House - like the Goat Shelter - is a full-width raised platform and a wide ramp.
Your Pygmy Goats will need either a shed or an open-fronted house that will give them shelter from the elements. They like to shelter from wind and rain and, due to their rock-dwelling instincts, they will climb and jump up on things like shelves and raised platforms (and people!).
This Pygmy Goat House will provide spacious, cosy, housing at night and in cold weather. The front has a pad-lockable (if it were needed) stable door so you can open the top section either for you to check on them or for them to look out of. And if you want to convert it back to an open Goat Shelter (sometimes the goats prefer this in the summer) you can simply unscrew and remove the front door panel!
Pygmy goats require much less green space than normal size goats so approx. 200 sq. ft each of nice green grass in their paddock should be enough.
Straw, shredded paper, and wood shavings can all be used as bedding inside their housing or shelter. Don't forget to provide lots of hay every day and fresh water should always be available. 
For more details about the timber we use, how to keep it waterproof, and take care of it over the years please visit the About our Houses page.
Construction: Cladding is 19mm shiplap; the back and front is 19mm T&G boards; floor and platform are 21mm boards.
Dimensions: Footprint 1370mm wide x 1870mm long; Externally 1625mm wide x 2035 long x 1785mm high. Internally 1370mm wide x 1870mm deep x 1627mm high.
The platform is 1520mm W x 870mm D with a height above 870mm and a height below of 780mm. The ramp is 290mm wide x 1250mm long.
Currently up to 2 weeks for delivery.
The house is delivered in panels, on a pallet, for easy self-assembly. The panels are screwed together making the whole assembly very easy with a cordless electric screwdriver. We estimate it should take around an hour to assemble once unpacked.
Delivery is via Palletline delivery company and starts at £59.00 to most postcode areas of mainland England. Delivery is available throughout the UK. For more details of how the deliveries are made see Delivery Information.
What a Fantastic unique Goat house !!
Wow !!
I can highly recommend purchasing this adorable goat house….
Amazing build quality & very easy to build.,
Also really helpful customer service.
My little goat & lamb love it, they will have a cosy winter snuggled-up inside…
Hi Chloe,
Thank you for taking the time to leave a review, and such a lovely one at that!
I know we were able to bring the delivery forward on this one for you - Zak always likes a challenge - so I'm glad it all came together well for the new occupants :)
Pigmy goat house
Very pleased with the house. Instructions were fine- quite a few screws and hook and eye left over and short of certain screws when fitting but overall building it went smoothly. Difficult to fit a hay rack with the curved sides but put it up the top level instead.
Unfortunately our younger 2 goats have taken it over and guarding the entrance to stop the other two goats from entering!
Hi Chris,
Thank you for taking the time to leave a review - glad to hear that the goats approve! So I can just double check our warehouse teams details, can I check which screws you were short on? As you can see from the other bits you had left over, we typically over supply on screws as we understand these are often build in fields and paddocks where a lost screw, is usually definitely lost for good!