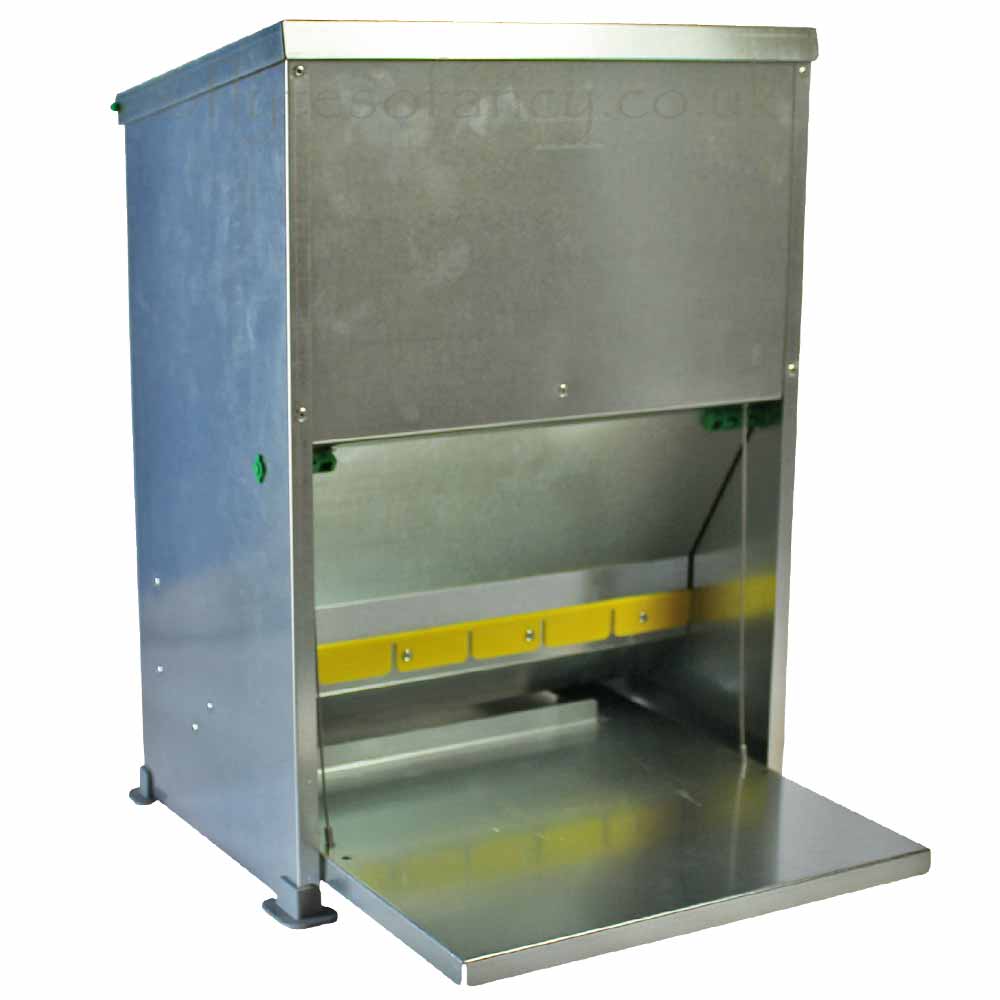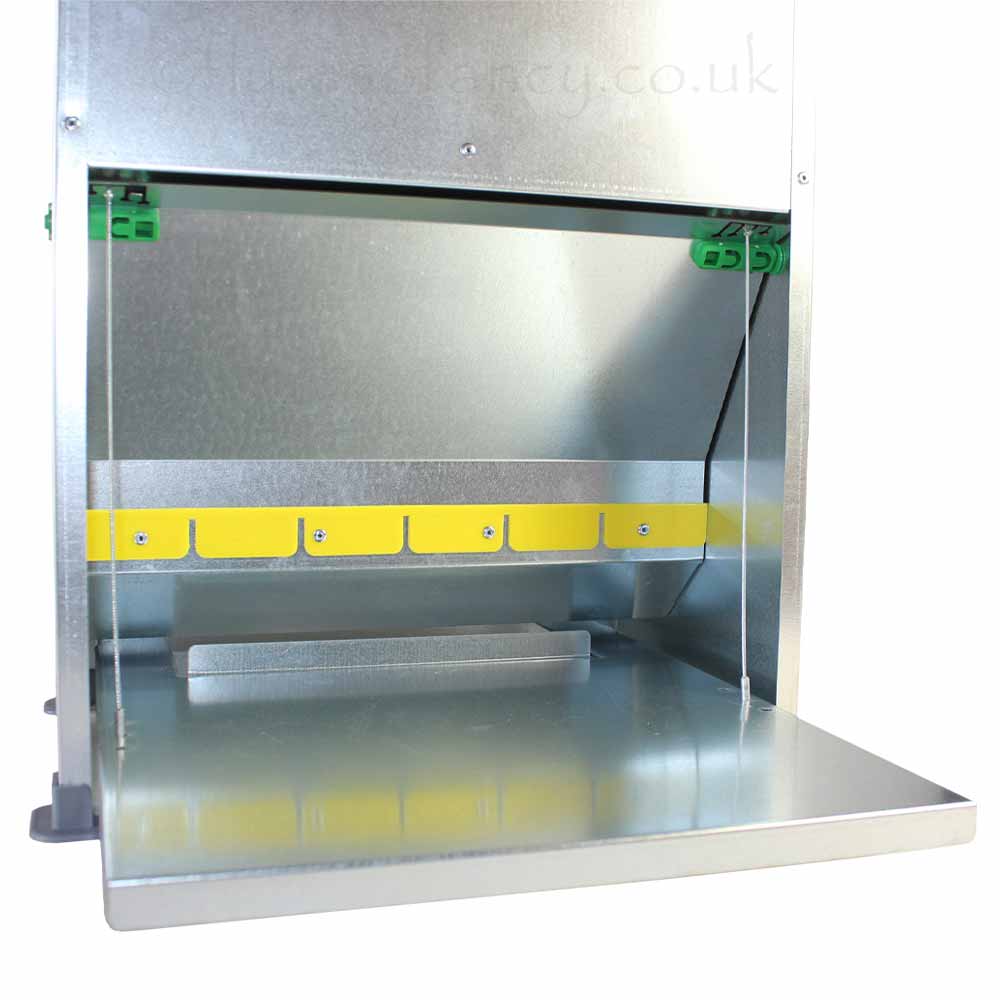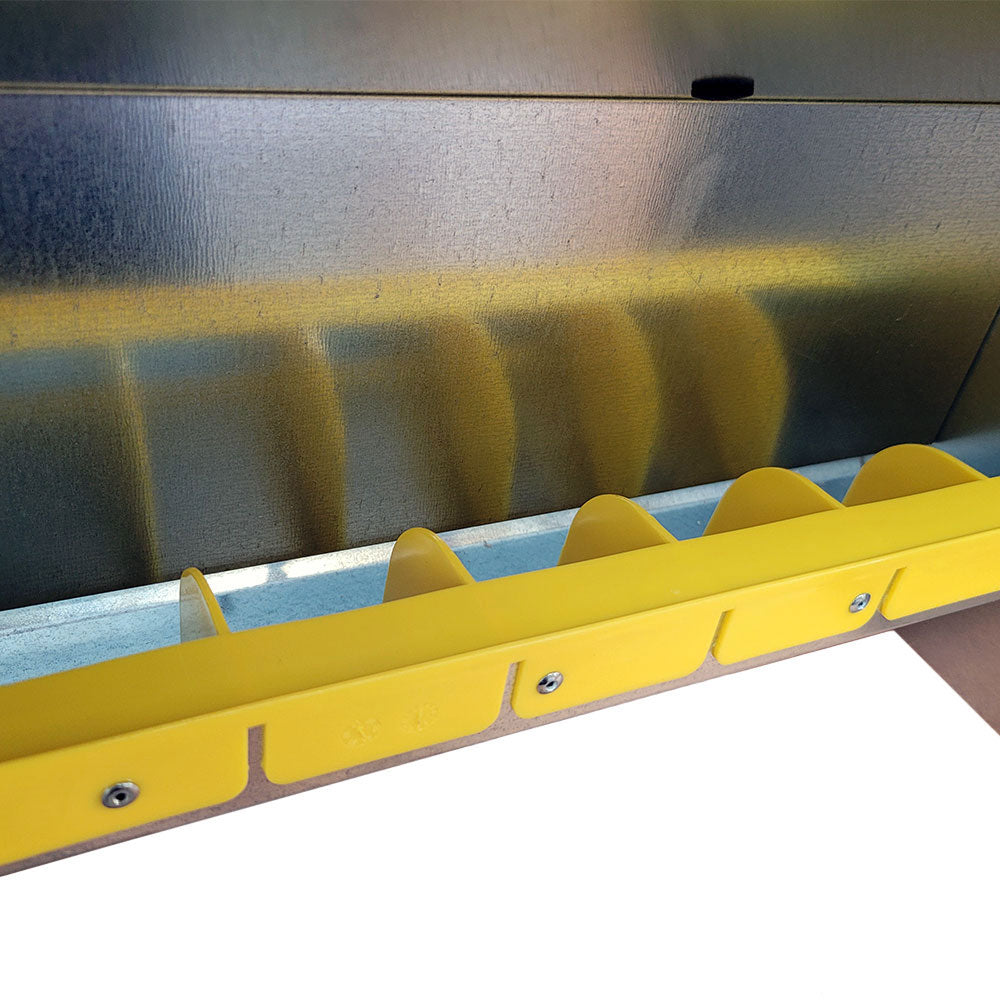 ALMA 14kg Galvanised Treadle Poultry Feeder
The Alma Galvanised Steel Treadle Feeder for poultry. Capacity 14kg of pelleted feed.
Designed to keep vermin and wild birds away from your chicken's feed and prevent wastage, this all-metal feeder has 12 weight adjustments to suit many kinds and sizes of poultry. Its solid treadle plate is also suitable for smaller duck breeds.
The ALMA is made in galvanised sheet and designed to prevent the birds from wasting feed and to make it difficult for rats and other vermin to get at the feed.
When the bird stands on the treadle a tilting door opens giving access to the food; inside there is also an anti-waste grid that prevents animals from throwing the feed on the ground.
The Feed trough itself is set well back under the hopper to ensure that the food is sheltered from the rain, as well as inaccessible to other unwelcome birds, mice, or vermin, thus avoiding dirt and dangerous diseases.
Dimensions when assembled: 47cm High X 38cm Deep (incl. the treadle) X 22.5 cm Wide.
The Alma Treadle Feeder is partially pre-assembled, it requires the treadle to be attached and the assembly of the components does not require any tools. Made in Italy.
Features:
* Sloping roof: Designed to shed rainwater quickly from its top and the outflow of any condensation that may form inside.
* Accessories in plastic material: hinges for the movement of the tilting door and lid are made of plastic material for longer life.
* Feet: plastic supporting feet avoid the direct contact of the metal sheet with the ground, thus preventing inevitable oxidations that compromise the life of the feeder.
* Rounded anti-drip rim: prevents the bird from getting hurt while eating and the rain from wetting the food.
* Anti-waste grid: made of plastic material, it prevents the birds from scooping out the feed.
* Adjusting cable: it is used to set the weight needed to open the tilting door. Easy to assemble and adjust without the use of tools.
* Treadle: solid metal designed to offer the bird a stable and comfortable support.
The Alma has 12 weight adjustments for opening the tilting door; from 300g to 1kg, so can be set to accommodate bantam size birds as well as larger hens and ducks. With the 14kg size feeder, two birds can eat at the same time.
Standard delivery via courier is next working day to most mainland UK destinations for orders placed before 2pm (excl. weekends and bank holidays). Please note this may not always be possible at busy times e.g. after weekends and bank holidays.