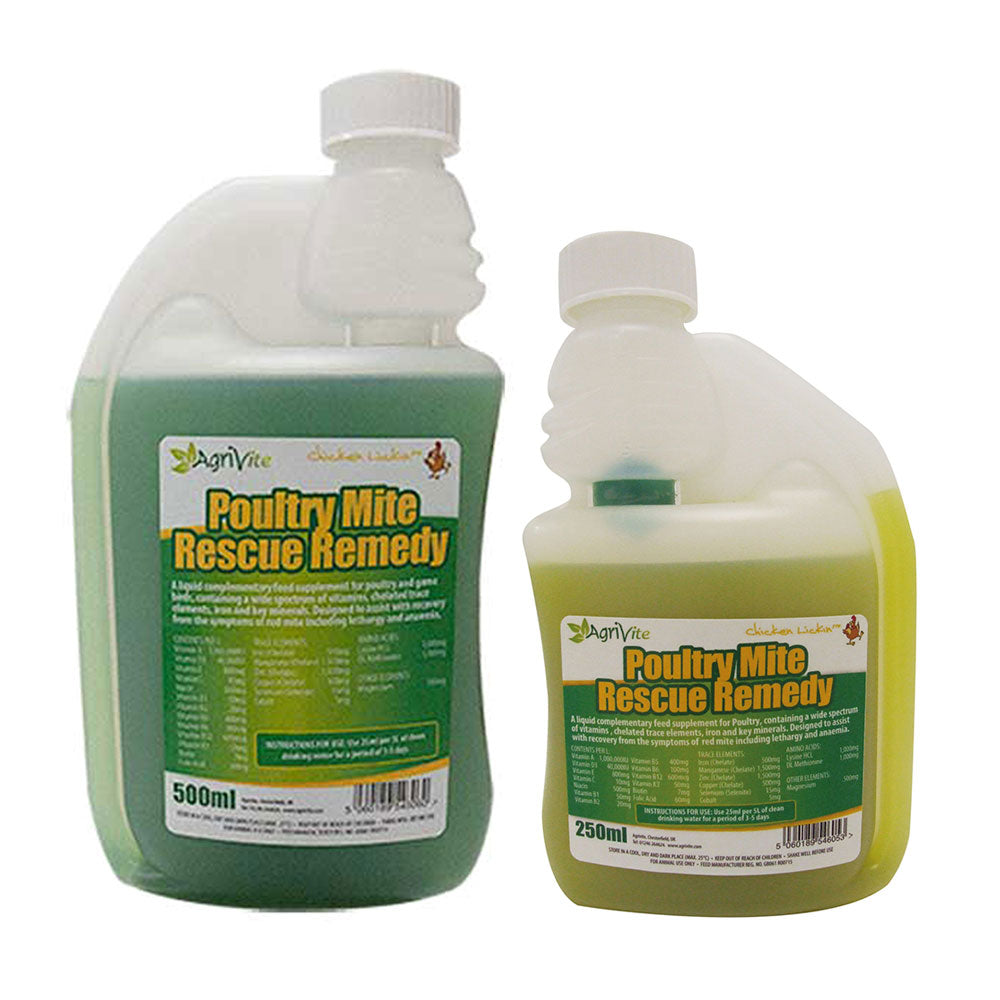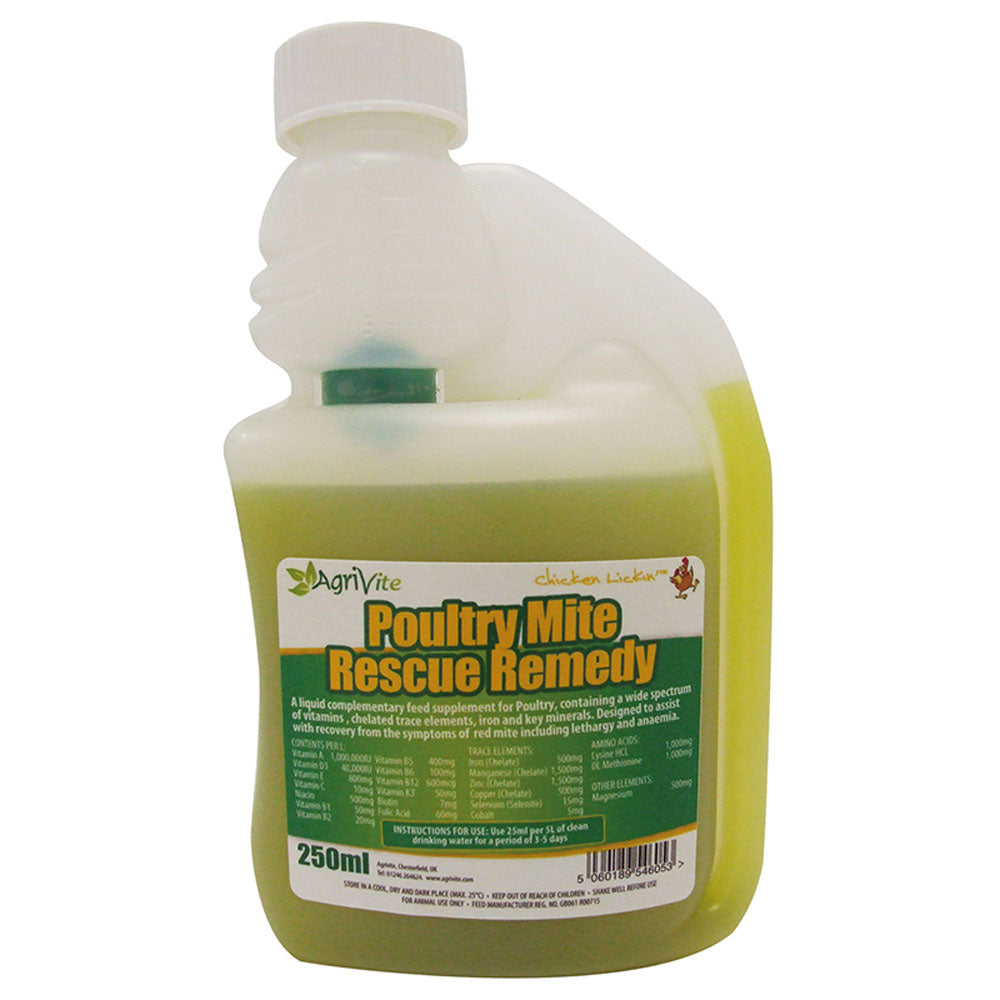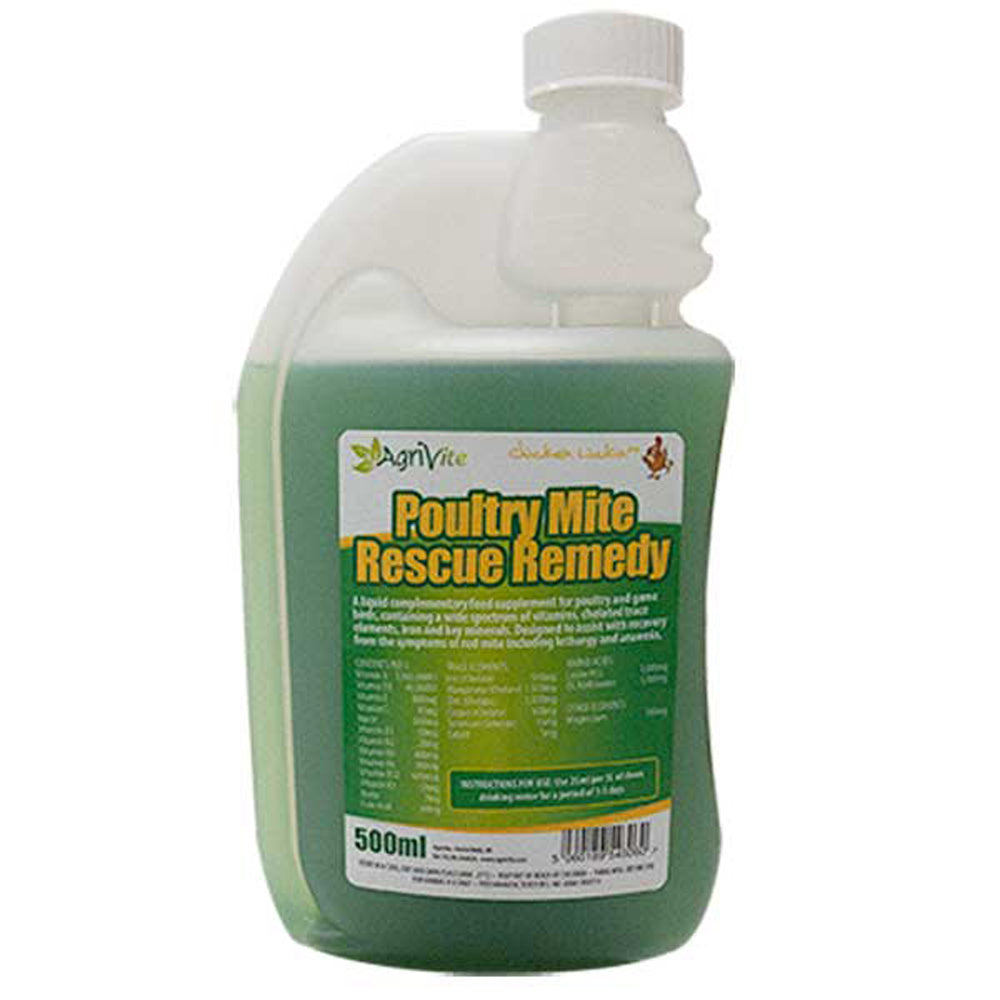 Agrivite Poultry Mite Rescue Remedy
Red Mite Remedy contains key B group vitamins for skin and feathering; minerals like iron to aid replacing of red blood cells.
Red mite attacks often causes anemia among flocks, the continual nightly sucking of blood leaving hens lethargic and pale. This tonic is the solution.
It also contains Vitamin E and Selenium to boost their immune systems (and also the perfect tonic to solve a Wry Neck issue in poultry).
It is an essential weapon to get poultry back to full strength after red mite infestations and can be purchased alongside Biolink MITEPRO Diatom Powder and Smite Red Mite Liquid as part of a complete regime of products to tackle red mite in the chicken coop.
Dosage: Add to drinking water at 25ml per 5 litres for a period of 3 - 5 days (500ml will dose 100 litres water).
Standard delivery via courier is next working day to most mainland UK destinations for orders placed before 2pm (excl. weekends and bank holidays). Please note this may not always be possible at busy times e.g. after weekends and bank holidays.
Poultry mite rescue
Just a very good product helps the chickens over come these little hurdles in life 👍
Agrivite Poultry Mite Rescue Remedy
This works!
Had an awful year for mites last year so I've been using this as well as the eucalyptus hemp bedding and happy to say so far this year we are mite- free!
Agrivite Poultry Mite Rescue Remedy - 250ml
Easy to order, delivery came when they said. A good range of products with reasonable pricing. When I e mailed for some advice I was answered quickly with useful information. As above, please read that
Agrivite Poultry Mite Rescue Remedy - 500ml
Very rapid shipment. Good quality products and great accurate description of products. Will use again. Easy to use, as advertised