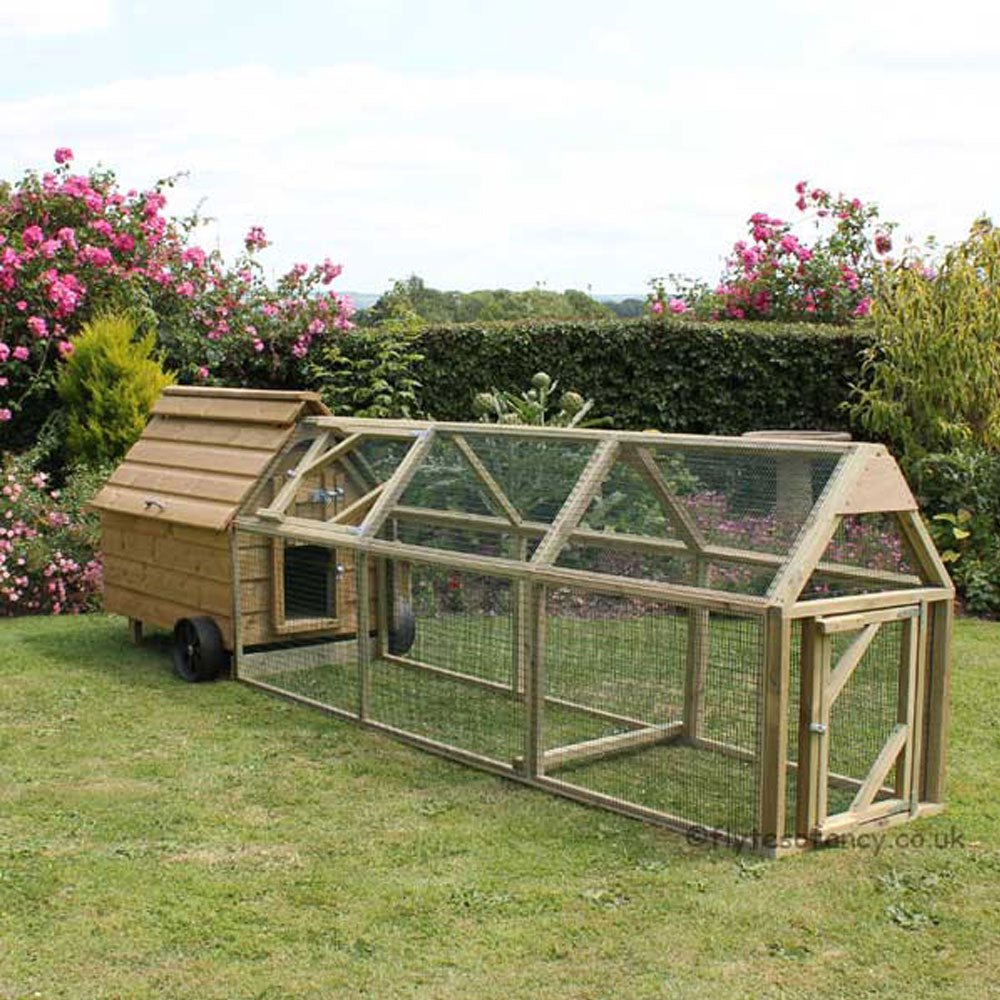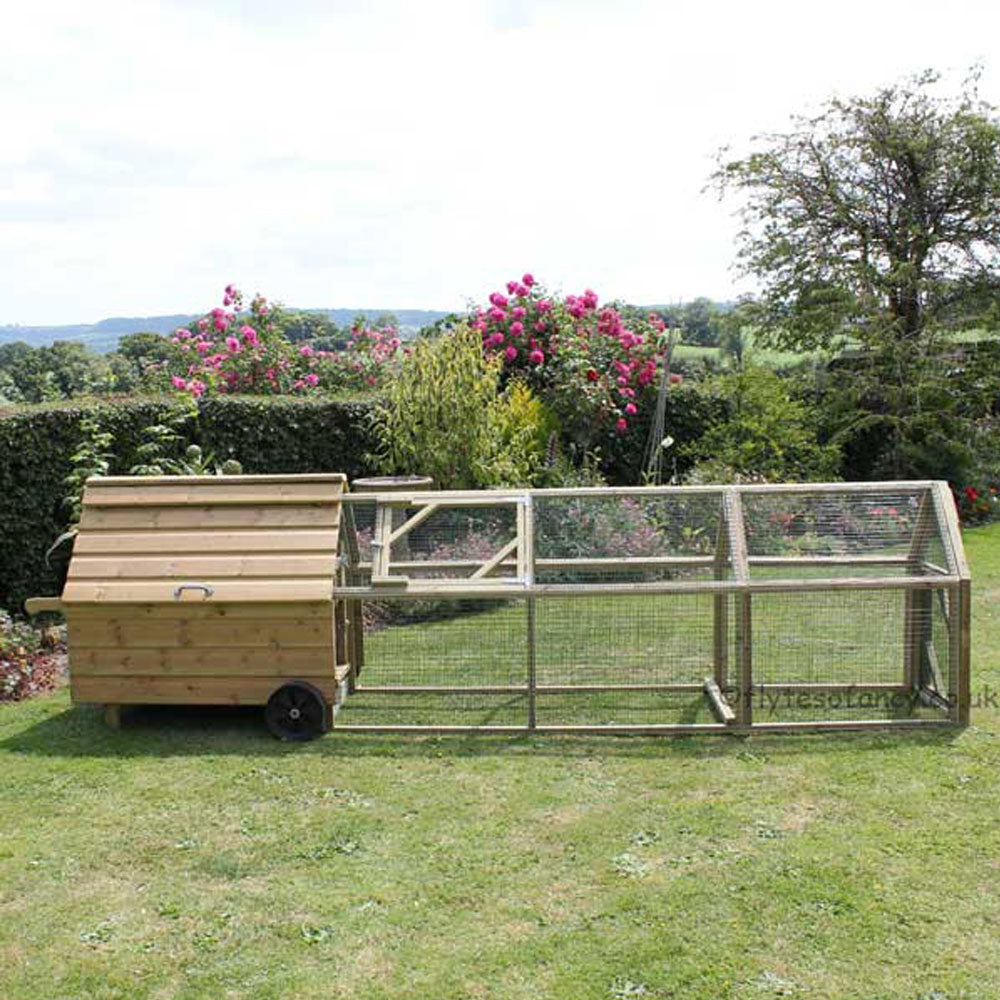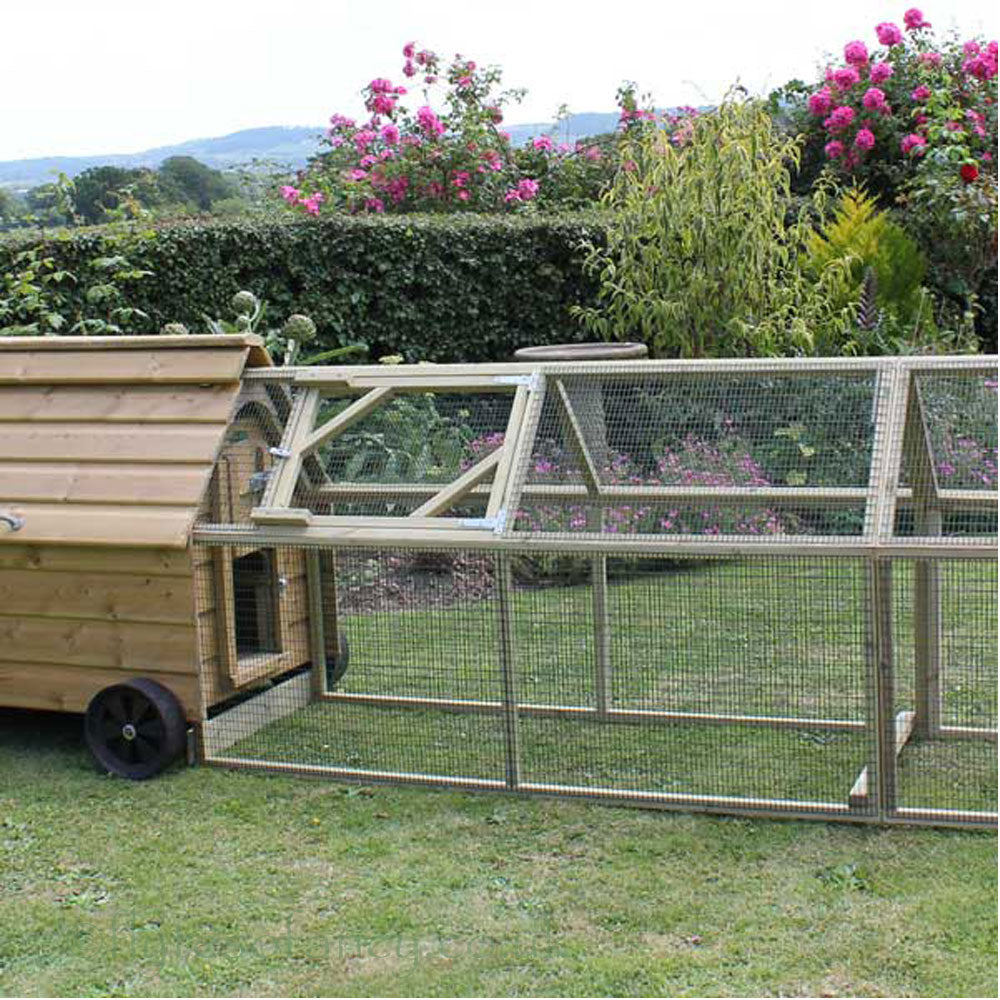 9ft Run for Dorset Stroller Coop
9ft long Run for the Flyte so Fancy Dorset Stroller Chicken Coop.
This Weldmesh Chicken Run is approx 9ft x 2ft wide x 3ft 6in high. It will keep your birds safe from predators when you might not be around.
Add this robust run to the house, it just fits snugly up against the front of the Hen House so you can still easily take it away when not needed.
This 9ft long run, for the Dorset Stroller Chicken Coop, is a solid and secure fox-proof run made of strong green plastic-coated galvanised weldmesh on a pressure treated timber framework.
The run has an access door panel nearest the house so you can easily close the pop-hole, and a second small door at the end of the run which allows access to place a feeder and drinker.
External Dimensions: 284cm long x 73cm wide x 107 high.
This run is a solid and secure fox-proof run made of 18 gauge, half-inch by one-inch, green plastic-coated galvanised (Italian-made) weldmesh onto a 38 x 38mm pressure-treated timber framework.
Currently 1 - 2 weeks order time. The run will arrive flat-packed (in panels) with instructions for assembly - very easy to do.
If bought with the Dorset Stroller it would all arrive together with the house on the pallet. When purchased separately this run will be delivered by courier.
Dorset stroller
Delivery speedy and well packaged. I haven't been able to open yet and set up due to ill health. Can't wait to get it up and running for my chucks !
9ft Run for Dorset Stroller Coop
Delivery service was not as good as I expected. Perhaps you should change couriers so they do not diminish your otherwise excellent service
Sorry to hear about delivery issues, would you like to give me more details, I am more than happy to investigate as Palletline are normally excellent so I do not like to think they have let us down. email: anne@flytesofancy.co.uk or 01300 345229
Anne
9ft Run for Dorset Stroller Coop
When something arrived broken they immediately offered a replacement and sent it double quick. Excellent service, great product.
9ft Run for Dorset Stroller Coop
Very helpful on the phone before purchase, even though I phoned several times and helped me make the right choice of coop, given that I am a first time hen owner.Had good knowledge of the product range.It was helpful that person answering phone worked for FoF and actuallyowned chickens and had one of the coop I was interested in. After purchase service also good, as I required a FOF badge for the coop that was supplied without question. Run is well made. Good instructions for constructing run included.