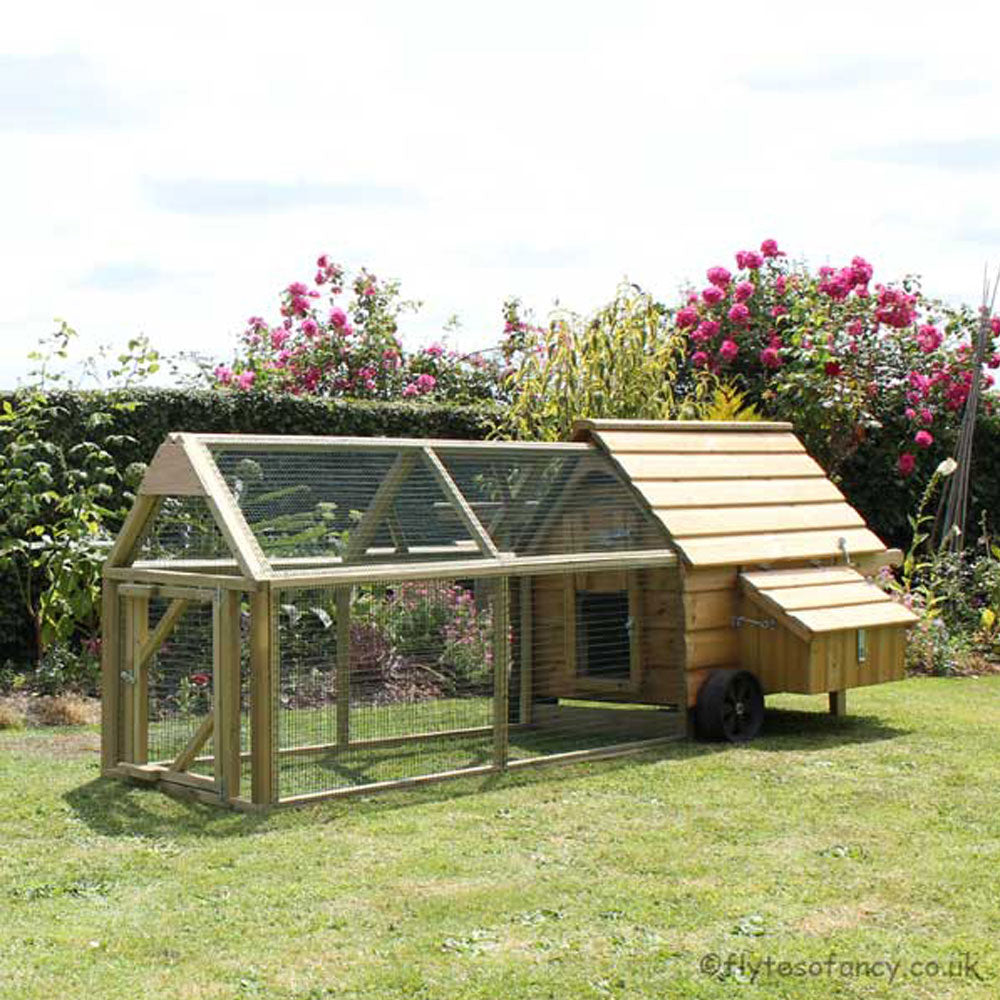 6ft Run for Dorset Stroller Coop
Chicken Run for the Dorset Stroller Chicken Coop. Approx size 6ft long x 2ft wide x 3ft 6in high.
Add it to the front of the Coop when needed, it just fits snugly inside the apex shape of the coop, it can then easily be removed (but not by a fox) when you need to.
We make the runs using strong ½ by 1 inch 18g weldmesh which gives great strength and prevents predators from easily reaching your poultry. Shaped to suit the Stroller front panel it will be very secure tucked up against the roof apex.
There is an access door nearest the coop so you can open and close the pop-hole door, and a second small door at the end of the run which allows access to place feeder and drinker, or to open and let the hens roam.
External Dimensions: 189cm long x 73cm wide x 107cm high.
This run is a solid and secure fox-proof run made of 18 gauge, half-inch by one-inch, green plastic-coated galvanised (Italian-made) weldmesh onto a 38 x 38mm pressure-treated timber framework.
Delivery: Currently approx 2 week order time if ordered separately to the Coop. The run will arrive flat-packed (in panels) with instructions for screwing it together, very easy to do.
Delivery of the run would be via courier, but if bought with the Chicken Coop it would all arrive together on the pallet. See Delivery Information Page.
Perfect!
I bought my Dorset Stroller many years ago. The quality of the workmanship is second to none. The most recent addition was this run which helped out enormously when 6 chicks turned up unexpectedly at the beginning of October. It was easy to assemble and fits perfectly. I'm delighted with it.
6ft Run for Dorset Stroller Coop
Good quality coop and helpful email contact Not easy to make single handed