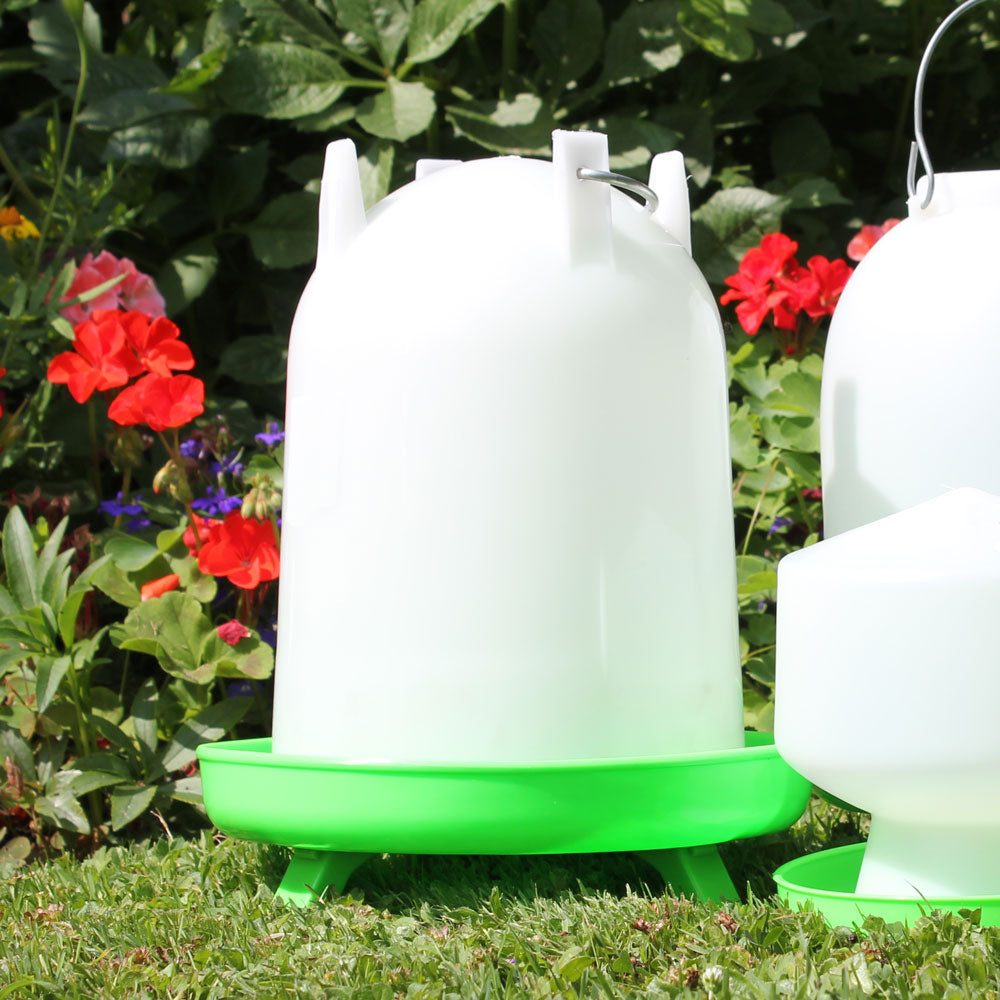 4 litre Poultry Fountain Drinker with legs
Poultry Super Drinker with fold out legs. Robust Green & White Plastic Fountain Drinker with 4 litre capacity.
Suitable for chicks (but add pebbles to the saucer to prevent drowning) and chickens.
This Fountain Drinker has legs that can be unfolded twice to adjust the height of the drinker to the age and type of birds. Fully unfolded, the legs will raise the drinker by 7.5cm.
Manufactured from heavy duty, high density, ultra-violet and frost resistant plastic. Features metal carry handle and anti-perch dome.
Whilst it is upside down being filled, the dome can sit on its four feet making it quite easy to fill.
Dimensions: Dia. of pan 26cm, height of pan 4cm, overall height 30cm.
As a guide, 3 chickens drink approx 1 litre of water per day.
Standard delivery via courier is next working day to most mainland UK destinations for orders placed before 2pm (excl. weekends and bank holidays).
4ltr plastic hen drinker
Much better than thought for a plastic drinker. I hand it up so haven't used the legs yet.
One of the sturdiest on the market
You won't find a sturdier poultry drinker, easy to refill and keep clean, and a good size too without being bulky. Another excellent product and great service from the lovely Flytes team.
The best kind of poultry drinker for the price
I've tried a lot of plastic drinkers and this particular one is a stand-out favourite. Sturdy and well designed, with fold-out legs to raise from ground level and it's also easily filled in the inverted position. At the top of the dome, there's a hole for suspending the drinker. These thoughtful design aspects really help with day to day poultry husbandry.
excellent product.
works a treat
4 litre Poultry Fountain Drinker with legs
I am very impressed with Flyte so Fancy ltd's service all the orders I have placed were with me the next day,the nature of the orders such as chicken feed meant I had no worries about running out as it arrived so quickly. I would definitely recommend this company, and I will be placing more orders. This poultry fountain is so easy to fill and to get the bottom back on which found with other fountains very difficult. Would recommend.