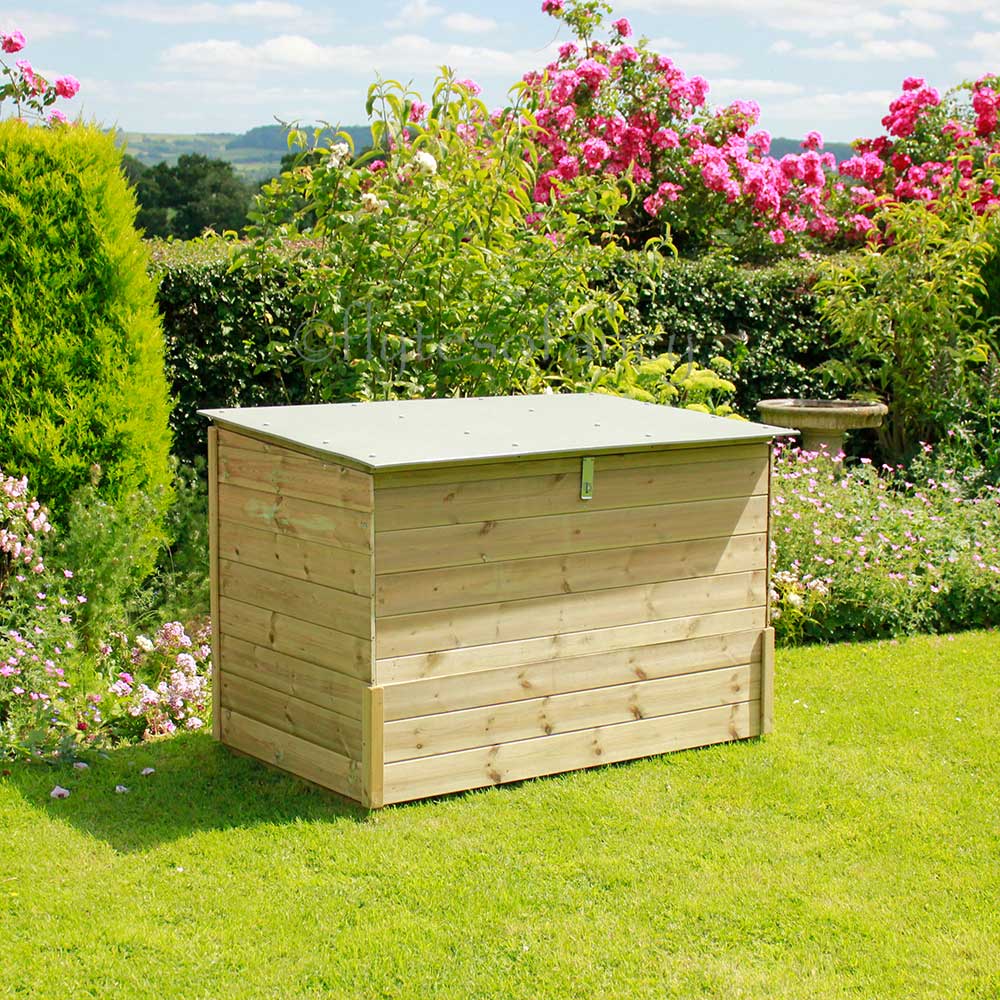 Dorset Patio Storage Chest
SORRY TO SAY - WE HAVE DISCONTINUED THIS DESIGN.
A Garden Storage Box for the Patio, Walkway or Decking. The Dorset Garden Storage Chest is a wooden storage box approx. 5ft wide x 3ft 4in high.

* UK Made High-Quality Outdoor Storage Box * 19mm T&G Pressure Treated FSC Redwood * Never-Leak Roof * Delivered Assembled or Flat-packed * 15-year Anti-Rot Warranty *
This Garden Storage Box, with its Never-Leak Roof, will provide dry, lockable, storage for garden furniture as well as cushions, toys, tools and all the bits and bobs we accumulate for the outdoor living lifestyle.
The Dorset Patio Storage Chest is built of thick Pressure Treated Timber (see Specifications) and is made for life outdoors. Its Pent-style Never-Leak Roof is a polypropylene 9mm sheet in a steel grey colour.
The roof is pent forwards so that the rain falls in front of the chest and runs away quickly. Much better than letting significant water accumulate at the back, between it and a wall, where no air reaches, which can encourage rot and damp.
The Store sits on strong bearers to raise it off the ground, and out of any standing water, and it has a solid timber floor to keep it dry inside. The roof can be propped open with arms on each side and the upper portion of the front panel is removable for easy and spacious access.
Dimensions

External (incl. roof): 150cm W x 99cm D x 102cm H
Internal: 142cm W x 83cm D x 82cm-94cm H
External footprint: 144cm W x 89cm D
Construction
All timber is from sustainable resources, FSC Certified, Scandinavian Redwood
Walls: 19mm Pressure Treated T & G board
Floor: 21mm planed Pressure Treated boards
Roof: Grey UV-stable Recycled Polypropylene Board
Frame: 38 x 38mm Pressure Treated framing
Fixtures: Stainless Steel Nails; Plated & Painted Decking Screws
Fittings: Heavy Duty Galvanised Hinges, Bolt & Catches
Timber Warranty: 15 years against rot & fungal attack
HANDMADE IN DORSET
SORRY TO SAY - WE HAVE DISCONTINUED THIS DESIGN.
The Dorset Patio Store is delivered via Pallet Transport Company.
After placing your order we will email to arrange a suitable delivery date. See our Delivery Information Page for more details.